The Scaly-breasted Bulbul (Rubigula squamata) is less commonly seen and currently considered 'near threatened'. It is often seen at fruiting trees with other bird species. On 4th May 2023, at a forest site on the outskirts of Ipoh, Perak, Malaysia, I saw it feeding on the fruit of the Trema orientalis (see image 1); a popular fruit of many Bulbul species, Leafbirds, Flycatchers, Flowerpeckers and others.
 I am using this opportunity to summarise my observation on its diet and foraging behaviour over the years. 
I have almost always seen the bird in pairs; occasionally alone. I have not seen the rare occurrence of large numbers at a fruiting tree. Although said to possibly take smaller fruit due to having a small bill, I have seen it manage reasonable sized Ficus fruit with no difficulty – no necessity to eat piecemeal. Although said to be able to flutter, I have seen most fruit taken from a perch, occasionally stretching to reach the item.  
The fruit items I have seen it take include:
1.    Trema orientalis (common food item; fruit diameter 4-6mm)
2.    Bridelia tomentosa (fruit diameter 4.5-6.5mm)
3.    Ficus benjamina (very common food item; fruit diameter 2.0-2.5cm)
4.    Macaranga bancana (common food item; fruit diameter 10-11mm) (see Image 2)
5.    Macaranga gigantea (fruit diameter 7mm)
6.    Ficus villosa (fruit diameter 0.8-1cm) (see Image 3)
7.    Other unidentified fruit.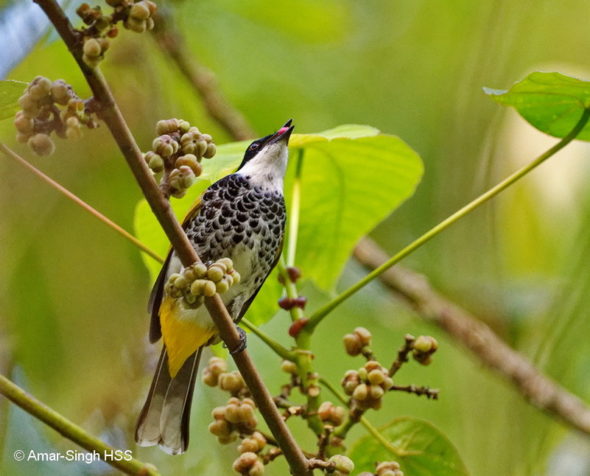 The diet of adult birds is predominantly fruit and insect/animal prey has yet to be documented. I recently reported an adult taking a flying insect to feed a juvenile (Amar-Singh HSS 2023). 
Wells (2007) reports Ficus benjamina, F. microcarpa, F. virens, F. glabella and F. sumatrana in the diet. Birds of the World (2020) add Trema orientalis and Callicarpa candicans. There are also a number of other Ficus fruit types seen in the online Macaulay Library.
References:
Wells, D.R. (2007). The birds of the Thai-Malay Peninsula: Vol. 2 (Passerines). Christopher Helm, London.
Fishpool, L. and J. A. Tobias (2020). Scaly-breasted Bulbul (Rubigula squamata), version 1.0. In Birds of the World (J. del Hoyo, A. Elliott, J. Sargatal, D. A. Christie, and E. de Juana, Editors). Cornell Lab of Ornithology, Ithaca, NY, USA.
Amar-Singh HSS (2023). Juvenile Scaly-breasted Bulbul Rubigula squamata and Prey. Bird Ecology Study Group. https://besgroup.org/2023/04/10/juvenile-scaly-breasted-bulbul-rubigula-squamata-and-prey/
Dato' Dr Amar-Singh HSS
Ipoh, Perak, Malaysia
Note to readers: If you like this post please tap on the Like button at the left bottom of page.