I had an opportunity to observe the nest building of the Purple-naped Spiderhunter Kurochkinegramma hypogrammicum nuchale on 1st May 2023 at a forest site on the outskirts of Ipoh, Perak, Malaysia. I have intentionally kept details to a minimum to protect the nest site. 
I initially came across a male and female Purple-naped Spiderhunter, together at the same location, and they 'appeared confiding'. I wondered if they were immature or in moult (especially the male, see Image 1). As I watched, I noticed that they visited the same location a few times and I suspected nesting activity.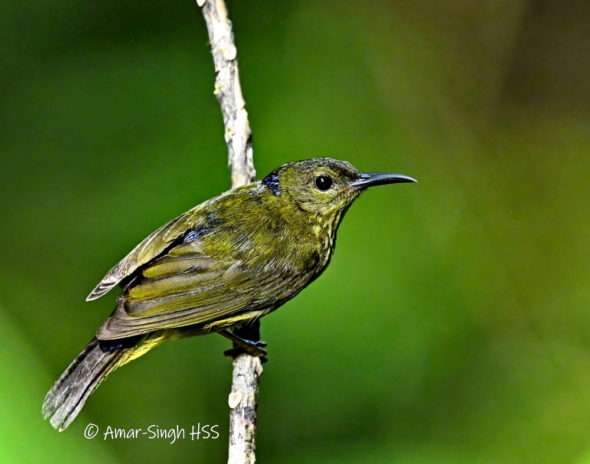 I withdrew and made the decision to go back to my vehicle for my tripod. I then positioned myself about 7-8 meters away from the site and focused on a large, fallen, dead leaf – possibly a Macaranga gigantea (Giant Macaranga) leaf. I observed the birds entering that location with nesting material. They appeared comfortable with my presence at that distance. 
The nest is located inside a dead leaf, 1.2-1.4 meters above the ground, on the branch of a young sapling that is overhanging a small stream. Birds enter and leave the nest from below, at great speed. Despite a number of videos I captured, it was difficult to determine the sex or nature of nesting material in most cases. I am however certain that both the female and male are involved in nest building and that spider webs and dead leaves are collected for nest construction (see Image 2 of the female with spider webs collected). 
An edited short 30 second clip to show two visits to the nest is here: https://youtu.be/MWwSpIwsEYM 
I was unable to see the actual nest, but nest building was very active from 8.30 to 9.30am. Data from video recordings showed that durations between nest building visits was on average 71 seconds (range 47-112 seconds). The duration of nest building activities (when a bird enters and I can see movements externally, until they leave) was on average 37 seconds (range 13-116 seconds; most often 20-35 seconds). 
Wells (2007) states that there has been no description of nests in the review area. Cheke & Mann (2001) describe two nests but I am uncertain of their location. One nest was described as "pear-shaped, made of grass, rootlets, hair and bark, suspended from underside of plantain leaf." The second nest as "a pendant ball, untidy, a little prolonged and very narrow at the top end, composed of scraps of bark, lichen, dry moss, leaves, bound with cob- webs and adorned with oddments hanging fluttering some 150 mm below bottom of nest. Lining of cotton down. No porch. Attached to betel palm over 6 m from ground." I reviewed online images, including the Macaulay Library, but was not able to find any images of a nest. 
The nesting location I saw today appears different.
It asks if different subspecies of Purple-naped Spiderhunters have different nesting structures? Or if the species as whole has variable nesting behaviour? 
I will continue to monitor the nest periodically to see what is the final structure, if the nesting is successful. 
References:
Wells, D.R. (2007). The birds of the Thai-Malay Peninsula: Vol. 2 (Passerines). Christopher Helm, London.
Robert A Cheke, Clive F Mann, Richard Allen (2001). Sunbirds: A Guide to the Sunbirds, Flowerpeckers, Spiderhunters and Sugarbirds of the World. Helm Identification Guides
Dato' Dr Amar-Singh HSS
Ipoh, Perak, Malaysia
Note to readers: If you like this post please tap on the Like button at the left bottom of page.