There have been limited observations and image documentation of juvenile Scaly-breasted Bulbuls (Rubigula squamata). Wells (2007) quotes one observation from SUARENG in 2004 and states "In the field, upper breast smudgy black, lower breast plain white; no other details on record." Birds of the World (2020) has limited details, quotes same observation, and adds "eyes duller". Nesting is undescribed from the region. 
I had a brief opportunity to observe a single, dependent, fledged, juvenile Scaly-breasted Bulbul on 7th April 2023, at the Kledang-Sayong Forest Reserve, Ipoh, Perak, Malaysia. The juvenile was 'placed' by the adult very high, at the top of the forest canopy, while the adult searched for prey. 
The juvenile (see Image 1) had a black cap like the adult; olive-green wings but not as 'golden' as in the adult; undertail-coverts yellow but not as bright as in adults; white underparts with grey-black smudges at the neck and upper breast sides. The diagnostic scaly-breast of the adult was only just beginning to develop. The iris was dark grey-black unlike the adult's red iris. Feet were grey-black.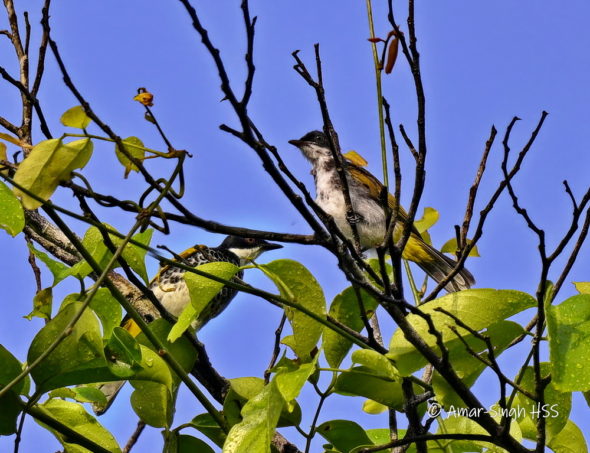 The diet of adult birds is predominantly fruit (frugivory) and insect/animal prey has yet to be documented. I saw the adult take a flying insect and feed the juvenile (see Image 2). It is apparent that insects form part of diet of juveniles.
I did not see the adult partner and it is possible that brood division is the preferential post-fledging care. 
My observations were interrupted by a Plantain Squirrel (Callosciurus notatus) that approached the juvenile and forced the birds to leave that vantage point. I then lost sight of the juvenile.
Reference:
Wells, D.R. (2007). The birds of the Thai-Malay Peninsula: Vol. 2 (Passerines). Christopher Helm, London.
Fishpool, L. and J. A. Tobias (2020). Scaly-breasted Bulbul (Rubigula squamata), version 1.0. In Birds of the World (J. del Hoyo, A. Elliott, J. Sargatal, D. A. Christie, and E. de Juana, Editors). Cornell Lab of Ornithology, Ithaca, NY, USA.
Dato' Dr Amar-Singh HSS
Ipoh, Perak, Malaysia
Note to readers: If you like this post please tap on the Like button at the left bottom of page.