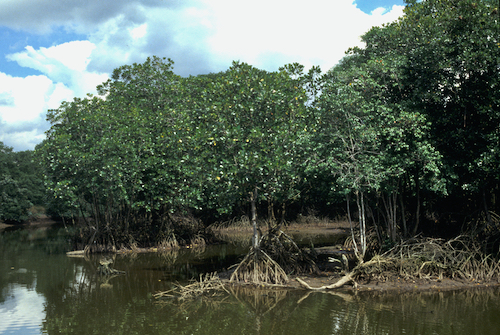 Mandai mangrove, facing the Singapore causeway.
Mangroves were once extensive along the northern and western coasts of the main island of Singapore. They usually develop within the tidal river mouths and along sheltered shores. As for offshore islands, they were literally surrounded by mangroves. To the colonial administration, mangroves were nothing more than mud, mosquitoes and perhaps a crocodile or two. The areas under mangroves thus served as land banks, to be cleared and filled in whenever there was a need for development. They were also extensive exploitation for timber, wood for charcoal making and nibong poles (Oncosperma tigillaria) for the construction of offshore fishing platforms on stilts, known locally as kelongs. By 1937 when forest reserves were legally established, only two were mangroves, Pandan and Kranji. The former was eventually appropriated for industrial development while the latter met its end in 1973 when Kranji Reservoir was developed.
Exploitation of mangrove poles, Gelang Patah, Johore, Malaysia.
However, there were still many patches of degraded mangroves left, some turned into fish and prawn ponds while others were used for solid waste disposal. Singapore's first industrial area in Jurong was built on reclaimed mangroves.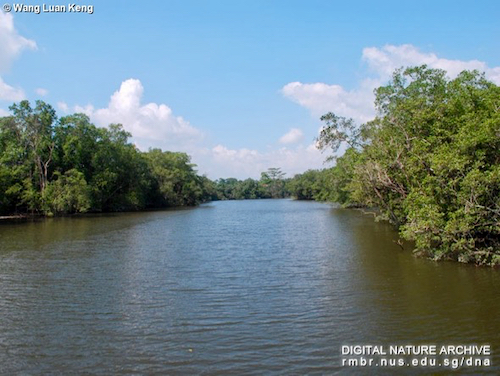 Sungei Buloh Wetland Reserve, courtesy of Lee Kong Chian Natural History Museum.
One large patch of degraded mangroves was however rescued from further development, thanks to the efforts of Richard Hale. A lone birder, he accidentally stumbled upon a patch of mangroves at Sungei Buloh during the bird migration season and witnessed waves of migratory birds flying in to roost and feed HERE. Working behind the scene, he convinced top government officials to set aside the area which has now been turned into the Sungei Buloh Wetland Reserve.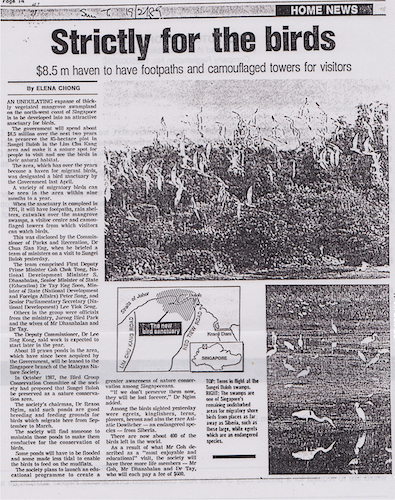 Strictly for the Birds, The Straits Times of 19th February, 1989.
Although many people still have the impression that mangroves have no value, they do have an important role to play in the marine ecosystem. For one, the presence of a mangrove fringe cuts down land erosion. The removal of strips of vegetation exposes the fragile coast to the erosive action of the water and waves. The 2004 Indian Ocean earthquake and tsunami caused massive damages and human deaths as the sea water crashed far inland, sweeping any movable objects as well as people along the way. Had the strips of mangroves fronting the beach not been removed, the damages would be much reduced.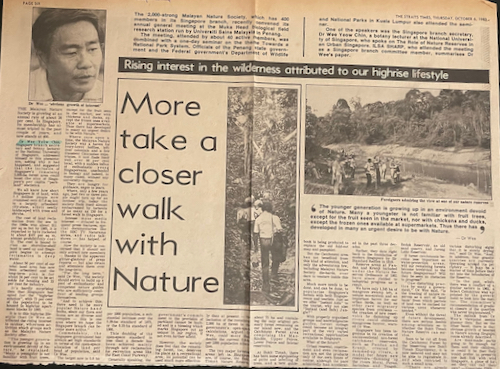 More take a closer walk with nature, The Straits Times of 5th October, 1983.
The ecosystem serves as the breeding ground for many species of fish and prawns. Also, mangroves are rich in marine life like marine worms, insects, water skaters, mudskippers, mud lobsters and crabs. Birds are also plentiful, with three species mainly confined to this habitat: ruddy kingfisher (Halcyon coromanda), mangrove pitta (Pitta megarhyncha) and mangrove blue flycatcher (Cyornis rufigastra rufigastra).
Mangrove Blue Flycatcher (Cyornis rufigastra rufigastra), courtesy Dr. Amar-Singh HSS.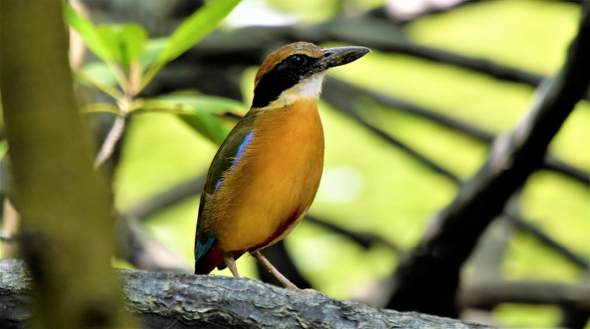 Mangrove pitta (Pitta megarhyncha), courtesy Art Toh.
Currently we have a small mangrove park at Pasir Ris and a bigger area in the form of the Sungei Buloh Nature Reserve. Unfortunately, few people venture into a mangrove area due to the muddy nature of the ecosystem, let alone the mosquitoes which are not always there and the fear of snakes. Others are put off by the strong rotten egg smell which develops because the soil is generally lacking in oxygen, thus giving rise to the presence of anaerobic sulphur-oxidising bacteria.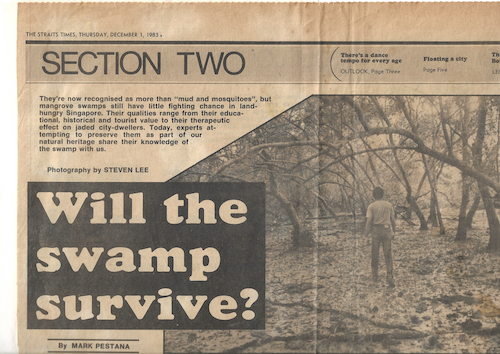 Will the swamp survive? The Straits Times of 1st December, 1983.
YC Wee
5th April 2023