The first two issues of the Singapore Science Centre's pocket-sized Guide Book.
The Nature Society has always introduced nature to the lay public by way of guided walks. However, knowledgable guides were few in the 1980s. In an effort to train more nature guides and especially to provide biology teachers with information on the diversity of our local nature, the Singapore Science Centre published its first nature guide, A Guide to Pond LIfe in the early 1990s. It was written by its first Director Dr. R.S. Bhathal and co-author Foo Tok Shiew. It proved extremely useful to the teachers the centre were then training, as many were unfamiliar of the techniques used in the study as well as the myriad of tiny organisms present in the pond water, not to mention the larger animals. Prof. Leo Tan, who was appointed the next Director, continued with the project which ended years later with a total of 46 issues.


Guides to vegetables, carnivorous plants, butterflies and spiders.
Besides plants and animals, many different habitats were also dealt with, like seashore, mangrove, coral reefs and the Bukit Timah Nature Reserve. In all, a total of 46 guide books were published. Now we have enough teaching materials as well as do-it-yourself guide books to cater to the study and appreciation of nature. BP Singapore Pte. Ltd. was the sponsor of this series.

Guides to fishes, birds, snakes and butterflies.
In 1992 Mobil Oil Singapore Pte. Ltd. came forward to sponsor the publications of the Environmental Heritage Series of guide booklets on various locations that included Bukit Timah Nature Reserve, Pulau Ubin, Senoko and Orchard Road. Unfortunately the series did not continue for long.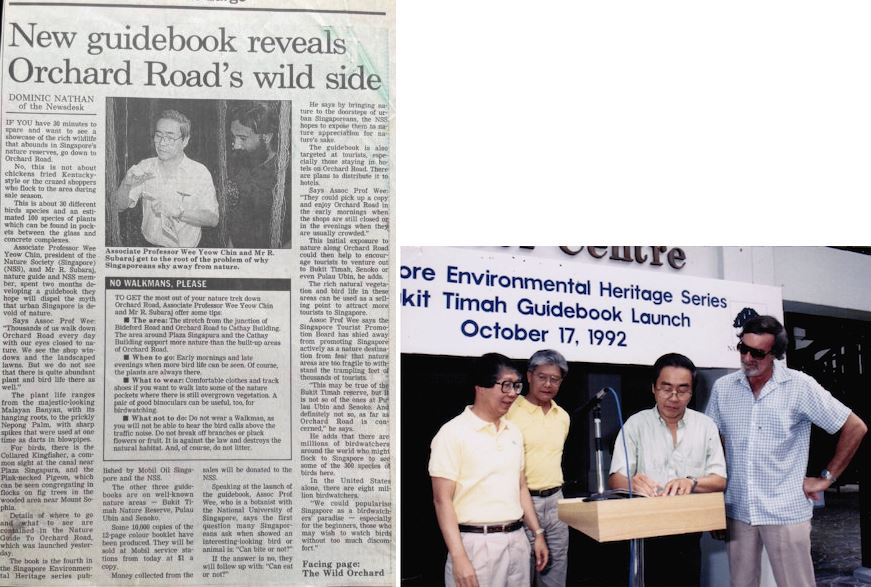 Left: The Straits Times 9th Dec., 1994. Right: Launching of the first of the series, A Guide to the Bukit Timah Nature Reserve on 17th October, 1992 (l-r Tommy Koh, Tan Cheng Guan, Wee Yeow Chin and Clive Briffett.)
YC Wee
31st March, 2023.