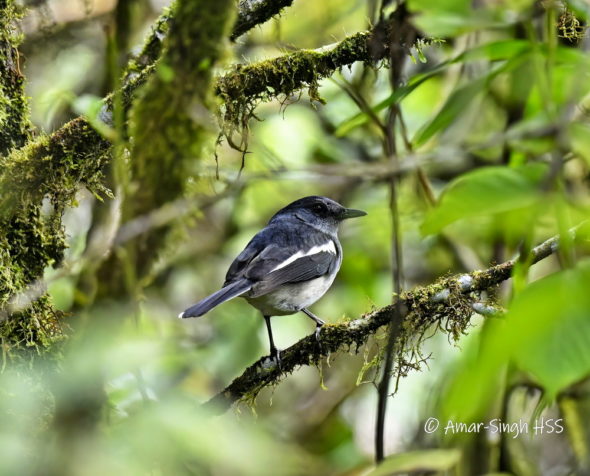 Over the past few decades, I have been observing an increased presence of the Oriental Magpie-Robins (Copsychus saularis) in Cameron Highlands, Pahang, Malaysia. In the past 10-15 years they have become commonplace up to altitudes of 1,700 meters ASL. 
On 27th March 2023 I was near the peak of Gunung Brinchang at ~2,000 meters ASL, beyond the mossy forest location, when I saw a female Magpie-Robin (see image above). I was not surprised as I have seen them between 1,700 and 2,000m ASL on this trip. 
Wells (2007) states "Magpie Robins have followed road corridors up major slopes to 1,600m".
Clement (2015).) states "Occurs from sea level up to about 1,100m on Borneo (1,450m on Mt Kinabalu), c.1,525m in Nepal and foothills of Indian Himalayas, but to c.2,000m in summer (and even 2,800m in May in Bhutan and 3,050m in Jul in Nepal), 1,670m in Thai-Malay Peninsula, c.1,500m on Sumatra and 1,900m elsewhere in SE Asia, but usually below 1,100m on Hainan." 
This could be a natural extension of the birds along roads, as is well known (Wells 2007). I have seen them nesting 2 kilometres into primary forest along human built trails or roads into the forest. But it could also speak of rising temperatures; Cameron Highlands is no longer as cold as it was 40 years ago. 
My concern with this movement upwards is a possible displacement of White-tailed Robins (Myiomela leucura) which probably share the same food source. The number of White-tailed Robins along the Gunung Brinchang have declined over time, from my observations; they used to be commonplace. I have watched, over decades, as the Oriental Magpie-Robins appear to have displaced the Blue Rock-Thrush (Monticola solitarius madoci) from some limestone locations in Ipoh.
Reference:
Wells, D.R. (2007). The birds of the Thai-Malay Peninsula: Vol. 2 (Passerines). Christopher Helm, London.
Peter Clement, Chris Rose. (2015). Robins and Chats. Helm Identification Guide Series.
Dato' Dr Amar-Singh HSS
Ipoh, Perak, Malaysia
Note to readers: If you like this post please tap on the Like button at the left bottom of page.