The Malayan Nature Society, a non-governmental, non-profit organisation, was formed in 1940 by a handful of colonial civil servants from the then Raffles Museum, Singapore Botanical Gardens, University of Malaya (then sited in Singapore), etc. The aim of the society was to see to the preservation and appreciation of our local natural heritage. Singapore was a branch and was known as the Malayan Nature Society (Singapore Branch). However, in 1991 the Singapore Branch re-registered as an independent society and became known as Nature Society (Singapore) or NSS for short, with Prof. Tommy Koh as patron.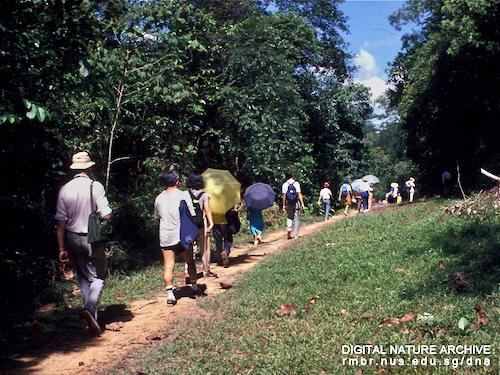 Members outing at MacRitchie Reservoir, Singapore (photo courtesy of Lee Kong Chian Natural History Museum).
The main activity of the society was educational. We conducted guided tours to nature areas in Singapore as well as in Johore, Malaysia for members.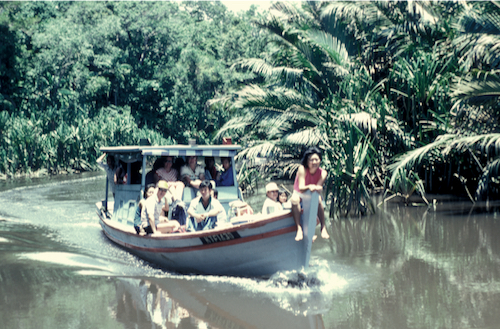 Members outing at Sedili Kechil, Johore.
When requested, we conducted tours for non-members in an effort to encourage them to join the society. In June 1981 we brought a group of 11 pre-university students to study the aquatic life in their natural habitat. At the same time another group visited the Bulit Timah Nature Reserve to look at the ferns. One student, Neo Tsun Han, then 18 years old, mentioned that "The plants we study about in school are mainly foreign because our textbooks are mainly from England…"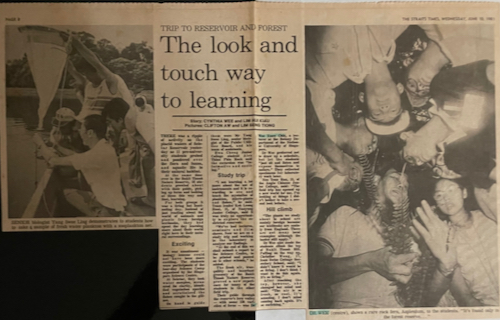 The Straits Times, June 10, 1981,
Tours were not limited to adults. Koh Mei Hung, son of Joseph Koh, then only two weeks short of his fifth birthday, was one of the youngest to join the outings.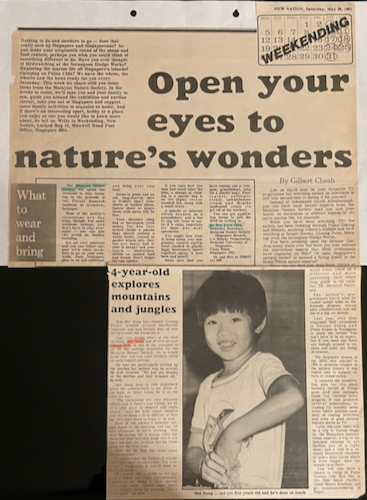 New Nation May 30, 1981.
On 20th November 1983, Ilsa Sharp, the society's public relations officer, arranged a tour of the Bukit Timah Nature Reserve guided by her and Dr. Wee Yeow Chin for a group of workers from the Takara Manufacturing Factory who had never taken a walk in a forest. The workers experienced the sounds of the cicadas, the chattering of monkeys, the cries of the fishing eagle and the elegant drongo bird. They also saw mushrooms and the rengas tree whose sap can cause serious itching.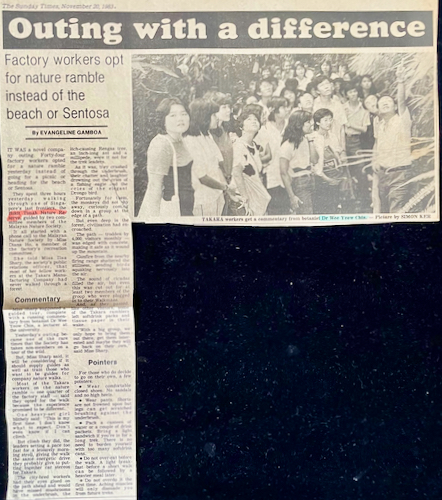 Sunday Times November 20, 1983.
This is the first and the last outing for such a group. As far as I am aware, the society has never repeated a conducted tour for factory workers during the last 40 years.
Y. C. Wee
8th March, 2023