On 7 November 2022, Wong Kais witnessed an epic bird battle that lasted 30 minutes. He was walking along Liebig Street, Warrnambool, Victoria, Australia when he heard a lot of bird flaps and flashes of black and white darting across the top of a roof. He stepped off the pavement and found a position that allowed him to film the kerfuffle.
Two little birds, Willie wagtails, were taking turns to attack an Australian raven, Corvus coronoides.  At other times both willies attacked at the same time by swooping down in mad-hatter fashion.  The raven stayed put and defended itself against the determined willies. Sometimes the raven turned around to fight off the feisty little birds, at other times it tried to peck at the pesky attackers.  For a short while, a third willie joined in the affray but eventually went on its way.
Willie wagtails, Rhipidura leucophrys,  breed from August to January. The willies were probably defending their nest nearby. These little birds have been documented to fight off Magpie Larks, Magpies, and even Wedge-tailed Eagles.  Wong Kais observed a pair of these little birds harassing a Kookabura at the Blue Mountains and tt Continental Park, Port Elliot, South Australia he witnessed a pair of Willie wagtails mob an Australian magpie (2 July 2022).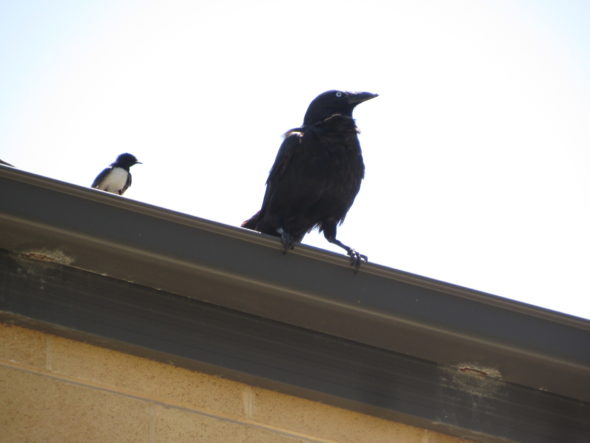 Below are photographs of a raven and a Willie wagtail snapped at Victor Harbor, South Australia.
View the following You-tube clip documenting the fierce battle launched by the wee little birds against the bigger raven.
All photographs © Wong Kais.
Texts and captions by Teo Lee Wei.
References: 
Birds of Australia A Photographic Guide by Iain Campbell, Sam Woods, Nick Leseberg © 2015
Cronin's Key Guide Australian Wildlife by Leonard Cronin © 2007
Fleurieu Birds by Peter Gower © 2012
Note to readers: If you like this post please tap on the Like button at the left bottom of page