A few mornings we heard the crowing of a rooster coming from my garden (above). Since Malaysia stopped exporting fresh chicken to Singapore that resulted in price increase, we were not aware of any neighbours rearing chicken in their gardens.
Rushing out to investigate, we found a lone male Red Junglefowl (Gallus gallus) scratching the composting leaves in my patch of corn (above). It was probably searching for worms or even insects. As this was the first time a junglefowl was seen in my garden, I was of course eager to document its presence. Moving slowly nearer and nearer to photograph the event, the junglefowl finally saw me and flew across the road to land on a branch of a roadside tree (below). That was the end of the short visit.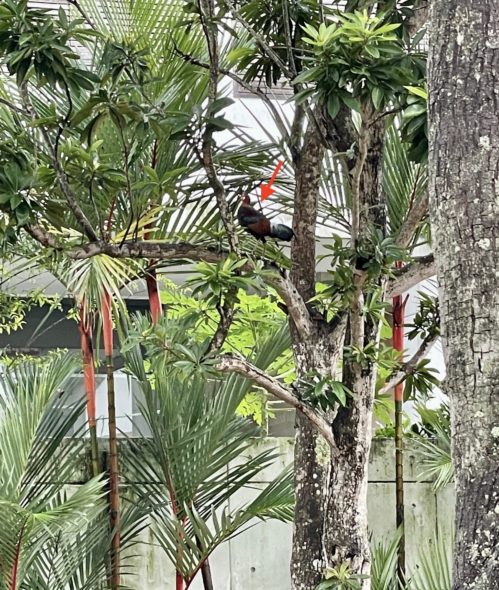 My small patch of about 100 sq. metres garden has seen quite a variety of birds through the years. As of November 2018, I have listed 43 species LINK. Since then I have stopped adding new species to my list. A list of birds visiting my garden does not serve much. To the common birdwatchers it may be a big deal, as more species implies that there is more biodiversity. They can then lobby for the area to be protected as a bird haven. I was similarly impressed once upon a time until I realised that different species of birds visit when different types of plants are grown. They come for the fruits and the insects that are attracted to the plants. Once I planted flowering plants, then fruit trees. Now I plant vegetables. In natural habitats the composition of the plants changes with time as the vegetation matures from grassland, then scrubland to woodland and finally into a young forest.
I suppose I can now claim 44 species if I wish to impress those who have no knowledge of vegetation dynamics. But I will be only deceiving myself. By the way, the Red Junglefowl will probably not visit my garden again if I clear the composting leaves from my corn patch.
YC Wee
Singapore
9 December 2022
Note to readers: If you like this post please tap on the Like button at the left bottom of page.