The Scarlet-backed Flowerpeckers (Dicaeum cruentatum ignitum) usually build nests that are located 6-9 meters above the ground, suspended from the terminal twig of a branch; often hidden or covered above with leaves (Cheke & Mann 2001; Wells 2007). Often trees or tall shrubs are used. Nests can be occasionally located at lower levels, up to 2 meters above the ground.
We have observed a number of nests located below 2 meters.
On 27 November 2022, Chua and Wong observed a Scarlet-backed Flowerpecker in a bamboo patch located 1.8 meters above the ground on Penang Island (see Plate 1). The location was rows of mini bamboo bushes lining in between the road and the seafront walkway. Unlike usual nests, it was not suspended but was anchored to the bamboo stem. Although attached to bamboo stem, the nest was visible without obstructions of branches or leaves. Two juveniles were in the nest and being actively fed by the adult female. Observations were intentionally limited in duration, as the nest was in a public space and we did not want to attract any attention to the birds.
Two feeding episodes were observed in the, less than 3 minutes, brief encounter. One showed the female bringing what appeared to be Viscum species mistletoe to feed the juveniles; either Viscum album or Viscum articulatum. (see Plate 2)
In June-July 2016, Amar observed a Scarlet-backed Flowerpecker nest located in a Malvaviscus arboreus (Sleeping Hibiscus) bush at 1.9 meter up (see Plates 3 and 4). The bush was one of many that line a single lane, rural road in a farming location at the outskirts of Ipoh city. They had carefully built the nest such that the oval entrance was shaded/covered by some of the leaves. They used fibre from the Typha latifolia (Common Bulrush, Common Cattail) to line the inside of the nest.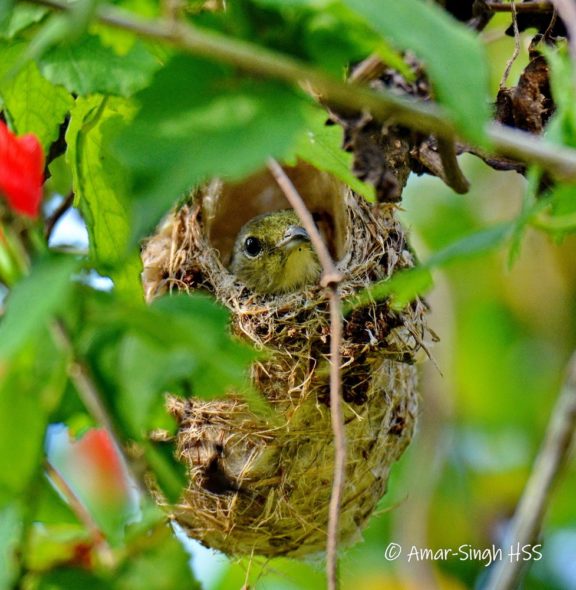 Amar (2009) had also previously reported, in June 2008, a nest in Tambun, Perak located at 1.7 meters off the ground in a small shrub. The nest was hidden in and covered above by large leaves (see Plate 5). Moss and plant fibres were used in nest construction.
These three observations suggest that, on occasion, Scarlet-backed Flowerpeckers may construct a nest lower down than expected or as described in the literature. The use of a bamboo clump is an unexpected choice; as is the anchoring of the nest (not hanging) to a bamboo stem.
References:
⦁ Robert A Cheke, Clive F Mann, Richard Allen (2001). Sunbirds: A Guide to the Sunbirds, Flowerpeckers, Spiderhunters and Sugarbirds of the World. Helm Identification Guides.
⦁ Wells, D.R. (2007). The birds of the Thai-Malay Peninsula: Vol. 2 (Passerines). Christopher Helm, London.
⦁ Amar-Singh HSS (2009). Nesting behaviour of Scarlet-backed Flowerpecker. Bird Ecology Study Group. https://besgroup.org/2009/12/30/nesting-behaviour-of-scarlet-backed-flowerpecker/
Chong-Hock Chua, Dr Sook-Mun Wong, Dato' Dr Amar-Singh HSS,
Malaysia
2nd December 2022
Note to readers: If you like this post please tap on the Like button at the left bottom of page.