Common Hill Myna (Gracula religiosa) is known to cast 'pellets'. Bertram (1970), as quoted in Birds of the World, states that fruit stones are regurgitated, usually within an hour of consumption. Fruit stones with fruit still closely adhering may be swallowed again.   
I was at a secondary forest in Ipoh, Perak on 10th November 2022, when I met up with a party of at least 9 Common Hill Myna; although the final tally of birds is probably 11. They were extremely vocal, making loud calls together for an extended period of an hour. I have usually only observed a pair of birds and occasionally four birds; possibly a family unit. This large social group was unusual. Wells (2007) states that the usual party size is less than ten birds, although a group of 18 has been observed in Singapore.   
One perched bird was observed to cast a small pellet – see the composite image of sequential images.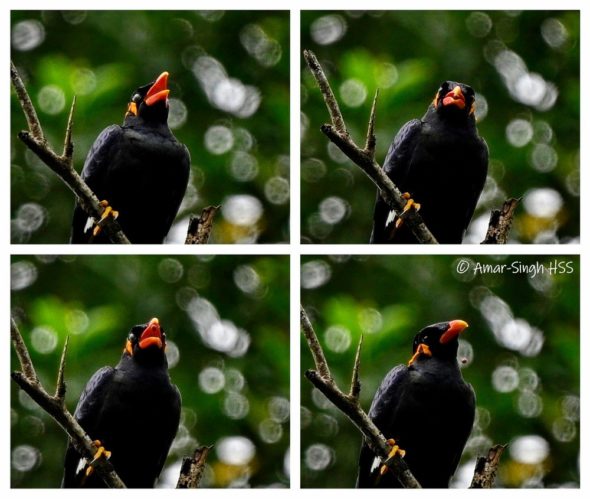 References: 
 Bertram, B. (1970). The vocal behaviour of the Indian Hill Myna Gracula religiosa. Anim. Behav. Monogr. 3: 79–192.).

 
  2.  Wells, D.R. (2007). The birds of the Thai-Malay Peninsula: Vol. 2 (Passarines). Christopher Helm, London. 
 Dato' Dr Amar-Singh HSS 
Ipoh, Perak, Malaysia 
Note to readers: If you like this post please tap on the Like button at the left bottom of page.