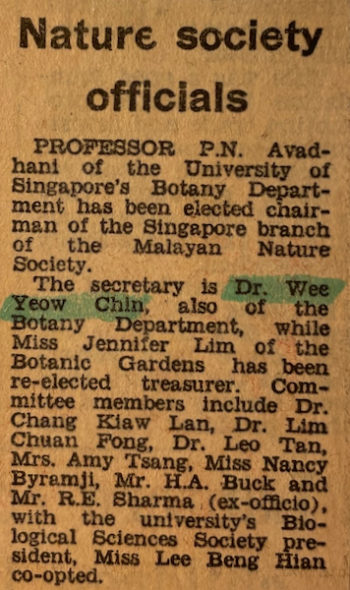 The Sunday Times, 20th August 1978
Background
I have been associated with the Nature Society (Singapore) for the last 62 years. I joined as an ordinary member in 1960 and served as its Hon. Secretary (then known as Malayan Nature Society (Singapore Branch) or MNS(S) from 1978 to 1990 (see above). We re-registered the society as Nature Society (Singapore) or NSS in 1991. I was then the Ag. Chairman of MNS(S) as the then Chairman Prof. PN Avadhani, was on sabbatical leave. This was how I ended up as the Founding President of NSS (see below).
Within a year we were in confrontation with government on its proposal to clear a track of the Lower Peirce forest for a 36-hole golf course HERE. As President, I requested Dr Ho Hua Chew, the Conservation Committee's Chairman, to deal with the problem. He declined and so I took charge. We eventually managed to convince government not to proceed with the golf course.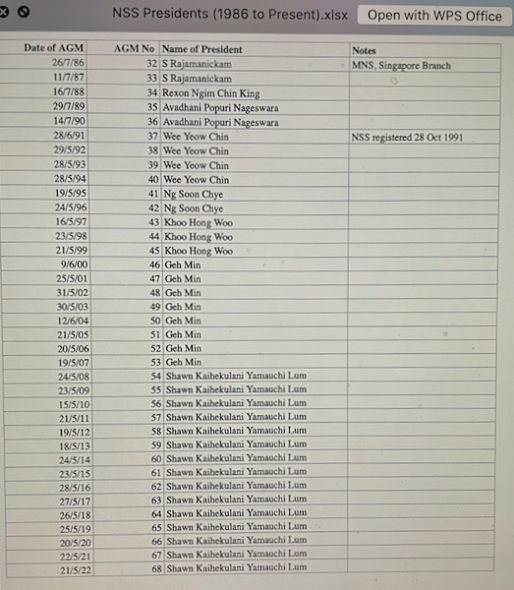 Chairmen of Nature Society (Singapore Branch ) and Presidents of Nature Society (Singapore), 1986-2022.
I remained President for four years as I firmly believe that to remain too long would kill enthusiasm across the organisation. And a lingering leadership would eventually become a dead weight and this is bad. The society needs new blood every so many years as this brings fresh perspective.
Bird Ecology Study Group (BESG)
For the next 15 years I remained an ordinary member. In 2005, together with a few others, we applied to the society to run a new activity group, the Bird Ecology Study Group (BESG). The older Bird Group (BG) was totally against our application as its Chairman claimed exclusiveness – only BG should be allowed to undertake activities involving birds. We countered that BESG's scientific studies on bird behaviour would complement the mainly recreational activities of the BG, but to no avail. Its core leaders comprising Lim Kim Kean, Lim Kim Seng and Dr. Ho Hua Chew were adamant about rejecting BESG's application. For three months the Executive Council failed to resolve the problem. As a last resort we were considering calling an Extraordinary General Meeting to resolve the problem (see below).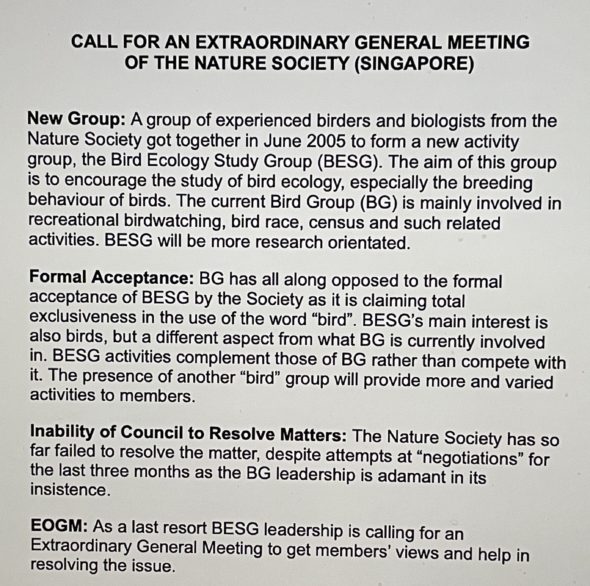 Draft of the EGM notice that was prepared by BESG.
Dr Geh Min was then the President. She had a hard time with the BG, but being a no-nonsense President, she managed to overcome BG's resistance. BESG was finally accepted as another activity group on 27th September 2005 under Article 10.4.5 of the society's constitution HERE. BESG immediately set up its website HERE to document aspects of bird behaviour. After about 17 years of activities and posting nearly 6,000 articles of bird behaviour that include the flora and fauna associated with birds, the website attracted nearly 44 million visits by people from all over the world. 

Article in BESG website that mentioned "Bird Group was no more Top Dog" now that BESG was also running "bird" activities".
Police Report
BG got its revenge six years later. This was when BESG claimed that BG was no more top dog now that BESG was in competition with BG (see above). Dr Ho Hua Chew took the opportunity to persuade Muslim convert Lim Kim Seng to make a police report HERE against me for insulting Muslim members of his group by using the words "top dog". This, he claimed, was because dog is haram to Muslims. This strategy of course failed when the police scoffed at the complaint.
Unfortunately, the police report was made when Dr Shawn Lum was President. When I approached him to intervene, I was told bluntly that he would not get involved. His reason was that as an American citizen from Hawaii, he had no knowledge of dogs being haram to Muslims HERE. I suppose he had to be on good terms with the BG as without the group's support he may not last being President for 15 years and counting. When Shawn was elected President of the Nature Society (Singapore) in 2008, he claimed that in any internal disputes, he would "hear out all sides and hopes to come up with solutions that everyone can agree on" (see below for the entire interview followed by excerpt highlighting how he would deal with internal politics).
Dr. Shawn Lum's interview with The Straits Times of 30th August 2008 when he was first elected President of Nature Society (Singapore).
Excerpt from The Straits Times interview above, highlighting Dr. Shawn Lum's views on internal politics.
At a subsequent Executive Council meeting, he left it to Tony O'Dempsey, another Muslim convert, to confront Hua Chew for using Tony's religion for such a despicable act, so much so that Hua Chew apologised to Tony. Shawn Lum, cleverly let Tony, a council member, deal with Hua Chew, rather he himself as President, deals with the matter..
Top portion of an unsigned one-page Nature Society (Singapore).
An unsigned one-page document (above)
Sophie Chew's 2021 article in the Rice Media: Before There Was Dover Road Forest, There Was the Lower Peirce Gold Course Saga of 1922 HERE led me to a one-page "document" HERE by the Nature Society (Singapore) dated 5th September 2017, headlined "Nature Society (Singapore), NSS's Response to Internet Comments on the Projects of its Conservation Committee: A Review of its Facts." There was no signature on the so-called document but from the contents it is obviously written by Dr Ho Hua Chew, Chairman of the Conservation Committee.
This document claimed the contents had the "endorsements" of the President (Dr Shawn Lum), two past Presidents (Dr Geh Min and Prof Ng Soon Chye) and the then Chairman of the Conservation Committee (Leong Kwok Peng) and Vice-Chairman (Dr Ho Hua Chew).
As the document carries no signatures of those who were supposed to have endorsed it, I suspect that Dr Shawn Lum, Dr Geh Min and Prof Ng Soon Chye were taken for a ride by Ho Hua Chew. Their names were obviously used without their permission. As such, I wrote to Shawn on 21st May 2021, asking specifically whether he knew of the existence of the document that claimed his personal endorsement. As I received no response, I wrote another letter saying that unless he replied, I would personally write the Dr Geh Min and Prof. Lim Soon Chye to confirm their endorsements. This did the trick and I got Shawn's reply. He confirmed that he did not draft the document and added that he had no knowledge of the comments on the proposal to build a golf course at Lower Peirce Reservoir. He added that he was a member of the society at that period but had no knowledge of the details. This confirm that Hua Chew included his name as endorsing the document without Shawn's knowledge. I concluded that Dr Geh Min's and Prof Ng Soon Chye's names were similarly used without their knowledge. This must be the reason why Hua Chew did not sign off the document. After all, these two ex-Presidents were not around then and could not endorse the documents' contents. Knowing Shawn, I am sure he would not confront Hua Chew about this despicable act and let the matter rests – such is Shawn's leadership style.
Banner of Singapore Bird Project to announce the formation of a new group set up by the expelled young ornithologists who had volunteered with the Bird Group.
Expelling of 4 young ornithologists
Early this year, Bird Group expelled four young and talented ornithologists that had been volunteering with the group for some time. No reasons were given to them as to why they were expelled. Secretary Morten Strange and President Shawn Lum arranged a meeting with the Bird Group leaders to find out the reasons why they were expelled. The BG leaders failed to appear at the meeting and subsequently refused to respond to the society's e-mails and phone calls. The Society's Constitution allows for disciplinary action to be taken but as usual, nothing was done. My guess was that the expelled volunteers were outshining the aging, non-savvy IT leaders in their output. Such behaviour had been going on ever since I joined the society in 1960. And BG had always been the cause of internal politicking.
Conclusion
By not renewing my Nature Society membership after 62 years of active involvement is my lone protest against a "lingering" President who earlier failed to provide support when I needed it most (re Police report against me by the Muslim convert Lim Kim Seng of the BG) – a President who publicly pledged to deal with internal politicking when he was first elected President 15 years ago. He also pledged to increase membership, which he failed miserably. Membership has in fact declined. If Shawn is unable to fulfill his two main aims after 15 years as President of NSS, allowing him to lead the society for another 15 years would not see any success.
YC Wee
Singapore
30th October 2022