A Scandinavian nature trip.
It has been some 20 years since Bee Choo and I last had a holiday together – just the two of us! If you don't believe me, look above at Hong Kong (Feb 2001) and Andaman Hotel, Langkawi, Malaysia (Jan 2002), the last trip being our de facto honeymoon. After Mark came later in 2002, we either took him along or Bee Choo and I travelled on our own.
As you know, I love Alaska and I still feel I owe Bee Choo a road-trip on the Dalton Highway up to the Arctic Ocean, we cancelled that part of our 2008 Alaska visit because we had limited time and the poxy Rent-a-Wreck I was driving at the time wasn't quite up to the challenge. But this year we will do something slightly less ambitious: A trip to the North, yes, but to Sweden/Norway this time, a presumably less demanding environment, so I expect. We will start at the Runde, Norway Atlantic bird cliffs and spend some time exploring Sonfjallet in Sweden. This is the planned schedule, there are some details below.
THE GREAT PLAN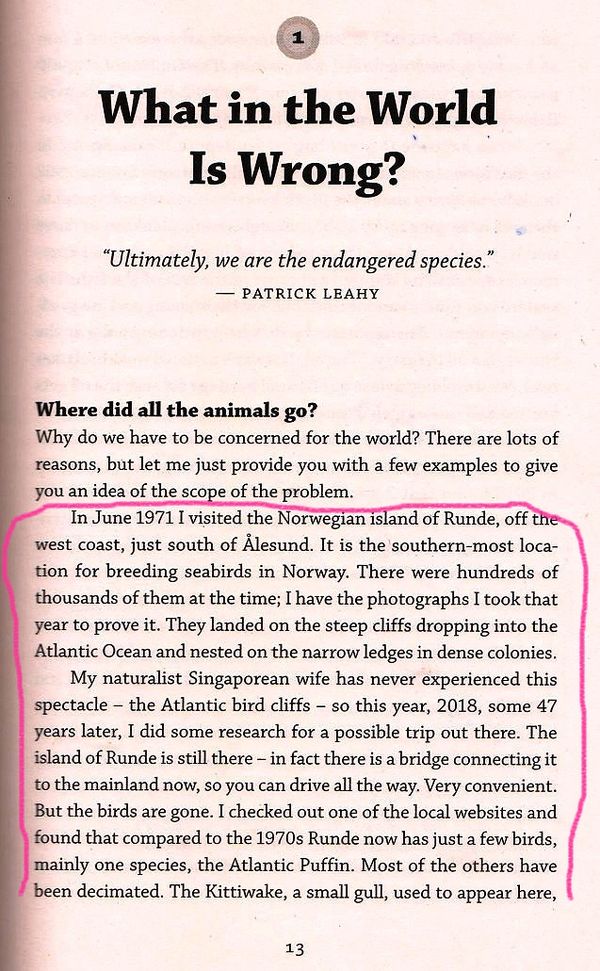 Runde and I go back some 51 years!
In fact, I allude to this in the opening chapter of my book The Ethical Investor's  Handbook (Marshall Cavendish, 2018). Here I use Runde as a case story of the decline in biodiversity, not just in the tropical rainforests and mangroves of the over-populated global South, but right in the heart of civilized, prosperous northern Europe.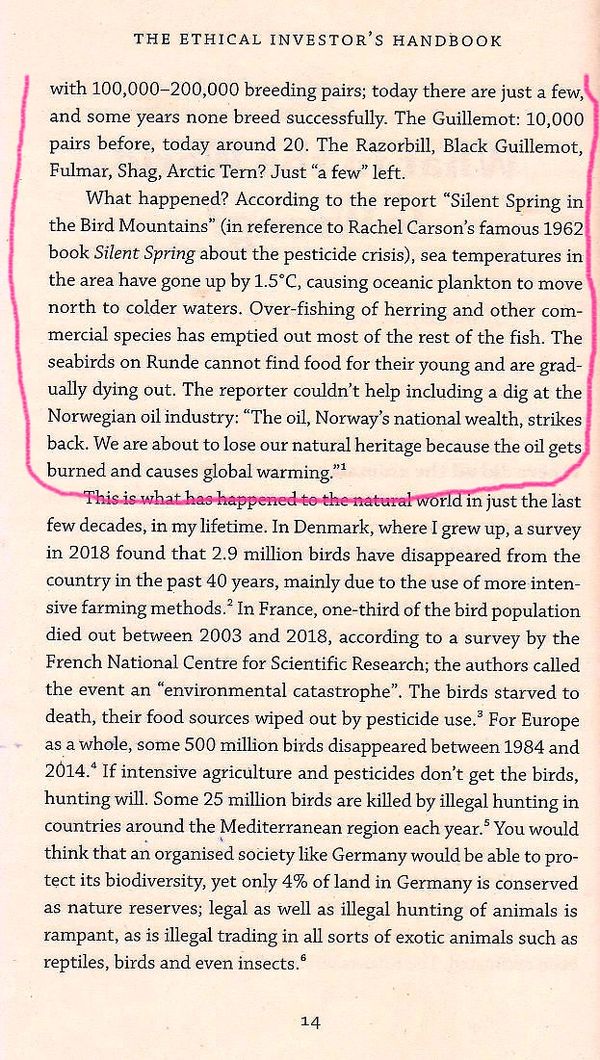 In 1971 I visited Runde in late June right after graduating from high school. At that time you had to take a ferry to the island, and there were no restrictions regarding access to the bird cliffs; in fact I didn't see many other people on the island that year. I have heard that sea bird numbers have come down since then throughout the North Atlantic region, but it will still be fun to see the place today and compare.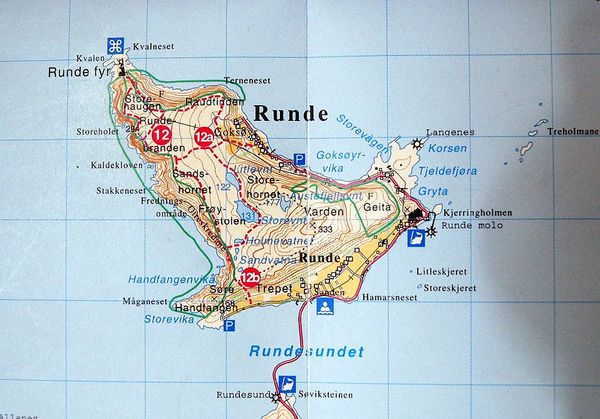 The island of Runde.
Runde is just about 2×3 km in size, so 2-3 days there should be enough for Bee Choo and me to see what the island has to offer. Most of the birds will be on the steep west coast, I am not sure how much is open to the public during the breeding season or how crowded it will be. Check out the 'Bird Cliffs 1971' chapter for details about my first visit.
Sonfjallet NP, Jamtland, Sweden.
I have been to Sweden a number of times, as you can see in the chapters above (1961-73 and such), but never to the Sonfjallet National Park. The spelling varies from source to source, I will stick with the 'o' spelling. The latitude is about 62 degrees North, i.e. equivalent to half-way between Anchorage and Fairbanks in Alaska, in other words: The Boreal Forest belt habitat. The park is about 10×10 km, it is surrounded by roads and has marked trails, so unlike the Brooks Range you cannot get lost (see Alaska 2021 for details!). I picked this place because the hiking looks manageable and there is a good variety of habitats such as lakes, mixed woodlands and some high country. There are mammals like Brown Bear, Moose and Lynx; I couldn't find a bird list online, Bee Choo and I will make our own!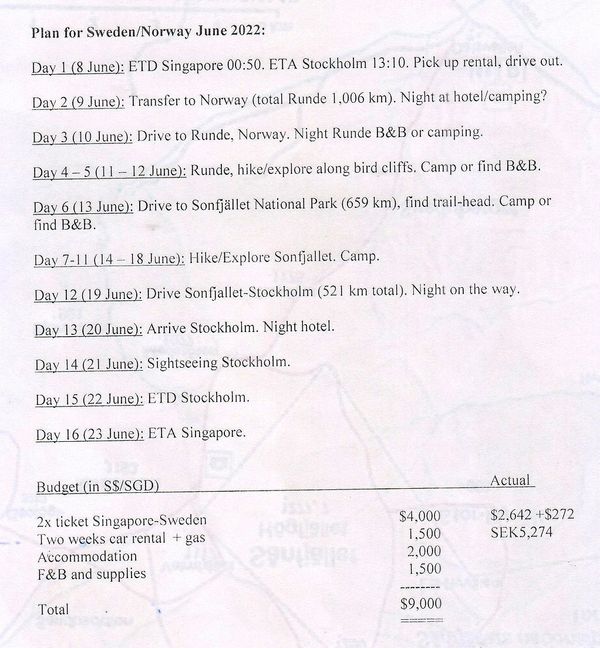 Itinerary and budget.
We have flights and wheels arranged but didn't book any accomodation; we will camp and find rooms as we move along. The $272 extra charge is for reserved window seats – that expense is worth it to me! The SEK and NOK are nice and low to the SGD at the moment! The itinerary is flexible, Bee Choo wanted a day sightseeing in Stockholm on the way back. Sorry family (in Norway and Denmark …), we couldn't fit in a family link, it is enough driving as it is; Bee Choo works full time, we could only be away two weeks. Next time!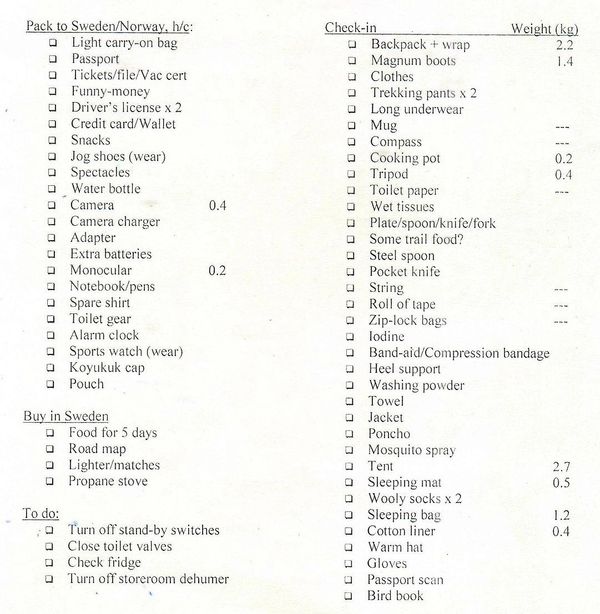 Re-cycling my Alaska gear.
My packing list is much like the one I used in the Brooks Range last year. We hope to camp for a few nights in Sonfjallet, weather permitting, but the hiking will be less taxing of course. If you keep walking in one direction you will get out of the park in 1/2 day! This is just a chance for Bee Choo and me to spend some quality time together in Nature!
If my legs perform as I hope they will, I will do a longer hike back in Alaska next year, 2023!?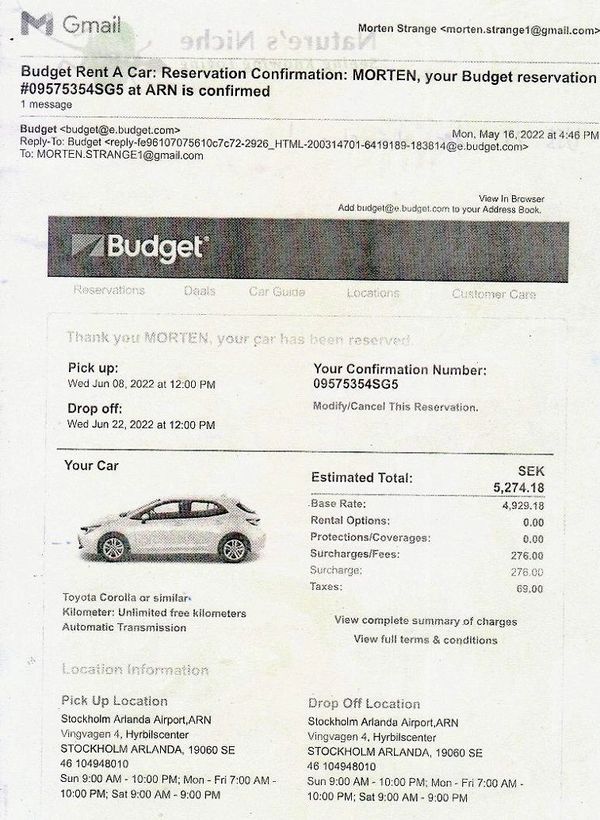 Wheels arranged!
We have reserved a small family saloon auto for the duration, it should be enough to take us over the Norwegian hills to the Scandinavian west coast and back.
As it turned out, when we got to Arlanda, we didn't get a Toyota Corolla, but a 'similar' model, which turned out to be a Hyundai Hybrid Plug-in of some sort. The car included a bunch of electric cables which I never used; I have no idea how this plug-in nonsense works, and I am not really interested in sucking the Swedish power grid dry. The car performed OK on the trip though, we ended up putting 2,515 km on the clock, and dealing with Budget/Avis was very easy – I love easy!
So that was the plan; below you can see what really happened.
HEY, WE MADE IT!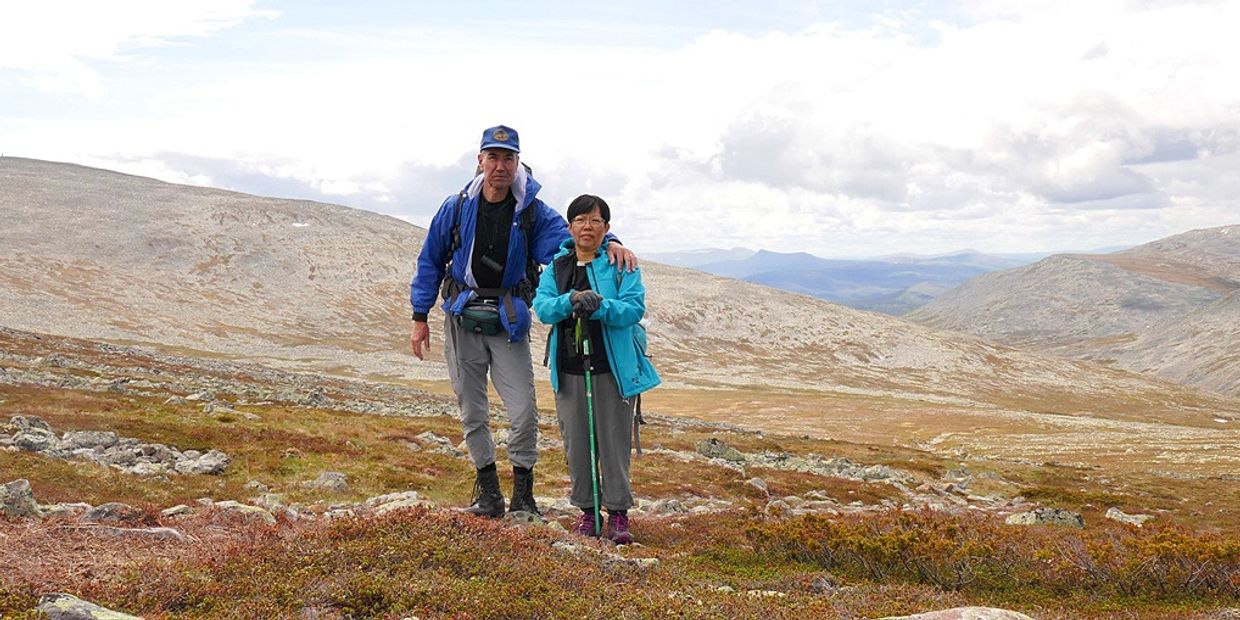 Sonfjallet, Sweden 17 June 2022, near the summit.
It took a lot of planning, packing and travelling, but we made it: Here we are on Day 10 of our trip. After two days of camping off the trail, we hiked all the way to the peak of Sonfjallet mountain that day and back to rural civilization for a hot shower and a firm bed to sleep on.
AN EXECUTIVE SUMMARY OF HIGHLIGHTS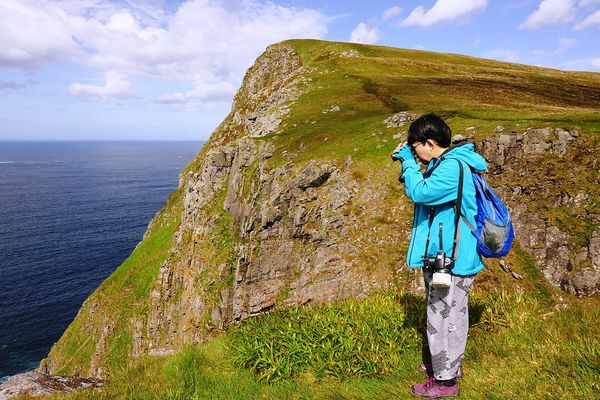 Runde island
My main target for the trip was Sonfjallet; but Bee Choo wanted to include a North Atlantic bird cliff island in the itinerary, mainly to see the Atlantic Puffins. Here she is in Runde looking at them. That day, Day 4, 11 June, was one of the best of my life: Seeing her enthusiasm and sheer happiness while watching the puffins and the other sea birds was worth every penny I spent on the trip.
I cannot play guitar, and I cannot sing or write songs like Eric Clapton. But if I could, I would write something like:
And then I tell her
As we head back okay
I say, "My darling you were wonderful today"
"Oh, my darling, you were wonderful today"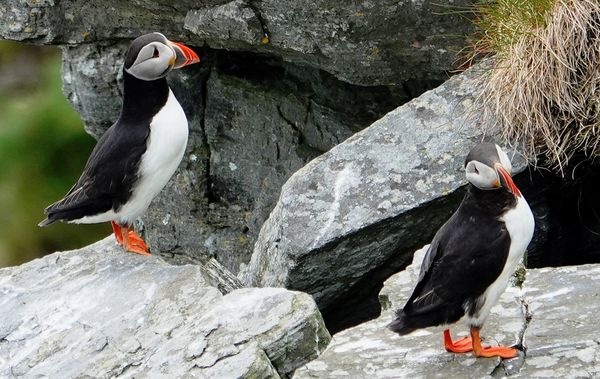 The star bird of Runde
And here it is, the bird that has captured so many people's imagination and heart: The Atlantic Puffin Fratercula arctica. Photo Ng Bee Choo. When I visited Runde the first time, in June 1971, I was the only one on the cliffs for a week. It turned out, that today a regular eco-tourism industry has sprung up on the island and hundreds of visitors walk up every day, mainly to see the Puffins. In the evening, tens of thousands of Puffins come in from the sea, they swerve around and land on the upper parts of the bird cliffs to roost in their burrows.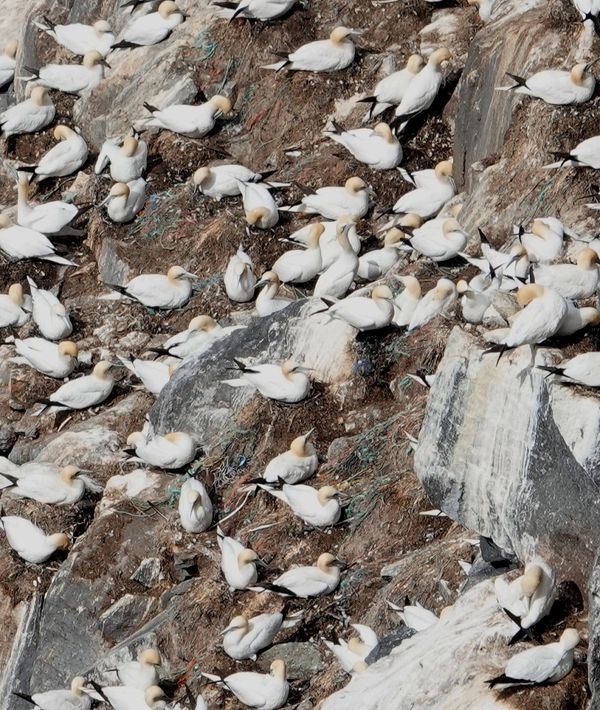 Another star: The Northern Gannet
As I will cover in more detail later, most of the sea birds in Runde have crashed since the 1970s, numbers have declined dramatically and some have virtually disappeared. But not the Gannet, they are doing fairly well, thank you. Here is Bee Choo's photo of the core congregation of Gannets on the cliffs, close-up at nest, a sight worth travelling a few thousand miles to see, right?
And the star mammal: A young Moose
It was only Day 2, 9 June, we had just crossed into Norway, when Bee Choo spotted this animal deep down in one of the river valleys. "I think it was just a Moose", she said. I said: "Just a Moose?!! Do you know I have lived two years in this country, visited countless other times, and I have never seen a Moose here?". I slammed the brakes and doubled back, Bee Choo took this photo from the road of a young bull feeding on the wet plants. It was the only Alces alces we saw on the trip! Somewhat confusingly called the Eurasian Elk in Europe, while the Red Deer is called Elk in North America!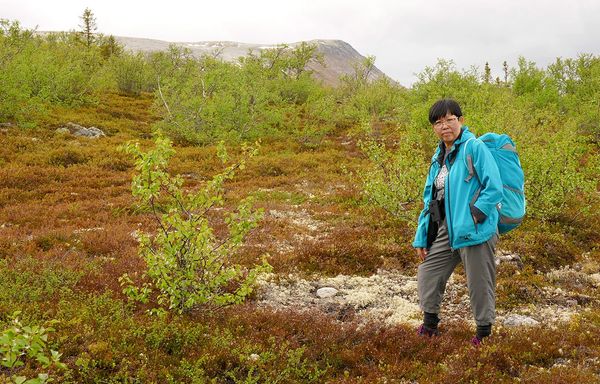 Hiking across Sonfjallet
Just like I had expected, Sonfjallet National Park was ideal for beginner-to-medium level hiking. All the trails were well marked, there were clear signage at the major trail junctions, you could never get lost, in any weather, and our weather was good (mainly …). Here Bee Choo is on Day 8, 15 June, coming out of the forested zone; we made it to the barren peak in the background by circling around the mountain, two days later.
A local star: The Reindeer
Day 9, 16 June; just as we were about to set up camp, a small herd of Reindeer, Caribou to the Americans, came out on the mountain hill-side; Bee Choo captured this nice bull (I think … Reindeer is the only deer in the world where both sexes grow antlers!). Brown Bear with cubs had been seen off 'our' trail the week before, but we didn't find that one – not for lack of looking around for it though! Some 20 bears roam the park, and they even come into the buffer zones and the villages around it now and then. But we enjoyed seeing the Reindeer, they came out well again the next day. At Sonfjallet, the Reindeer are not domesticated, they have lived here wild since the Ice Age!
Camping off trail
At Sonfjallet you can camp and build a fire anywhere you like. This is our second campsite near a beautiful small stream with the poorest water you can imagine. It rained heavily that night, but my tent is double-layered and well built. At 2.7 kg it is a bit on the heavy side, but when I hike I value a good, comfortable night's rest! Bee Choo was good at finding accomodation for us from day to day during the whole trip – she even had a nose for soft, level and picturesque campsites!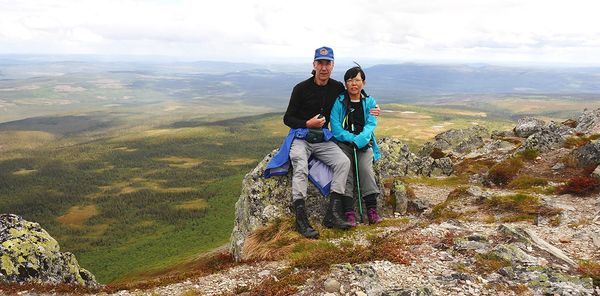 At the peak!
Trekking for three days around the mountain, we made it to the top 17 June. I put my camera on a rock to take this obligatory selfie with auto-release, the back-drop is looking east across the forested parts of the reserve. The elevation is 1,250 m.a.s.l.; strictly speaking the peak a km or so to the south is 28 m higher, but the view from here is better, so most people go to this one!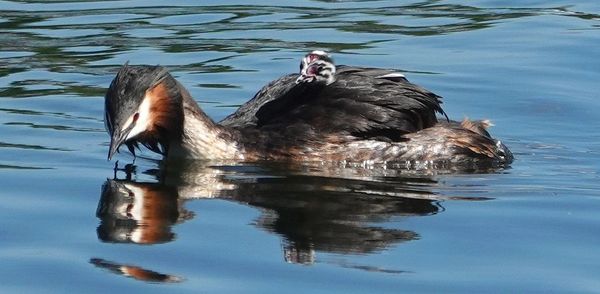 My Stockholm favorite!
From Sonfjallet we made our way south, back into more urban parts of Sweden. Since Bee Choo had accompanied me on what I wanted to do: Backpacking 10-12 km per day in sun and rain and across 1,200+ meter elevation rocky mountains, I accepted her suggestion, and so we added an extra day sightseeing in Stockholm before our flight home. Right, the grand parliament and royal buildings were OK, as were the funny narrow streets of the old part of town. But for me, this Great Crested Grebe, excellently captured with a young on is back by Bee Choo, won the prize as the sighting of the day!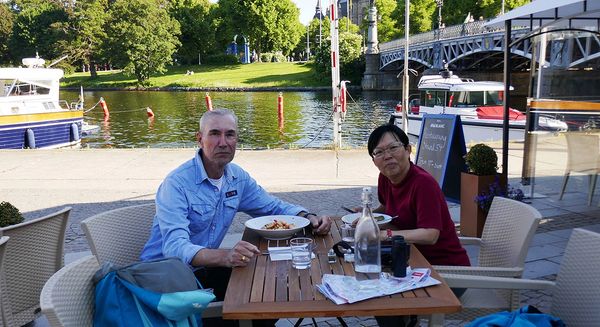 Stockholm Day 14, Tuesday 21 June 2022
This was the longest day of the year in Sweden in 2022. We spent the whole day in endless sunshine sightseeing in the city, and at the end of it I was as exhausted as if I had been backpacking on the trails all day! Another guest kindly took this photo of Bee Choo and me having dinner next to a tidal canal, before heading back to our hotel near the airport north of town.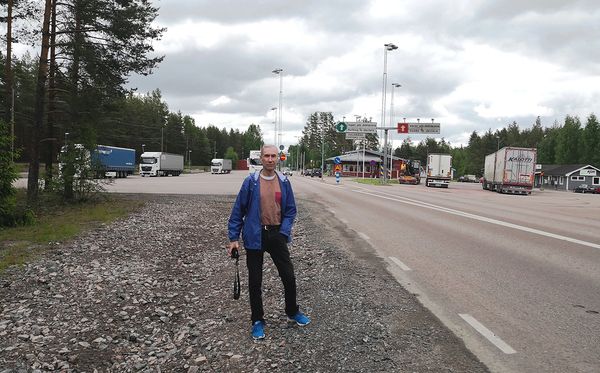 Border crossing Norway/Sweden
This is what it looks like driving from Sweden into Norway, Day 2, 9 June 2022. Near Eda on E2 toward Kongsvinger. Not much of a check-point; but they do watch it, because just as Bee Choo took this photo with her phone, a border cop pulled up and asked us politely what we were doing there!? We played the naive tourists from Asia and avoided getting arrested!
I have been asked if it is right to visit NATO and EU countries in these times, while they are ganging up to destroy Russia in a senseless and unprovoked assault, using poor Ukraine as a proxy. Right, I can sympathize with that view, but personally I believe we should ALL be friends, even with the Scandinavian failed states!
The final itinerary and expenses
As you can see, if you compare this final version of events with the original plan, we pretty much did what we set out to do. Maybe we didn't camp as many night as I had expected, but staying in those rural cabins with shower and kitchen was OK as well, for both of us.
As it turned out, we were under budget on most items, partly because of the ridiculously low NOK/SEK exchange rate to our base currency, the Singapore Dollar. Rather than take the near-worthless funny-money back, we spent most of our excess cash as we left each country, therefore the 'supplies & gifts' item was a bit more than expected!
GETTING THERE, DAY 1 TO DAY 3: 8-10 JUNE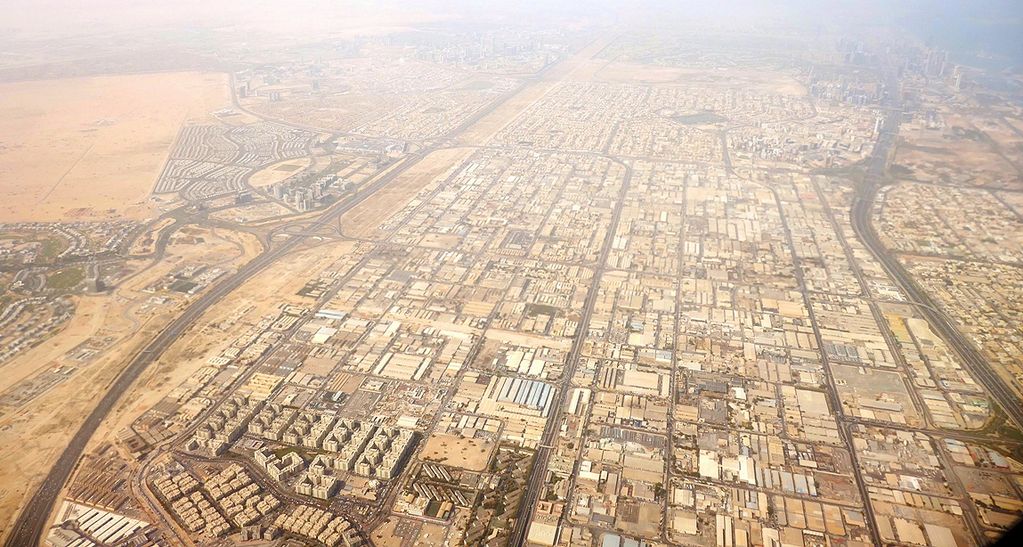 Throughout my life I have avoided going to the Middle East! This place is great if you like sand and people, but if you like me prefer greenery, no!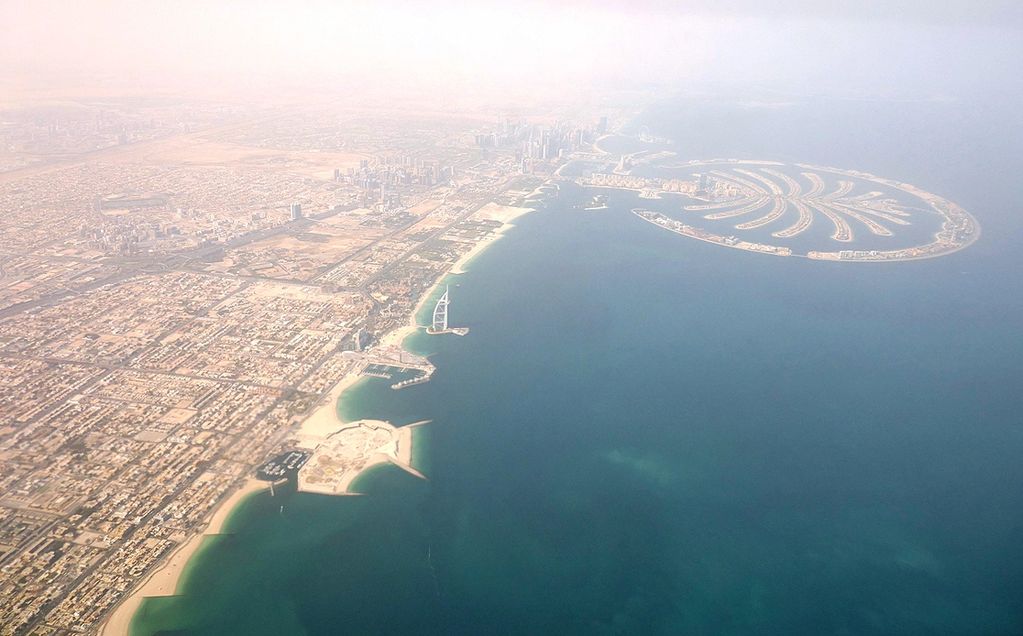 Stopover in Dubai 8 June. Even the phoney leaf-like development built with all that oil money doesn't impress me. Nothing of interest here.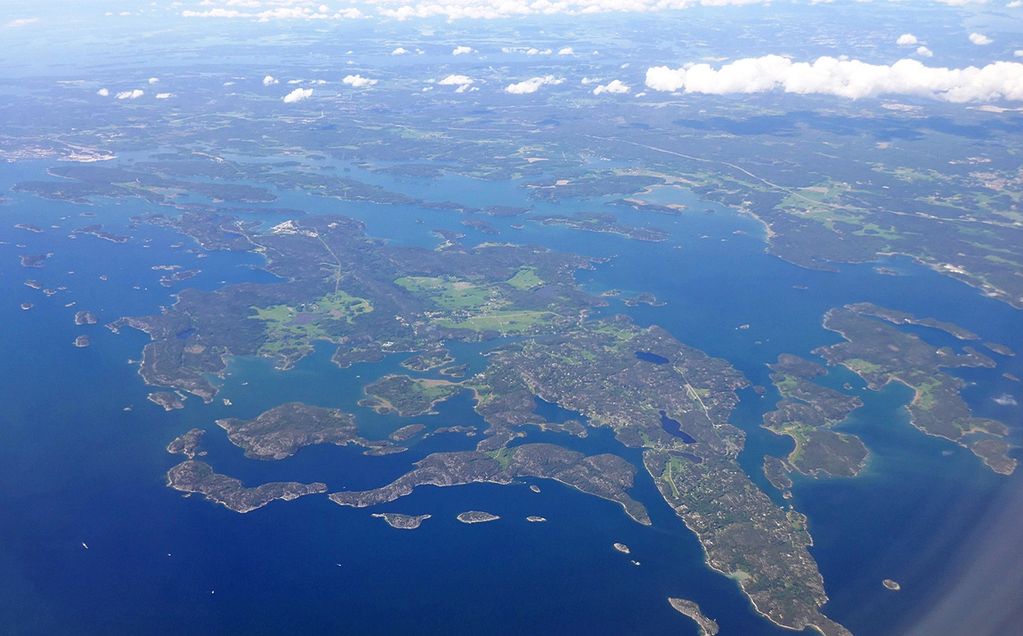 The archipelago surrounding Stockholm seen from the approach to Arlanda Airport; a pretty myriad of islands and rocks.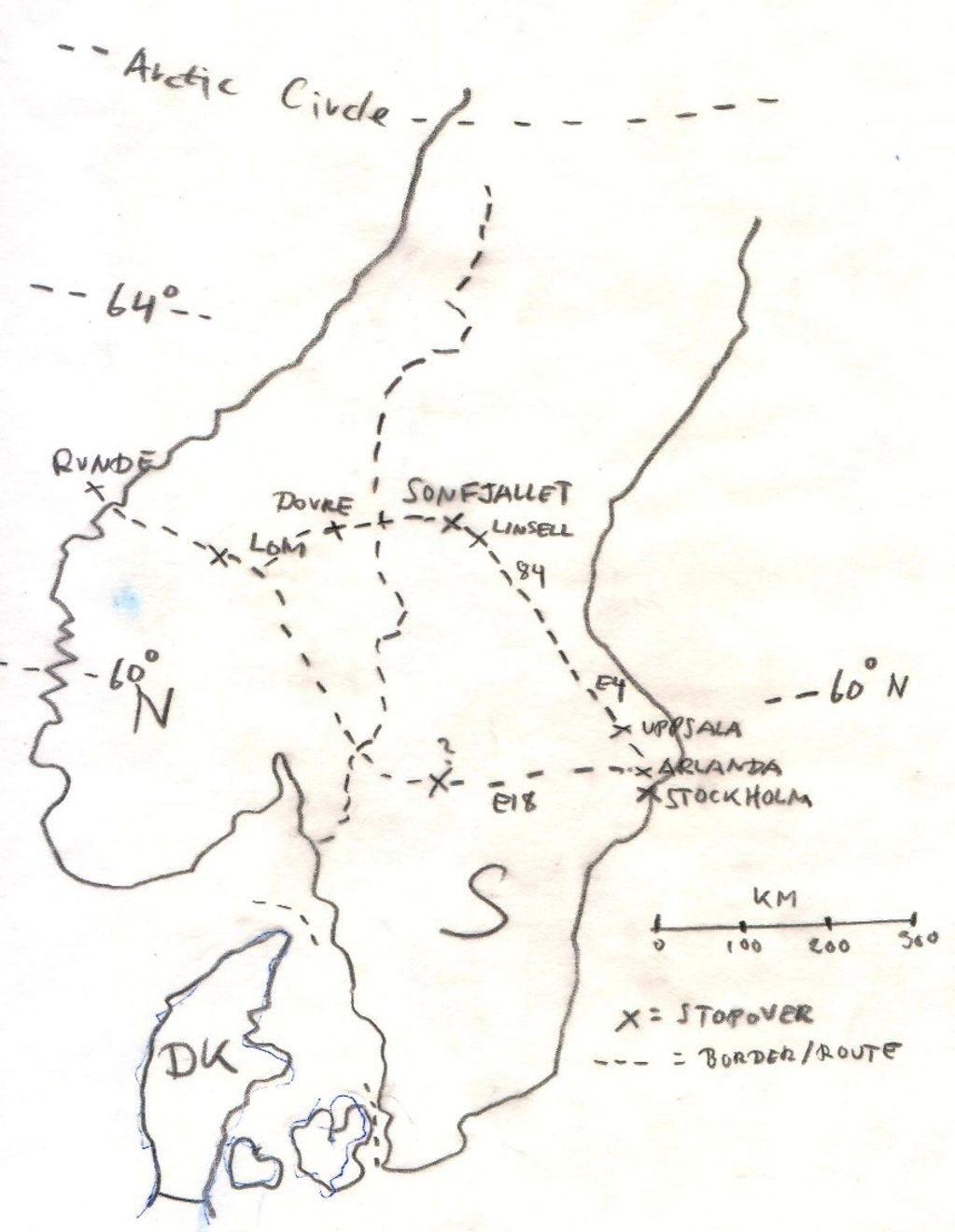 My high-accuracy interpretation of Scandinavian topography. The site names and road numbers will turn up now and then in the captions below.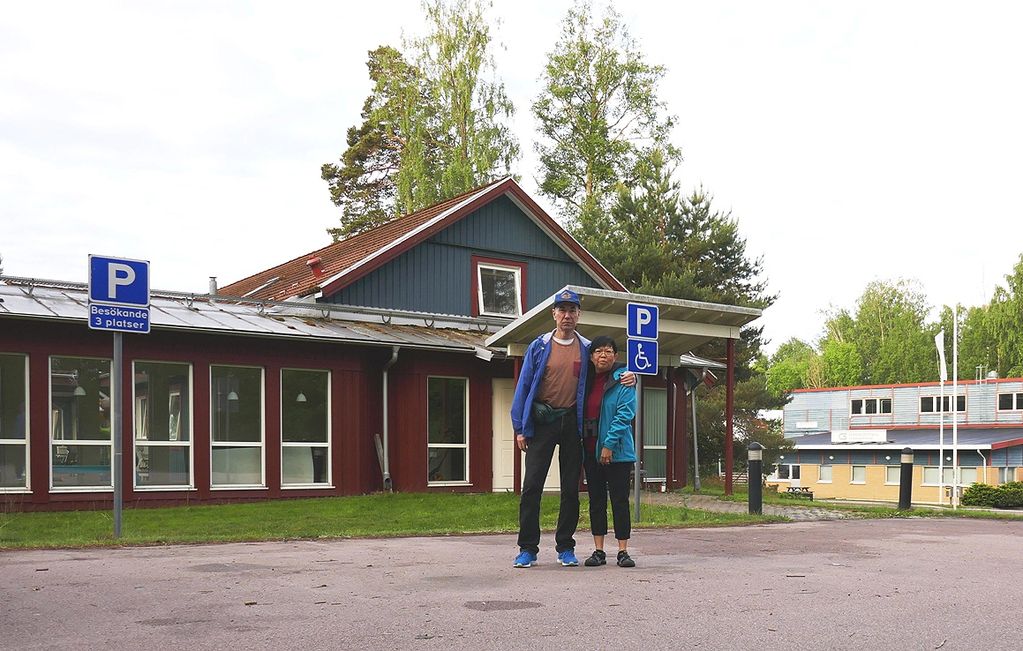 Day 1. The traffic west on E18 was pretty horrible; Bee Choo found this 'hotel' online and we stayed for the night, it was about US$ 70 – cash only!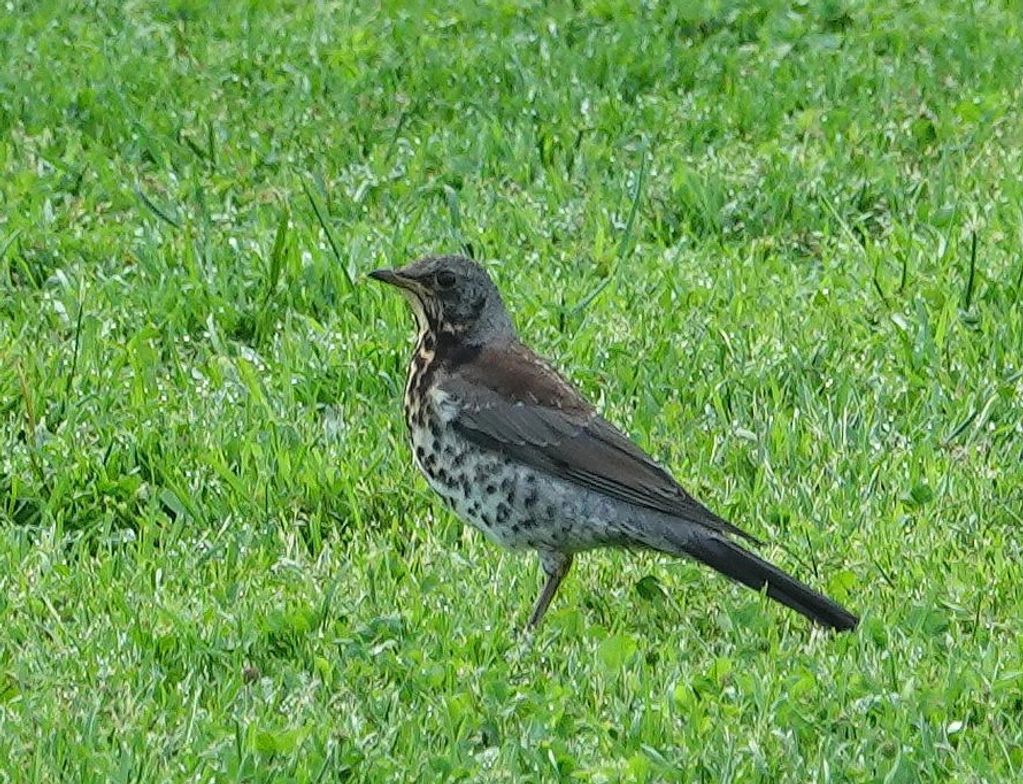 I forget the name now, the other rooms were occupied by refugees! But the surroundings were nice and during a morning walk this Fieldfare came out.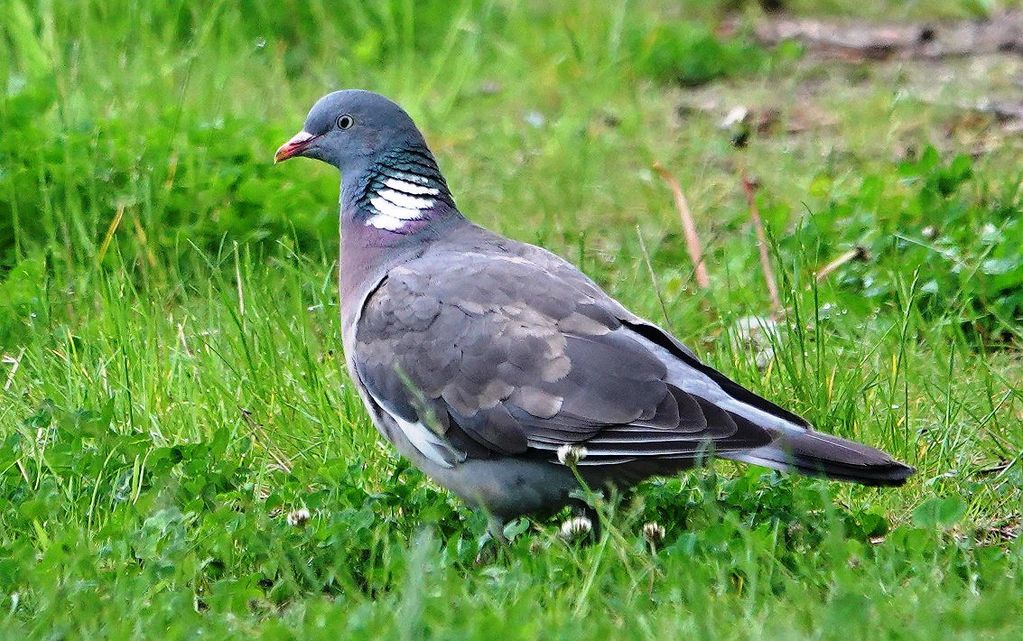 Bee Choo started practising her bird photography in anticipation of Runde. Here is her Wood Pigeon, it is everywhere in Sweden!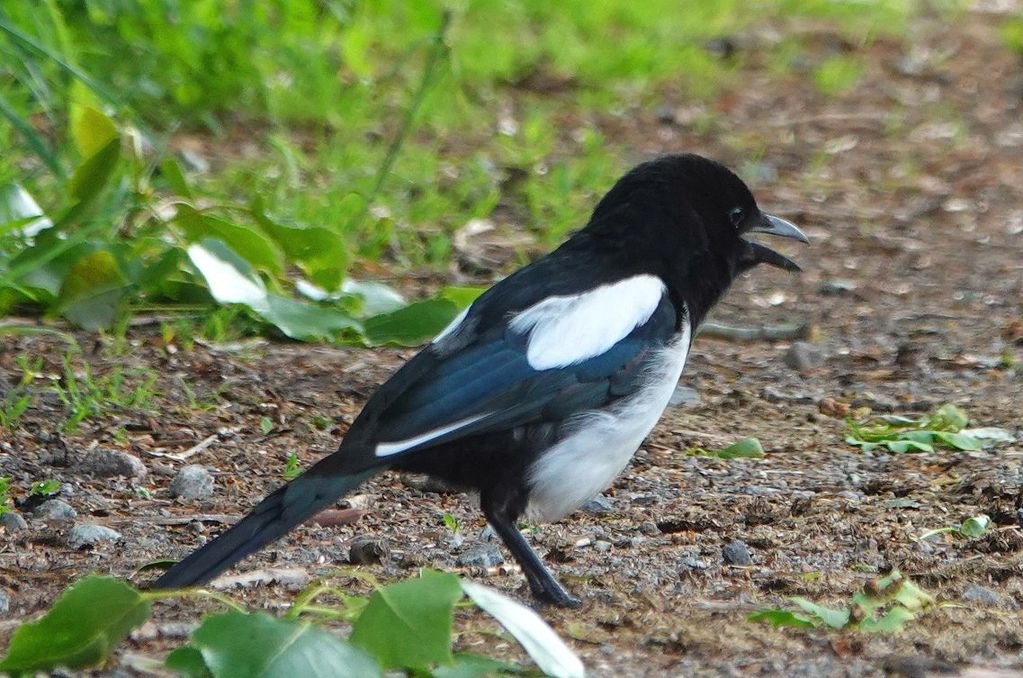 Magpie near the hotel, one of my favorite Corvids of the North! All bird photos by Ng Bee Choo!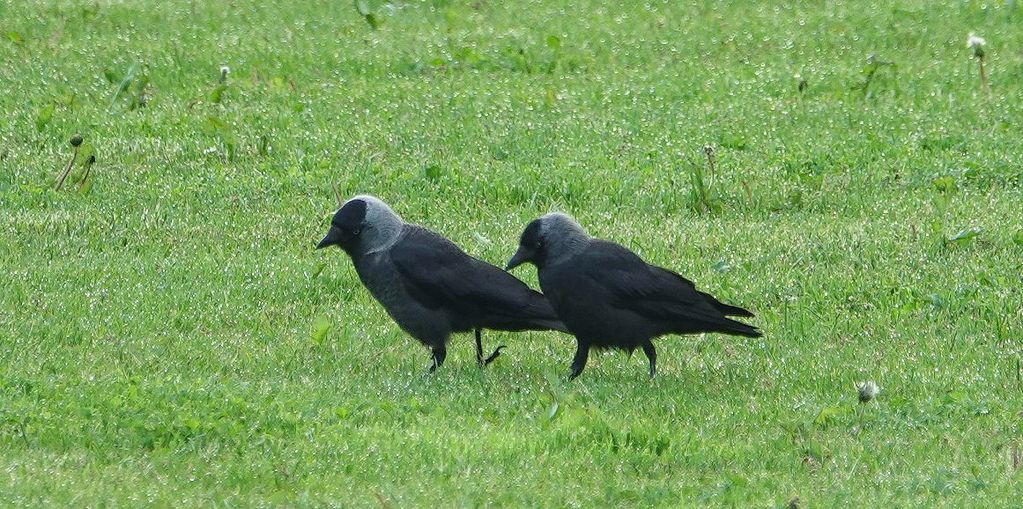 Another crow-family member I like: Two Jackdaws feeding on a nearby soccer field; Sweden is big on sports and there are sports fields everywhere!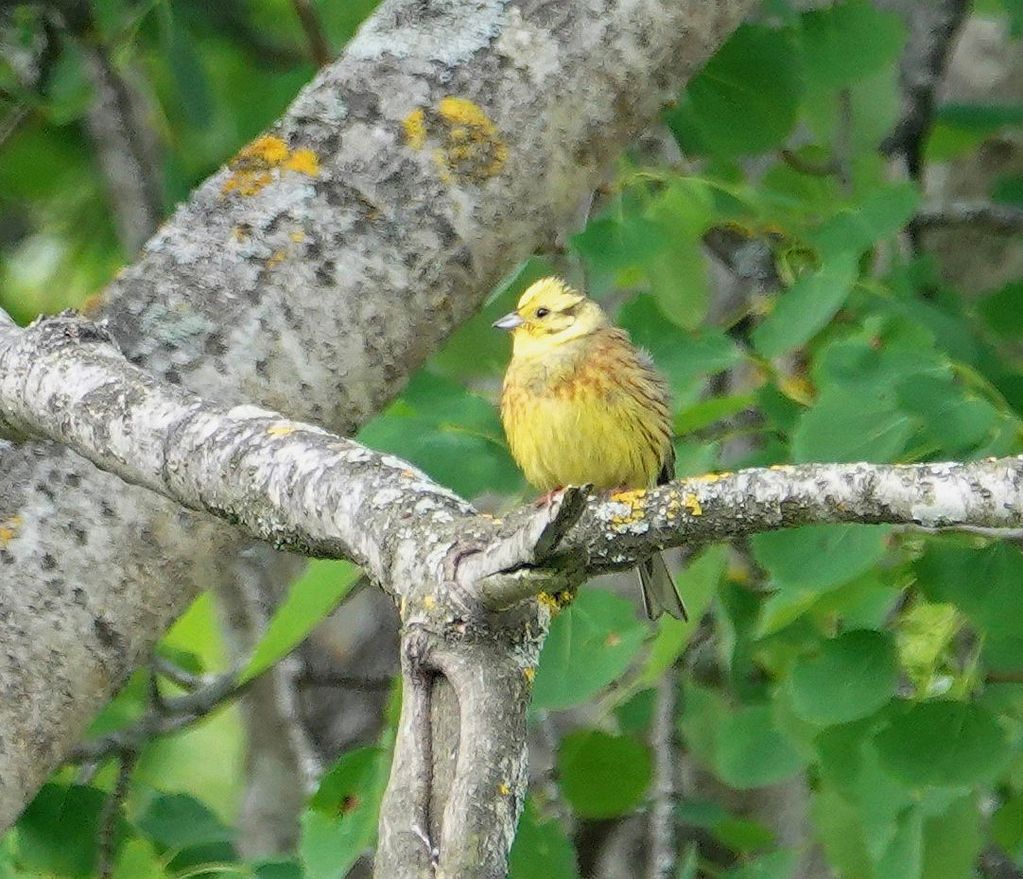 We drove towards Norway and stopped for lunch at a picturesque cafe in the woods; this Yellowhammer male came out well, singing away!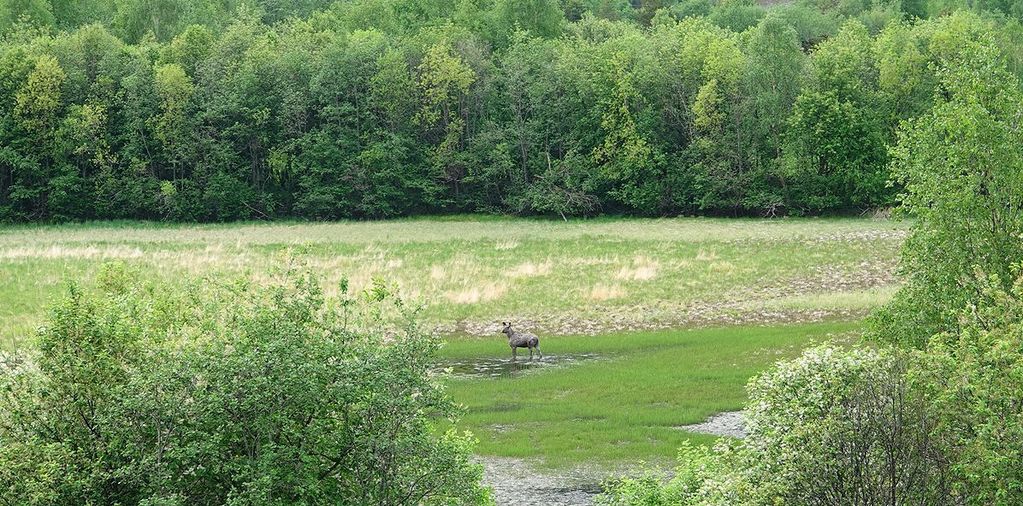 Well into Norway, Bee Choo somehow spotted this Moose from the car in a valley off E15. The national animal of both Norway and Sweden, I believe.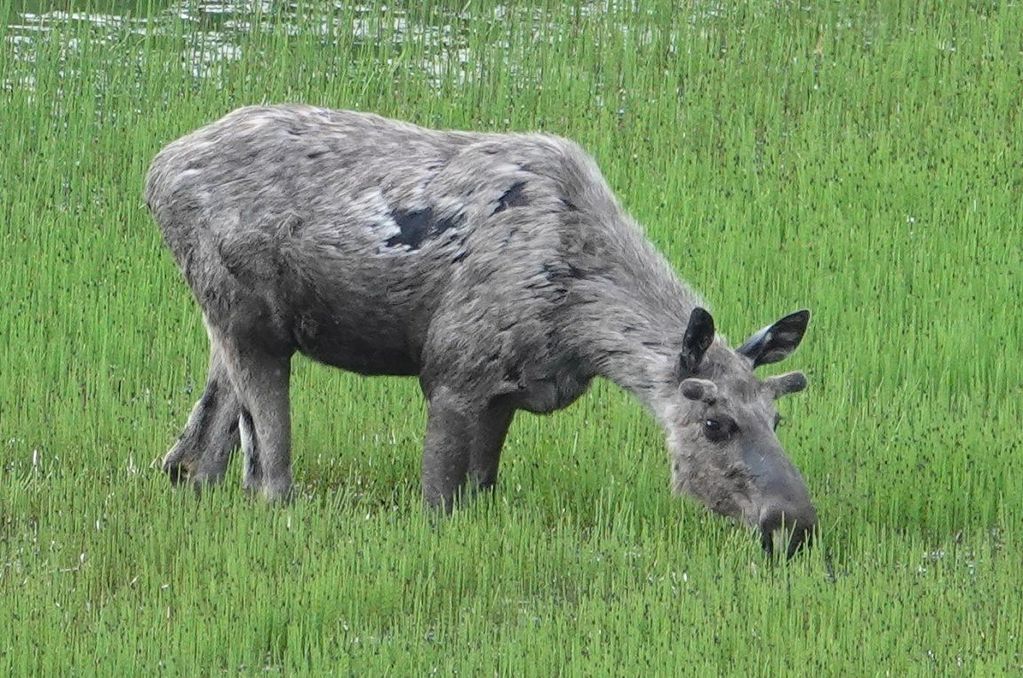 This is what Bee Choo's magical camera can do. This shot is taken from exactly the same spot, just with a bit of zooming in and cropping provided.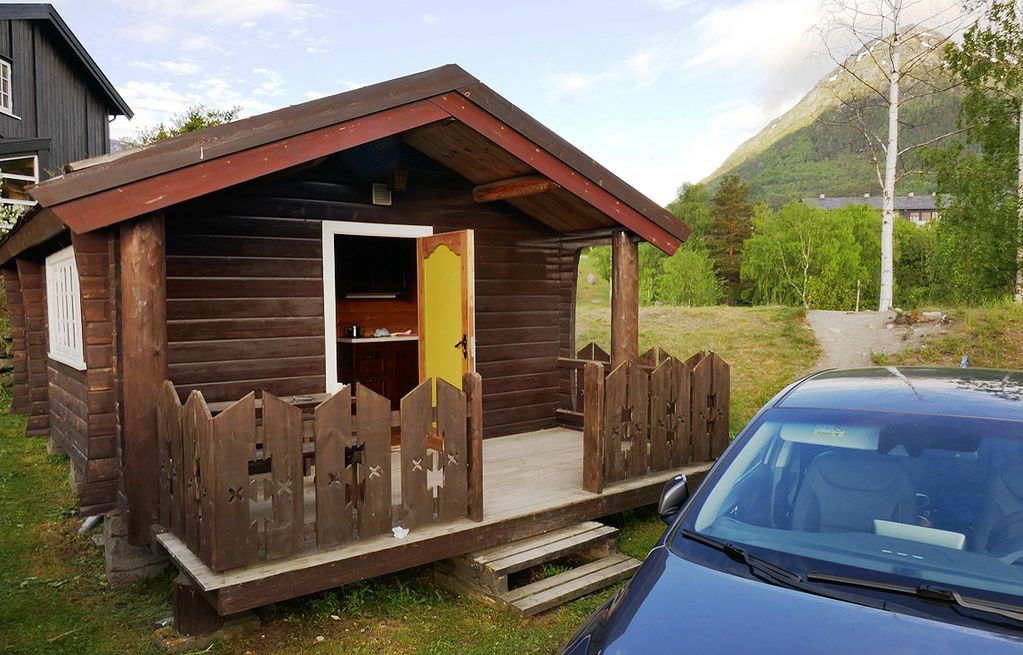 At the end of Day 2, 9 June, we stopped at Lom, Norway and found this cabin at the Nordal Tourist Center, a beautiful place.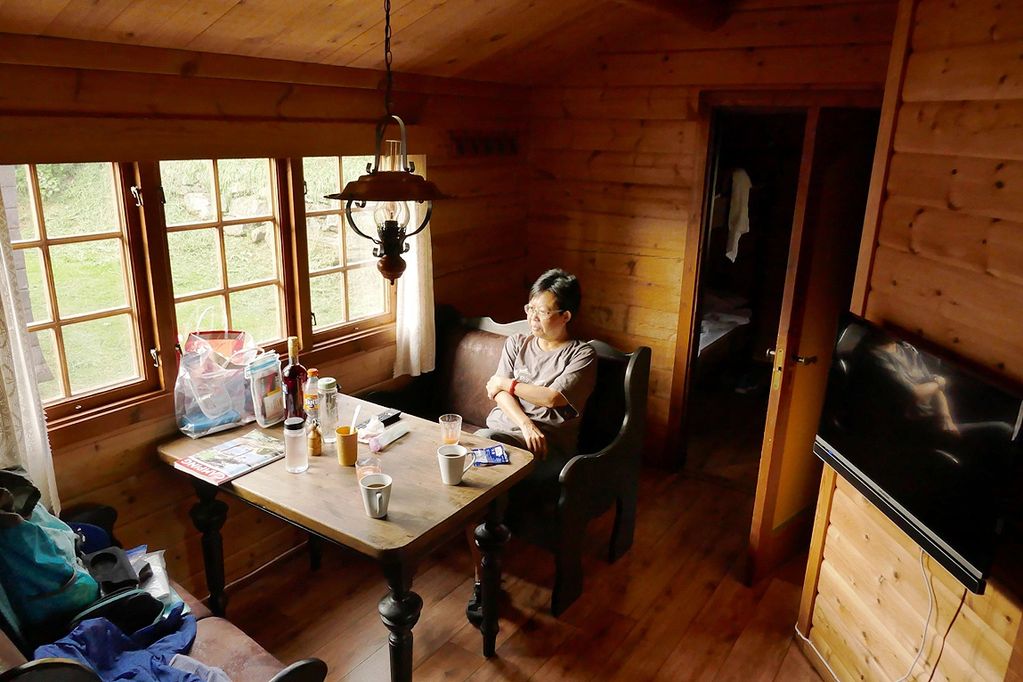 We never made room reservations in advance; I would drive and Bee Choo would help navigate and find accomodation for us with her phone.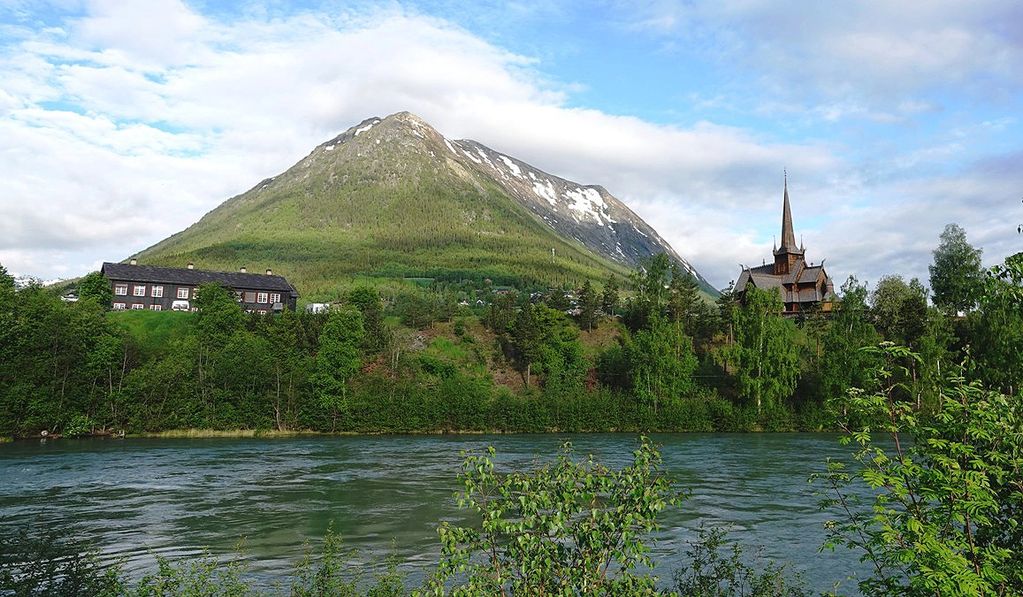 Bee Choo was great at finding nice places for us to stay. Lom is a resort town near the Bovra River and we walked along the river in the morning.
I didn't know Common Gull would nest in a tree, but with her amazing camera Bee Choo captured this 'nesting (??)' pair far off along the river bank.

Day 3, 10 June. Going west/north-west from Lom, we crossed this high plateau before the coast. Bee Choo took this stunning scenic from the road.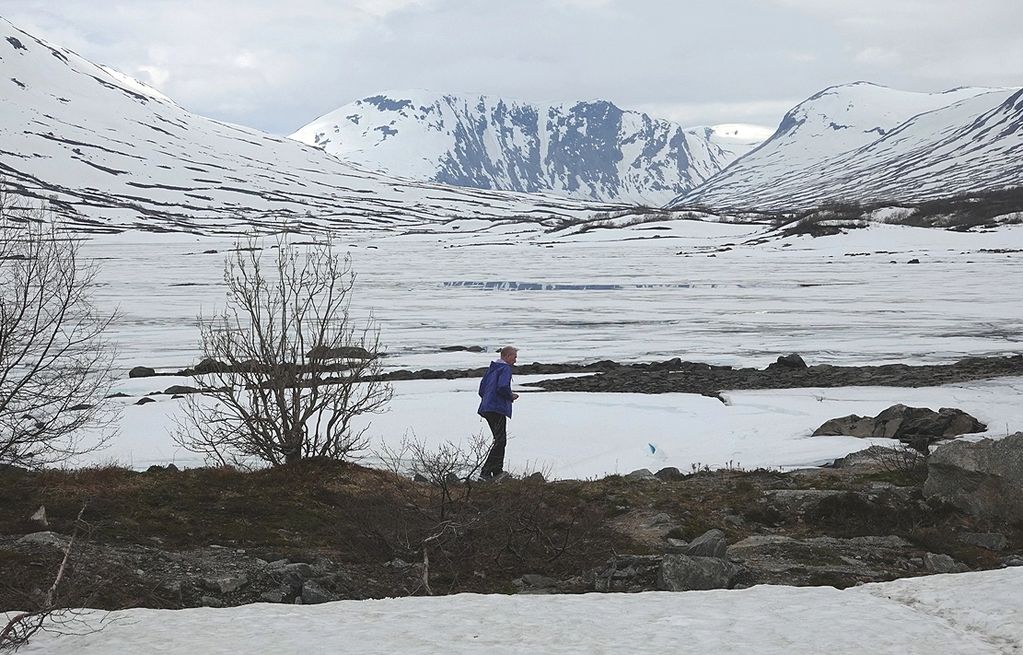 Norway is a rough place, 10 June there are still places where you can ski! Photo Bee Choo.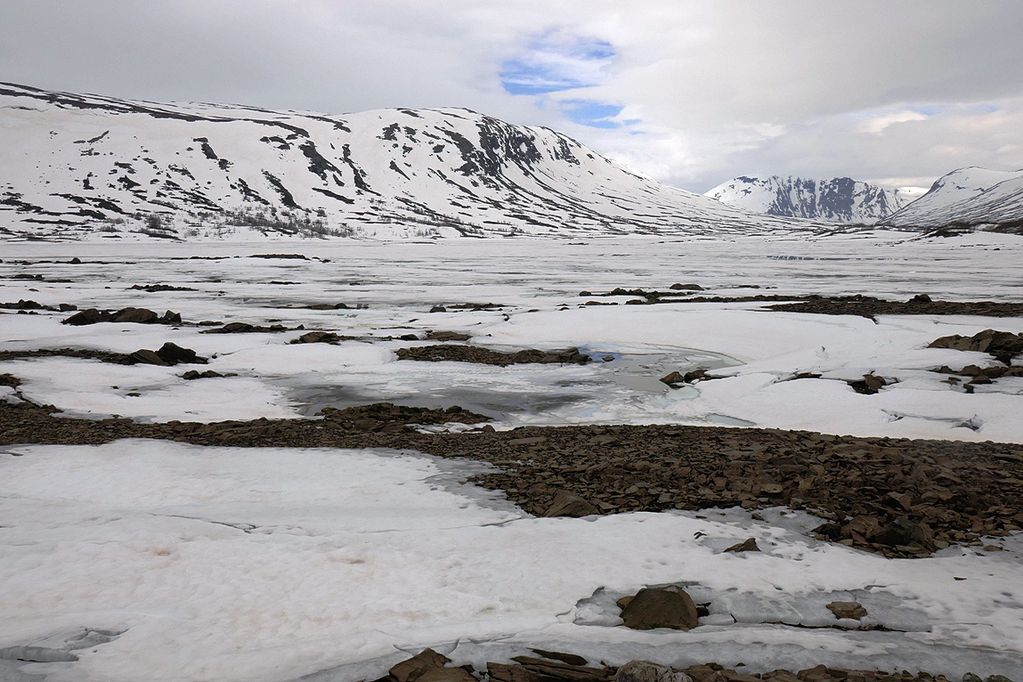 .. and this is photo me! I took this frozen lake from the viewpoint shown above.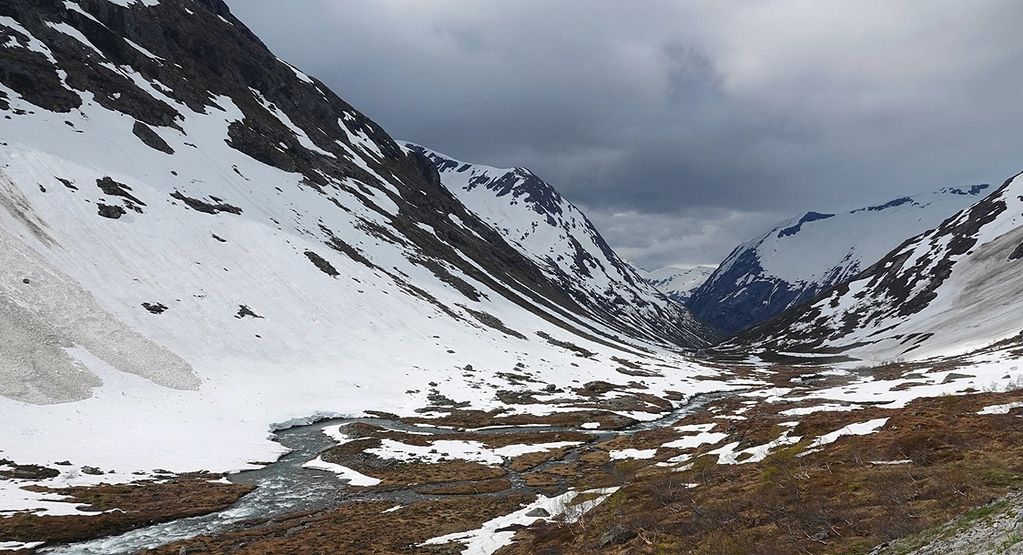 We crossed the Sognefjellet plateau and headed back down thru tunnels, valleys and classical Norwegian hairpin turn roads.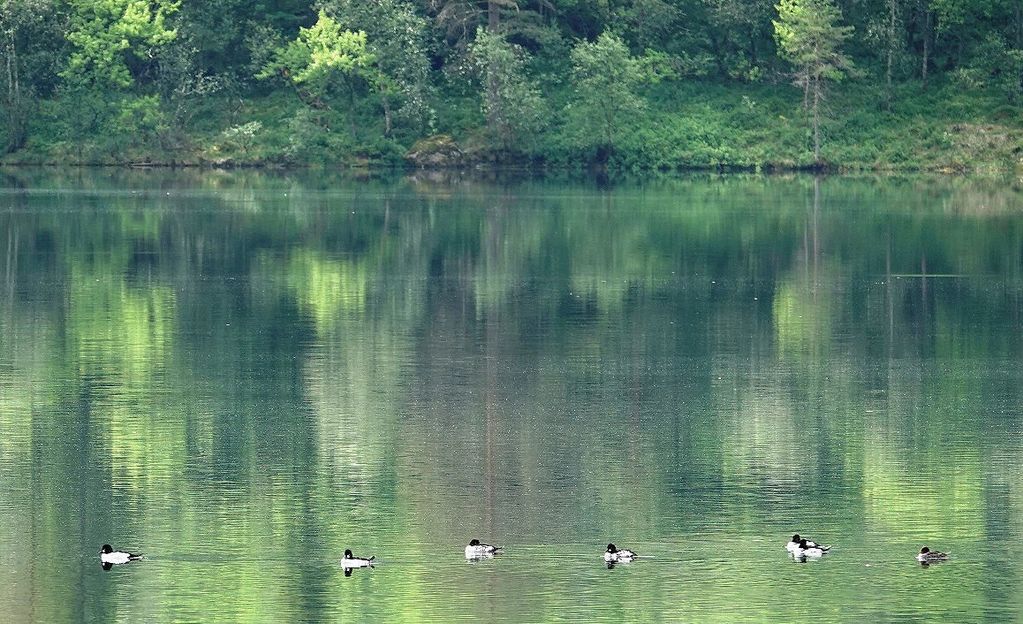 Back at sea level, the road took us along stunning rivers and fjords, and we stopped to admire this group of Goldeneye ducks.
Bee Choo zoomed in on these two Goldeneye males.

Nearby, Bee Choo captures this pair of Red-breasted Merganser, the male is in front.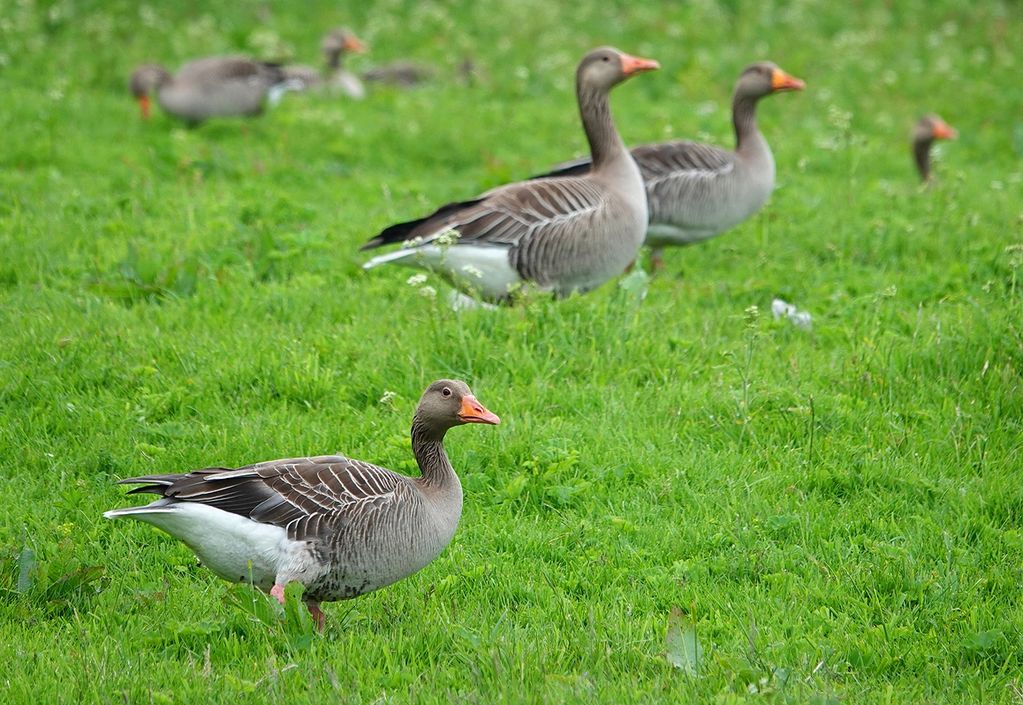 Approaching Runde, this flock of Greylag Geese were feeding off the road, eating the grass like a bunch of grazing cows!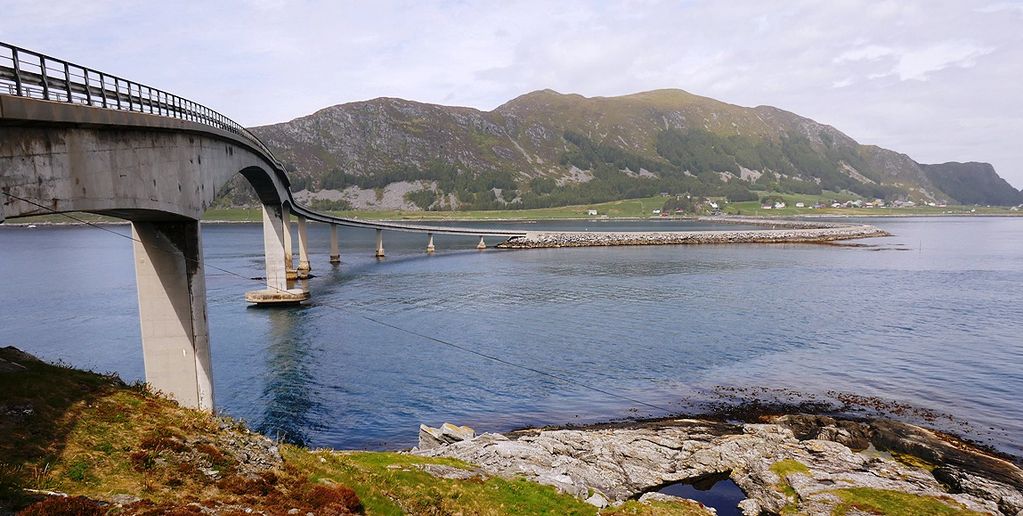 We covered 1,077 km the first 3 days. And there it is: Runde island. I am back after 51 years! In 1971, I crossed by ferry; today there is a bridge.
RUNDE RE-VISITED, DAY 3-6
It was a bit odd for me, going back to Runde after 51 years; Bee Choo captures the occasion!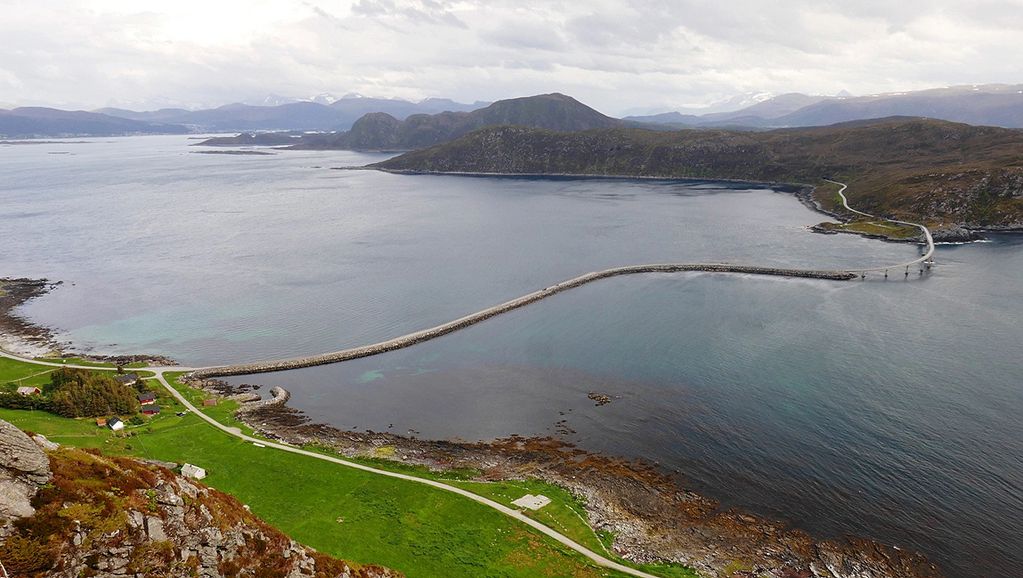 This is the 'new' bridge from a better angle, it was put in 1982. The next day, 11 June, I walked to the southern tip of Runde to get this view.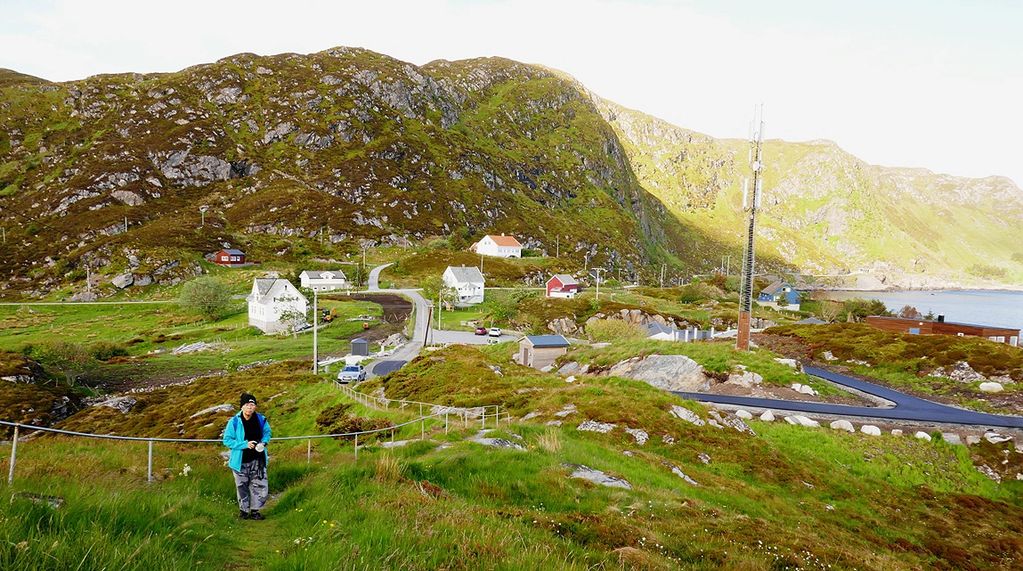 Runde is only 6 sq km, so we could quickly check it out. There is a campground at Goksoyr, but we preferred rooms at Christineborg.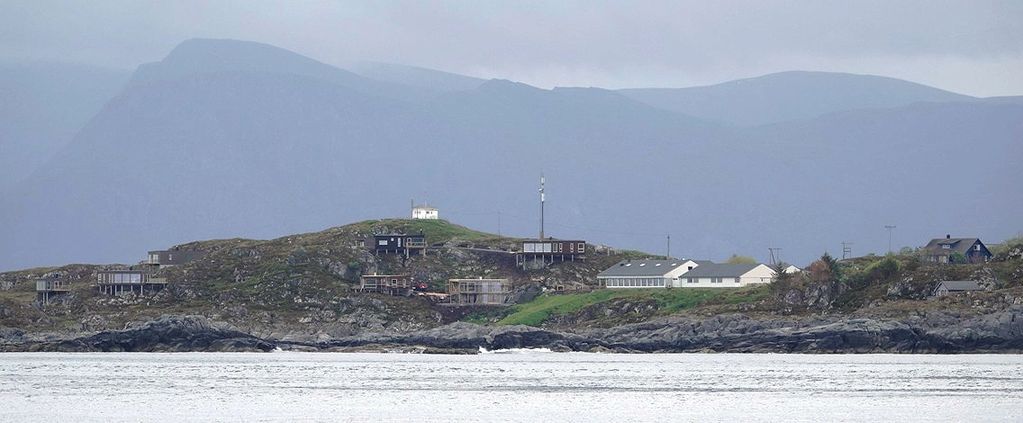 This is Christineborg seen from the west, rooms were about US$130/night. The owner, Arnold, was expanding and did most of the work himself!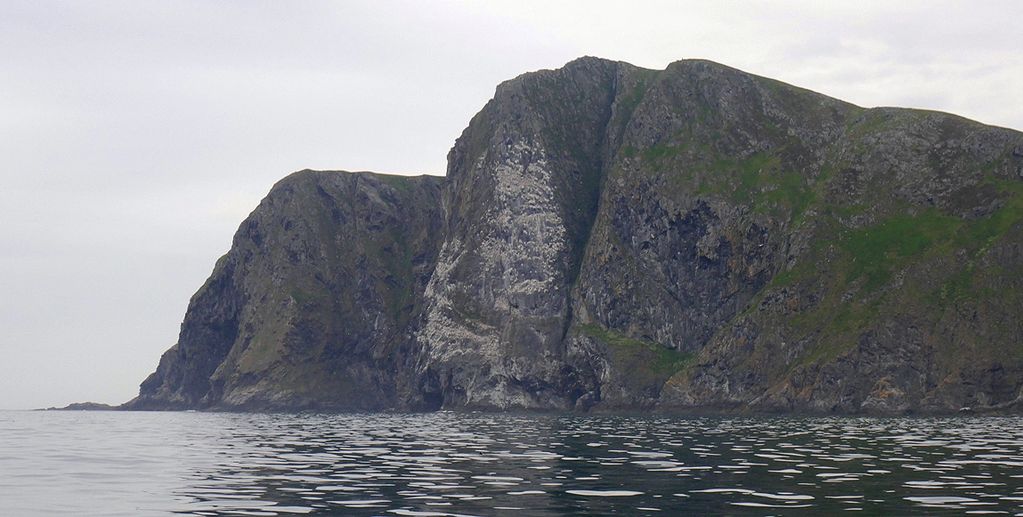 We wasted no time, and the first evening on Runde we did a 1-hr boat tour around the coast. These are the bird cliffs seen from the water.
The weather was not the best; we had drizzling rain, but the seas were calm and Bee Choo enjoyed herself.

Bee Choo took this photo of the Alcids on the water, here mainly Puffins congregating before flying up onto the cliffs to roost.

This group taken by my camera are mainly Guillemots and Razorbills, two species that are now scarce.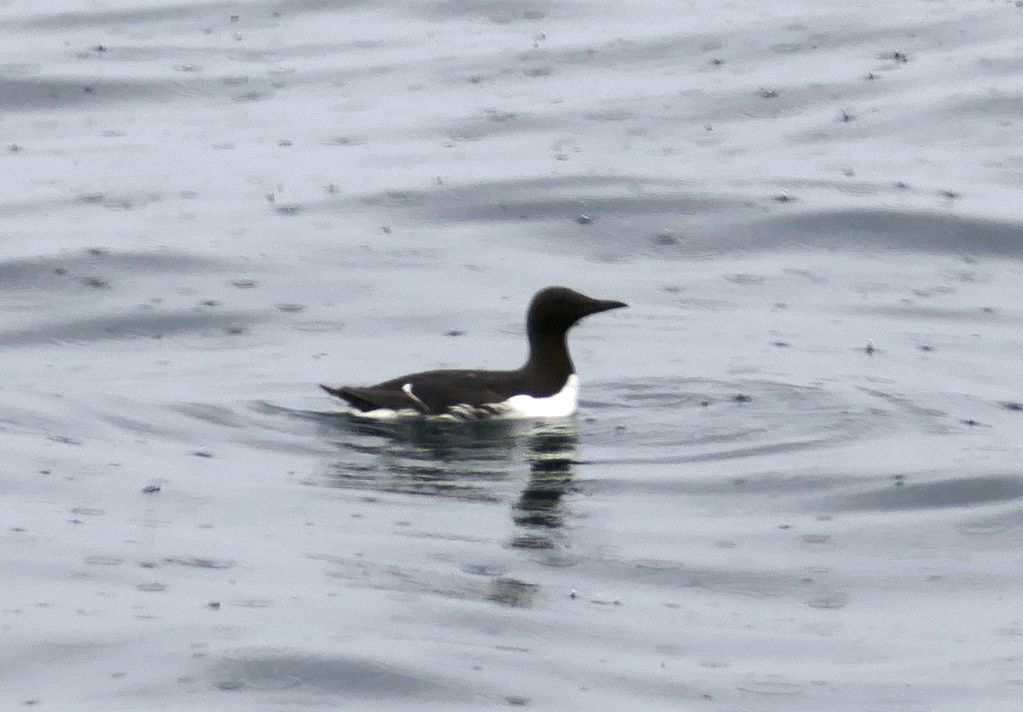 In fact, Bee Choo never got a photo of a Guillemot!? They used to occur by the 10s of thousands … so I have to use my own blurred record-shot.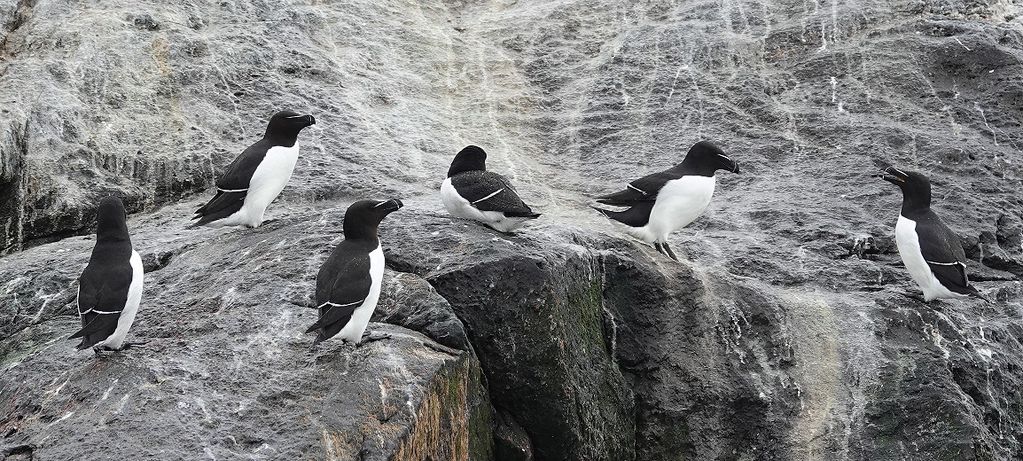 The boat took us close to the cliffs and Bee Choo got this image of a group of Razorbills. We saw only two Black Guillemots, no photo.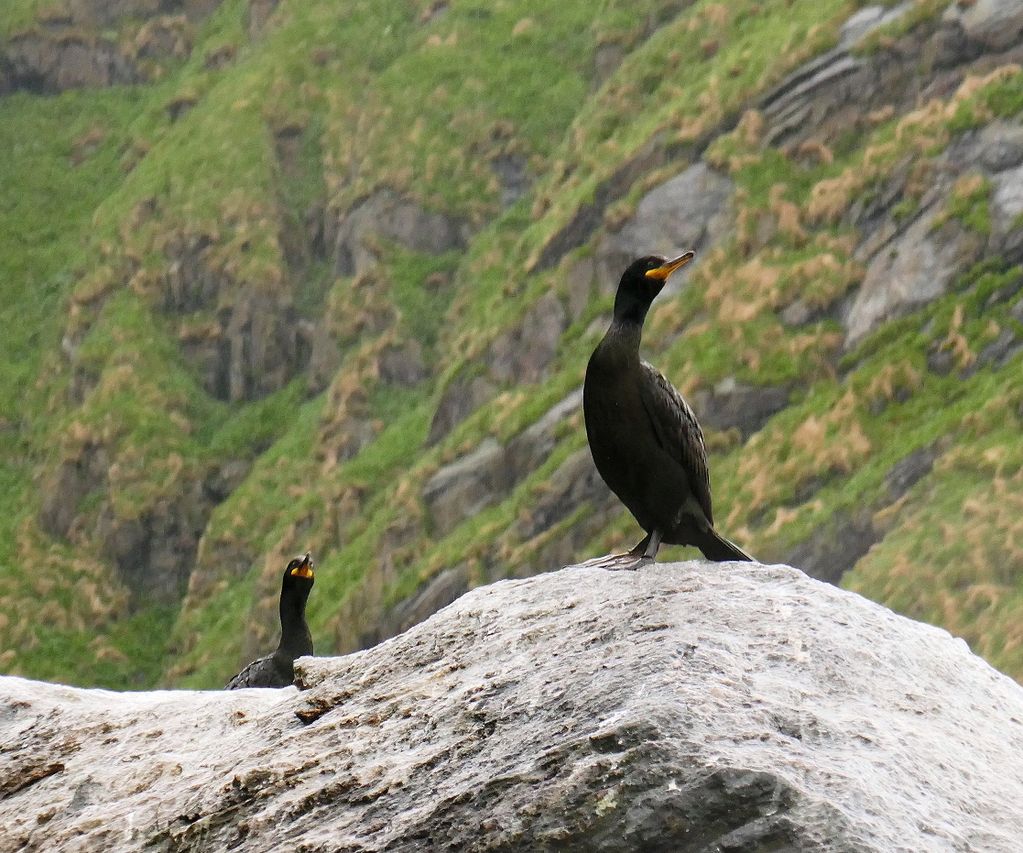 The population of Shags (a kind of cormorant …) has also crashed, but we did see a few from the boat.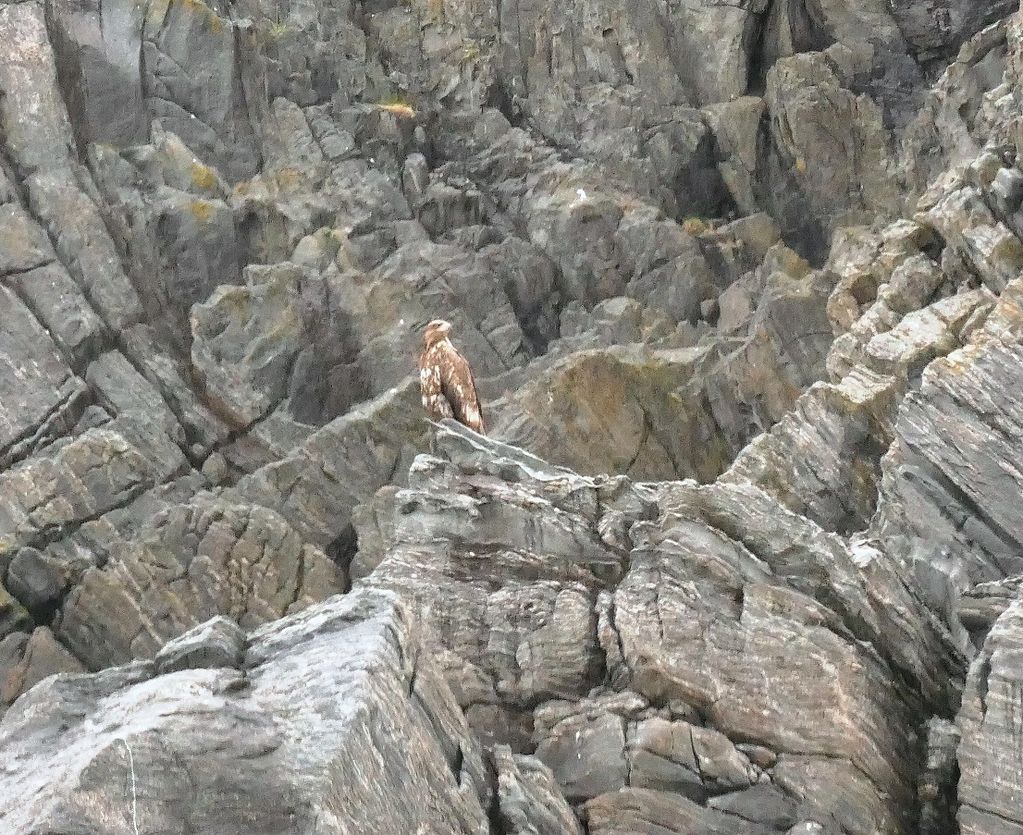 But this one is doing well, thank you: The White-tailed Eagle. It didn't occur in 1971, now there are several pairs.
And Northern Gannet is also doing better, in fact the population has increased a lot since 1971. But that doesn't mean all is well …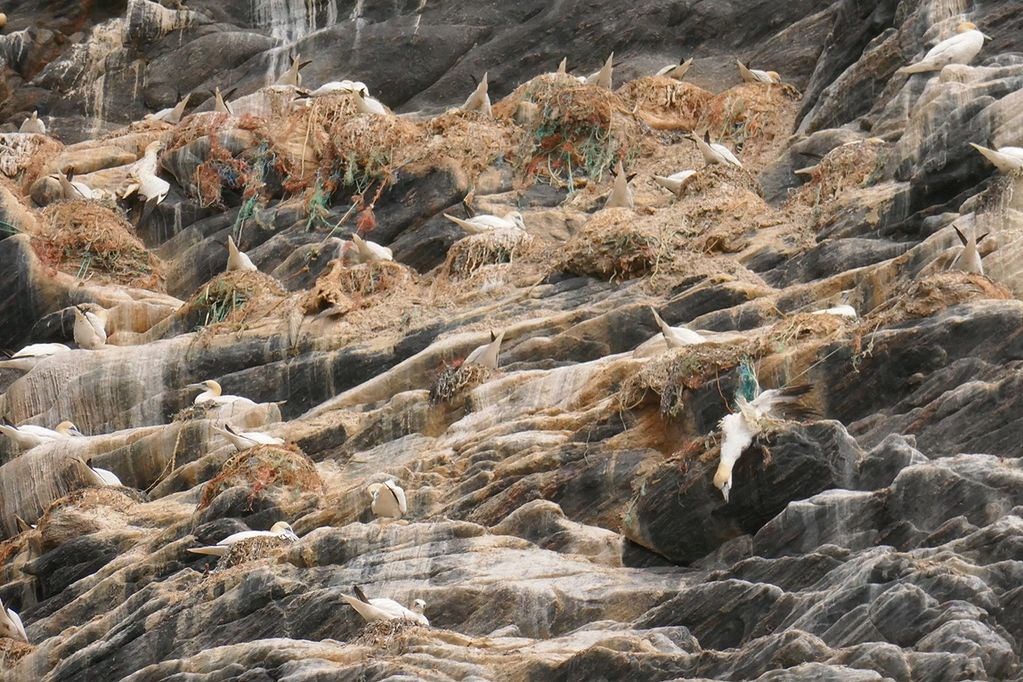 … if you look at this close-up of the nests you will see why: They are built almost entirely with plastic garbage! The bird on the right is dead!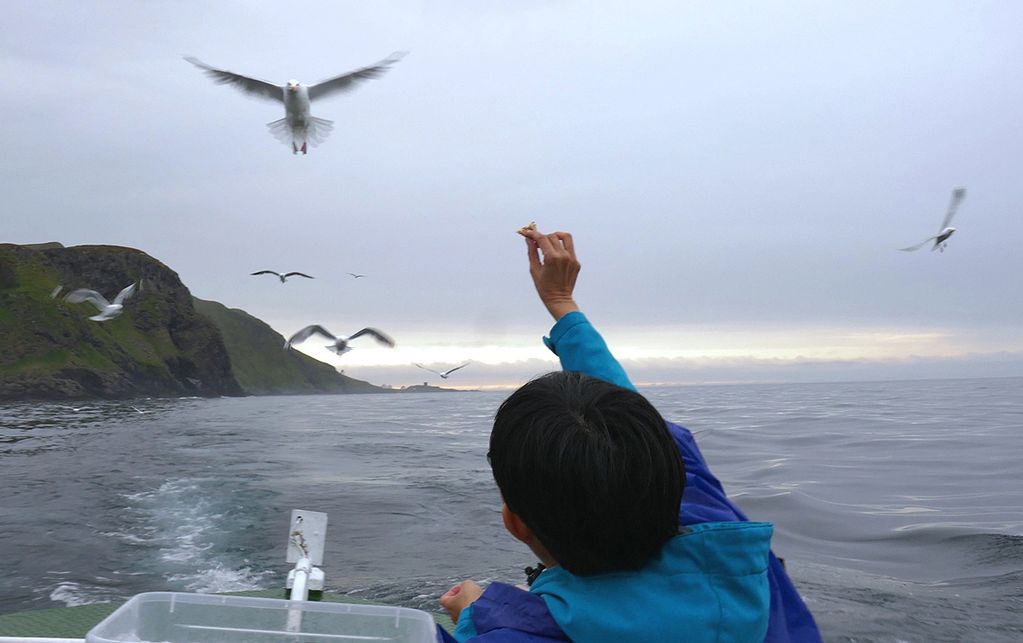 Circling back to the harbour, we were encouraged to feed the gulls for fun! In Singapore it is illegal to feed wild animals, even in your garden!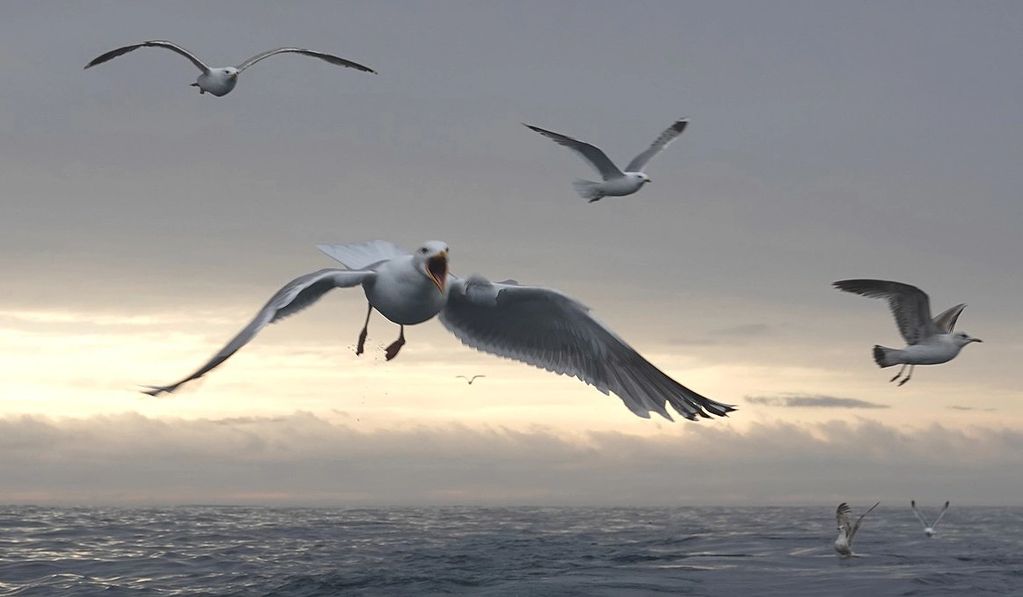 But in Norway you can … Bee Choo captured this dramatic shot of the Herring Gulls coming in for a hand-out!
And this is the champ among Runde's gulls: The Great Black-backed, the size of a goose!
Breakfast at Christineborg Gjestehus 11 June; we were the only ones having breakfast that morning! Notice the backdrop view.

The view is of the north-east coast of Runde, low and sheltered and with habitation. Goksoyr Camping has cabins and a tent area.

Bee Choo's closeup of Goksoyr; behind the houses you can see the public trail leading west towards the bird cliffs.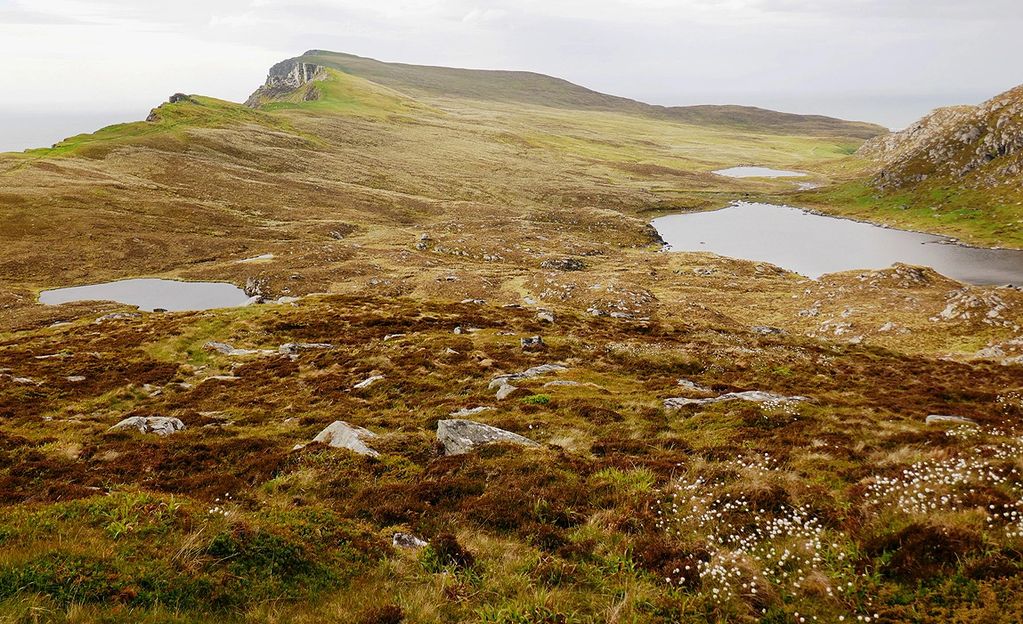 The interior of Runde seen from the south-east. Apart from Meadow Pipit and Skylark not many birds here.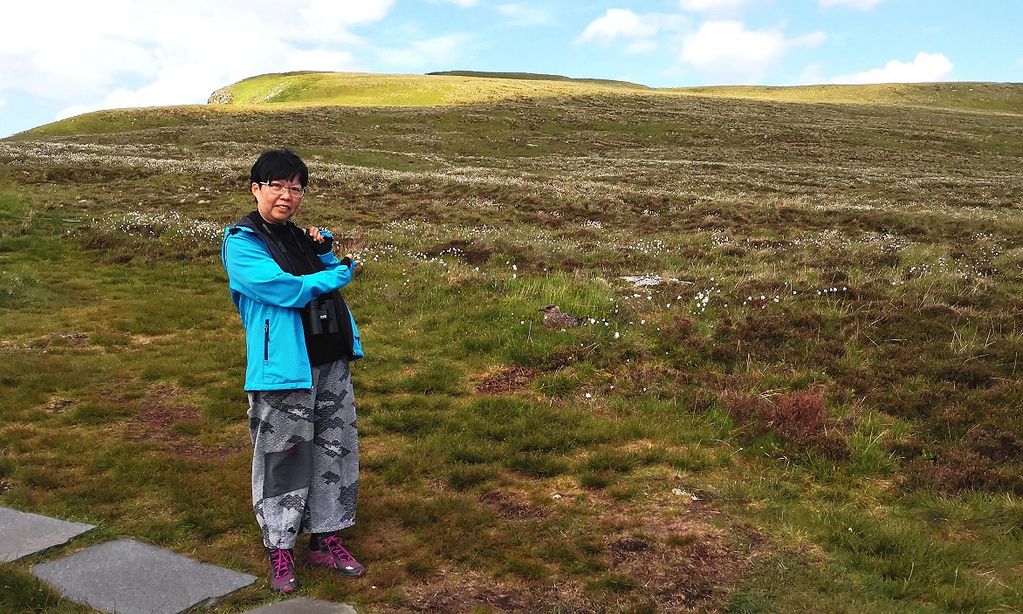 Except this one: The Great Skua, a North Atlantic specialist in the small skua family. A few were breeding right off the trail. Can't see it?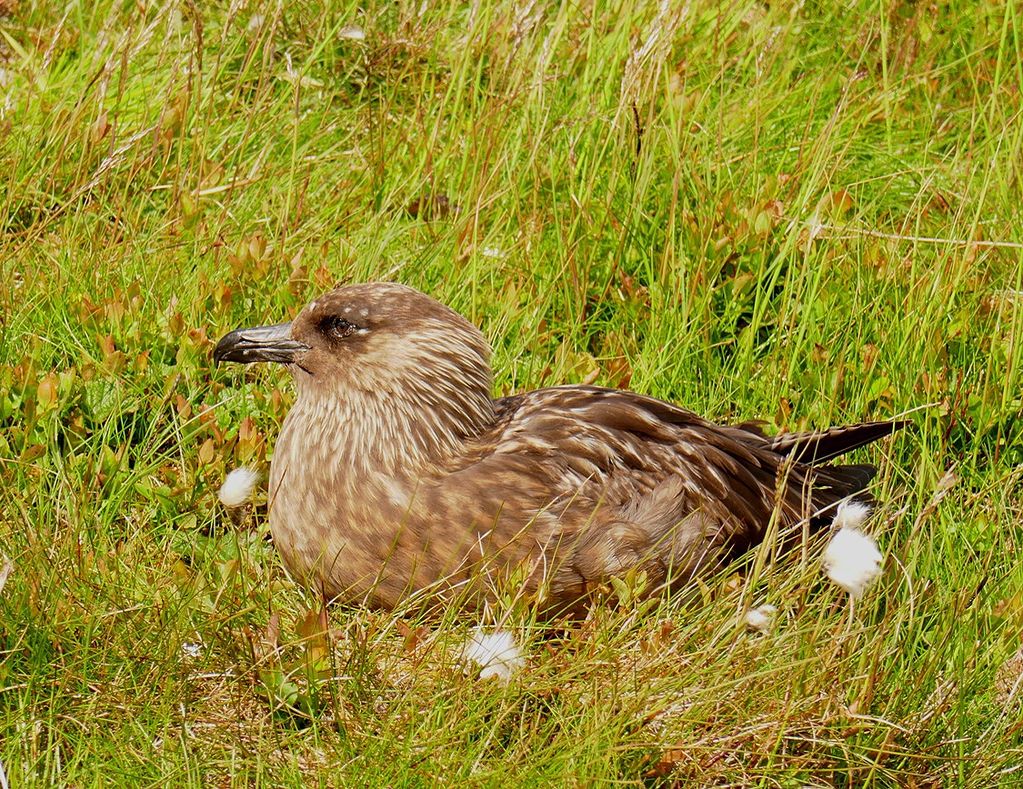 Right then, here it is a bit closer! Arrived at Runde since my first visit, now well established, kleptoparasitic on the Gannets and the gulls.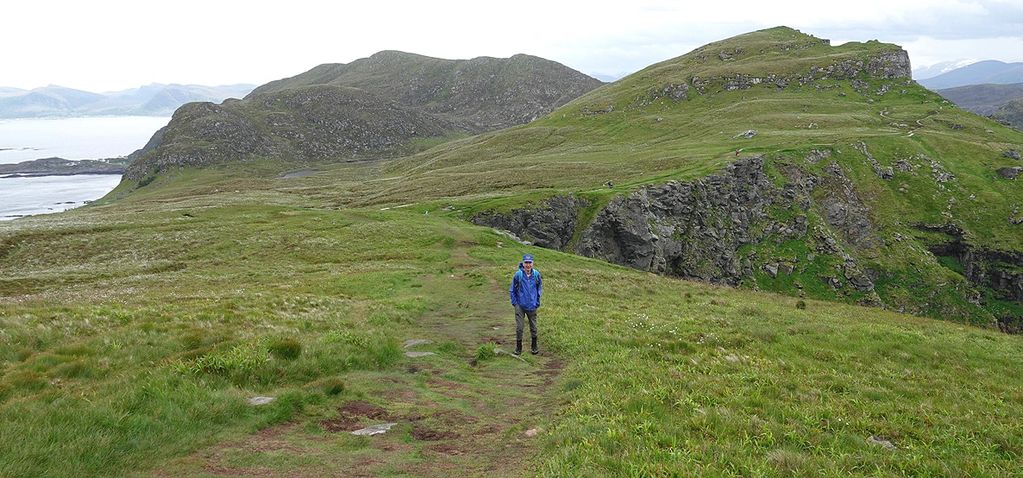 In Runde, you stick to the established trails to give the skuas and the other birds some peace.
Following the main path, you arrive at Stakkeneset, the main stronghold of the Puffins; I will get back to that in a moment.
Breeding season (15 Mar to 31 Aug) there is no direct access to the bird cliffs.  Not that I would ever climb down there today – but in 1971 I did!
In 1971 I climbed all the way down to the beach to get close to the Kittiwakes and the Alcids. Today I am happy looking at the Gannets from the top!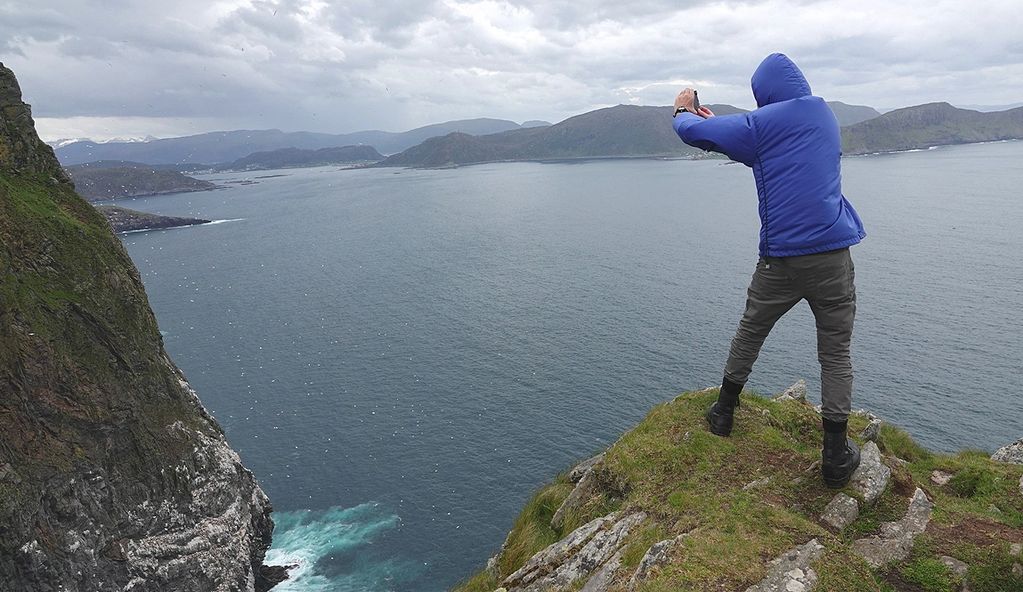 From the Storeholer point, you see the core area of the bird cliffs well. Bee Choo takes this snapshot …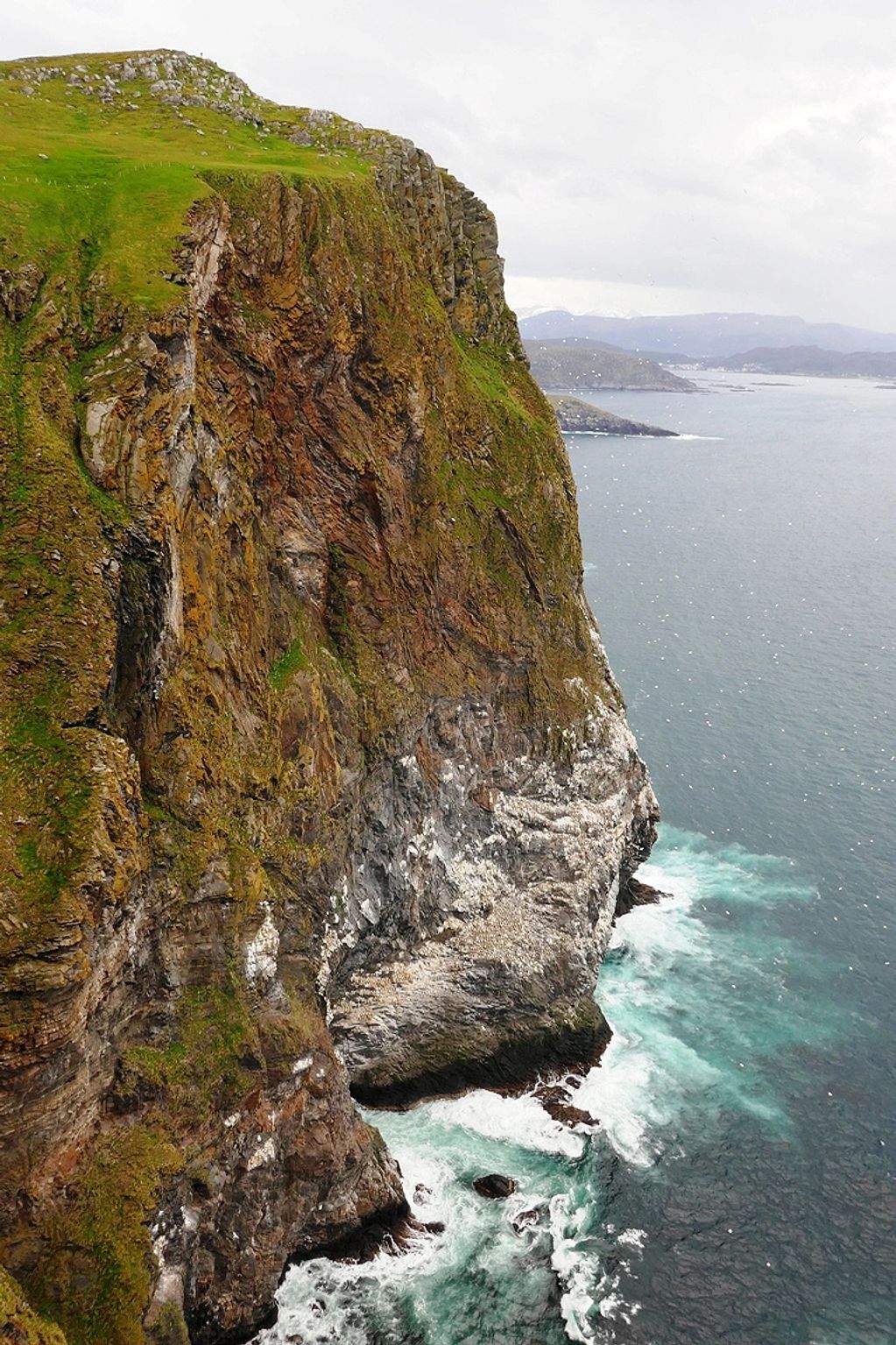 … of me taking this shot! The drop is about 200 meters.
We got the telescope out at this point to spot the few Kittiwakes and Guillemots still clinging on in Runde. See if you can find them!?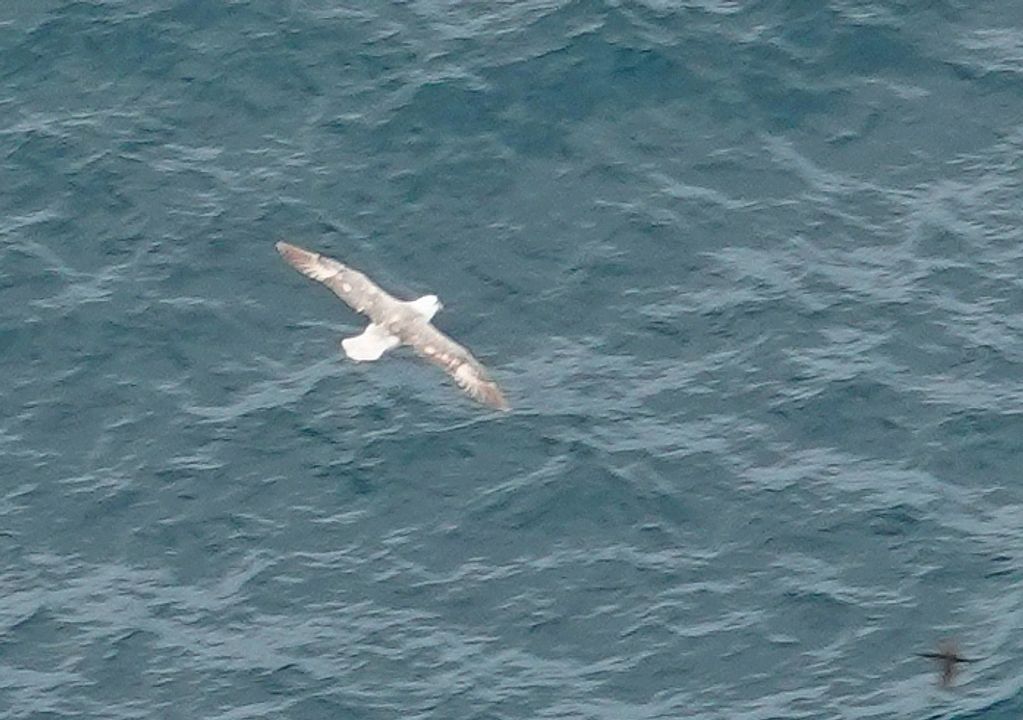 This one, the Northern Fulmar, does not breed on Runde any longer; Bee Choo got this snapshot of a lone visitor dropping in.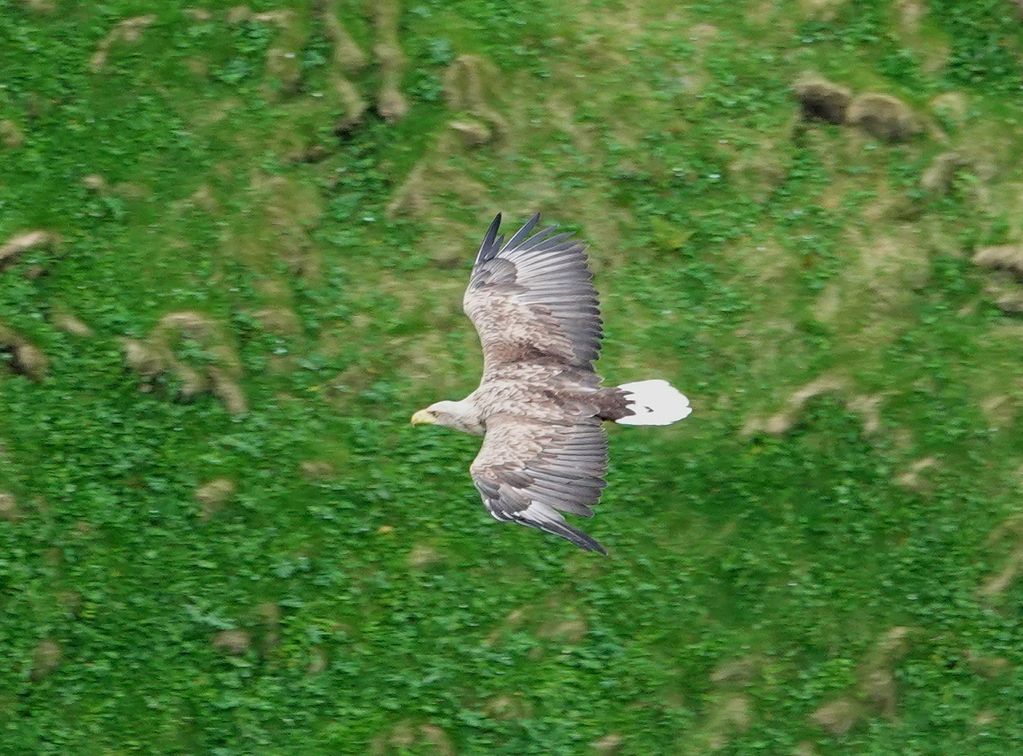 But we saw this one every day, there are several pairs, including one grabbing a Gannet in flight: Bee Choo's study of the White-tailed Eagle.
In June 1971 I spent a week here and never saw another soul. Today hundreds of people go up every day to see the Puffins. Can you spot Bee Choo?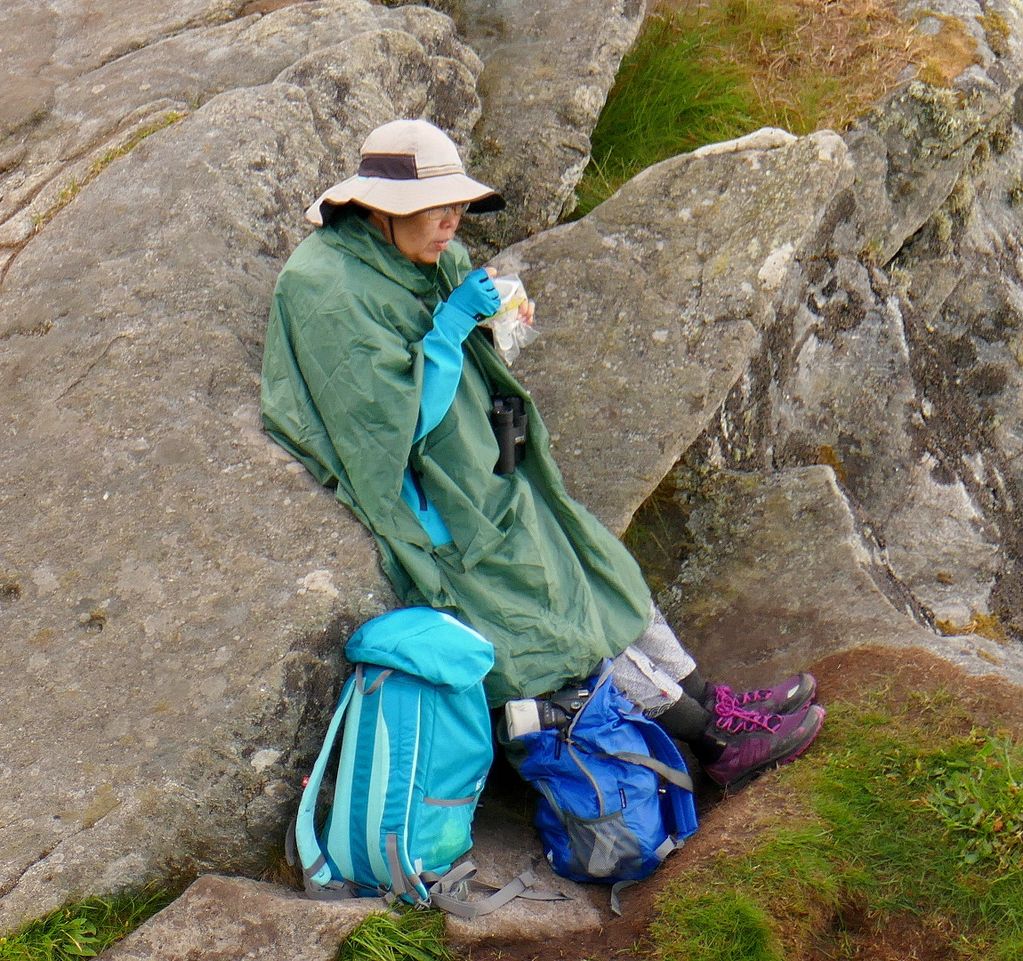 Here she is a bit closer, waiting for the Puffins to come into roost around 8 pm. This is now a nature reserve and visitors have to stay in one place.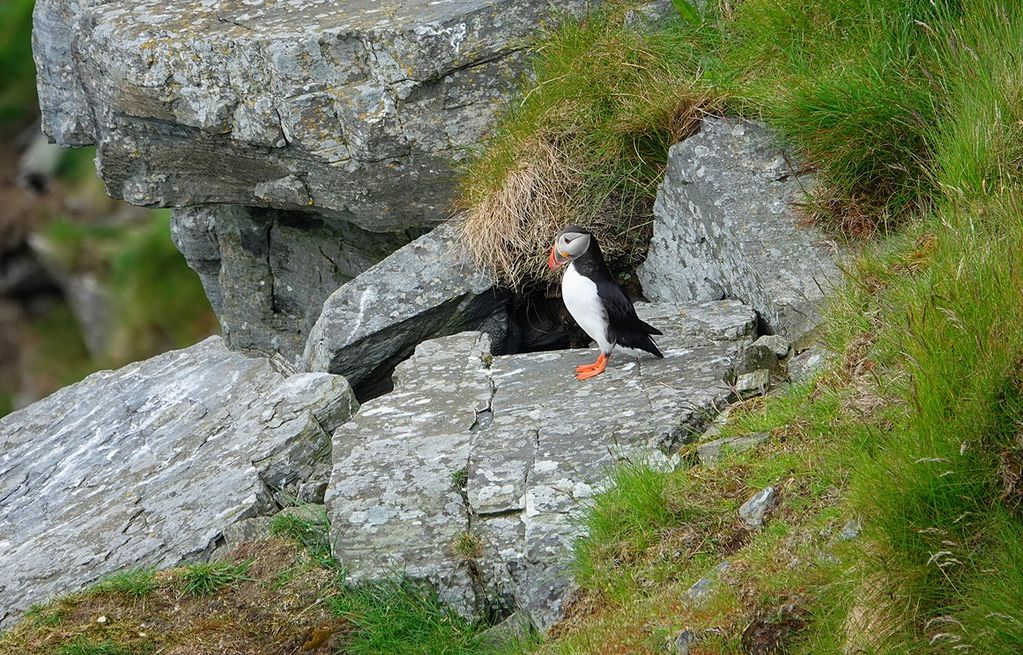 And this is Runde's star attraction: The Atlantic Puffin on location as seen by Bee Choo. 11 June is a bit early in the breeding cycle …
… but a few were carrying fish to the young inside the burrows. How does the Puffin grab the last fish w/o losing the others???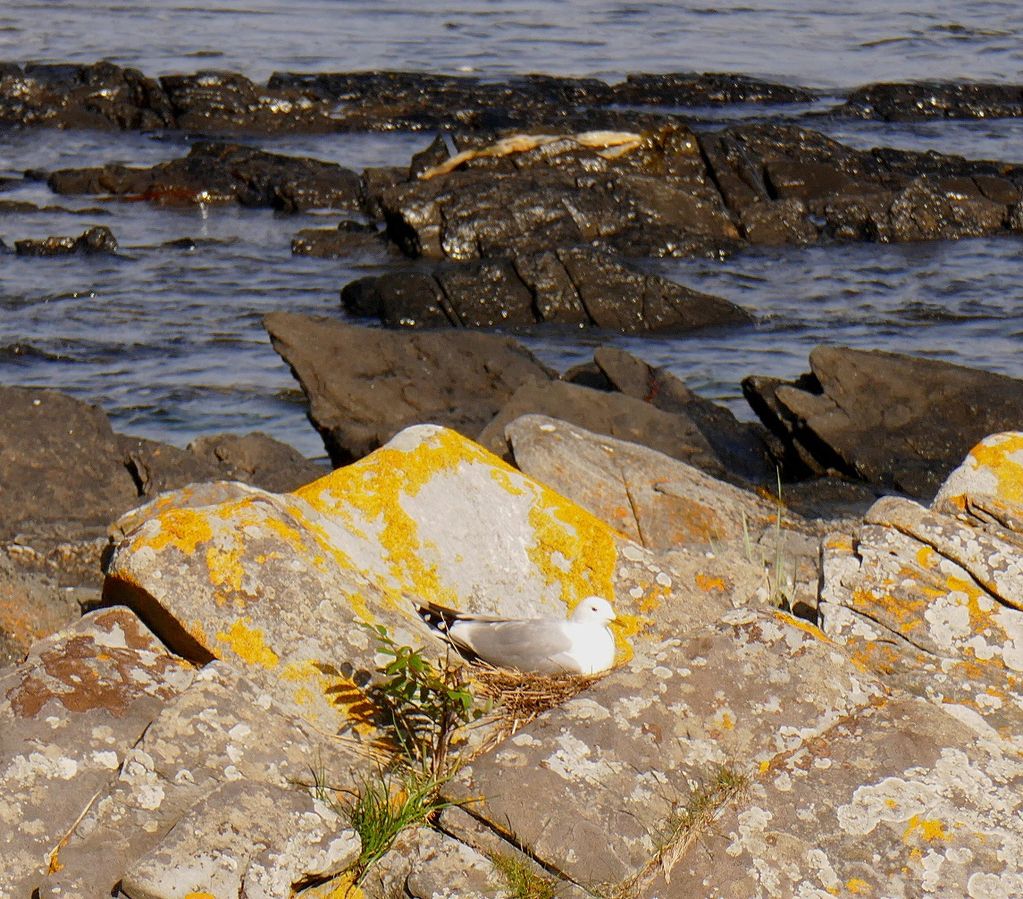 11 June we covered all the bird cliffs twice and walked 25 km in total! So 12 June we took it more easy and toured the eastern, more sheltered parts.
Above a Common Gull at nest and here a Great Black-backed Gull with young; Bee Choo and I stayed near the road and did not disturb the family!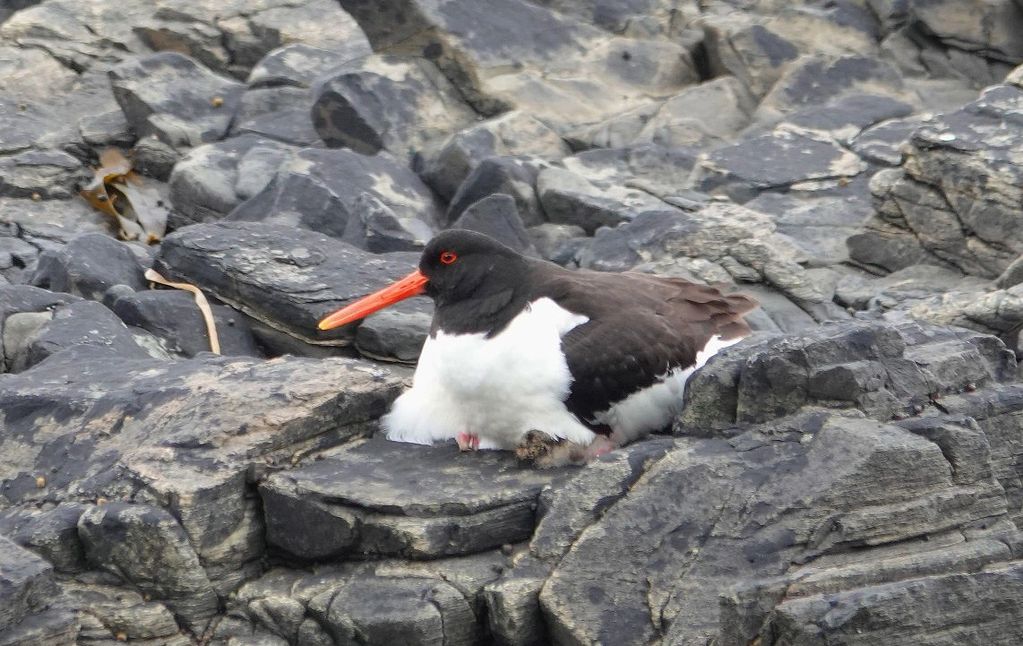 June is peak breeding season in the North, everywhere we went there were babies. This Oystercatcher is shielding two run-away chicks!
One of my favorite Anatidae in the North: The Common Shelduck. I took this photo of a male from the car.

But it to took Bee Choo with her power-zoom to get this female with 8 chicks further offshore.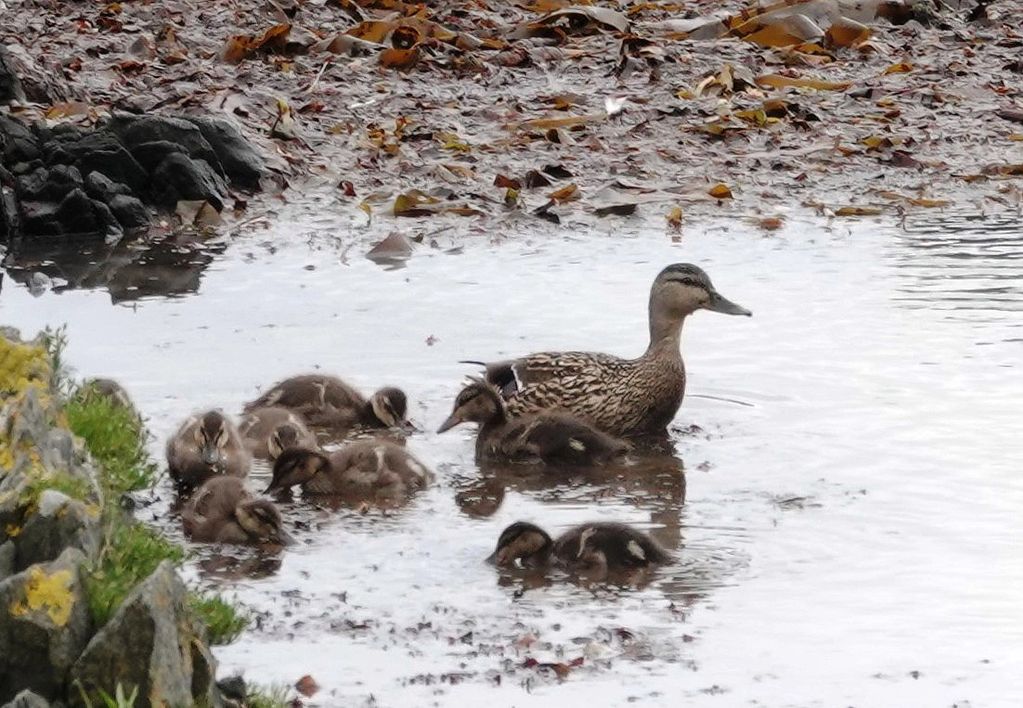 The Mallard mother could 'only' muster 7 ducklings, but she took care of them well!

Would you believe it … we never saw an Eider in Runde!? Bee Choo took this record shot of two males on the way out. And not one single tern. Weird!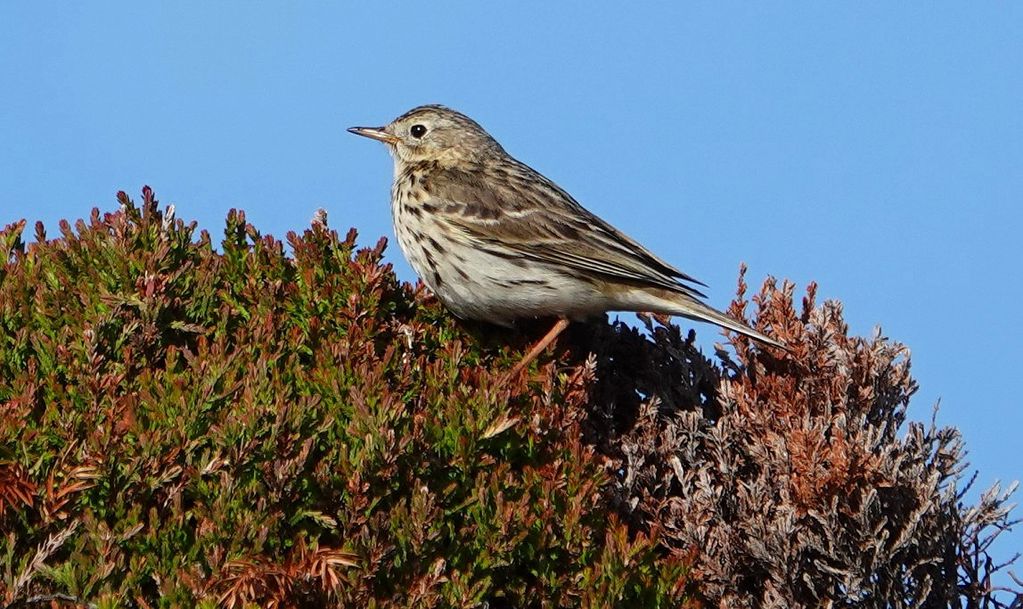 Passerines are few and far between in coastal Norway, but Bee Choo captured this Rock Pipit well one morning.
And here it is again, the Rock Pipit, with food for its young somewhere among the … rocks.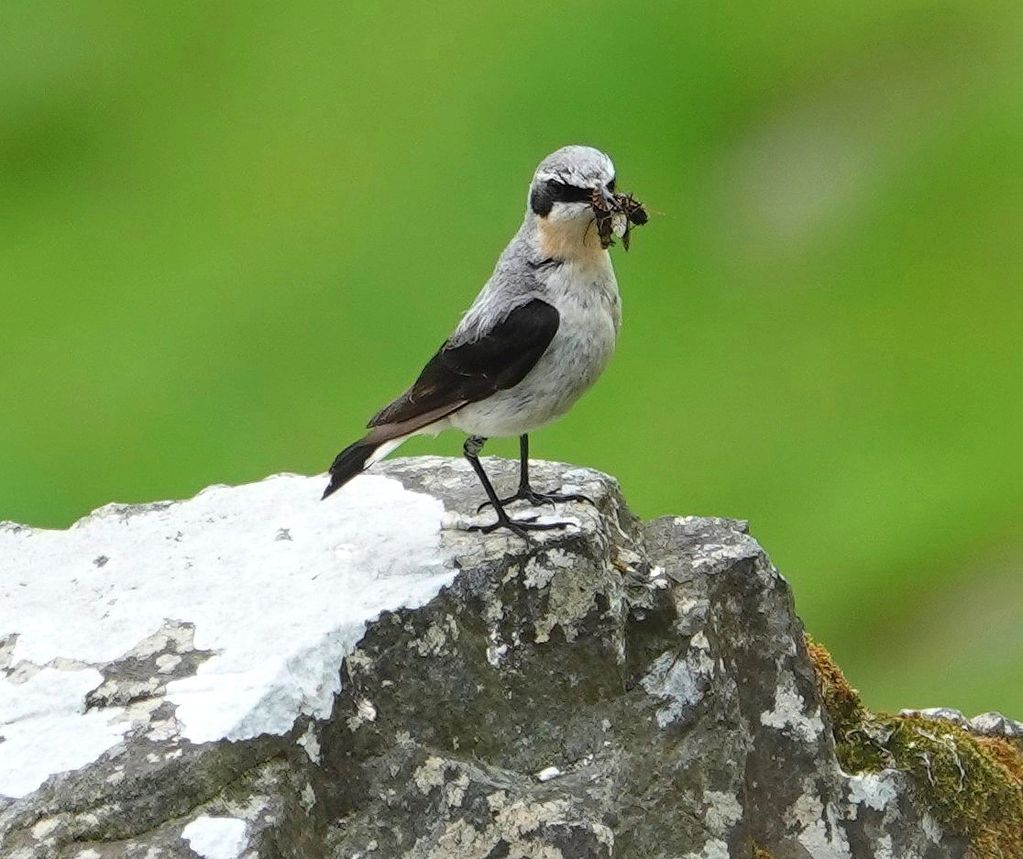 The Northern Wheatear is one of my favorite northern songbirds, Bee Choo took this male with food near the Puffin stakeout.
Do you know what a Twite is? Bee Choo didn't, until I showed her this nondescript finch near our Runde hotel, it is quite common in Norway.

Day 6, 13 June, we leave Runde behind and drive back east towards Sweden and Sonfjallet. Towards the end of the day we found this lovely resort.
BUT BEFORE WE MOVE ON … SOME NUMBERS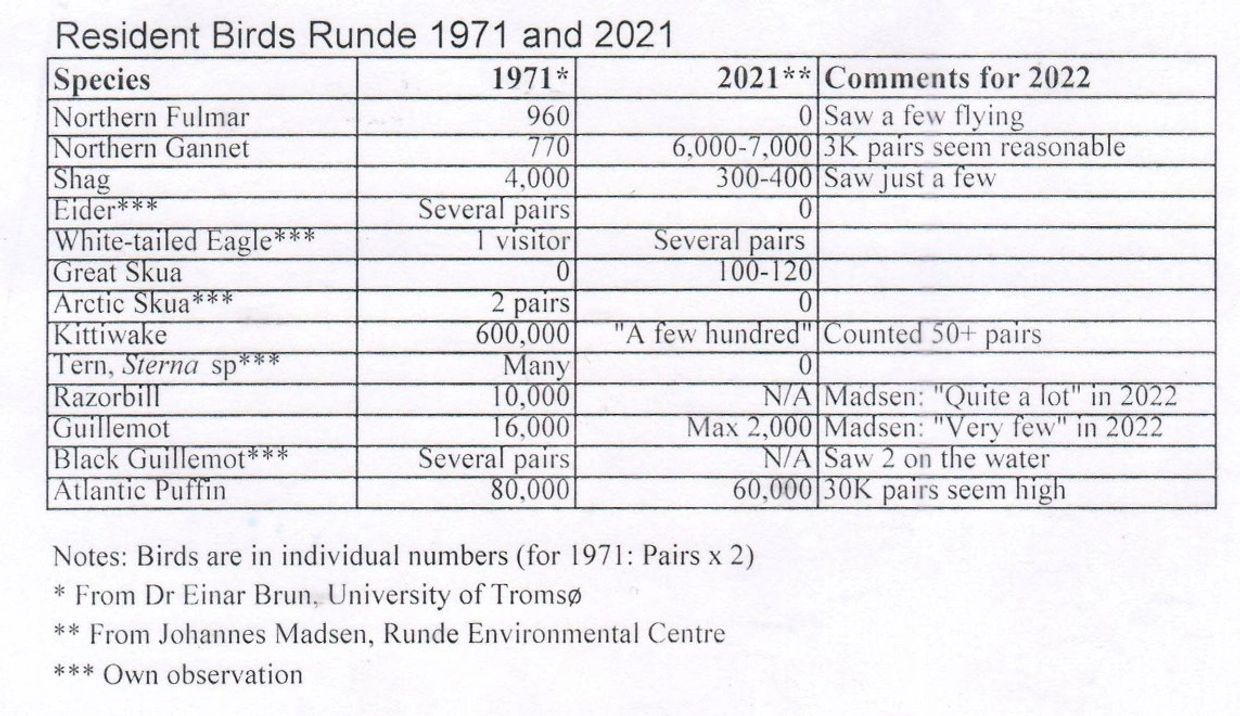 What a difference 1/2 century makes
There is SO MUCH misinformation out there about the birds in Runde and their actual numbers. Staff at the Runde Environmental Centre told me that they have tried to put it right, but the old numbers keep popping up on Wikipedia, Visit Norway and other important sites. So, I took it upon myself to help them! Having met Dr Brun myself and read his articles in Sterna (The journal at the time of the Norwegian Ornithological Society), I compare those with the numbers the Runde staff provided in 2022, as well as my own observations and impressions.
BACK INTO SWEDEN, DAY 6-7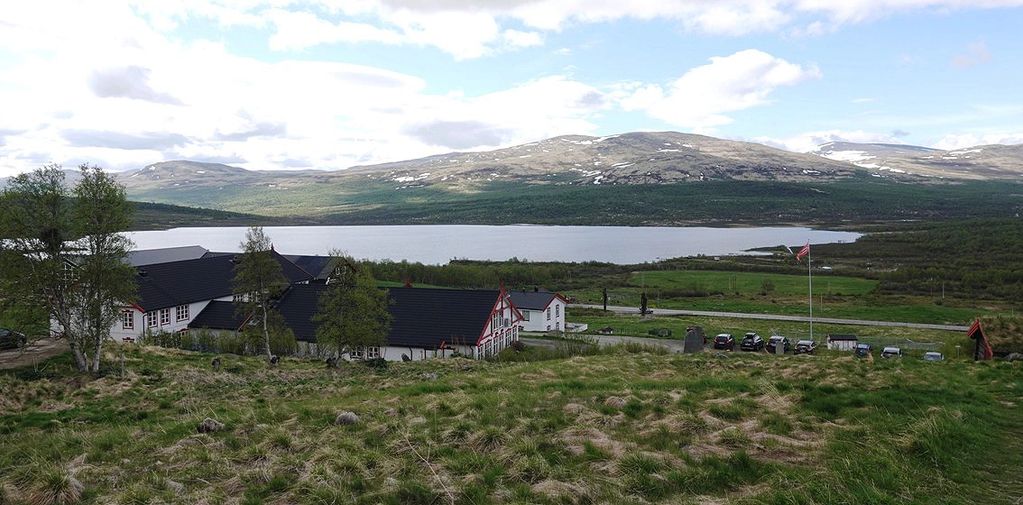 The resort above is called Hjerkinn Fjellstue, US$ 160 per night, but it was worth it. Near the famous Dovrefjell NP, a high mountain plateau.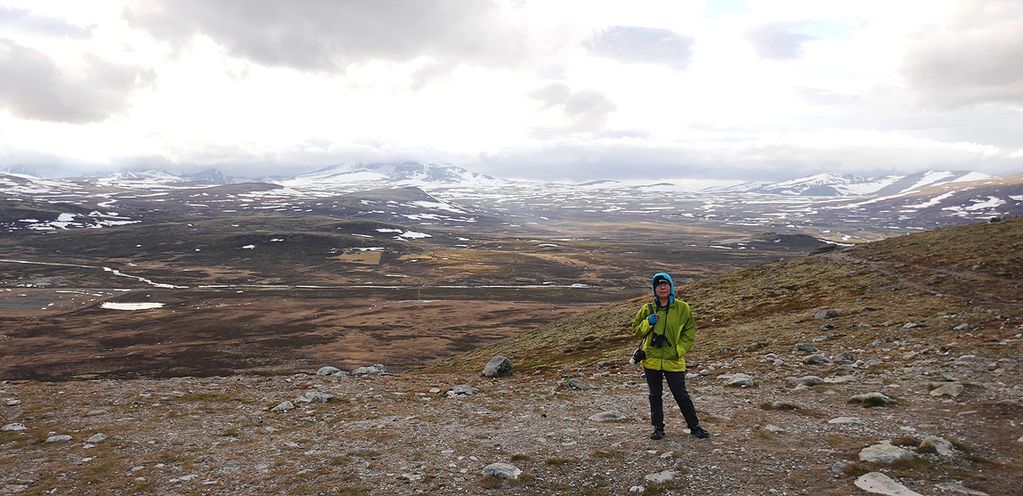 The Norwegians tried to mine Dovrefjell but failed, so they made it into a national park instead. We walked to a viewpoint inside the reserve.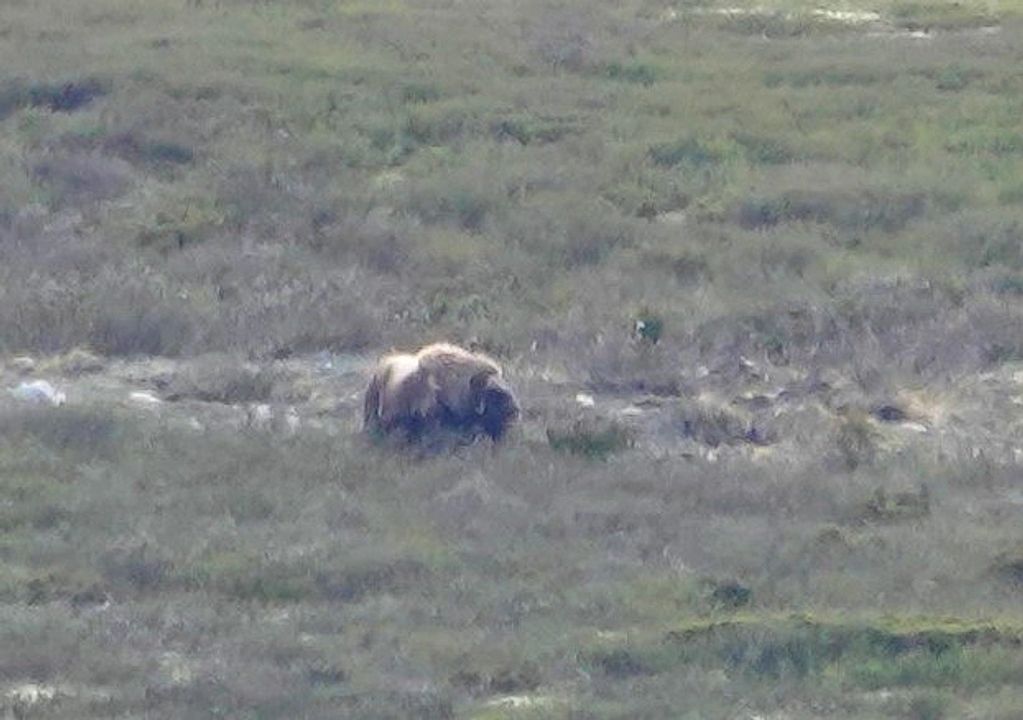 See the river far behind Bee Choo? I don't know how, but she found this (reintroduced) Muskox in front of it – 1/2 mile away! She even got a photo.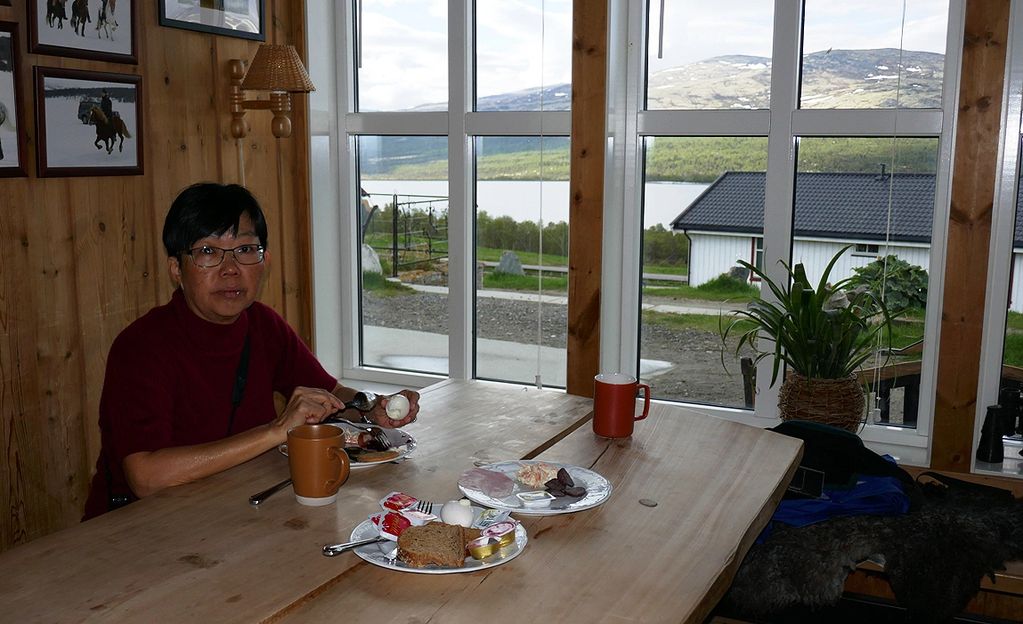 Day 7, 14 June, we have breakfast in front of the picturesque backdrop of Hjerkinn Fjellstue.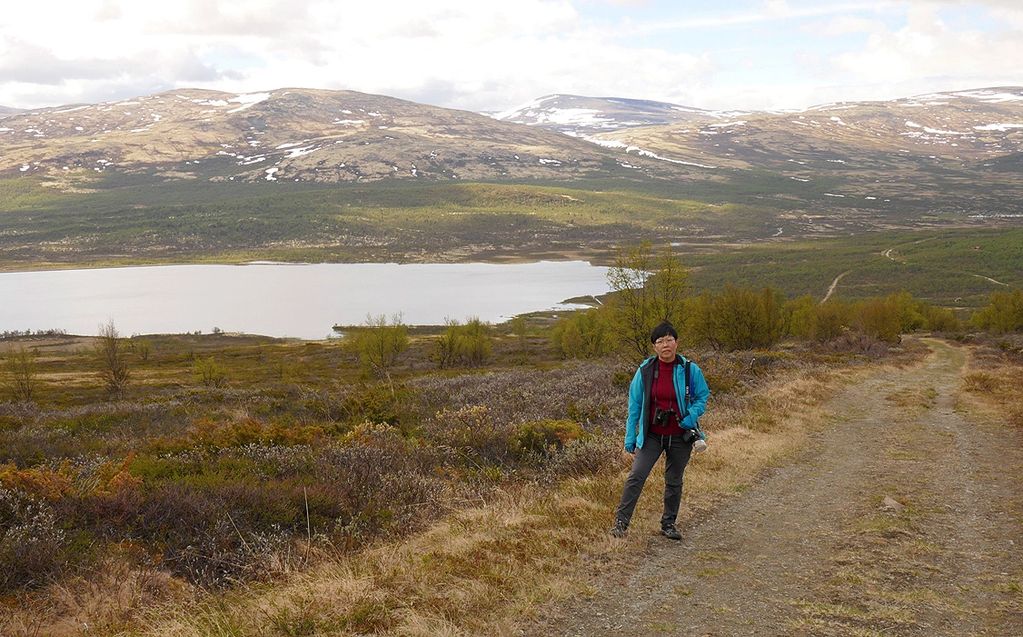 Before heading out on the roads, we stretch our legs on a morning walk to the tree line behind the hotel.
The morning chorus of song birds in the northern woods this time of year is beautiful. The Willow Warbler was everywhere. Photo Bee Choo.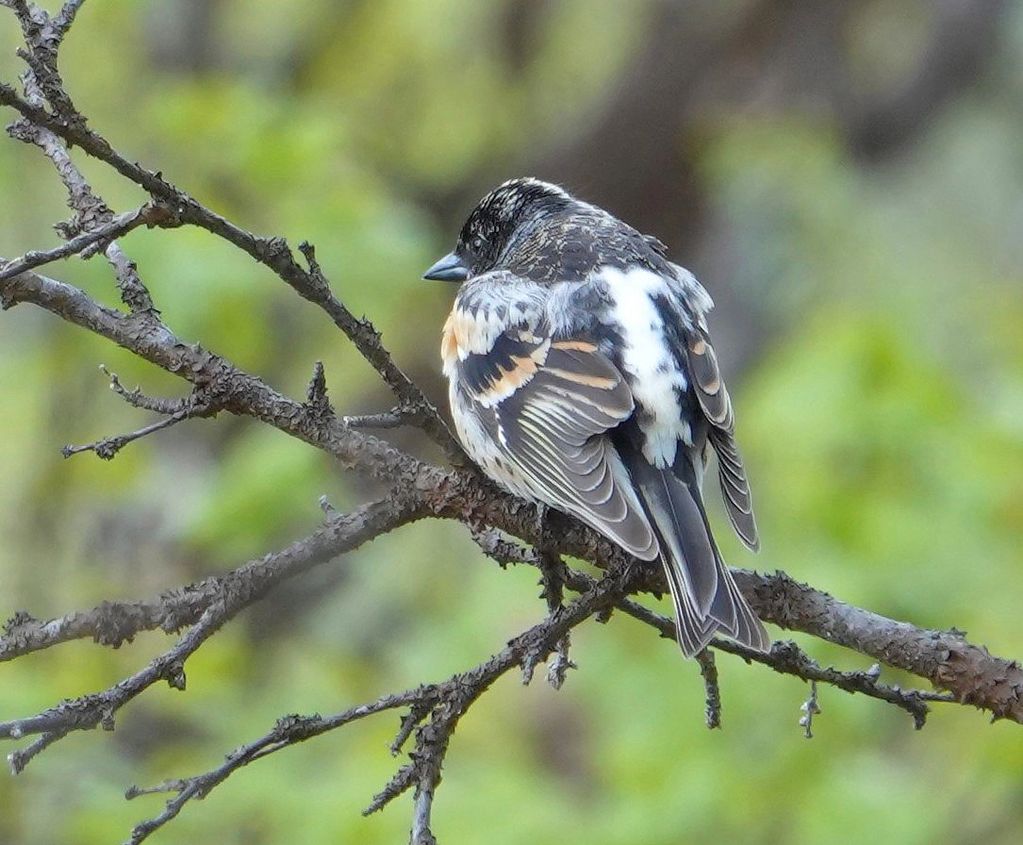 A bit rusty on my Scandinavian calls, what I thought was another singing Greenfinch turned out to be a male Bramling in Bee Choo's camera!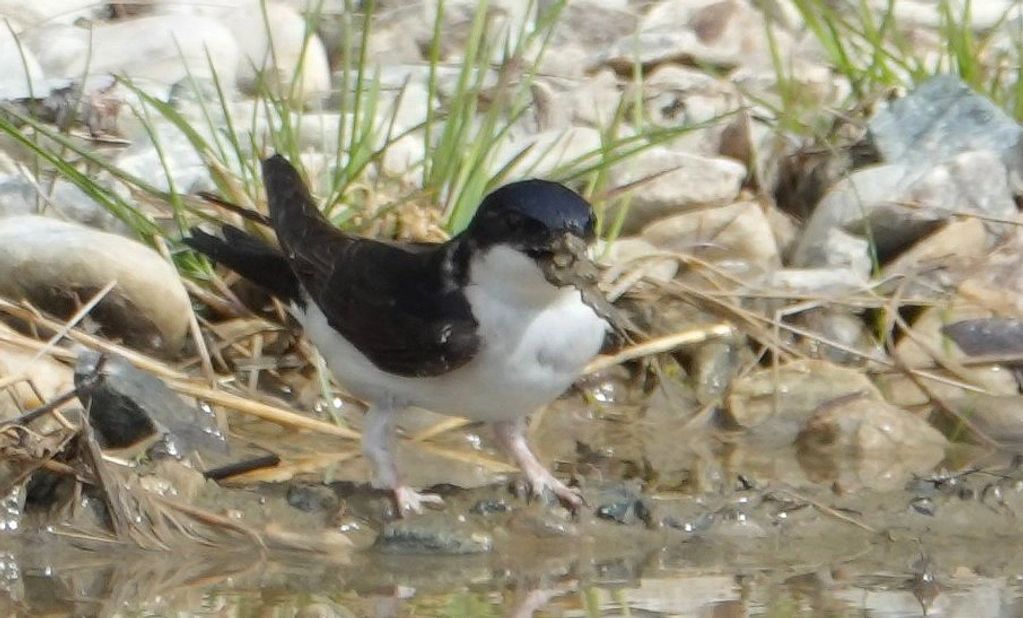 Outside the hotel, this House Martin was collecting mud for its nest under the roof of the building, excellently captured by Bee Choo.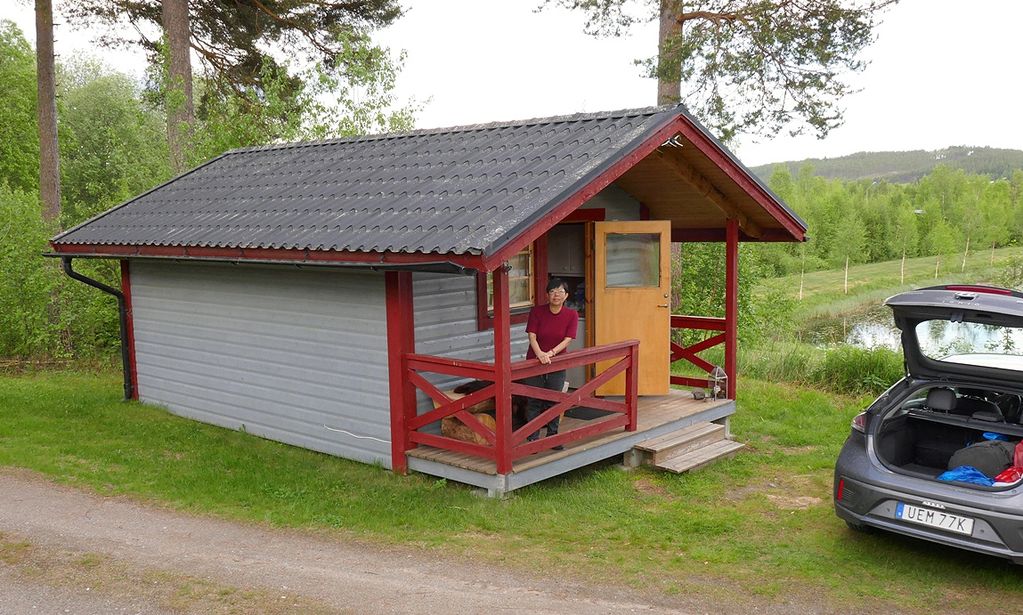 We drove most of that day, some 300+ km, crossing back into Sweden, and rented cabin 7 at Sonfjallcampen near the trailhead.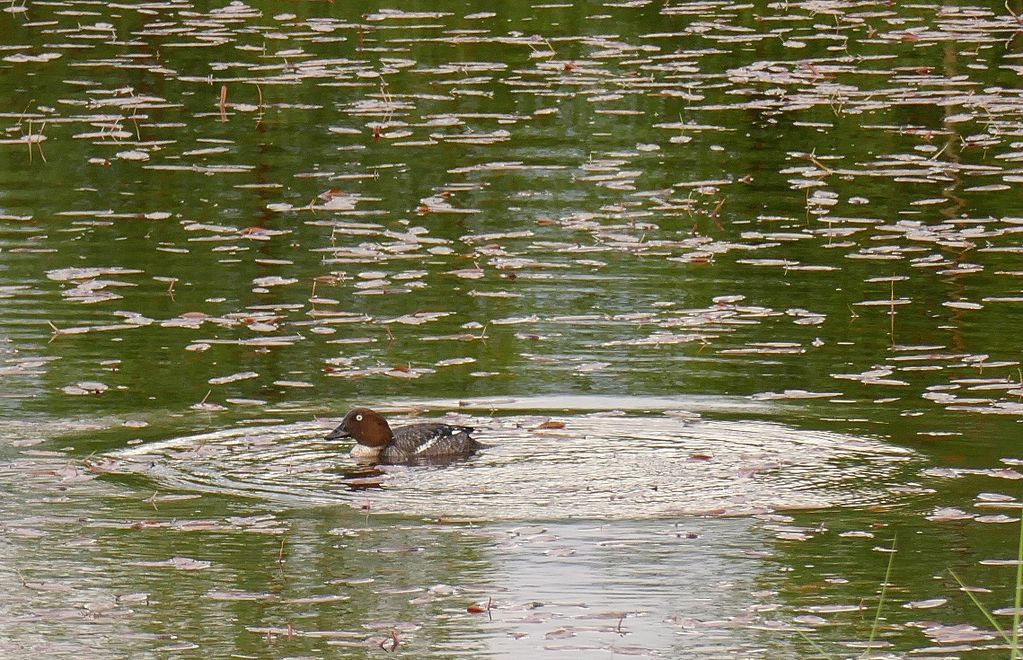 Hey, I took this photo with my 5x zoom compact camera! A nice female Goldeneye diving for food in the pond below our cabin.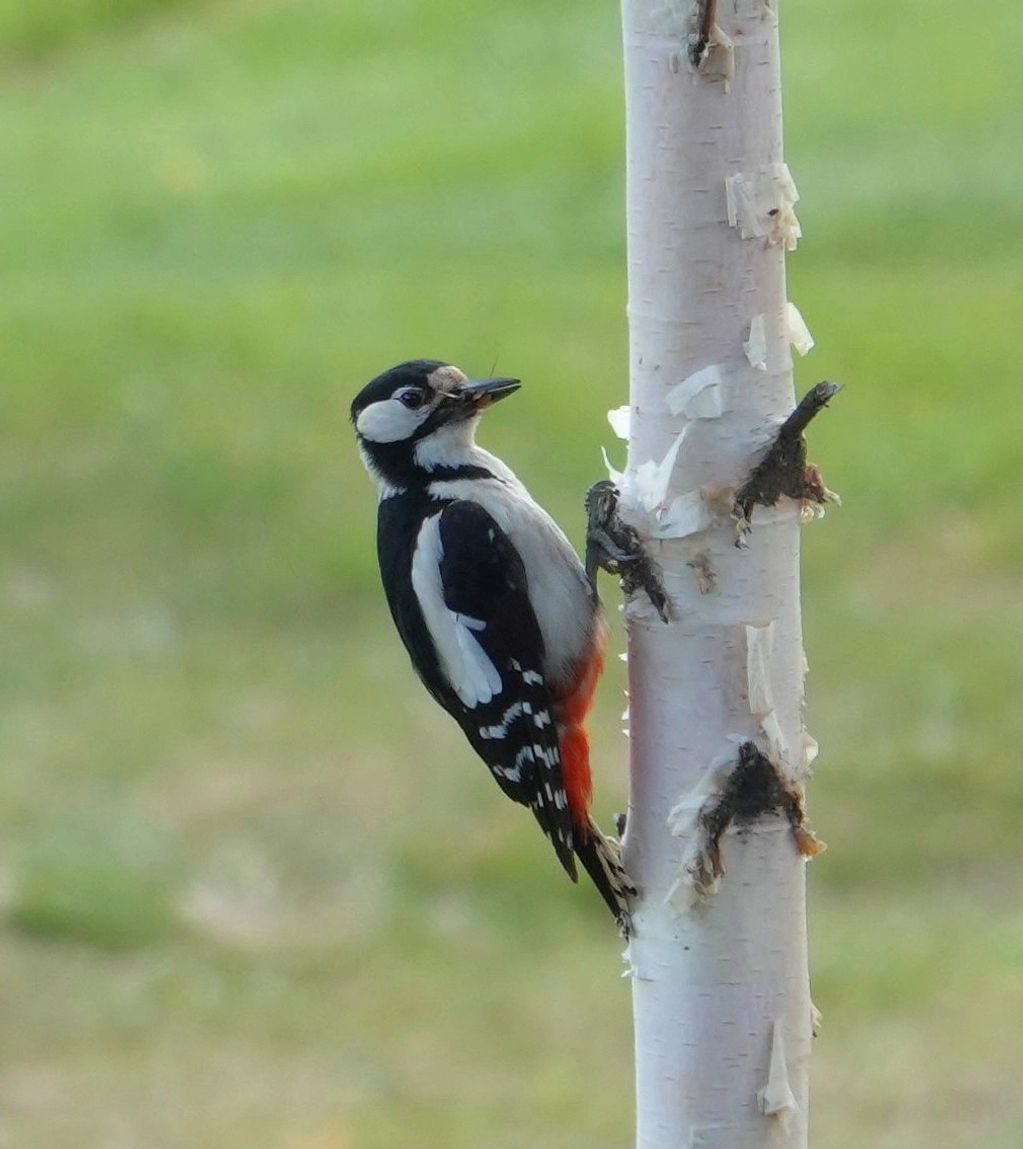 But it took Bee Choo's much better model to capture this female Great Spotted Woodpecker perched right next to our cabin.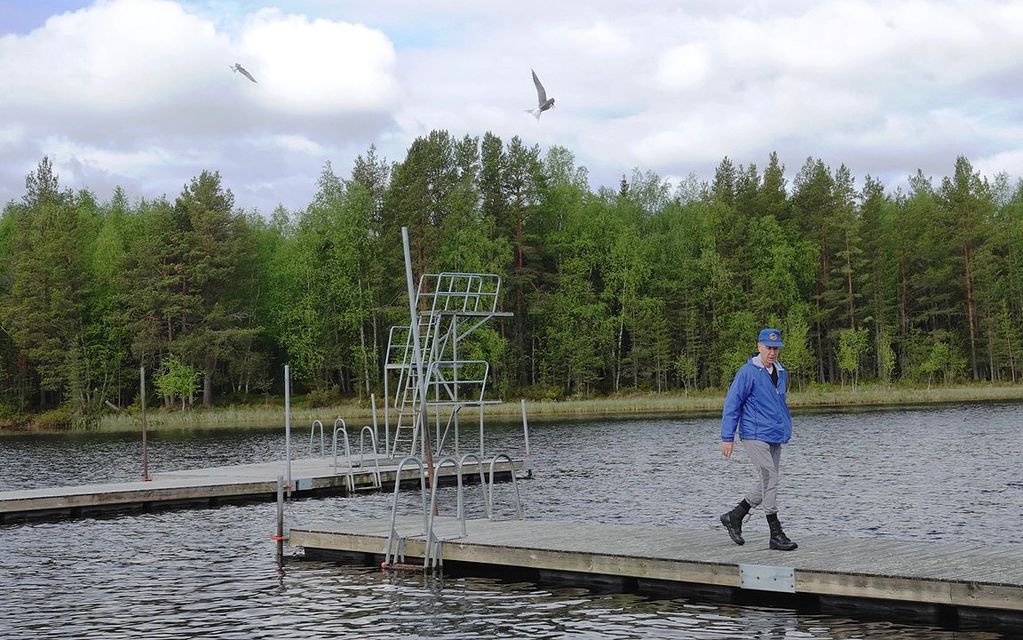 Walking around Sonfjallcampen, this pair of Common Terns came out to buzz me near the lake.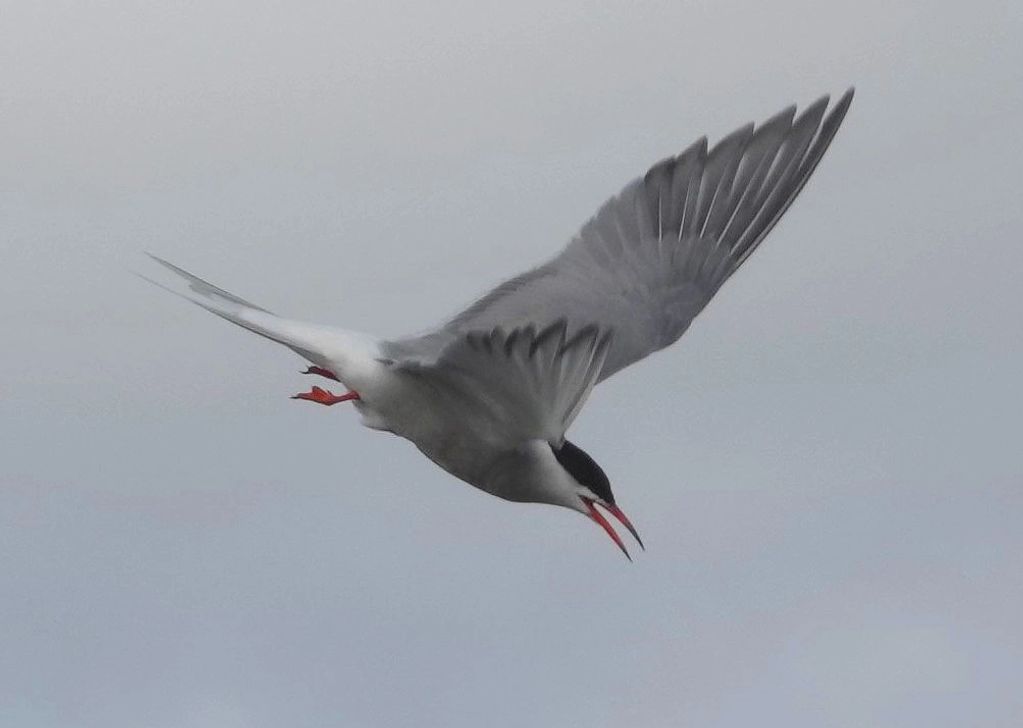 During four days in Norway, we NEVER saw a single tern of any kind, unreal!? But here is one, in Bee Choo's excellent action study.
And here is the reason for the excitement: The male is standing guard on the diving board, while the female is lying on the nest. Can't see her?

Now you can, with Bee Choo's wonder-zoom and a bit of cropping!
BACKPACKING ACROSS SONFJALLET NATIONAL PARK, DAY 8-10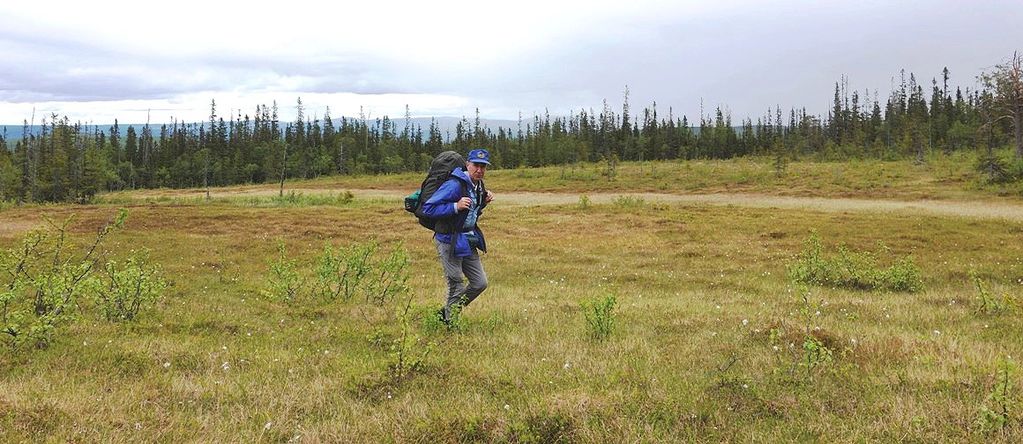 Day 8, 15 June, finally here … doing what I love to do: hike thru the woods. Once on the trail, that day Bee Choo and I didn't see another person!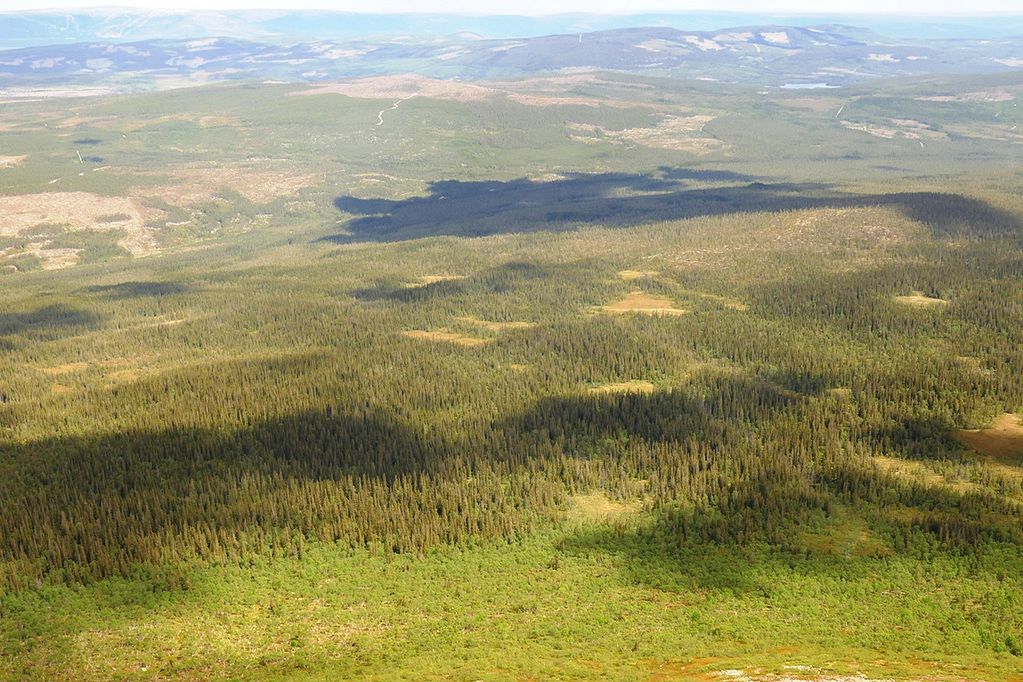 We walked from the northern entry point, Nyvallen, clockwise around the mountain, the first day through this forested area seen later from the summit.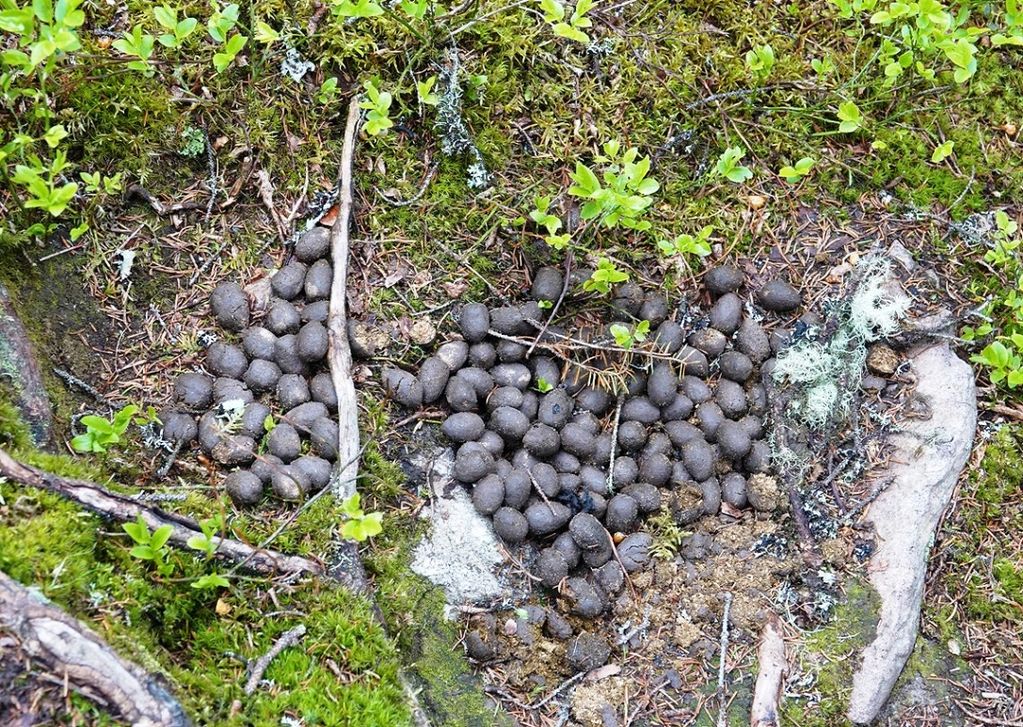 No, we never saw a Moose in Sweden, but there were plenty of signs of them in the wooded parts of Sonfjallet.
The only non-bird vertebrate animal we saw on the first day was this frog/toad species, I don't know the name!?
Later in the day, the well-marked trail took us back west, up and out of the tall-tree zone.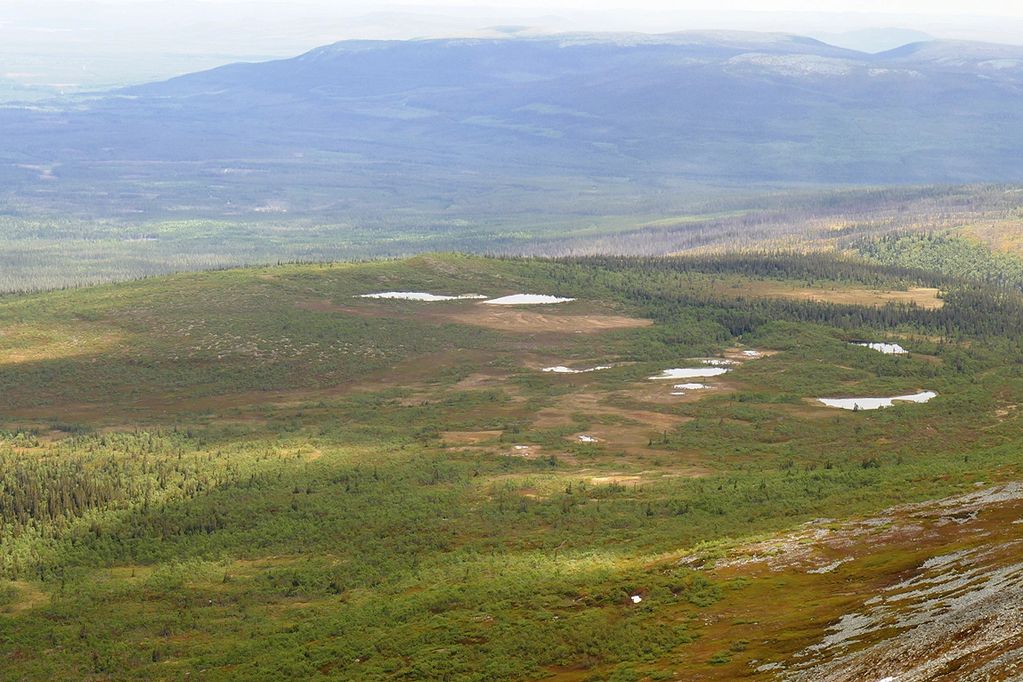 We reached this wet patch, seen here from the summit two days later.
Back to Day 8, here is Bee Choo with her camera near one of the small lakes. What is she taking?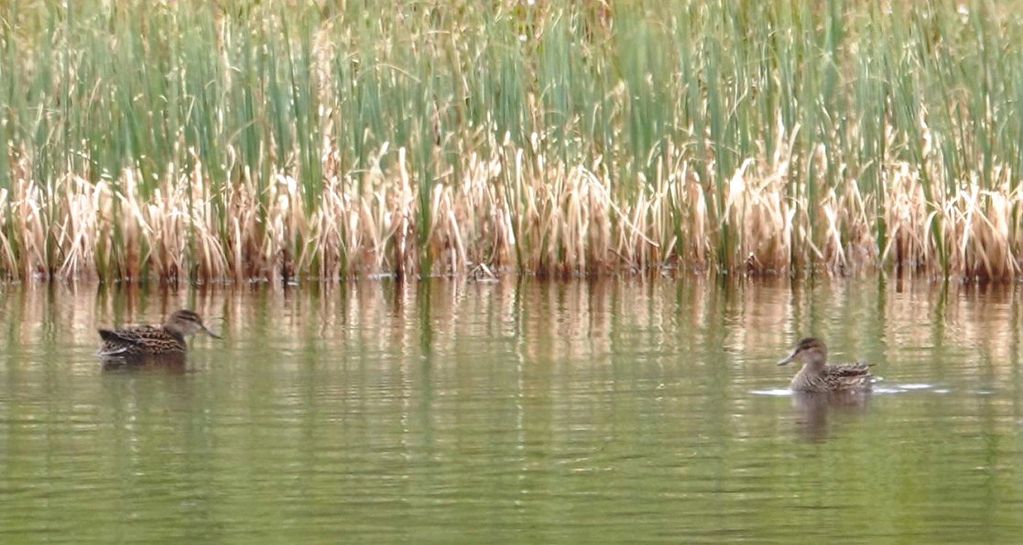 These 2 Teal on the water. Otherwise the Sonfjallet wetlands were not that productive; we missed many of the ducks and shorebird I had hoped for.
But the camping was top-notch! Bee Choo picked this beautiful patch way off the trail.
And what do you know … I still can … build a fire! 14 days in the Brooks Range with NO hot water (see 'Alaska 2021'), in Sweden no problem!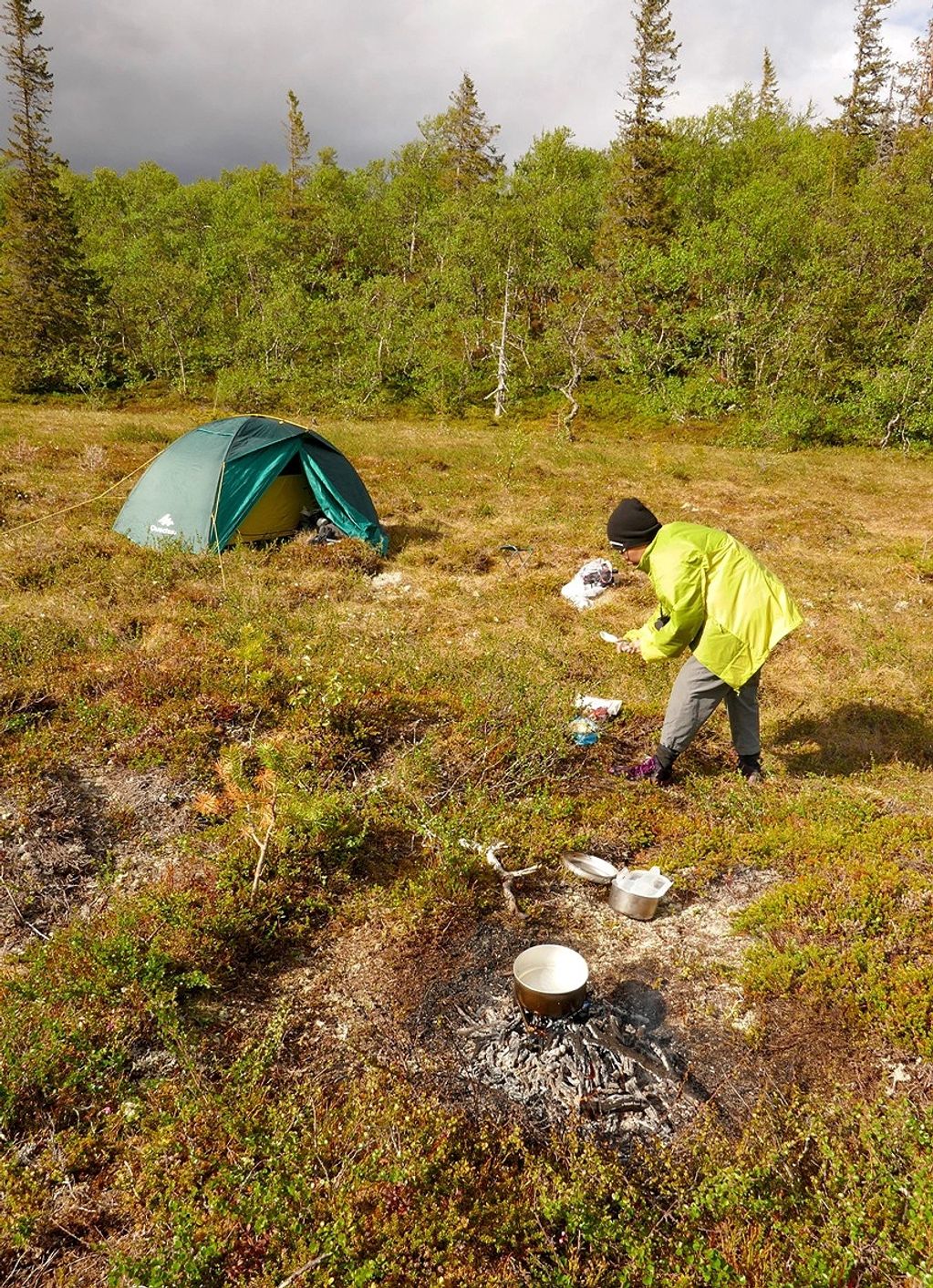 There was plenty of dry firewood, a few pages from the Norwegian newspaper I had brought in also helped to get the fire going!
I carry a 0.4 kg steel tripod for the cooking pot, it is worth it. Since we only had stagnant water at this spot, we boiled all our drinking water.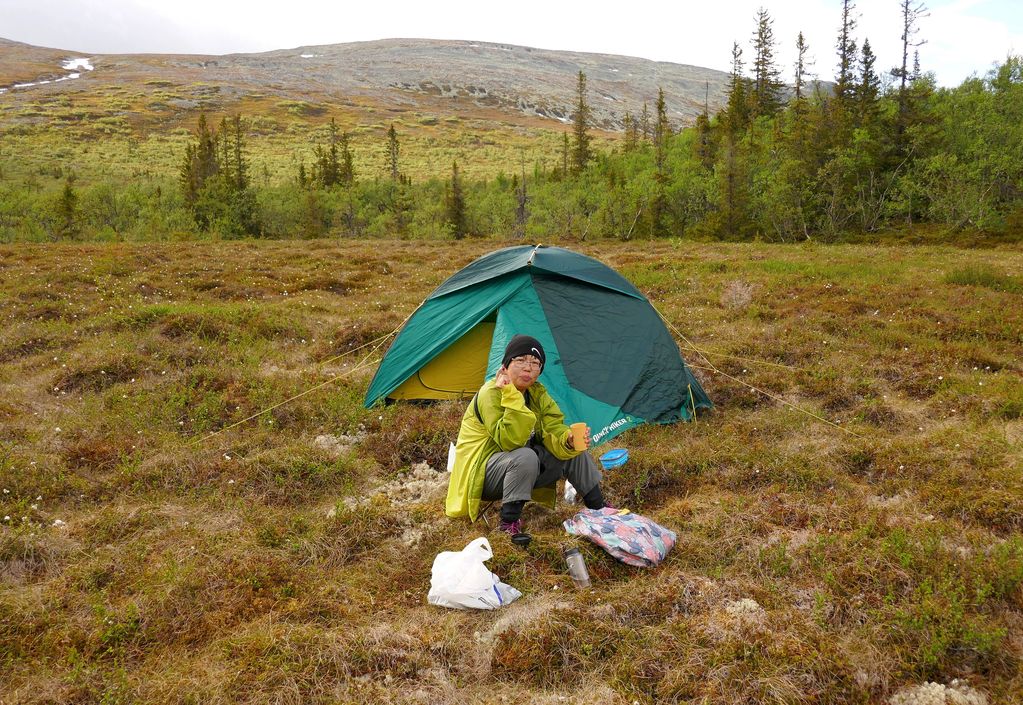 The hot soup and instant noodles always taste better out in the open!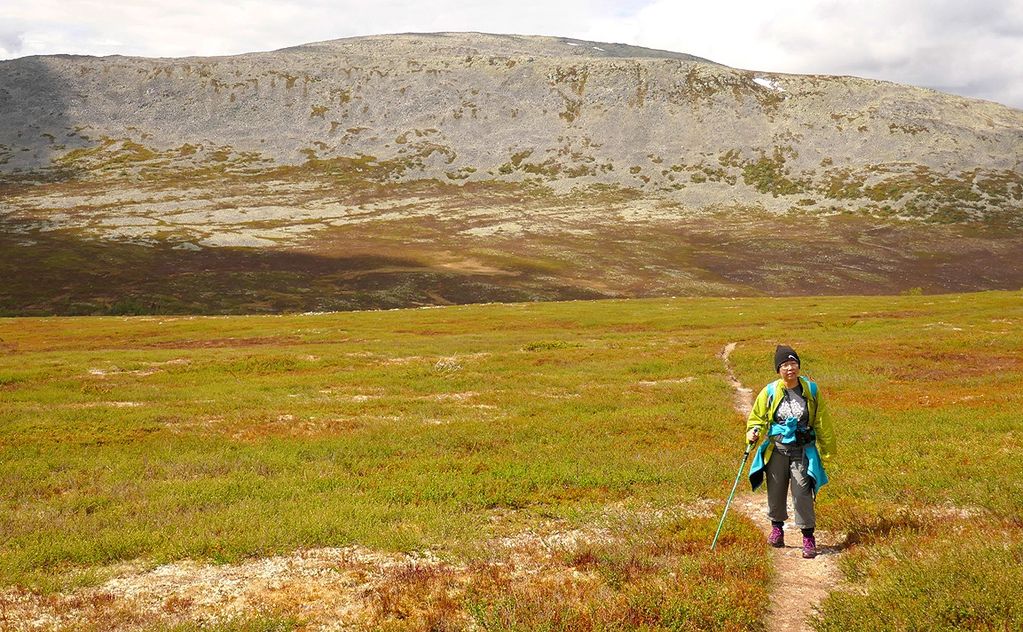 Day 9, 16 June; we elevated a bit more out of the tree zone.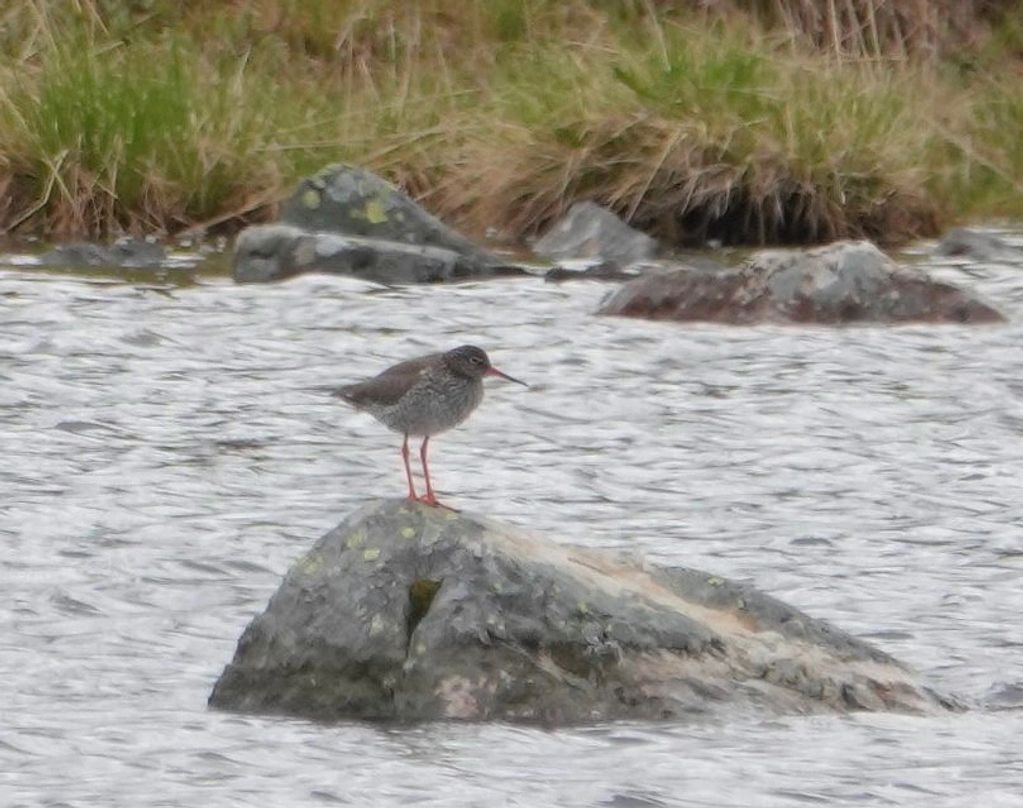 At a small pond, this Common Redshank turned up. Nice to see it in summer plumage, we get this one as a winter migrant in Singapore.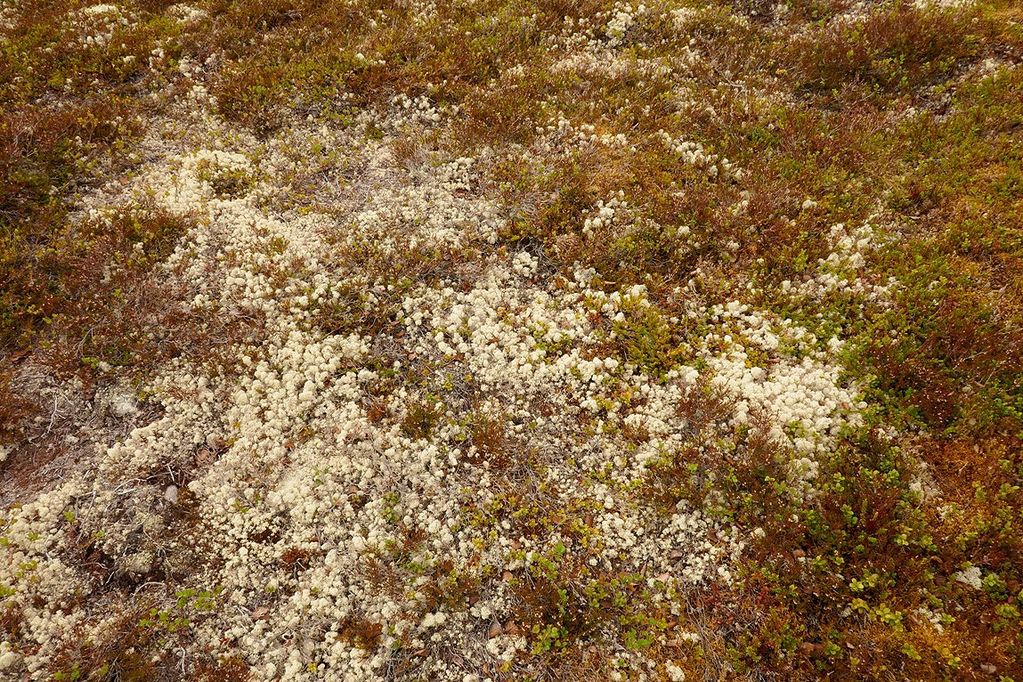 Since the birdlife at Sonfjallet was a bit sparse, we looked down instead: Look at this intricate pattern of lichens and mosses on the ground!?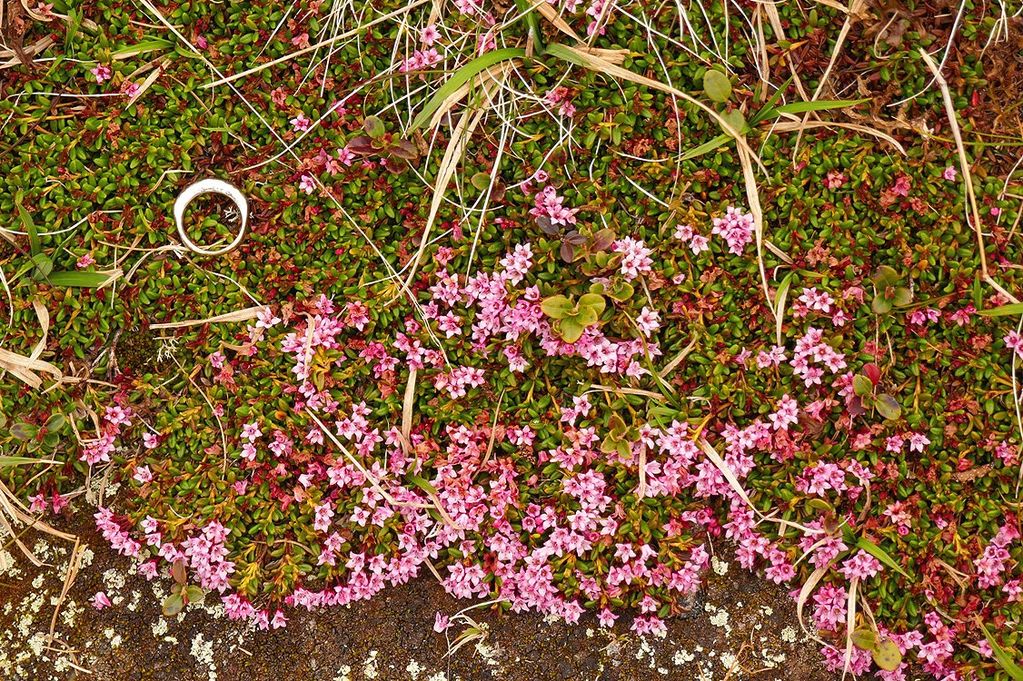 And these tiny, but stunning flowers: Since we didn't have a coin handy, Bee Choo used her wedding ring to show the scale!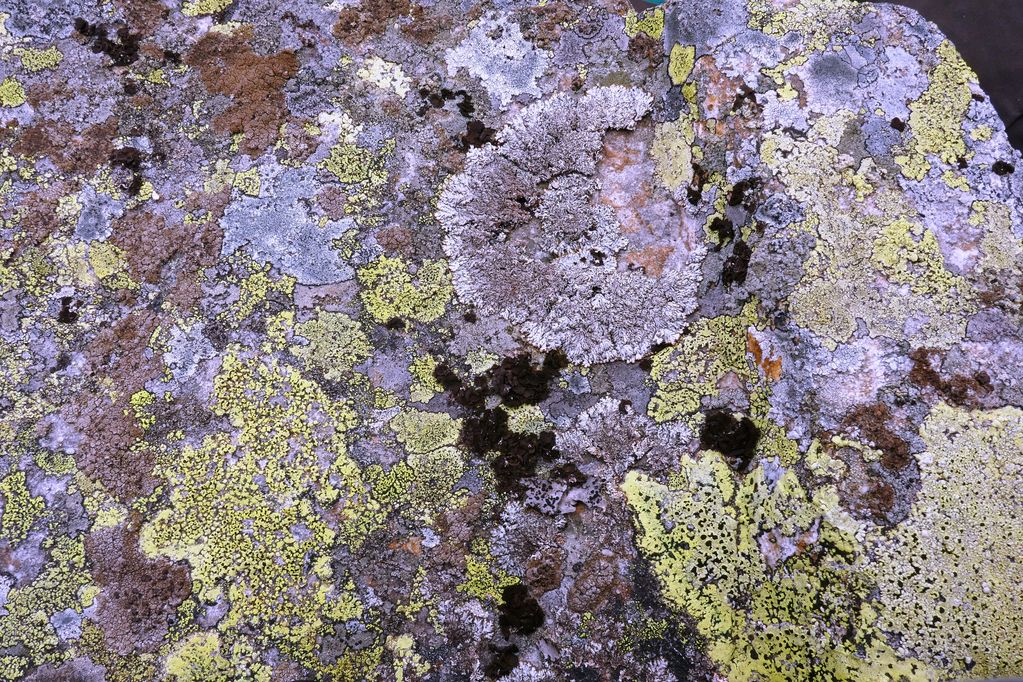 Even the alpine sections had lichens on the rocks in pleasant delicate colours!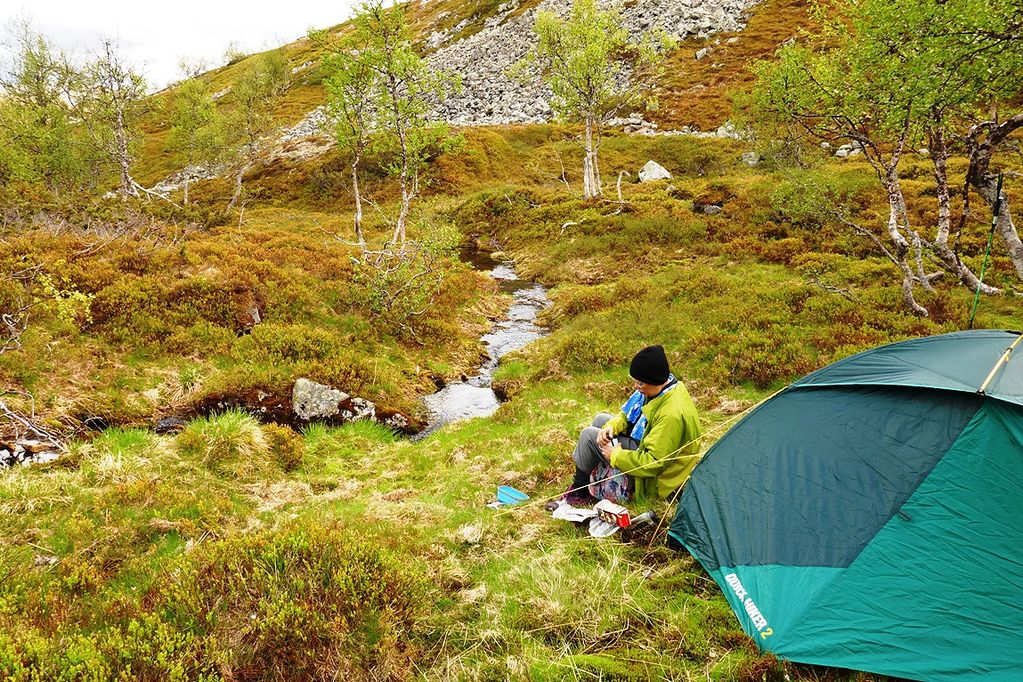 That night, 16 June, we found a picturesque campsite near a stream and slept to the soothing sound of gently running water!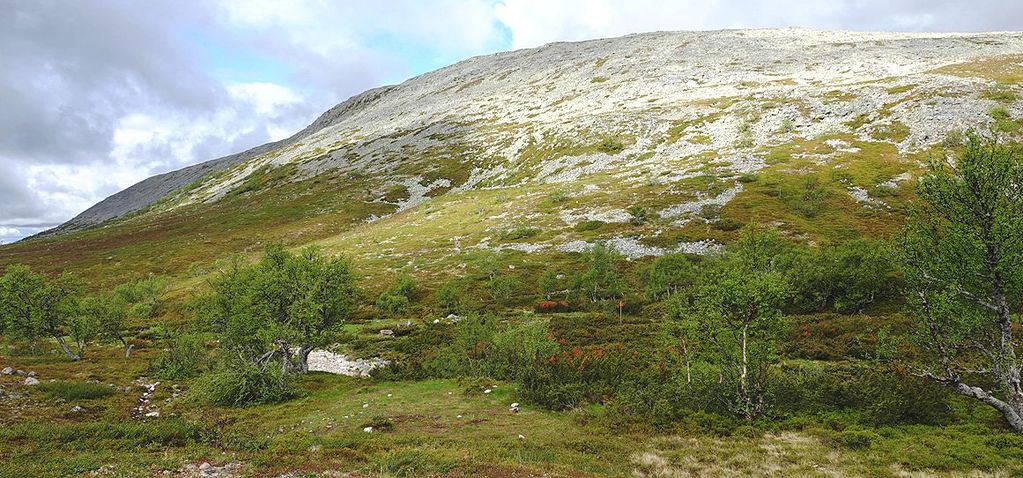 This is our camping area, the next morning 17 June. We had Ring Ouzel and Willow Ptarmigan in this terrain. See the Reindeer … no?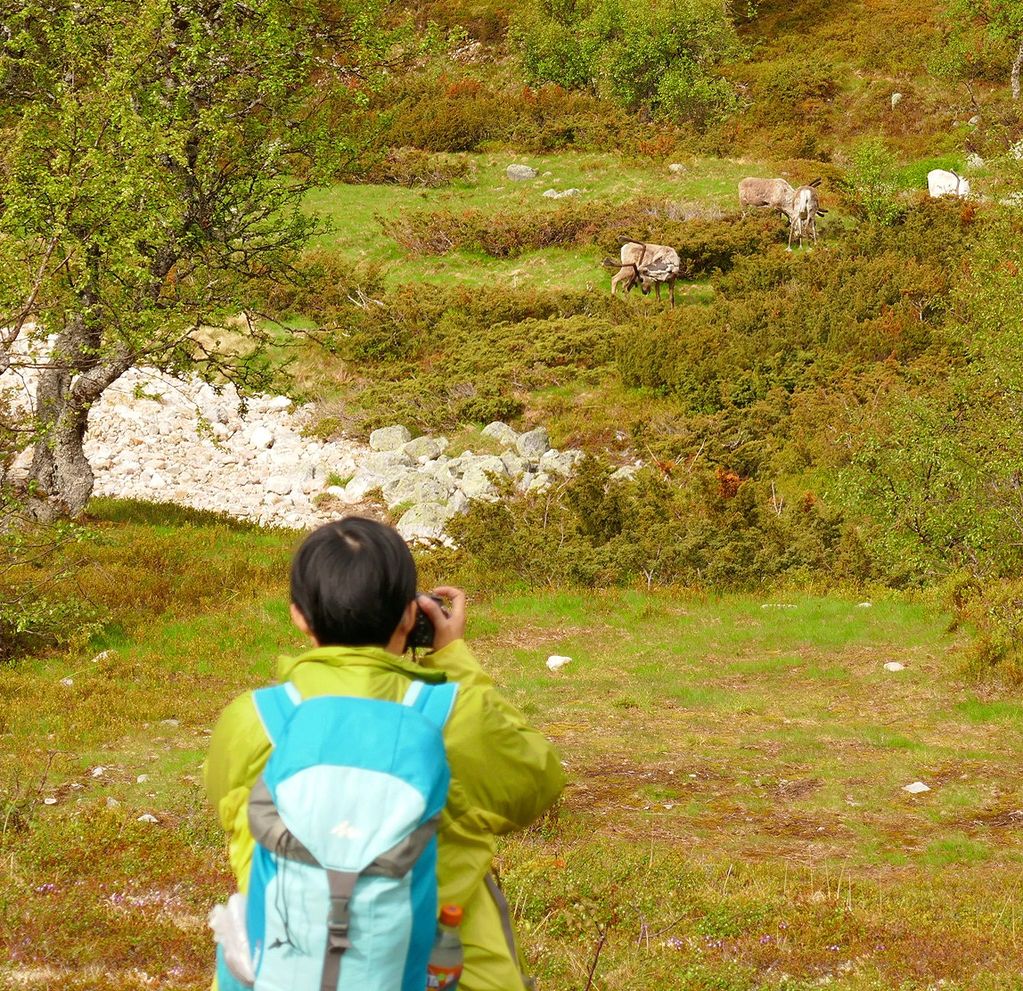 Bee Choo can … and here she takes a picture of them.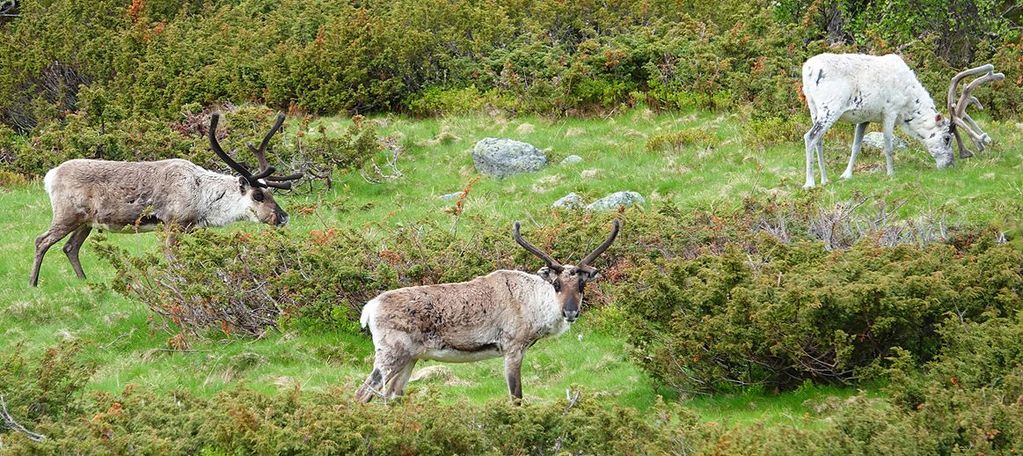 This is Bee Choo's result from that morning, quite nice, right?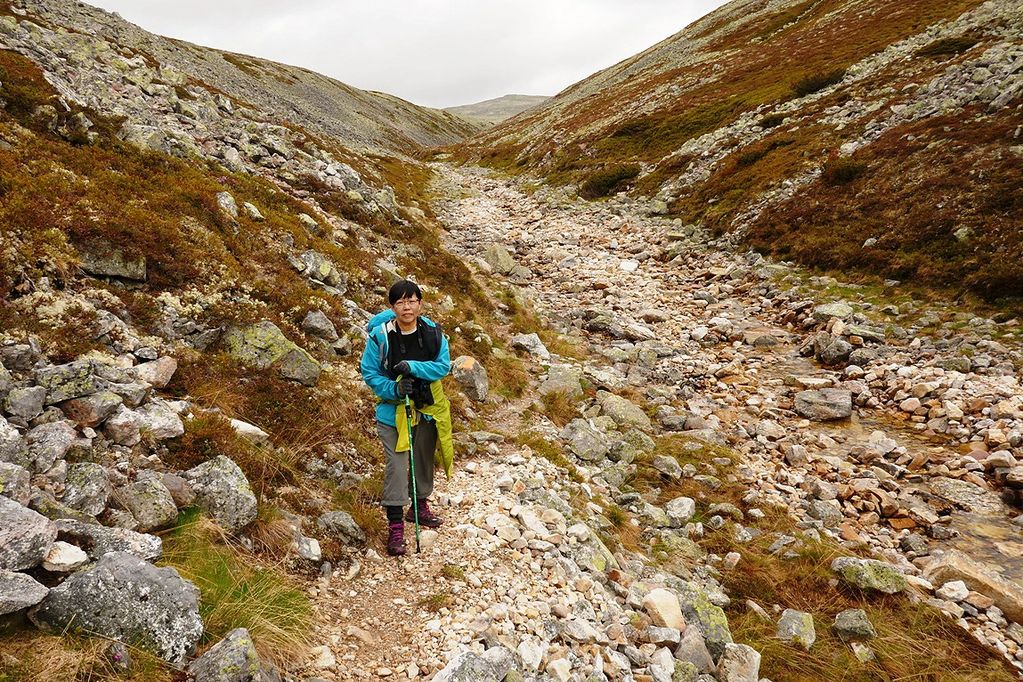 Circling west and north around the mountain on Day 10, the trail took us up into the alpine zone at 1,000+ meters.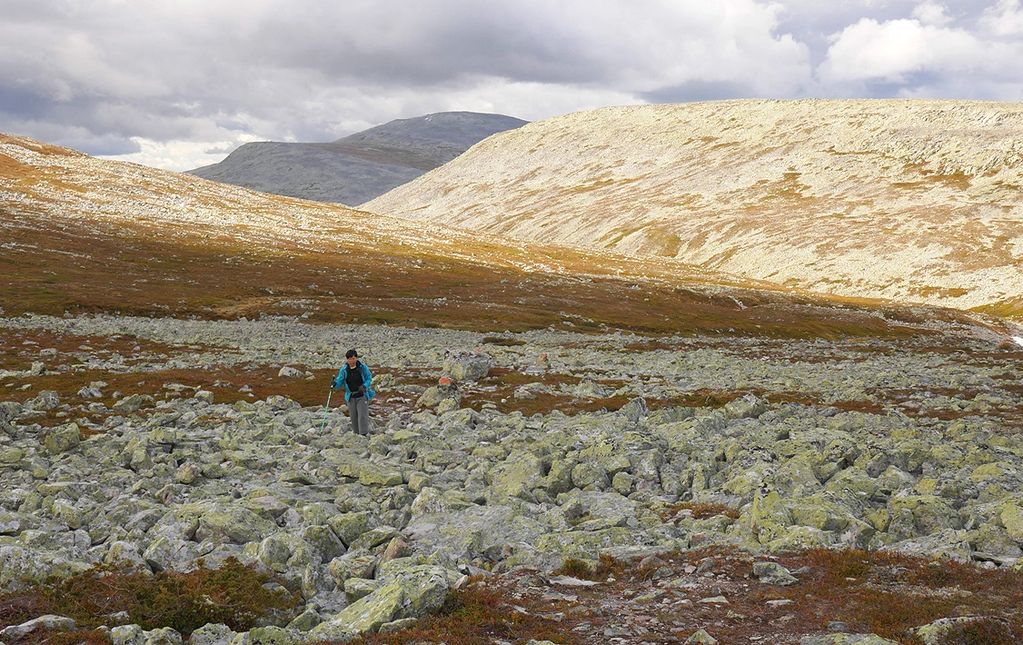 The rocky terrain went on and on; we saw a few Northern Wheatears, some Golden Plovers and a Raven here, but little else.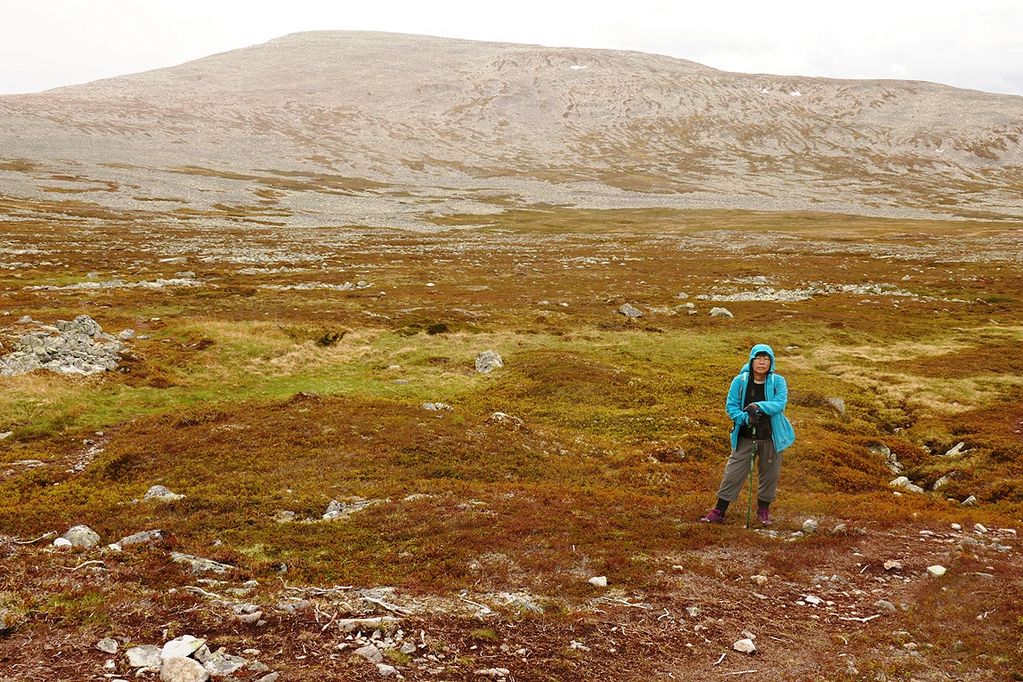 We surveyed this vegetated plateau carefully, I was hoping for Dotterel, Long-tailed Skua or Shore (= Horned) Lark, but none of those appeared.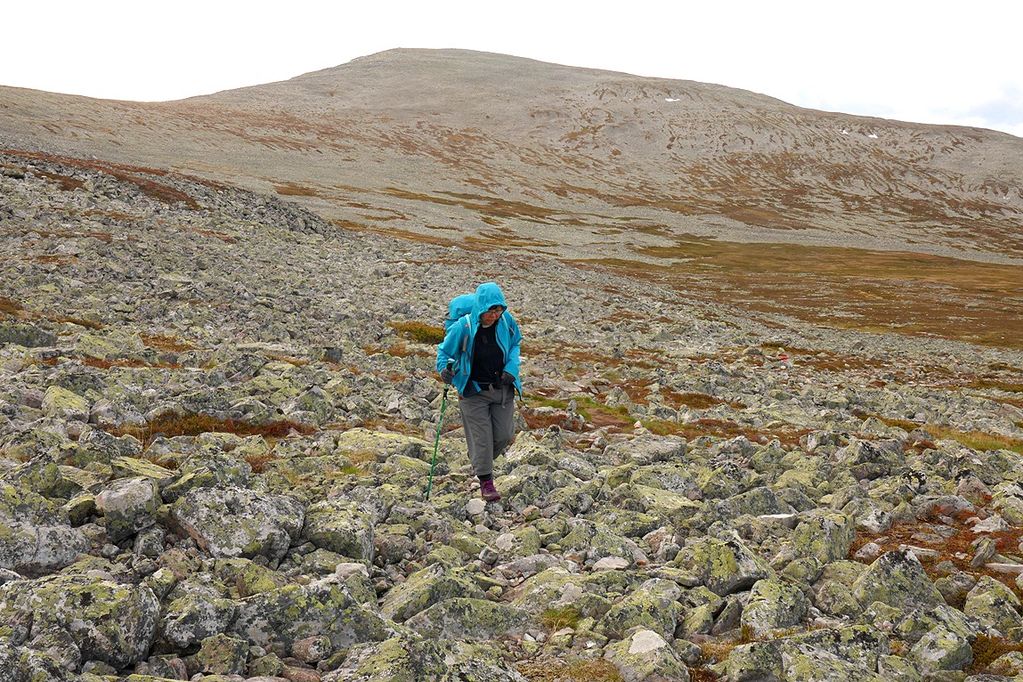 Sonfjallet has two peaks: The one in the background is 1,278 m.a.s.l. But we headed for the next one at 1,250 m. Bee Choo got a bit tired here.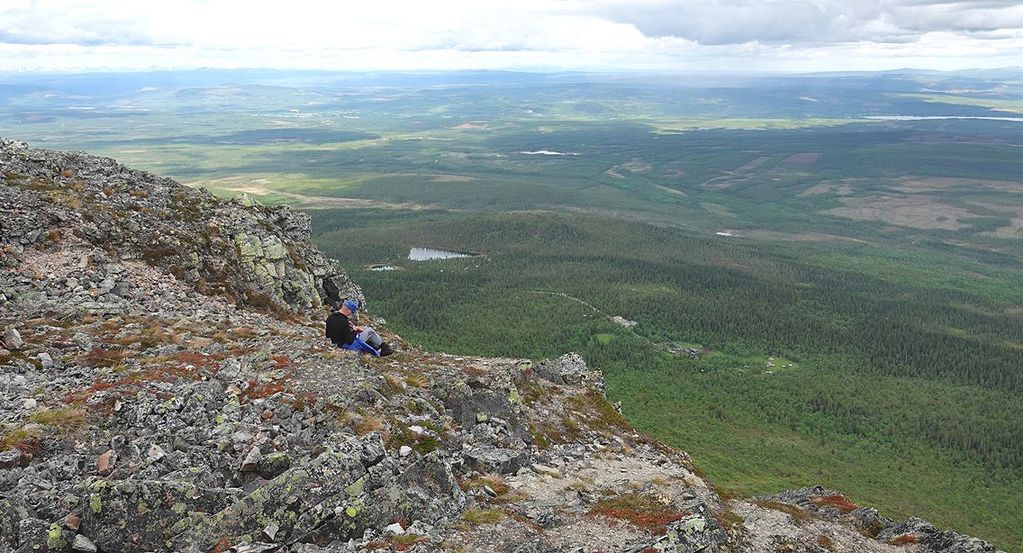 But I think she agreed, that the view north-east from the peak was worth the hike up across all those rolling stones!?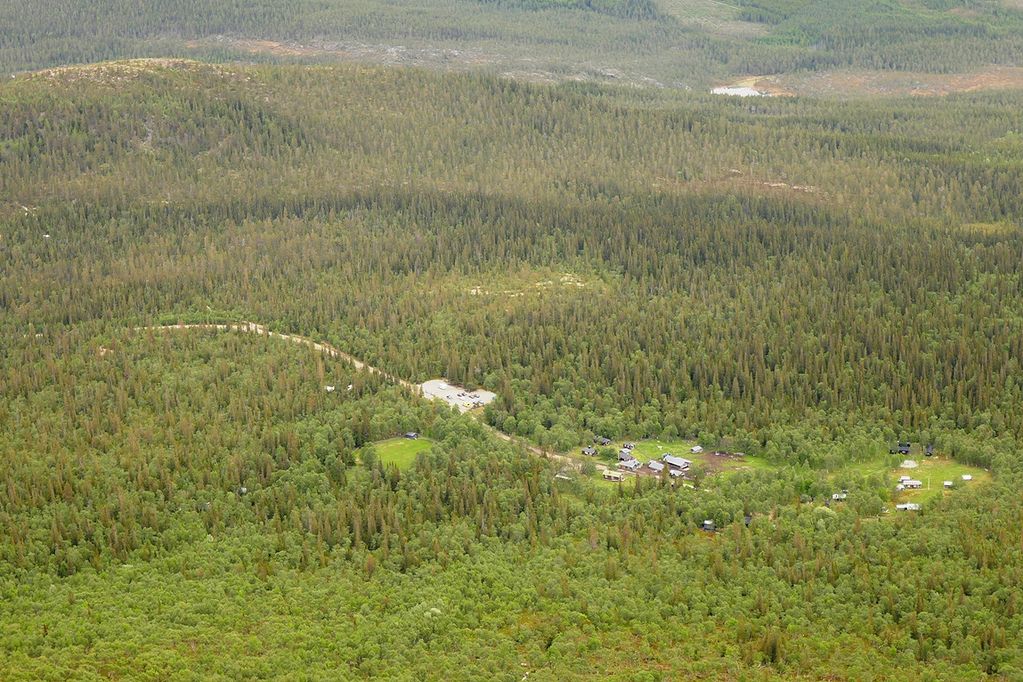 Can you see that open patch in the woods below us? It is the Nyvallen trailhead with car park and staff quarters.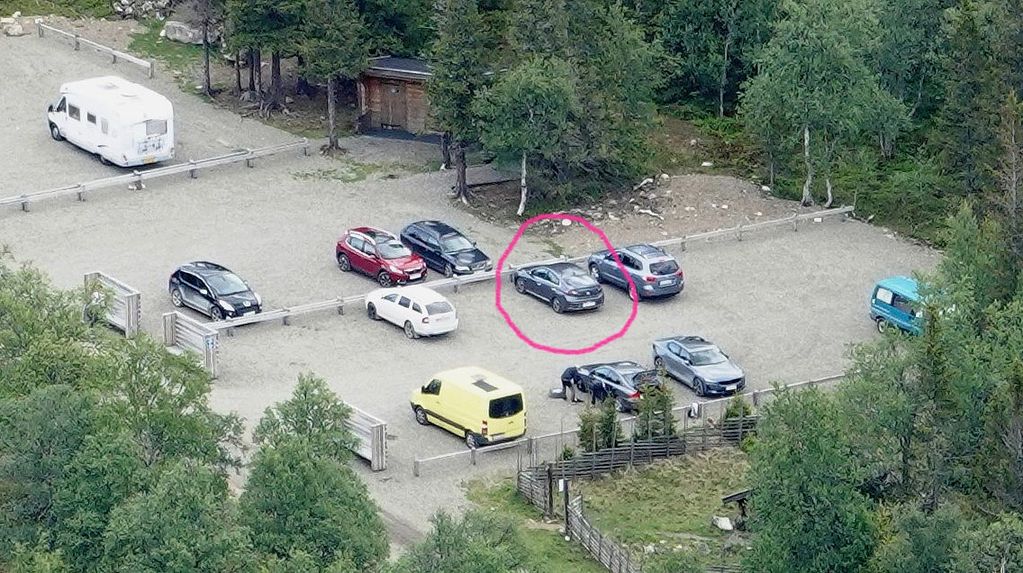 And with Bee Choo's magic camera in action we can even find our own car – it is still there! At 850 meters elevation – 400 meters below us!
So this is the reverse view from the car up the hill – a few hours and four very sore knees later! Bee Choo immediately grabs her beloved phone!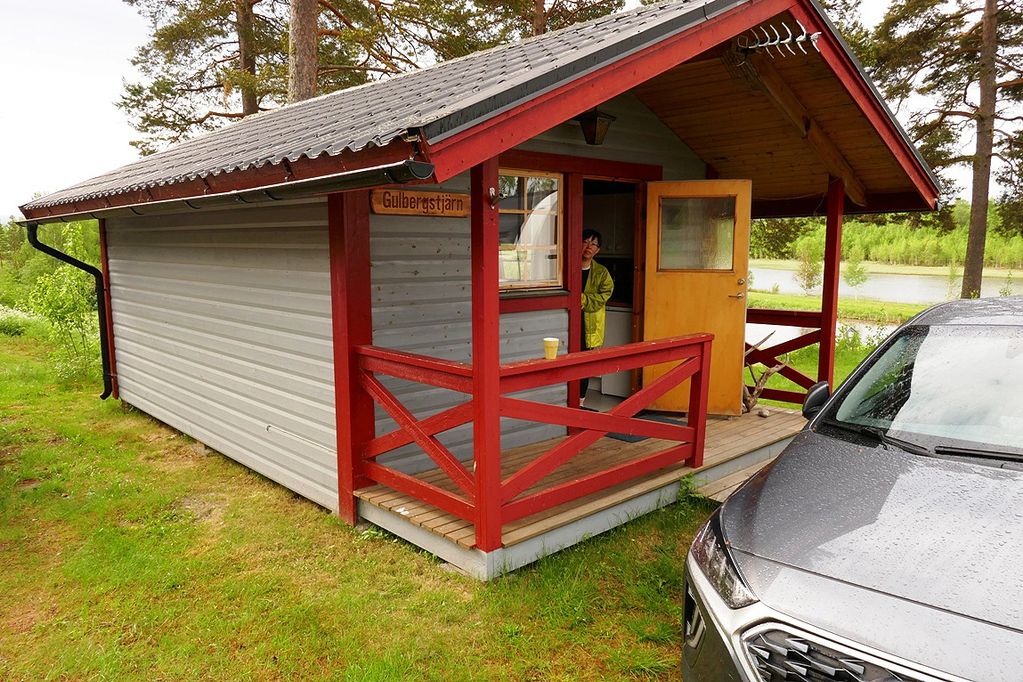 We drive back to Sonfjallcampen some 15 km further north and check into cabin 10; it is 8+ pm.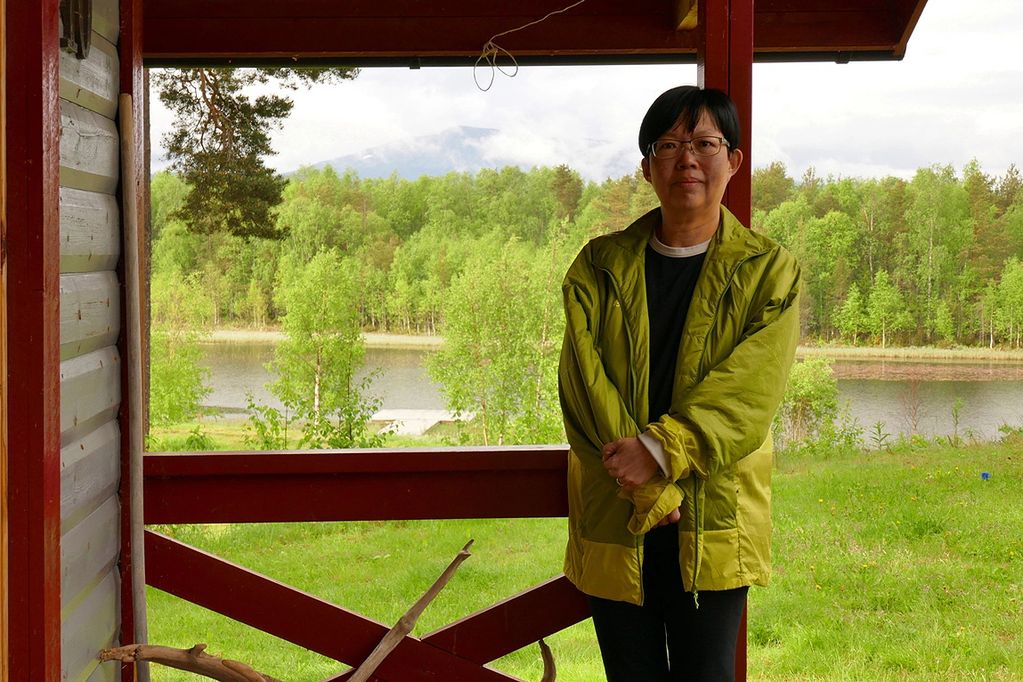 Mission accomplished, we can look back at the mountain with a sense of satisfaction. 17 June was a long day, the hot evening shower well deserved!
HEADING BACK SOUTH, DAY 11-12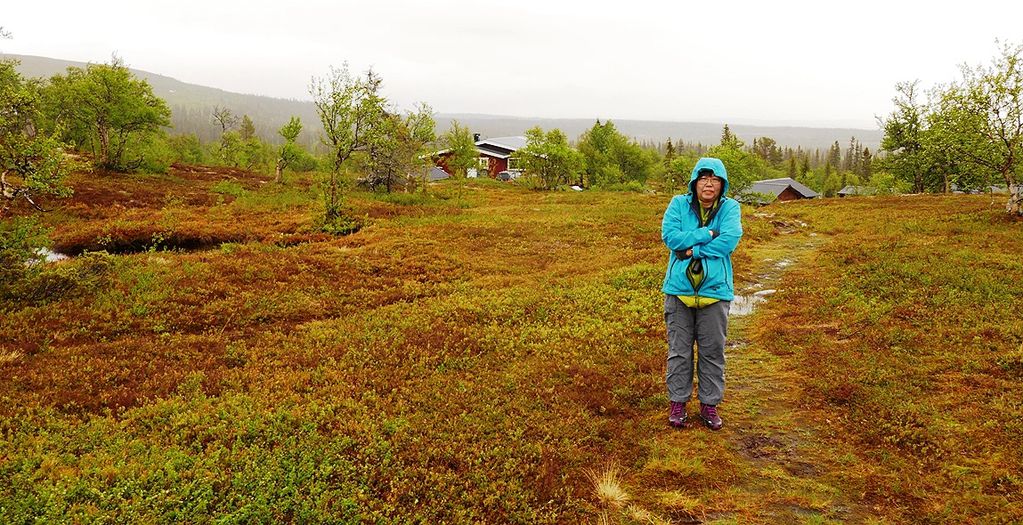 18 June: On the way out of the high country, we stopped at Saarfjallet north of Hede and Sonfjallcampen. But the weather had turned mean!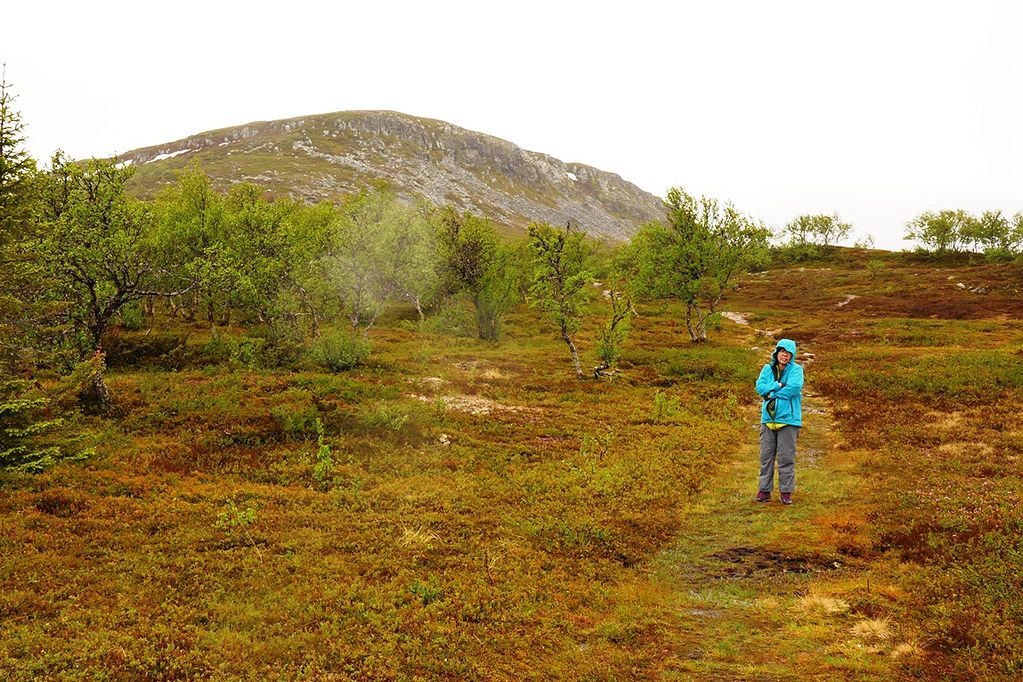 We had planned a day-hike in to pick up some mountain birds we missed at Sonfjallet; but it was too cold and miserable for Bee Coo – and for me!
So we turned around and headed south on Highway 84, stopping at Linsellsjon; the weather had cleared up by then.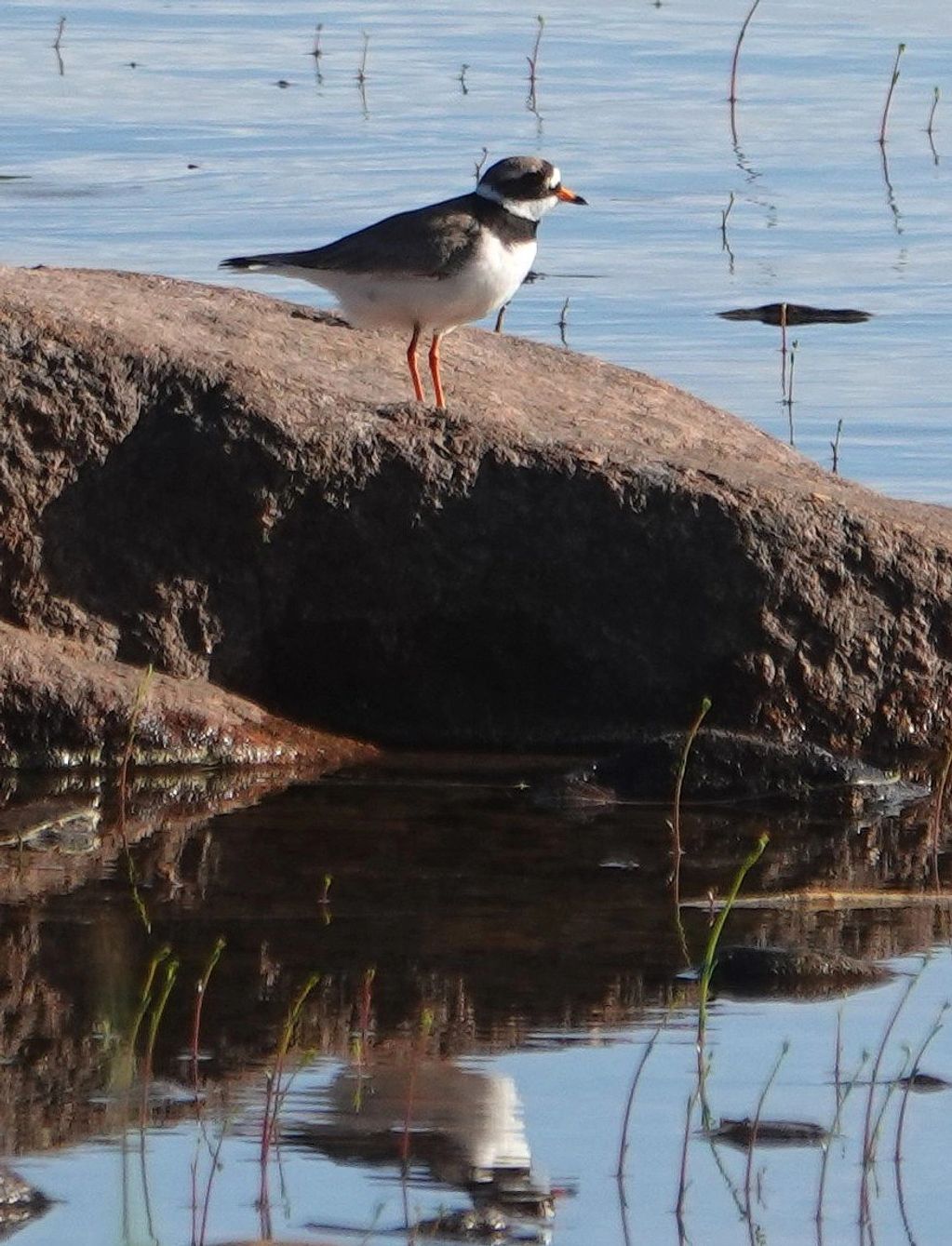 We added five new species to our bird list here, including this Common Ringed Plover that we (incredibly!) never saw along the Norwegian coast!?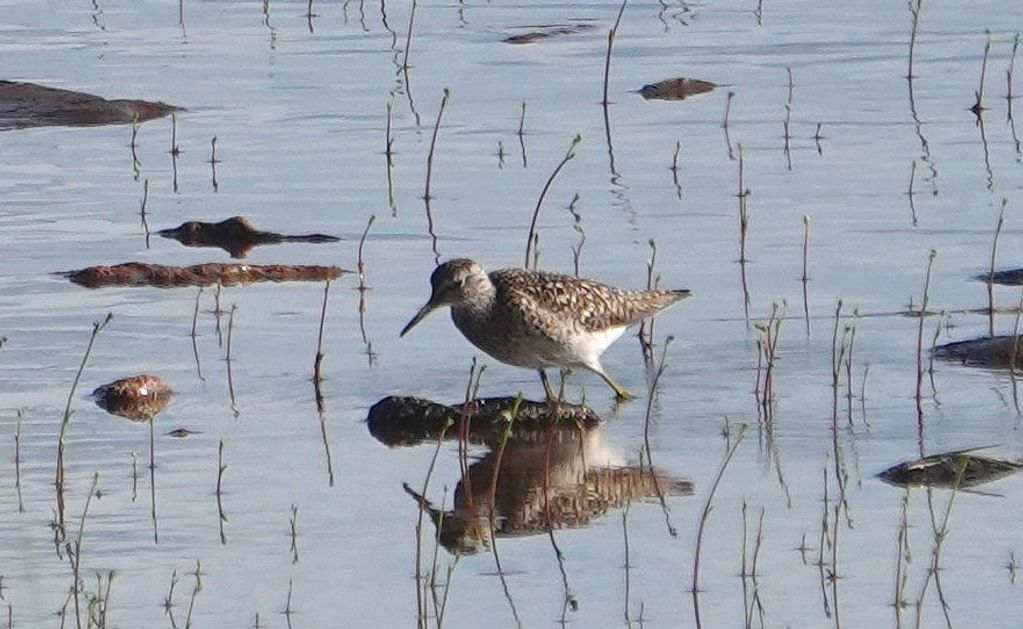 And two new sandpipers, this is the Wood Sandpiper in nice summer plumage.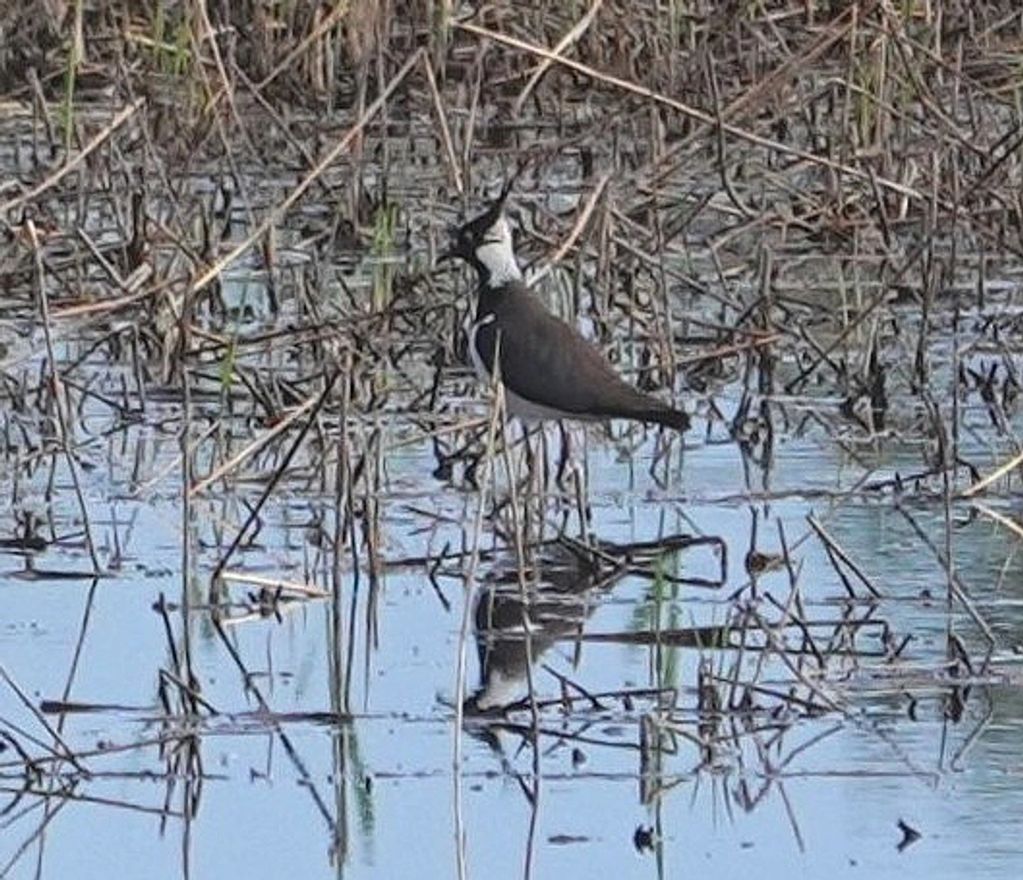 The Northern Lapwing is not common in Sweden, but Bee Choo captured this one on the other side of Linsell Lake with her incredible camera.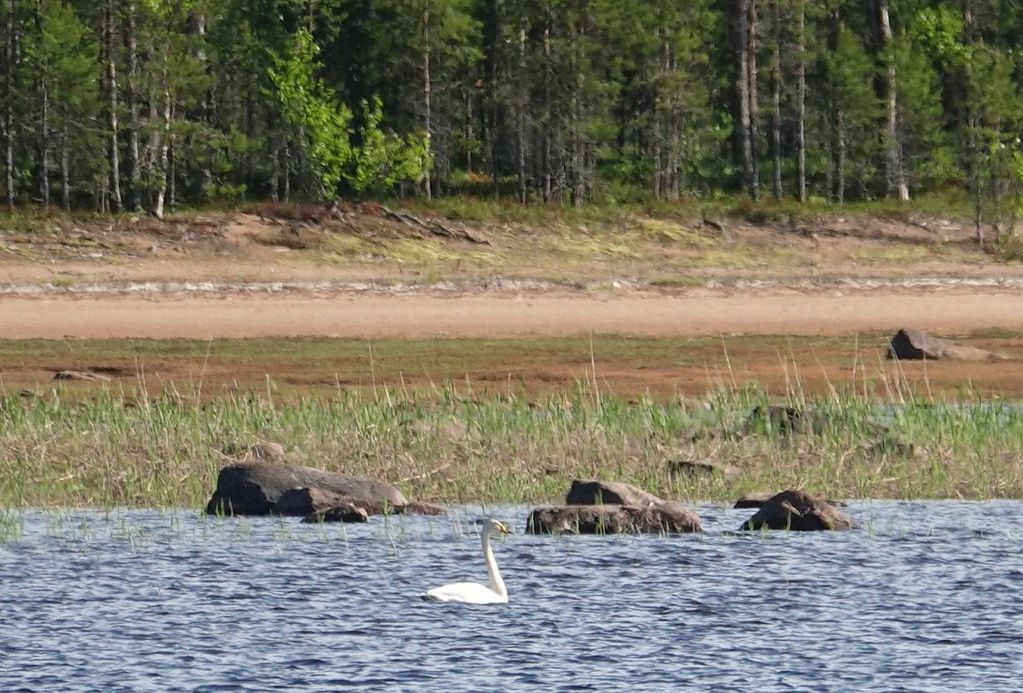 The Black-throated Diver in the middle of the lake was too far even for her, but she got this beautiful scenic of a Whooper Swan: Sweden at its best!

This Red-breasted Merganser at Linsell was not new to our list, but the female with chicks was great to watch!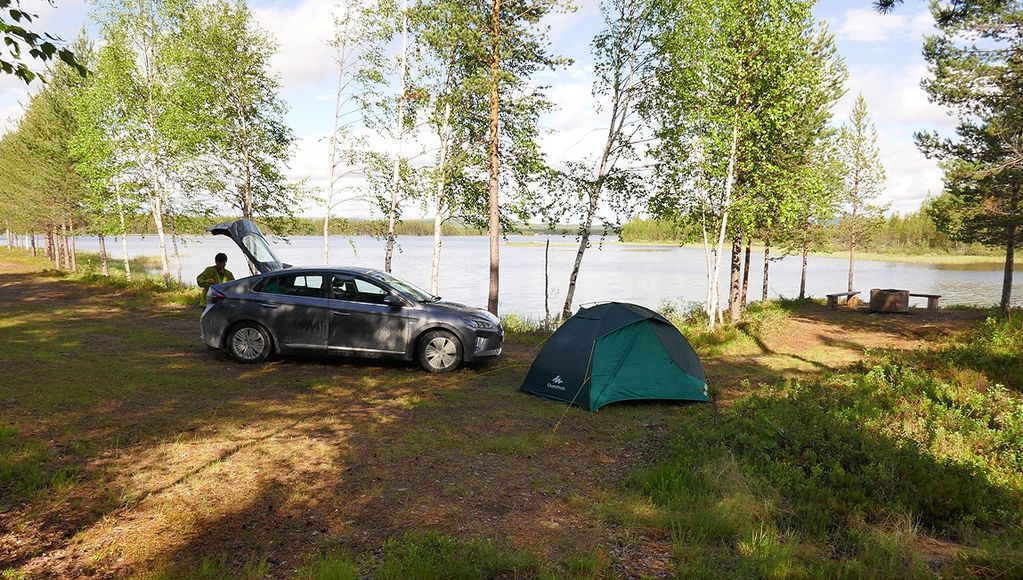 We spent the night nearby at Mosatts Naturcamping; very quiet place, we were the only tent there!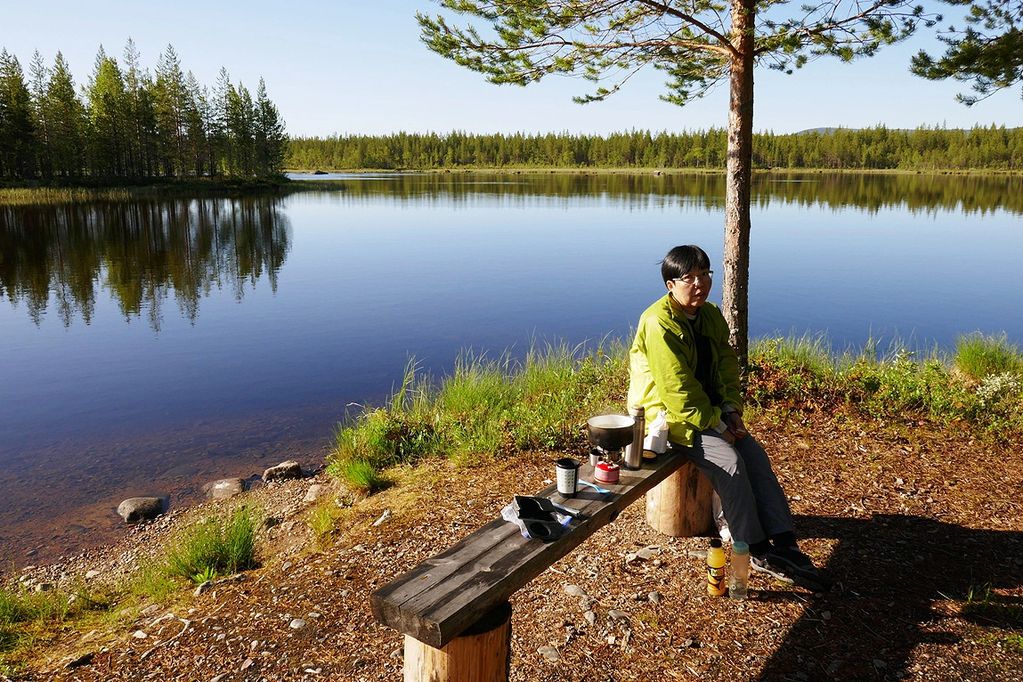 Morning of 19 June; no campfire this time, I crank up the small back-up propane stove for the morning coffee! Beautiful spot, isn't it?
UPPSALA AND STOCKHOLM, DAY 12-14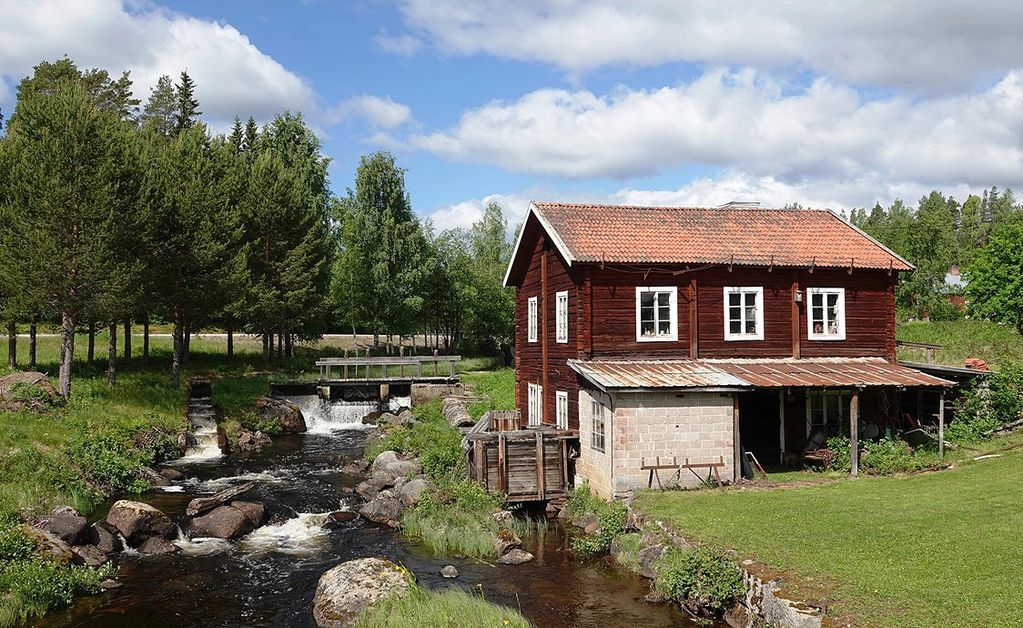 Driving on Highway 84 was nice, wide open road. Look at this old watermill along the way. Swedish drivers are courteous and give you a lot of space.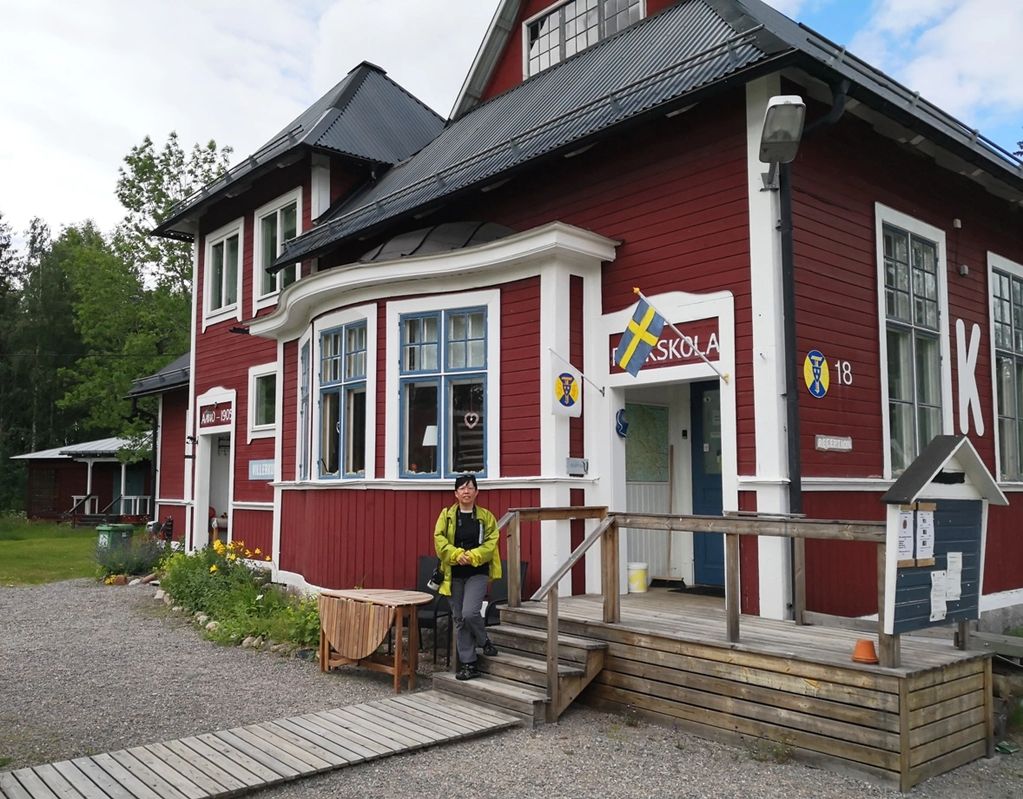 We stopped for lunch at this abandoned school, now a well-maintained restaurant and antique shop. The owner said he had seen Wolverine nearby!?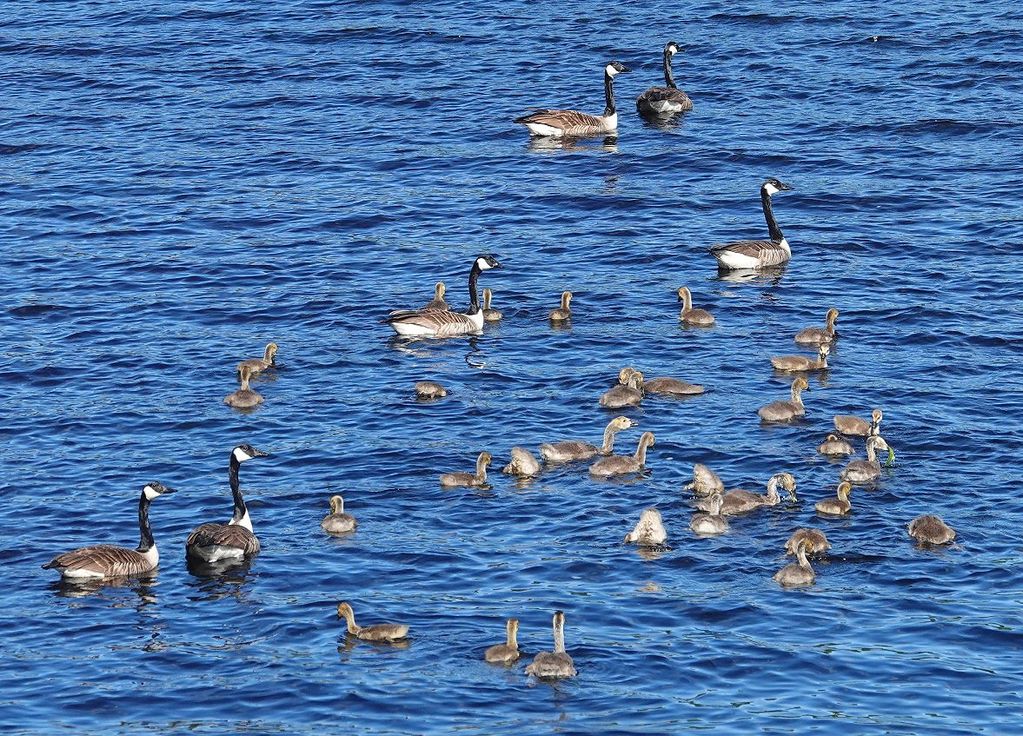 On the way, Bee Choo got this shot of a Canada Goose daycare centre. Canada? What is this one doing in Sweden? Right, invasive, like the rest of NATO.
This is the authentic Scandinavian goose you should see here: Greylag; a communal family group off Norway Day 3, 10 June. Is Greylag being displaced?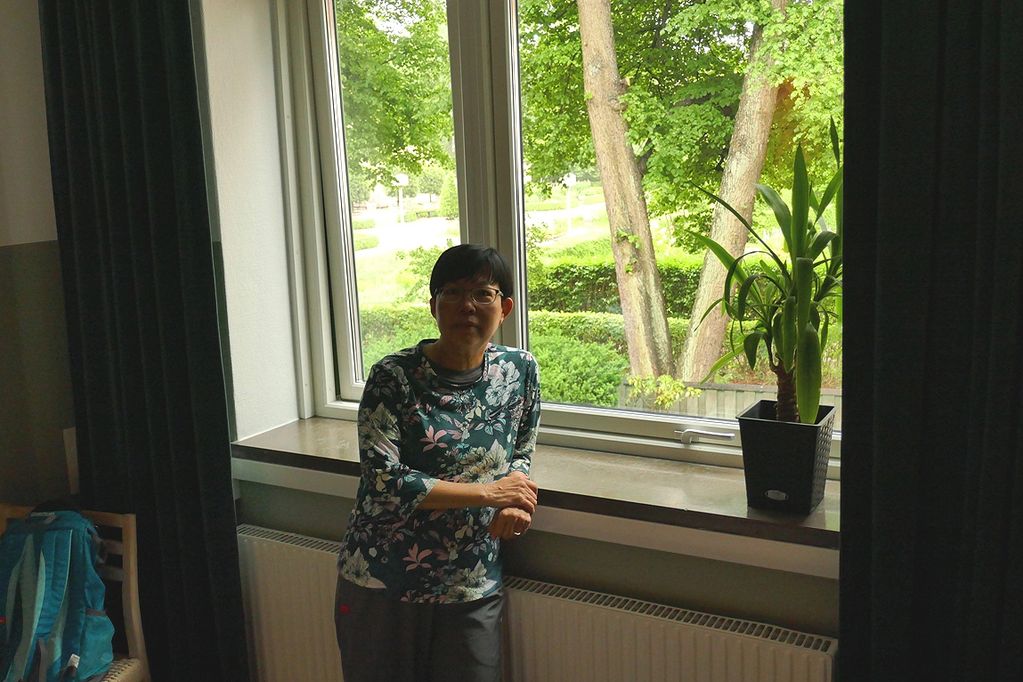 As we headed south, the pleasant 84 turned into the busy E4; driving became less fun. Bee Choo found this stop-over place, Botanica Hotel, Uppsala.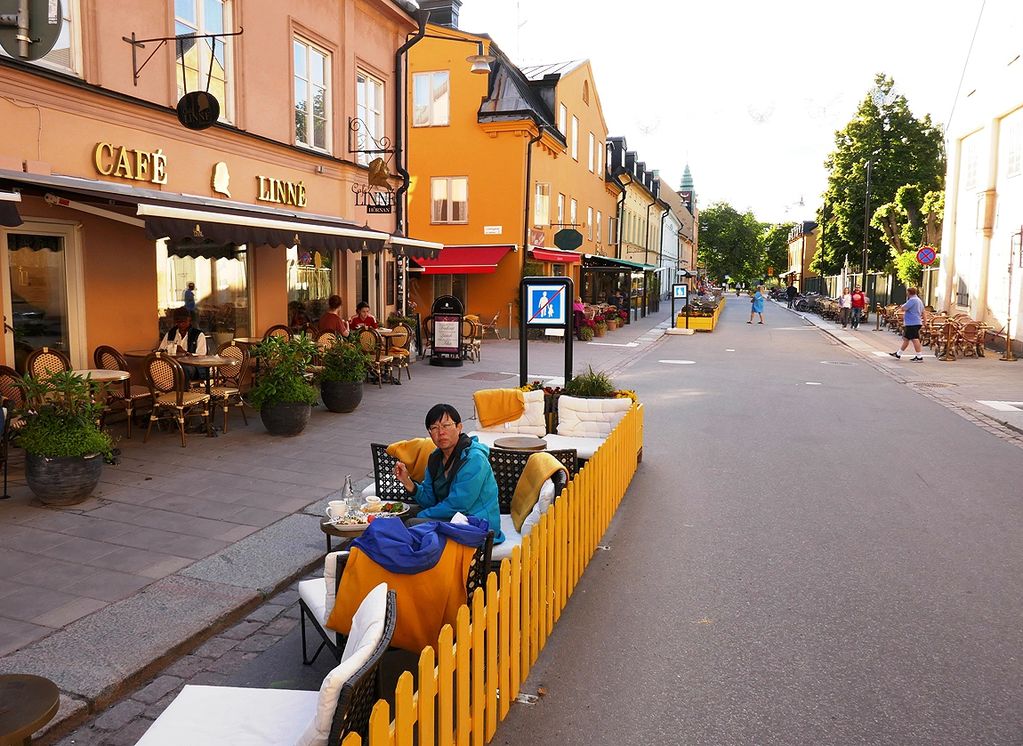 400 km south of Linsell and 15 m elevation, Uppsala was HOT! Dinner at Cafe Linne. Our room overlooking Linne's garden. It is all about Carl von Linne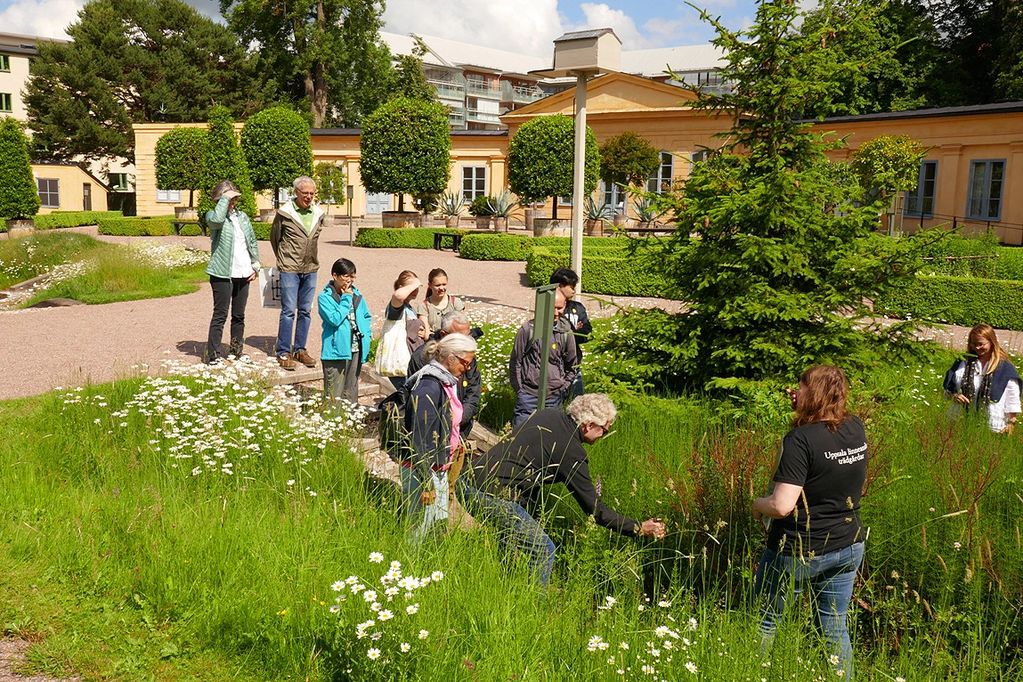 So the next day, Day 13, 20 June, we did the Carl von Linne garden and museum tour. Linnaeus to us (1707-1778), he is the father of modern taxonomy.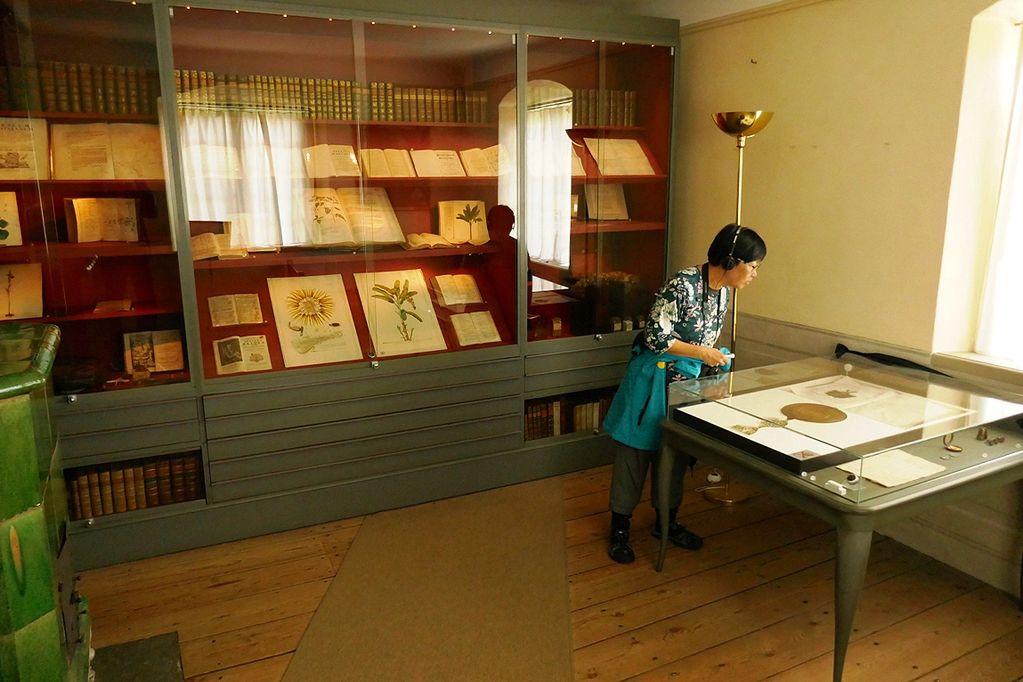 This is Linne's library and study; Bee Choo is taking the guided audio tour; we learned a lot that day; Linne's old home is immaculately preserved.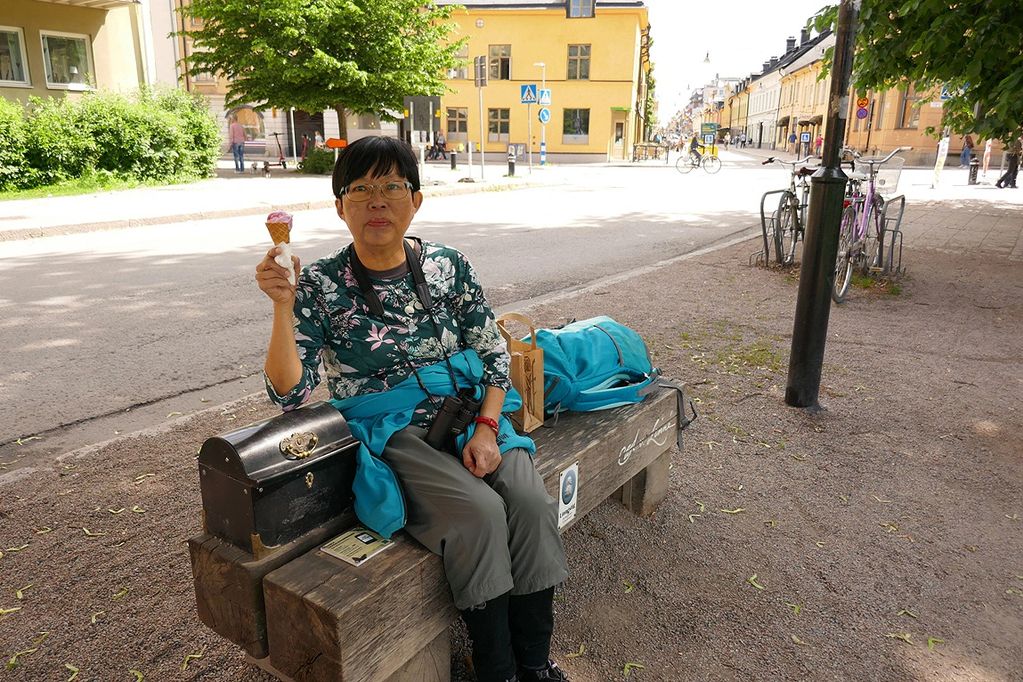 We could even enjoy our ice cream on a Carl von Linne bench near the Uppsala high street, before heading out: Only 70 km to Stockholm.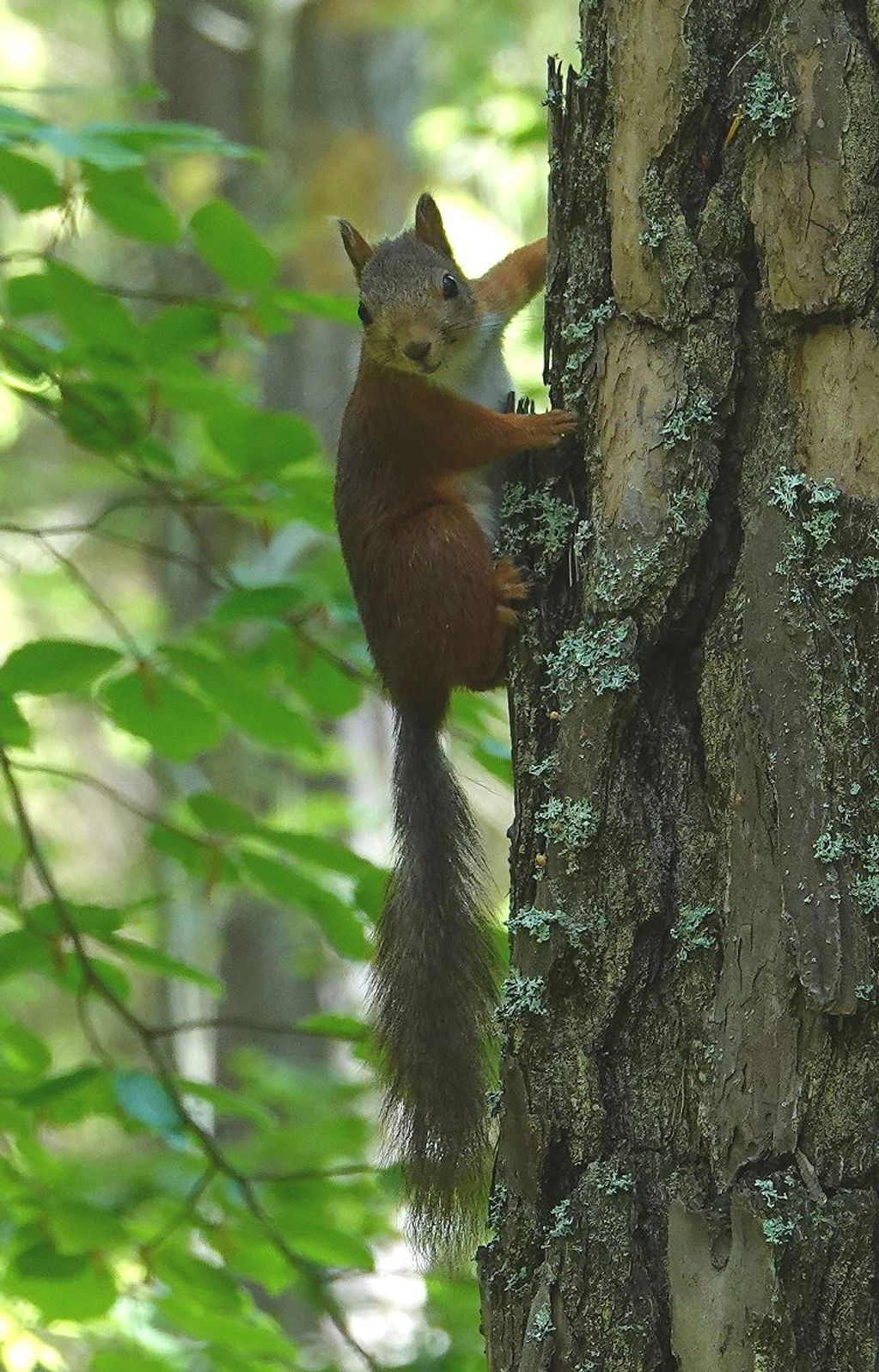 But before we hit the road, we stopped over at this park near Uppsala and added a few garden birds to the list – as well as a mammal: Red Squirrel!

We put up for two nights at this airport hotel near Arlanda north of town. Only US$ 85/night. So next morning we were ready for the city tour.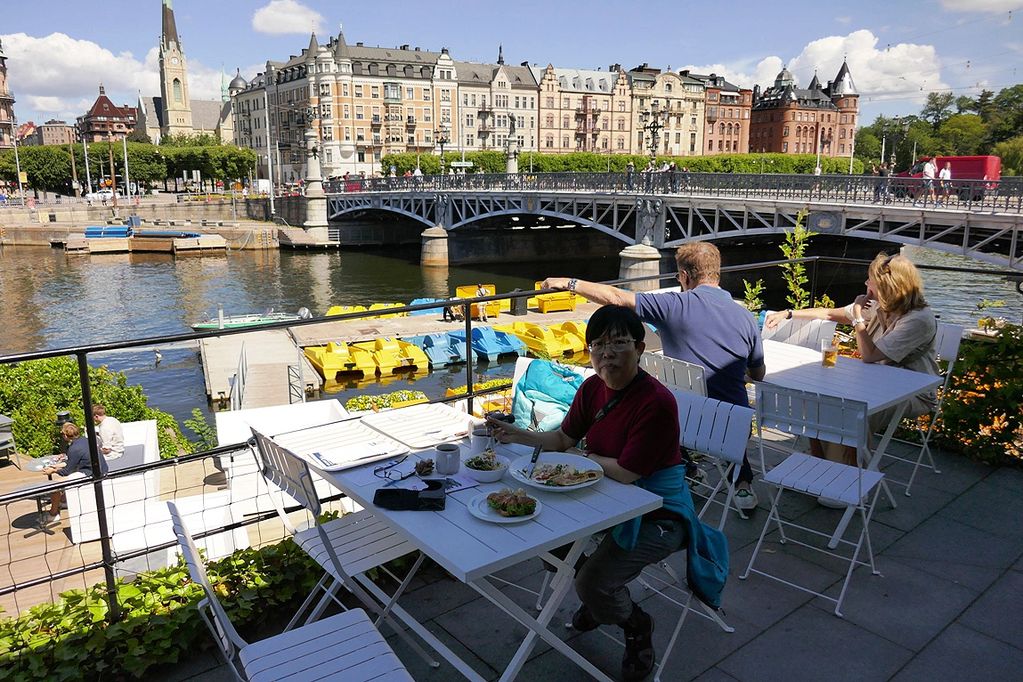 Day 14, 21 June: We drove into Stockholm and Bee Choo found a good car park on her local handphone app. Lunch near one of the tidal canals.
In the afternoon we took a break from all the city walking and enjoyed a 1-hr canal and harbour cruise. Summer Solstice and endless sunshine all day.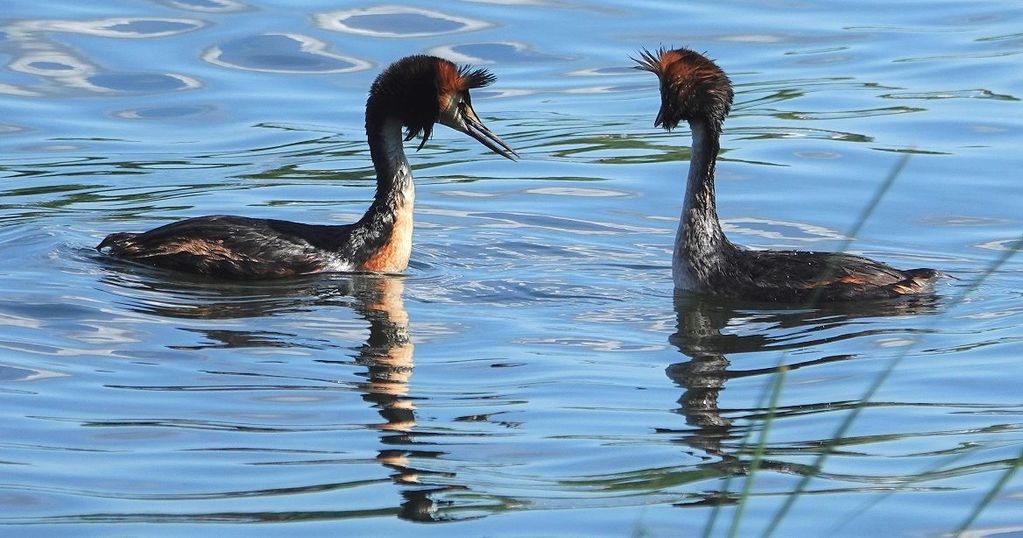 Let me not bore you with the Stockholm tourist sights, or with what I think in general of the Scandinavian oppressive, totalitarian welfare tyranny.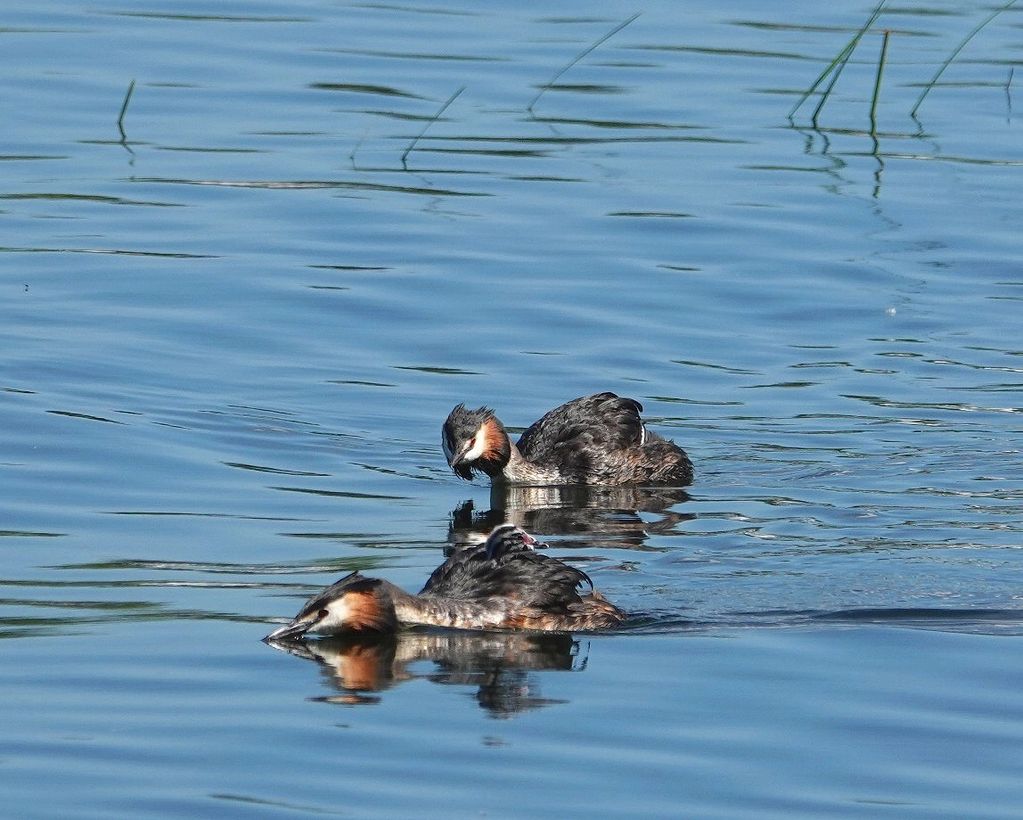 Let me instead share with you amazing biodiversity you can find right in the heart of the city: Great Crested Grebes displaying and carrying young.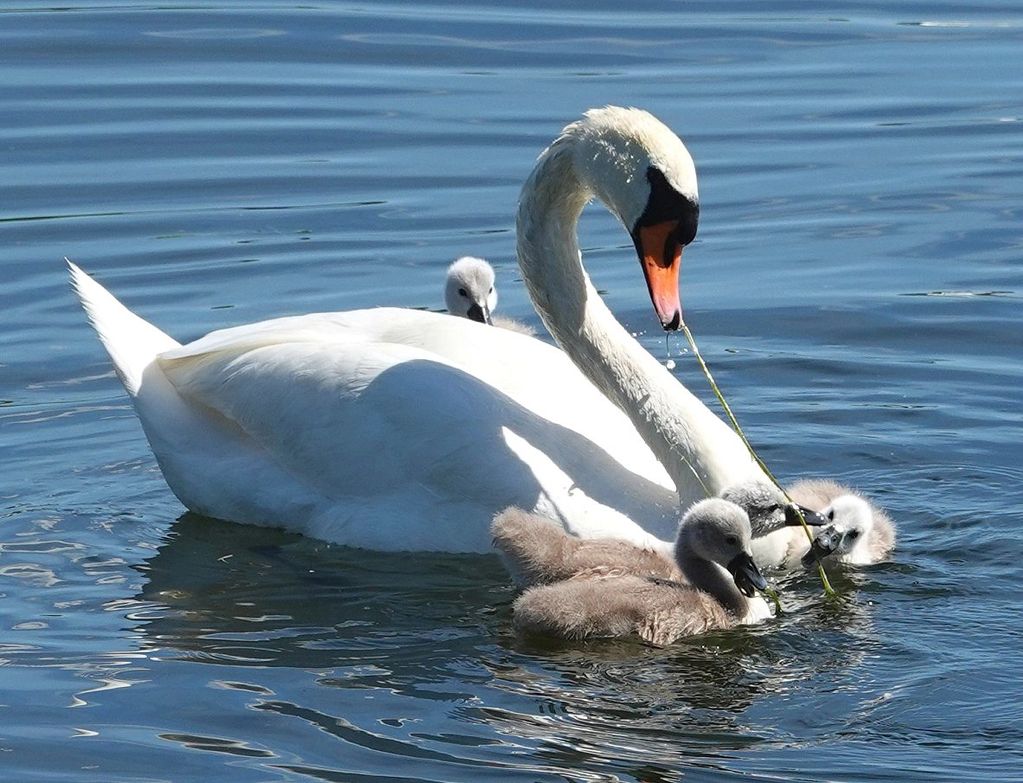 Bee Choo has improved a lot lately as a photographer, here she captures a Mute Swan pulling food up for her ugly ducklings.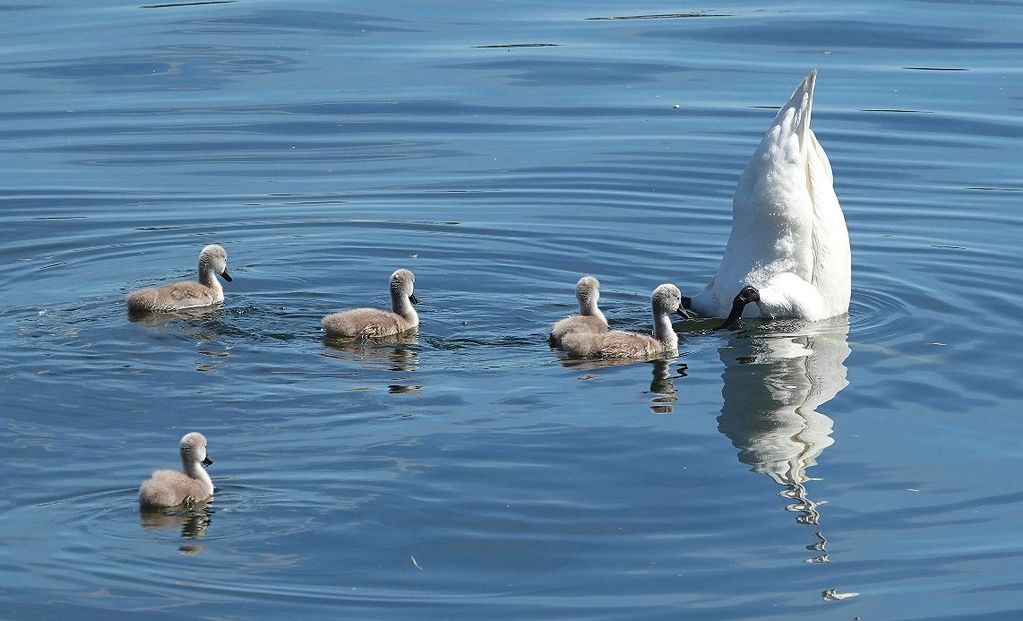 And this is how mother swan does it: Upending to reach the canal bottom.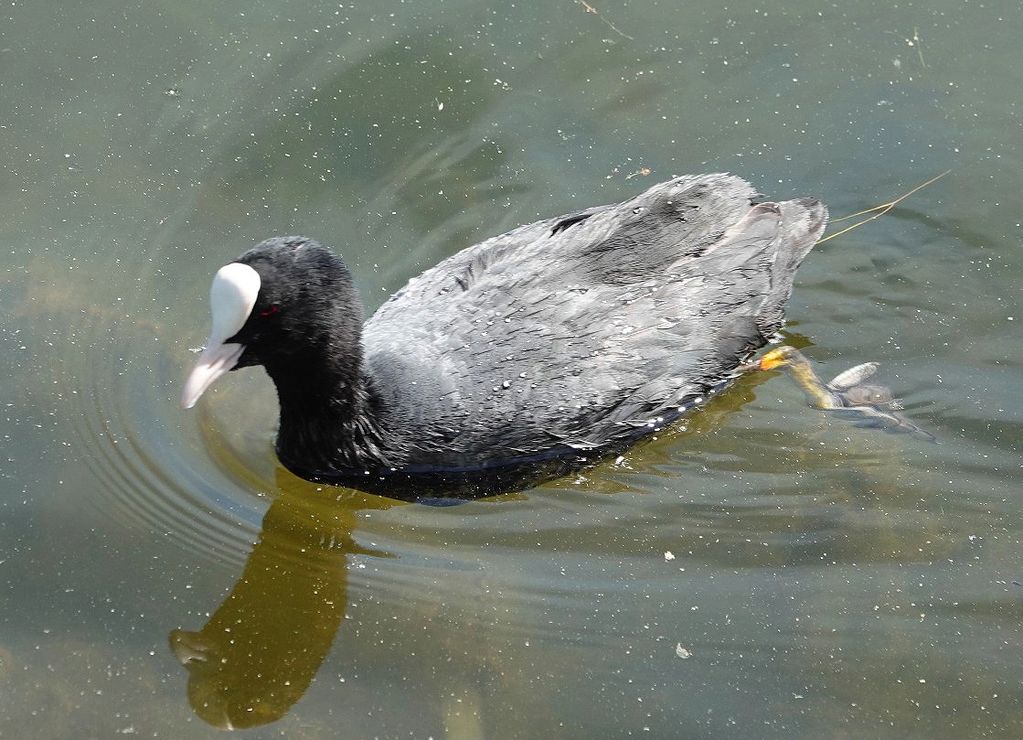 We added 3 new species to our bird list in Stockholm: The grebe, Great Cormorant and this one: Coot. The next day we flew home out of Arlanda.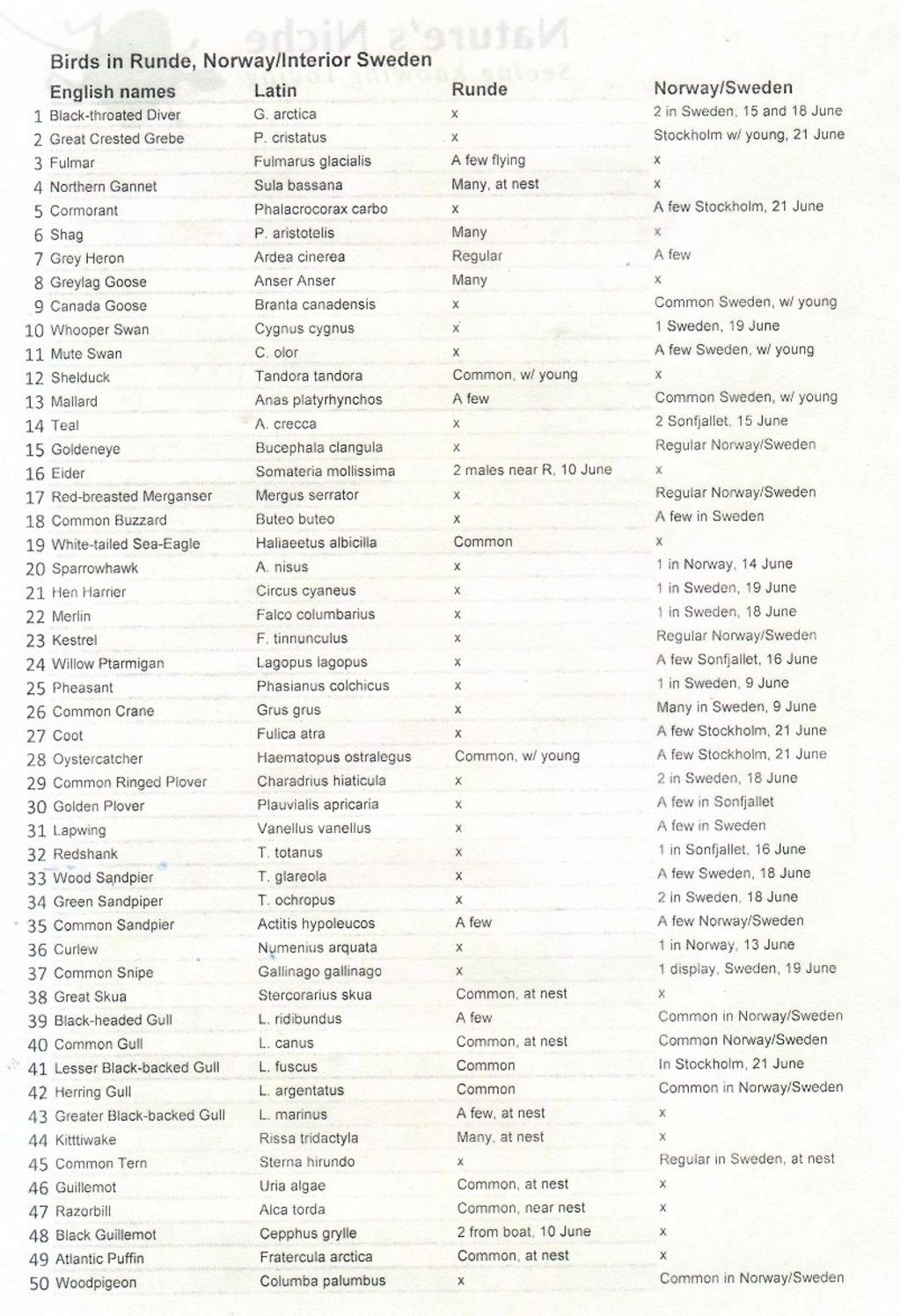 And for those who are interested: Our complete list of birds and animals seen during the two-week trip.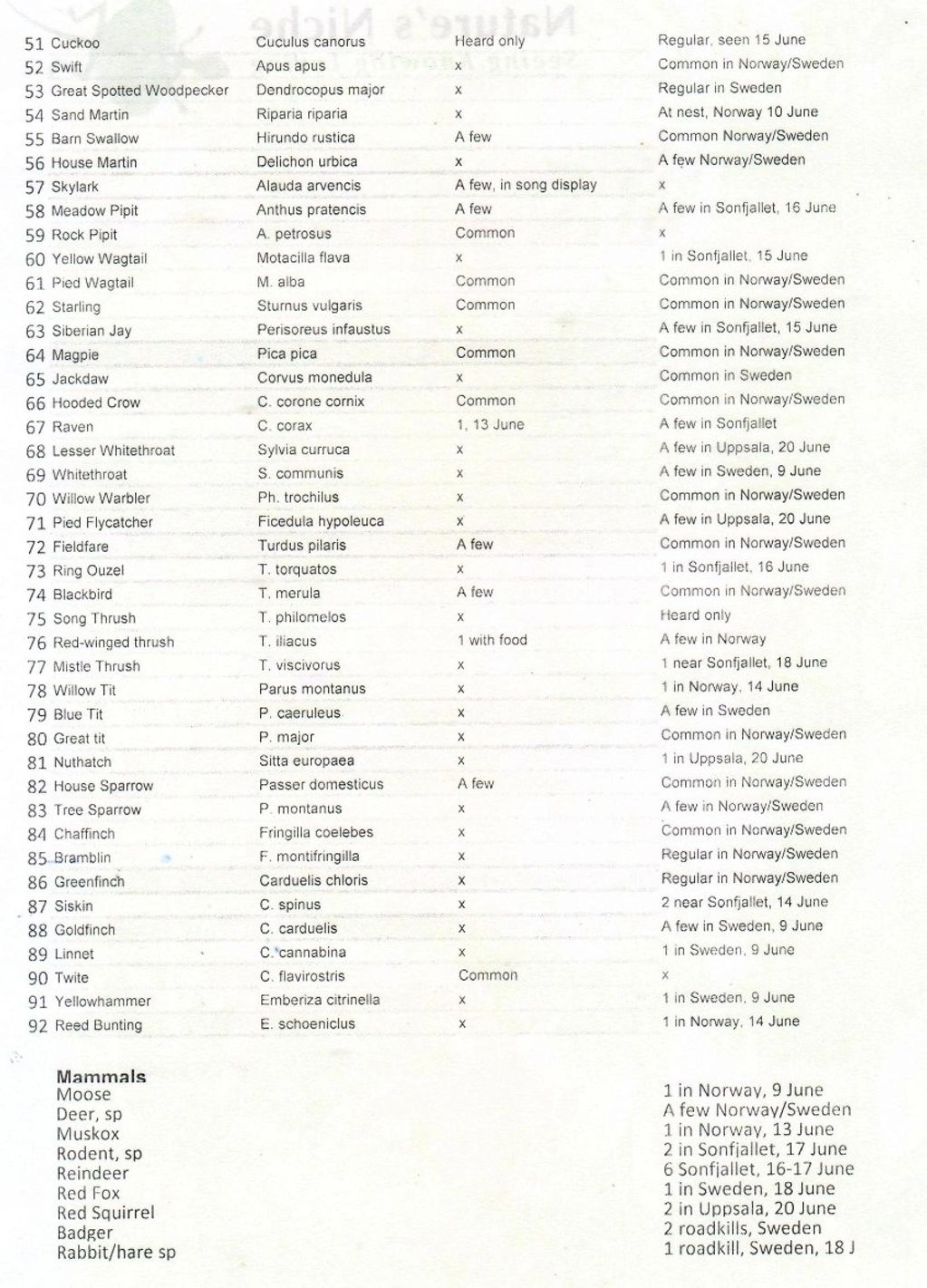 We missed a few expected species, but added others, you can never win'em all. That is the whole beauty of nature watching: The uncertainty!
COPYRIGHT © 2020-2022 MORTEN STRANGE – ALL RIGHTS RESERVED.
Note to readers: If you like this post please tap on the Like button at the left bottom of page.