The diet of the Orange-bellied Flowerpecker (Dicaeum trigonostigma trigonostigma) is not well documented in literature. Wells (2007) and Cheke, Mann & Allen (2001) list fruit, seeds, nectar, pollen and insects but the specific food items known are limited. Wells noted that this species has a protrusible tongue supporting nectar feeding.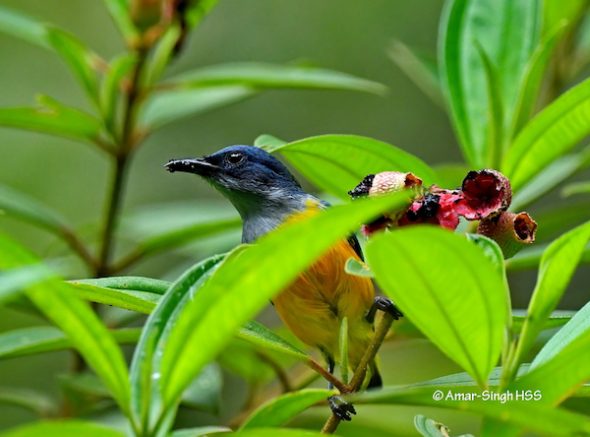 Post 1.
Over the many decades of watching I have largely observed frugivory with some nectar feeding. On this occasion I saw it feeding on the Vitex pinnata (Malayan Teak) but sadly missed getting images. Post 1 and 2 show it feeding on the favourite fruit of most flowerpeckers, the Melastoma malabathricum (Straits rhododendron). Post 2 shows the protrusible tongue.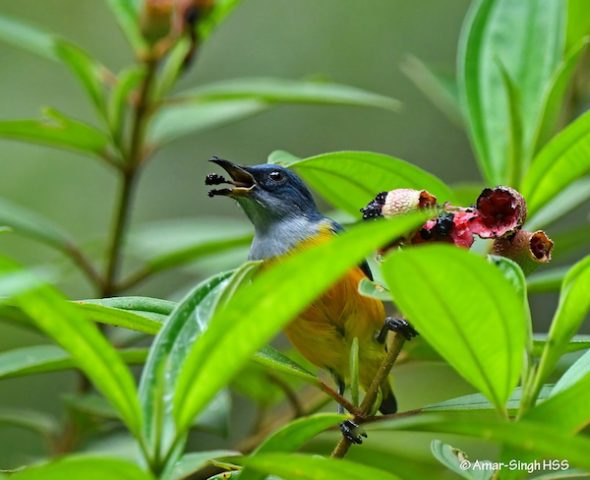 Post 2.
I went through my records to summarise feeding sources I have observed.
Fruit Sources (for bigger fruit it is takes the flesh piece meal):
Melastoma malabathricum (Straits rhododendron) (also seen fed to juveniles; a favourite of many flowerpeckers)
Muntingia calabura (Village Cherry) (a favourite of many flowerpeckers; also given to juveniles)
Clidemia hirta (Hairy Clidemia)
Bridelia tomentosa (a favourite of many flowerpeckers)
Macaranga gigantea (Giant Mahang)
Buchanania arborescens (Gooseberry Tree or Sparrow's Mango)
Ficus consociate
Ficus benjamina
Dypsis lutescens (Golden Cane Palm, Areca Palm, Butterfly Palm; locally known as Pinang Kuning)
Fruiting stalks of Piper aduncum (introduced Tree Pepper)
Vitex pinnata (Malayan Teak)
Macrosolen cochincinensis (Mistletoe fruit)
Seen at Scurrula ferruginea (Rusty-leaf Mistletoe) and possibly taking fruit
Nectar sources:
Dendrophthoe pentendra (nectar from a mistletoe)
Poikilospermum suaveolens (eat the flowers to get to the nectar)
Nectar also seen taken from other flowers (trees not identified; possibly Breynia sp.); see: https://besgroup.org/2009/10/27/orange-bellied-flowerpecker-feeding-on-nectar/
Wells, D.R. (2007). The birds of the Thai-Malay Peninsula: Vol. 2 (Passarines). Christopher Helm, London.
Robert A Cheke, Clive F Mann, Richard Allen (2001). Sunbirds: A Guide to the Sunbirds, Flowerpeckers, Spiderhunters and Sugarbirds of the World. Helm Identification Guides
Cheke, R. and C. Mann (2020). Orange-bellied Flowerpecker (Dicaeum trigonostigma), version 1.0. In Birds of the World (J. del Hoyo, A. Elliott, J. Sargatal, D. A. Christie, and E. de Juana, Editors). Cornell Lab of Ornithology
Amar-Singh HSS (Dato' Dr) – Ipoh, Perak, Malaysia
Location: Papan Forest Reserve, Ipoh, Perak, Malaysia
Habitat: Trail in forest
Date: 27th August 2020
Equipment: Equipment: Nikon D500 SLR with Nikon AF-S Nikkor 500mm f/5.6E PF ED VR, handheld with Rode VideoMic Pro Plus Shotgun Microphone