I observed an adult female Oriental Honey-buzzard (Pernis ptilorhynchus) while out in the field. Oriental Honey-buzzards are very polymorphic with variable plumage and some sexual dimorphism. Raptors are not my forte and I dug up my older images of this species to try and make some sense for myself of sexing and aging. Sharing some here if useful.
I used a variety of references including OBI, Ferguson-Lees & Christie 2001, Wells 1999, HBW 2020, as well as online resources. I would be happy to be corrected for any errors or mistakes. I have not attempted to differentiate between subspecies and do not have the capacity to age birds by calendar years.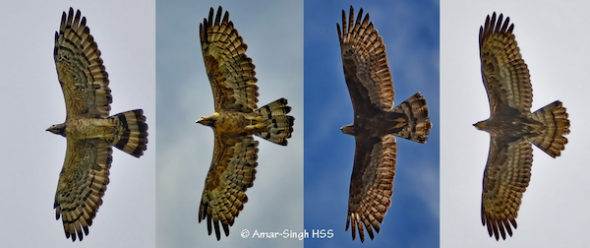 Above is a flight composite of 4 birds. The first (from left to right) is an adult male, the second an adult male in moult, the third an adult female and the fourth an immature/juvenile bird. In flight adult males have a dark trailing edge to the wing and 2 prominent tail bands; especially the broad terminal tail bar. The tail bands in bird 2 are not that prominent but the dark trailing edge to the wing is clear. Males also tend to have more prominent barring on the underwing. Adult females usually have three tail bands that are not as thick as in males.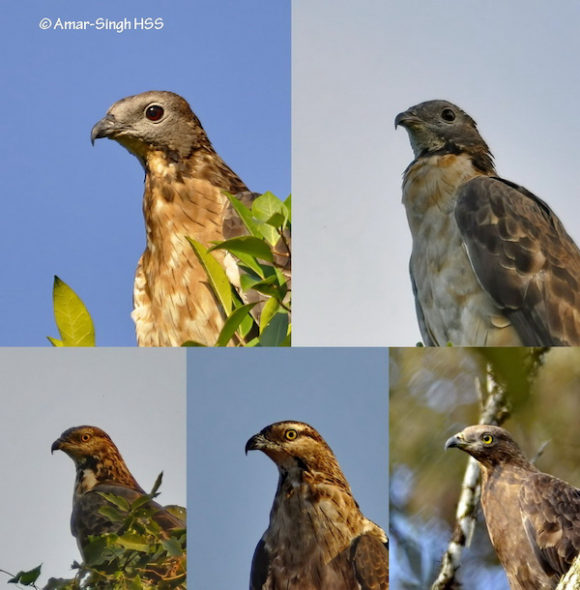 Above is also a composite, but of 5 birds showing the face. The two birds at the top are both adult males with darker iris and grey mask-like face. Note also the completely dark bill seen in adults. The bottom three birds are all female; the first on the left an adult female, the second an immature female (the bill is not all black on a close-up view) and the third on the right a juvenile/immature female with some residual yellow cere and no grey on the face. Note that juveniles have dark eyes and this is retained in males while females develop a light iris. Although adult males are supposed to have darker iris and adult females lighter or yellow iris, this apparently does not always hold true.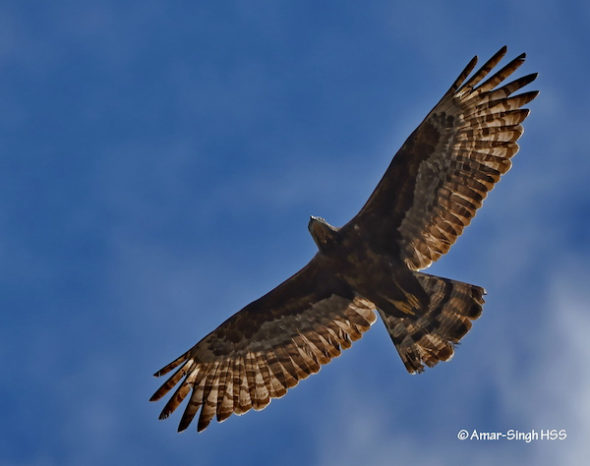 Above is the recent adult female I saw in flight.
Amar-Singh HSS (Dato' Dr) – Ipoh, Perak, Malaysia
Habitat: City fringe with secondary growth
Date: 19th November 2020
Equipment: Equipment: Nikon D500 SLR with Nikon AF-S Nikkor 500mm f/5.6E PF ED VR, handheld with Rode VideoMic Pro Plus Shotgun Microphone