The commonest babbler to encounter locally is the Pin-striped Tit Babbler (Macronus gularis gularis). And I watched a pair for some time as they foraged in the morning at the fringe of this forest reserve (above).
I personally enjoy listening to the contact calls they make. When making these calls most of the time the throat is puffed up (above) and the beak open. About 10-15% of the time the bird arches the back and points the beak skyward when calling out.
The calls are described as a harsh "chrrrt-chrr" or "chrrrt-chrr-chrri" (Robson 2002), but are very variable. A sonogram and wave of a short segment in shown above. A call recording here of this pair: https://www.xeno-canto.org/488919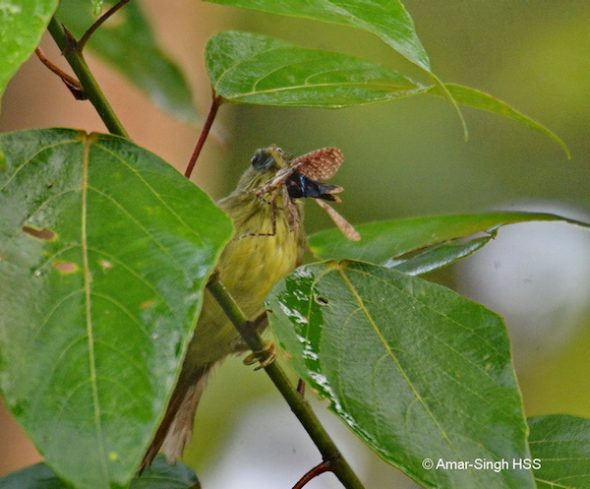 An adult with a large flying insect is added as an addendum (above).
Amar-Singh HSS (Dato' Dr) – Ipoh, Perak, Malaysia
Location: Kledang-Sayong Forest Reserve, Ipoh, Perak, Malaysia
Habitat: Fringe of forest reserve
Date: 25th July 2019
Equipment: Nikon D500 SLR with Tamron SP 150-600mm f/5-6.3 Di VC USD, handheld with Rode VideoMic Pro Plus Shotgun Microphone