Post 1a is a composite of 4 sequential images to show the dive with open tail feathers.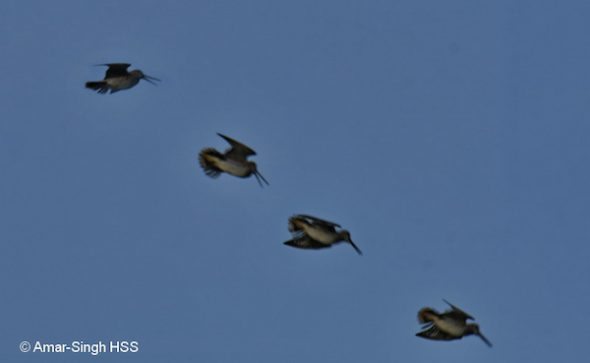 Post 1b is another composite of 4 sequential images to show dive.
Snipe tend to be secretive and quiet while on migrate but they are very visible and vocal at their breeding grounds, especially during courtship. The Latham's Snipe (Gallinago hardwickii) was easy to spot during our trip in June and we saw a number of courtship flight displays (usually April-June). The presumed males tend to seek a high vantage point, so as to be visible to the females; usually a utility pole (electrical pole, wire) or tree. They call loudly from the vantage point as well when in flight.
Post 2 shows a presumed male on a high tension wire.
I would consider their courtship display flights accompanied by advertising calls one of the wonders of the bird watching world; it has to be seen to be appreciated.
Post 3 shows a presumed male calling from the ground.
The presumed male flies high up (30-40 meters) and circles around, calling out for 35-40 seconds or longer. The terminal end of the display is often a dramatic dive with an accompanying noise made by opening the tail feathers to cause air resistance. The bird may then continue then to call from the vantage point or even from the ground (observed twice). These displays are repeated.
Post 4 shows a sonogram and waveform of the extended and regular calls
Post 4a is another sonogram of other extended calls made at the end of the dive.
They often occur in the early morning or evenings (our observation as well) but are said to also occur at night. The calls made in flight are regular at 2-3 calls per second, from my recordings. Each call last 1-1.5 seconds and is a low frequency sound (described by various authors in different ways). There are also longer calls made at the beginning or end of the display that can last 7-8 seconds.
Call recording here: https://www.xeno-canto.org/488222
Post 5. Bird on post.
Post 6. Another bird on post.
References:
Oh-Jishigi. Latham's Snipe. Bird Research News 2007, Vol.4 No.10. Japan Bird Research Association (http://www.bird-research.jp/1_shiryo/seitai/ojishigi.pdf)
Latham's snipe project (https://lathamssnipeproject.wordpress.com/2017/06/12/lathams-snipe-teams-second-visit-to-japan/)
Mark Brazil. Birds of Japan. Helm Field Guides 2018
Van Gils, J., Wiersma, P. & Kirwan, G.M. (2019). Latham's Snipe (Gallinago hardwickii). In: del Hoyo, J., Elliott, A., Sargatal, J., Christie, D.A. & de Juana, E. (eds.). Handbook of the Birds of the World Alive. Lynx Edicions, Barcelona.
Post 7. Bird in flight.
Amar-Singh HSS (Dato' Dr) – Ipoh, Perak, Malaysia
Location: Kushiro, East Hokkaidō, Japan
Date: 11th June 2019
Equipment: Nikon D500 SLR with Tamron SP 150-600mm f/5-6.3 Di VC USD, handheld with Rode VideoMic Pro Plus Shotgun Microphone