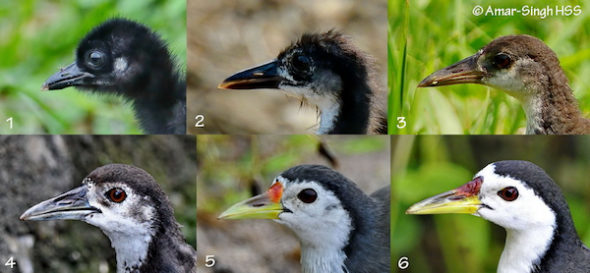 I saw a self feeding immature White-breasted Waterhen (Amaurornis phoenicurus phoenicurus) and decided to look at many images I had taken over time to display changes with age. There are problems with this 'display' due to posture, lighting, clarity of images, but I have chosen from many images to try and get what I think is a possible 'evolution'. The composite in post 1 shows 6 birds in various life-stages (above).
1 is a very young juvenile (chick) with all black plumage except for a small white ear patch and pale vent (in some). The bill and feet are all black.
2 is an older juvenile with white in the neck and breast, rufous-orange at vent and under-tail coverts. The lower mandible is getting lighter and legs are orange-brown.
3 is the oldest juvenile stage where the birds are still with parents. The plumage is more like adults but the upperparts are often brownish with a rufous-orange at vent and under-tail coverts. The lower mandible is lighter and legs are orange-brown.
4 is a self feeding immature bird. The upper parts are grey-black and the neck-breast white is still 'dirty' with residual grey-black areas. The bill is ivory and legs a dirty bronze (see Post 2 for a full image of this bird seen 28th December 2020)
5 is a subadult with some residual grey in plumage and less well developed bill colours than the adult.
6 is an adult. The bill is yellow-green with a darker upper mandible with red at the base, and legs are yellow-orange.
I have to consider if the birds in stage 3, of which I have seen and imaged a few, are in some ways different from those in stage 4 i.e. some colour aberration? I do not think so. The only way to be sure would be to follow up the same chick up to adulthood. These past 2-3 months we have seen a White-breasted Waterhen take up residency in our wild urban garden. If it breeds then we may have a first hand opportunity to watch juveniles change into adulthood.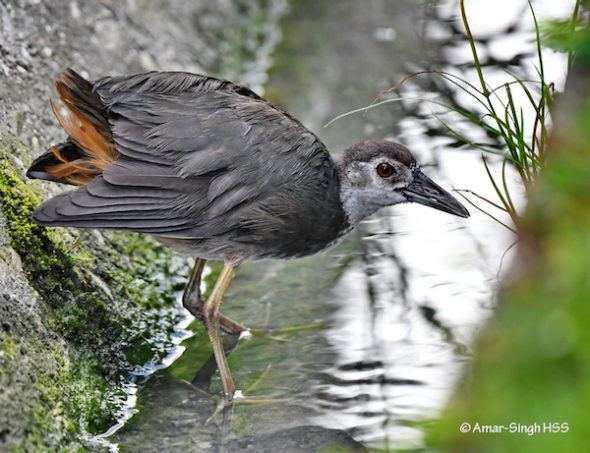 The image above shows a self feeding immature bird and that below a self feeding immature bird.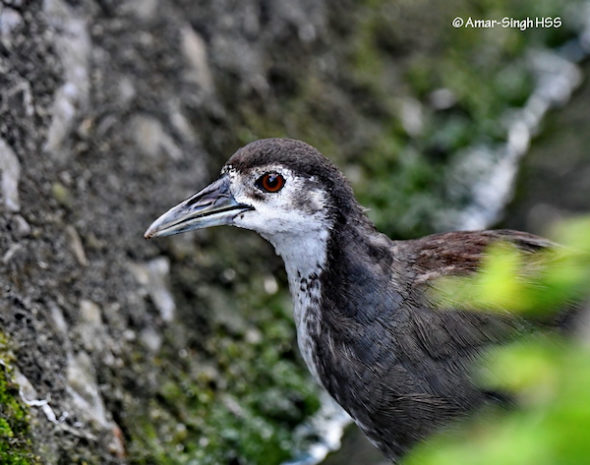 Amar-Singh HSS (Dato' Dr) – Ipoh, Perak, Malaysia
Location: Ipoh, Perak, Malaysia
Habitat: Open fields limestone hills
Date: 28th December 2020
Equipment: Nikon D500 SLR with Nikon AF-S Nikkor 500mm f/5.6E PF ED VR, handheld with Rode VideoMic Pro Plus Shotgun Microphone