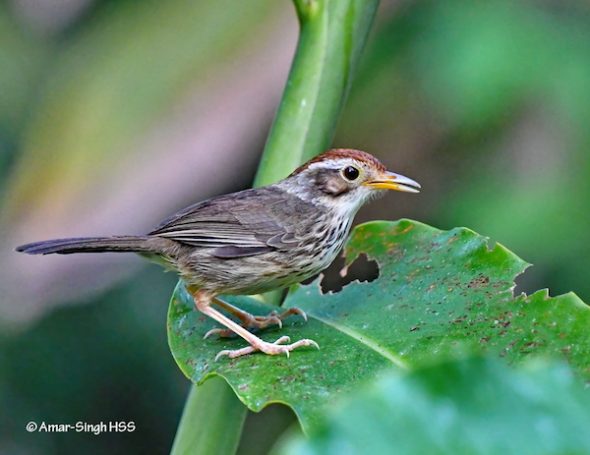 Post 1.
I have more opportunities and extended time to observe these Puff-throated Babbler (Pellorneum ruficeps acrumbabblers). Calls are easy to identify but they spend much time in the undergrowth, often on the ground, making visibility an issue.
Post 2.
These birds can walk through the undergrowth without showing themselves. I saw two birds on this occasion but cannot be sure which one I was imaging due to fast movements.
Post 3.
For a brief moment one came out onto the road that cut through this primary jungle (crossing over) and allowed very good images (Post 3). Notice that the lighting caused apparent variation in plumage – compare Post 1 (greyer brown upperparts) and 3 (richer, warmer brown upperparts).
Post 4.
Post 4 is a face close-up showing the subtle whitish eye-ring, olive eye-lid rims, white supercilium especially behind the eye and orange-yellow of the proximal half of the lower mandible (Wells 2007). P. r. acrum is said to be 'darker and colder above, with deeper-toned crown' (Handbook of the Birds of the World  2021). Pale pink feet and puffed out throat (when calling) best seen in post 2.
Amar-Singh HSS (Dato' Dr) – Ipoh, Perak, Malaysia
Location: Kledang-Sayong Forest Reserve, Ipoh, Perak, Malaysia
Habitat: Road through primary forest
Date: 1st January 2021
Equipment: Equipment: Nikon D500 SLR with Nikon AF-S Nikkor 500mm f/5.6E PF ED VR, handheld with Rode VideoMic Pro Plus Shotgun Microphone