The colourful Mangrove Blue Flycatcher, Cyornis rufigastra, is rarely seen in Singapore.  It is a denizen of mangrove areas and only a few of these mangrove swamps are in existence in Singapore. The birds are also found in coastal areas of South-East Asia. The birds are approximately 14.5 cm and produce melodious songs/warblings which vary between different geographic regions.
The males possess blue upperparts and bright orange breasts and bellies.  The rest of the underparts are pale orange to whitish in parts.  Females are similar to the males but have white face markings. These flycatchers prefer to nest in the base of nipa palm fronds (Nypa fruticans)  and have also been noted to nest amongst the salt water fern, Acrostichum.  These plants are widely dispersed amongst the mangrove trees in the Pasir Ris Park mangrove swamps.
The flycatchers perch in the shade of tree branches and dash out to catch insects on the wings or pick them up from the ground. Flies, bees, termites and aphids are common in their diet. The larvae of these insects are also taken and fed to their chicks.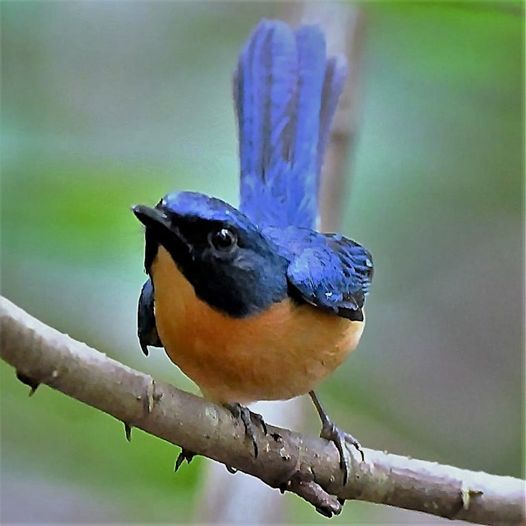 David S. H. Tan documented a pair of this flycatcher nesting in an Oncosperma sp. palm and bringing a variety of insects to feed the chicks. Read the post here.
Article by Teo Lee Wei
References:
 The Birds of Singapore by Clive Briffett & Sutari bin Supari © 1993
 Handbook of the Birds of the World Vol 11 © 1996