Wells (2007) indicates that in Peninsula Malaysia, direct evidence of Ruby-cheeked Sunbird (Chalcoparia singalensis interposita) feeding on nectar is lacking and suggests that they eat mainly arthropods and insects. Cheke & Mann (2001) state that apart from insects and caterpillars they also feed on "fruits, pollen and nectar". This is also quoted in their account in Handbook of the Birds of the World Alive (2020) where they add "probes flowers for nectar".
Post 1.
I have previously written about my observations of the feeding behaviour of the Ruby-cheeked Sunbird, see Amar-Singh HSS (2010). In that article I noted that "…. I have yet to observe a Ruby-cheeked Sunbird feeding on nectar, even though many flowering plants were present in some of the locations observed. Arthropods, insects, caterpillars and larvae form the major part of the species's diet. The birds are especially fond of spiders and will go to great lengths to find them. Not many guides mention them taking fruits, but I have observed that fruits do play an important part of their diet particularly when feeding young."
I have identified quite a number of nests over the years (another yesterday) and observed the feeding of chicks (nestlings) as well as fledglings and adults. I would like to offer an update in their feeding behaviour. Both adults participate in feeding of juveniles.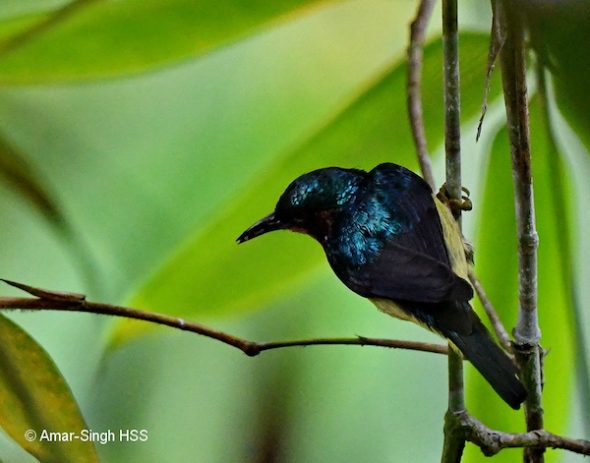 Post 2.
Adults
Adults have a preference for insects, particularly spiders. They will explore curled leaves, look under foliage and inspect spiderwebs. I have seen them take spiders, ants, aphids, larvae and caterpillars. I often think of them as true "spiderhunters". I have also observed them feeding on fruit which include Macaranga bancana, Blue Mahang (Macaranga heynei), Giant Mahang (Macaranga gigantea), Rough Trema (Trema tomentosa), arils and seeds of the Acacia mangium, Ficus benjamin and two other small unidentified berries.
Fledged Juveniles
I have observed juveniles out of the nest self-feed on spiders, caterpillars and other insects, as well as being fed by adults' animal prey. I have also observed fruit fed to juveniles in particular Rough Trema (Trema tomentosa, tiny fruit) and ficus fruit (given piece-meal), see Amar-Singh HSS (2019).
Chicks (Nestlings)
Much of the prey brought to juveniles in the nest (numerous nests observed) are small insects, larvae and caterpillars. On this occasion I also saw animal prey – Post 3 shows a larva taken from curled leaf. In addition I saw three different types of fruit fed to chicks yesterday. Two were unidentified berries (Post 1 and the berries on the tree in Post 3). The third was the small fruit of the Rough Trema (Trema tomentosa). I saw the male collect a number of the fruit in the beak to bring to the nest (Post 2).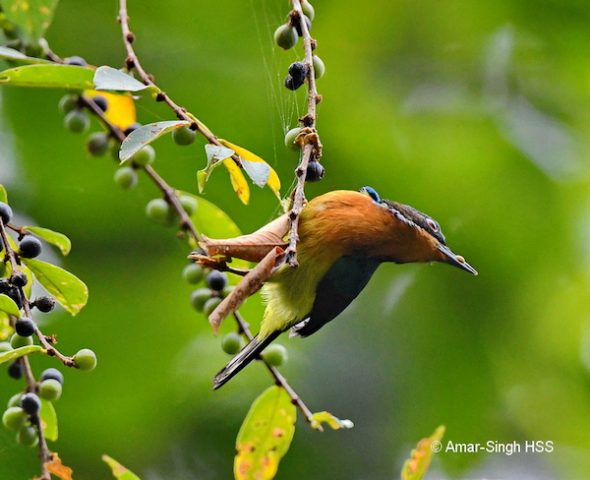 Post 3.
References
Wells, D.R. (2007). The birds of the Thai-Malay Peninsula: Vol. 2 (Passarines). Christopher Helm, London.
Robert A Cheke, Clive F Mann, Richard Allen (2001). Sunbirds: A Guide to the Sunbirds, Flowerpeckers, Spiderhunters and Sugarbirds of the World. Helm Identification Guides
Cheke, R. & Mann, C. (2020). Ruby-cheeked Sunbird (Chalcoparia singalensis). In: del Hoyo, J., Elliott, A., Sargatal, J., Christie, D.A. & de Juana, E. (eds.). Handbook of the Birds of the World Alive. Lynx Edicions, Barcelona.
Amar-Singh HSS (2010). Feeding habits and behaviour of the Ruby-cheeked Sunbird Chalcoparia singalensis in Perak, Malaysia. BirdingASIA 14: 46–51.
Amar-Singh HSS (2014). Ruby-cheeked Sunbird – nest building. Bird Ecology Study Group. Available here: https://besgroup.org/2014/08/24/ruby-cheeked-sunbird-%E2%80%93-nest-building/
Amar-Singh HSS (2019). Ruby-cheeked Sunbird feeding on Rough Trema fruits. Bird Ecology Study Group. Available here: https://besgroup.org/2019/03/06/ruby-cheeked-sunbird-feeding-on-rough-trema-fruits/
Amar-Singh HSS (Dato' Dr) – Ipoh, Perak, Malaysia
Location: Kledang-Sayong Forest Reserve
Habitat: Trail along primary jungle
Date: 7th March 2020
Equipment: Equipment: Nikon D500 SLR with Nikon AF-S Nikkor 500mm f/5.6E PF ED VR, handheld with Rode VideoMic Pro Plus Shotgun Microphone