I saw 4 different adult male Olive-backed Sunbirds (Cinnyris jugularis flammaxillaris-ornatus intergrades) and 2 adult females feeding on the Malvaviscus arboreus nectar this morning. Surprisingly, there was no conflict between the adults while feeding. There is much minor variation in the plumage of the males, even from the same area.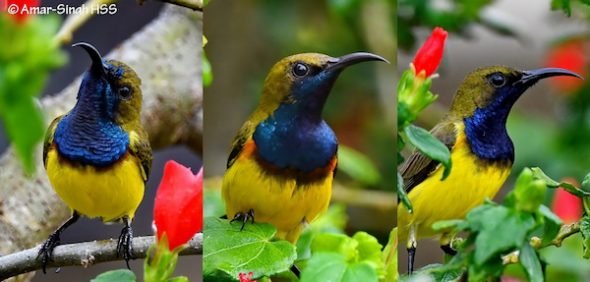 Post 1 (above) is a comparison of the forehead of 3 of the males. The amount of metallic plumage on the forehead is quite variable, from some to minimal to nil (left to right). I have in the past seen birds where it is confluent and even extends to behind the eye. C. j. ornatus is said to have 'variable amount of purple-black gloss on forehead' (HBW 2020) and Wells (2007) states that C. j. flammaxillaris does not have this feature. But I have seen this in C. j. flammaxillaris and C. j. flammaxillaris-ornatus intergrades as most of these birds are.
Post 2 (above) shows the breast plumage (the birds are arranged in the same order as in Post 1). The maroon-chestnut band across the lower breast is variable. The bird on the left has moderate amounts of the chestnut band with extensive forehead metallic plumage; the bird in the center has an extensive chestnut band with minimal forehead metallic plumage; the bird on the right minimal chestnut band with no forehead metallic plumage. Observations made from many images of these birds in different views.
Amar-Singh HSS (Dato' Dr) – Ipoh, Perak, Malaysia
Location: Ipoh, Perak, Malaysia
Habitat: Urban environment
Date: 28th September 2020
Equipment: Equipment: Nikon D500 SLR with Nikon AF-S Nikkor 500mm f/5.6E PF ED VR, handheld with Rode VideoMic Pro Plus Shotgun Microphone