A pair of Chestnut-winged Babbler (Stachyris erythroptera erythroptera) was foraging in dense undergrowth for animal prey; I have often encountered them as a pair. In my experience they often look for prey in bamboo clumps, exploring bamboo sheaths and junctions between stems. They call out frequently while foraging.
A call recording can be heard here: https://www.xeno-canto.org/615764
Calls are a haunting 'hooting-like call' described as 'po-po-po', 'pu-pu-pu' or 'hu-hu-hu' by various authors. Calls are of low frequency (4 kHz), consist of 8-14 evenly spaced notes, lasting ~ 2 seconds and repeated after 2-8 seconds. The partner may make the same call or offer a response towards the end of the call by uttering a coarse rattle described best as 'churrchurr' or 'chirrherr' (Wells 2007). In the sonogram and waveform below, you can see this response from the partner in the first and 3rd call.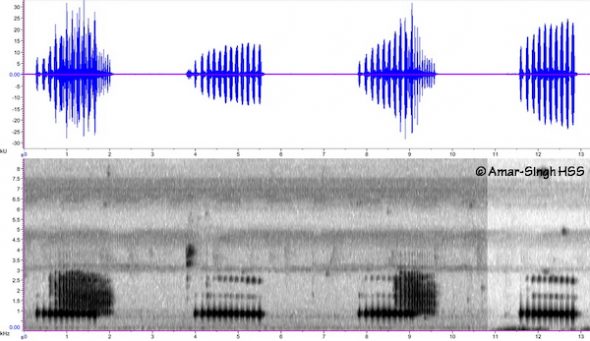 Amar-Singh HSS (Dato' Dr) – Ipoh, Perak, Malaysia
Location: Kledang-Sayong Forest Reserve, Ipoh, Perak, Malaysia
Habitat: Road through primary forest
Date: 1st January 2021
Equipment: Equipment: Nikon D500 SLR with Nikon AF-S Nikkor 500mm f/5.6E PF ED VR, handheld with Rode VideoMic Pro Plus Shotgun Microphone