Apart from fruiting ficus trees, a number of jungle trees attract diverse birds species in large numbers. One tree I have observed for years, but failed to report (had no identity until now), is the Bridelia tomentosa. This is a small tree (6-12 meters) that is often more like a "scrambling shrub" with slender braches that trial downwards. When fruiting the tree is profusely filled with small fruit (4-6 mm) that is green when unripe and dark blue-black when ripe. It is favourite of many birds, especially most of the flowerpeckers. Large birds also feed there but have a little more difficult due to small size of the fruit. Many birds use the fruit to feed juveniles. Among them, but less commonly seen, is the shy Hairy-backed Bulbul (Tricholestes criniger criniger).
Latest list of birds that I have personally observed feeding on the Bridelia tomentosa fruit in this season alone (March 2020) include:
Red-throated Barbet (Megalaima mystacophanos mystacophanos)
Gold-whiskered Barbet (Megalaima chrysopogon laeta)
Pink-necked Green Pigeon (Treron vernans griseicapilla)
Streaked Bulbul (Ixos malaccensis)
Buff-vented Bulbul (Iole charlottae)
Cream-vented Bulbul (Pycnonotus simplex simplex)
Olive-winged Bulbul (Pycnonotus plumosus plumosus)
Red-eyed Bulbul (Pycnonotus brunneus)
Spectacled Bulbul (Pycnonotus erythropthalmus)
Grey-bellied Bulbul (Pycnonotus cyaniventris cyaniventris)
Hairy-backed Bulbul (Tricholestes criniger criniger)
Black-headed Bulbul (Brachypodius atriceps)
Yellow-vented Bulbul (Pycnonotus goiavier gourdini)
Asian Fairy Bluebird (Irena puella malayensis)
Greater Green Leafbird (Chloropsis sonnerati zosterops)
Lesser Green Leafbird (Chloropsis cyanopogon)
Blue-winged Leafbird (Chloropsis cochinchinensis)
Oriental Magpie Robin (Copsychus saularis musicus)
Asian Glossy Starling (Aplonis panayensis strigata)
Green-backed Flycatcher (Narcissus Flycatcher, Ficedula narcissina elisae)
Ruby-cheeked Sunbird (Anthreptes singalensis interposita)
Orange-bellied Flowerpecker (Dicaeum trigonostigma)
Crimson-breasted Flowerpecker (Prionochilus percussus ignicapilla)
Yellow-vented Flowerpecker (Dicaeum chrysorrheum chrysorrheum)
Yellow-breasted Flowerpecker (Prionochilus maculatus)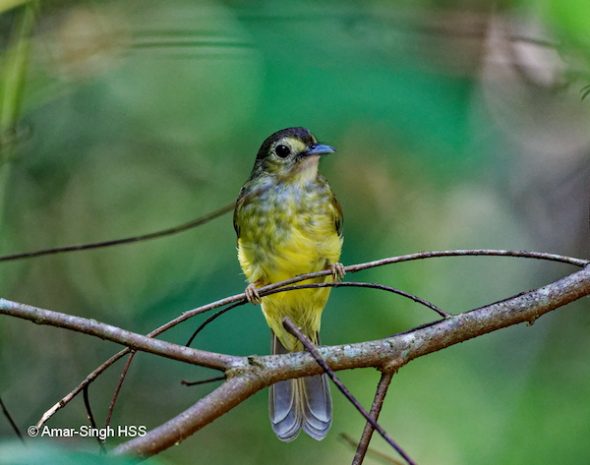 Other have also reported Red-whiskered Bulbuls, Straw-headed Bulbuls, Jambu Fruit Doves, Javan Myna and even Tiger Shrikes. See: Wee YC (2017). Plant-Bird Relationship (Version 3.0). Bird Ecology Study Group. Available here: https://besgroup.org/2017/10/01/plant-bird-relationship-version-3-0-2/
I am certain continued observation, and a review of older reports, would yield even more birds.
Amar-Singh HSS (Dato' Dr) = Ipoh, Perak, Malaysia
Location: Kledang-Sayong Forest Reserve, Ipoh, Perak, Malaysia
Habitat: Trail along primary jungle
Date: 6-9th March 2020
Equipment: Equipment: Nikon D500 SLR with Nikon AF-S Nikkor 500mm f/5.6E PF ED VR, handheld with Rode VideoMic Pro Plus Shotgun Microphone