This is the second set of images and observations of the Black-winged Stilt (Himantopus himantopus), this time focused on adults: male-female differentiation, first year birds attaining adult plumage, and breeding vs. non-breeding birds. I am using bare parts to differentiate adults from juveniles (see yesterday's posts).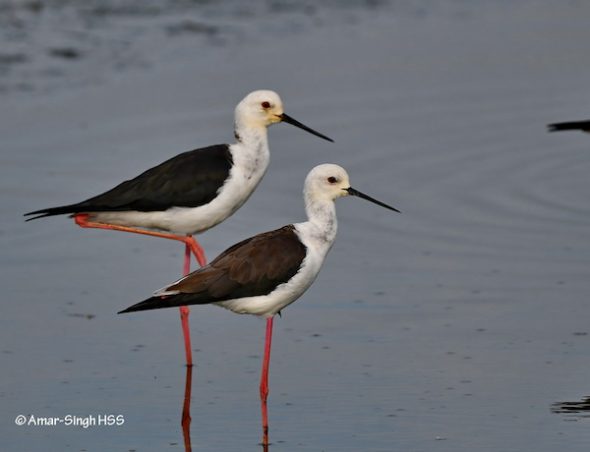 Adult males are differentiated from adult females by having a black mantle, scapulars, and tertials; these are brownish or blackish-brown in female and contrast with the wings (Hayman 1986; Taylor 2005). Males are also slightly larger with slightly longer wings than females. Above image shows a female and male side by side (female in the foreground in better focus). The upperparts difference between the sexes is clear. Notice also that despite the male being in background, the bird does appear a bit larger. The image below is a composite image of a female and a male (female on the left), showing the same plumage differences.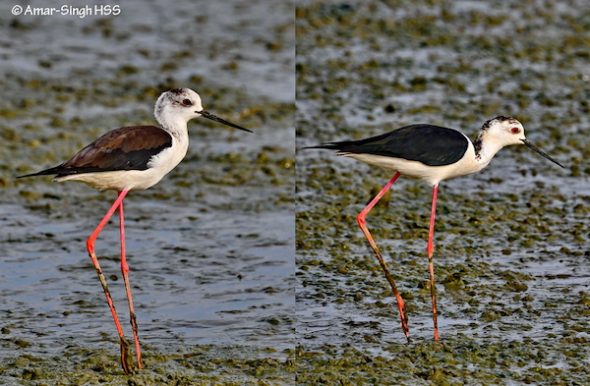 It is difficult to say if any of these birds are in breeding plumage as it is outside the breeding period. Breeding males tend to have whiter caps and necks (see example in the image below and the male at the top of the page) but this is not definitive as some have varying shades of grey or black (Taylor 2005). Breeding females still have blackish-brown upperparts with some grey in head and neck.
First year birds that are attaining adult plumage (bare parts adult type) are hard to differentiate from adult females. One definitive feature is a white trailing edge to the inner primaries and secondaries seen in flight (Hayman 1986; Taylor 2005). Below is a composite of two birds that might be first year birds attaining adult plumage. The black plumage on the head and neck is more extensive than expected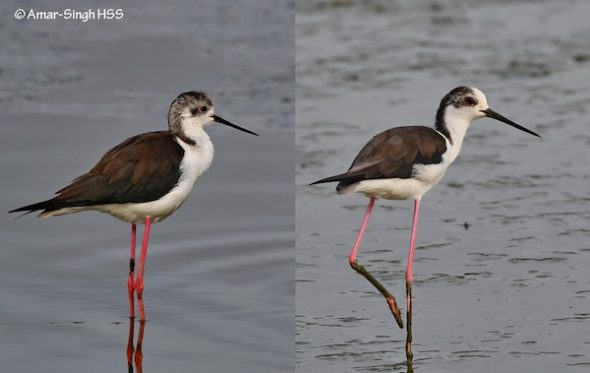 References
Don Taylor, Stephen Message (2005). Waders of Europe, Asia and North America. Helm.
Hayman, Marchant, Prater (1986). Shorebirds: an identification guide to the waders of the world. Christopher Helm, London.
Wells, D.R. (1999) The birds of the Thai-Malay Peninsula: Vol. 1 (Non-Passerines). Christopher Helm, London
Pierce, R.J. and G. M. Kirwan (2020). Black-winged Stilt (Himantopus himantopus), version 1.0. In Birds of the World (S. M. Billerman, B. K. Keeney, P. G. Rodewald, and T. S. Schulenberg, Editors). Cornell Lab of Ornithology, Ithaca, NY, USA.
Parasharya, D., Patel, B., & Parasharya, B. M., 2010. Plumage variations in Black-winged Stilt Himantopus himantopus. Indian BIRDS 6 (4&5):98–99.
Amar-Singh HSS (Dato' Dr) – Ipoh, Perak, Malaysia
Location: Malim Nawar, Perak, Malaysia
Habitat: Ex-mining pools, fish farming, extensive wetlands
Date: 7th January 2021
Equipment: Equipment: Nikon D500 SLR with Nikon AF-S Nikkor 500mm f/5.6E PF ED VR, handheld with Rode VideoMic Pro Plus Shotgun Microphone