Just for the sheer joy of it, I have created a collage of the beaks of 6 of the 7 Spiderhunters present in Peninsular Malaysia. Images have been taken over time. One is a highland species, the Thick-billed Spiderhunter is not shown and I have not included or counted the Purple-naped Sunbird/Spiderhunter.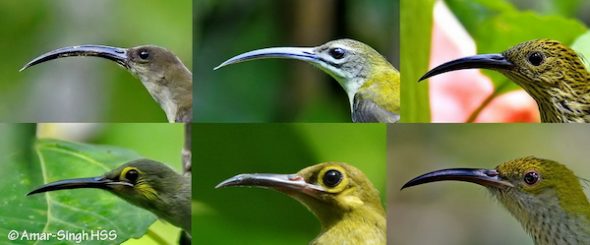 There are problems with such a collage in terms of perspective (size of the birds) and getting the posture similar.
The birds shown include:
Long-billed Spiderhunter
Little Spiderhunter
Streaked Spiderhunter
Yellow-Eared Spiderhunter
Spectacled Spiderhunter
Grey-breasted Spiderhunter
The Little Spiderhunter has a relatively long bill but not as down-curved as the Long-billed Spiderhunter. While the Spectacled and Streaked Spiderhunters have relatively thicker bills.
Amar-Singh HSS (Dato' Dr) – Ipoh, Perak, Malaysia
Location: Perak, Malaysia
Habitat: Secondary growth adjacent to limestone outcroppings
Date: 30th November 2020
Equipment: Nikon D500 SLR with Nikon AF-S Nikkor 500mm f/5.6E PF ED VR, handheld with Rode VideoMic Pro Plus Shotgun Microphone