I recently posted about this family of Red-wattled Lapwings (Vanellus indicus atronuchalis) that were nesting and their interaction with horses. At that time they only had eggs. The young have hatched (3 birds) and I watched parenting, feeding and social behaviour intermittently for 1.5 hours today.
Disclosure:
I stayed about 12 meters away and used the car as a hide and did not exit or use the tripod to limit perceived threats (used a beanbag to steady cameras). I left and returned 4 times to provide the family some breathing-space from my presence. But at no time did they exhibit any alarm, alarm calls ("di-he-do-it") or concern, although they were aware of my presence.
General Comments:
I not sure how to term these birds. We usually use the term 'chick' when they are in the nest and 'fledgling' when a young bird has grown feathers, left the nest and are learning to fly. Often fledglings are still fed by parents but may also self-feed. These young Red-wattled Lapwings cannot yet fly so are chicks, and like some other ground birds (e.g. Nightjars) they can move/walk about from the first day of hatching as well as self-feed – precocial (a young bird hatched or born in an advanced state and able to feed itself almost immediately).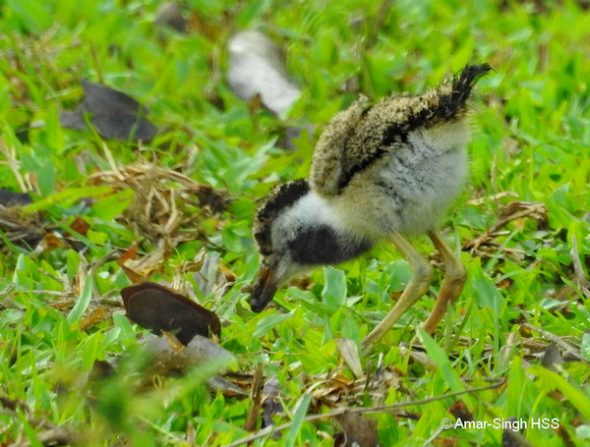 Feeding behaviour:
Hayman and colleagues (1986) suggest that they feed "much at night" but my experience of adults, over many years, has been extensive daytime feeding. Food items are not well known in my region (Wells 1999) and generally adults walk about picking items off the grass/vegetation. I saw one episode today where an adult took an earthworm. I was surprised to note that the chicks were completely self-feeding. Although, at times, they may follow a parent who is feeding, I observed no parent-to-chick-feeding. There has been good work and reports from our colleagues in India on breeding behaviour and they support my observations. Kaur M and Khera KS (2017) state "the young ones were relatively mature and mobile from the moment of birth" … "they were seen foraging along with parents". I was unable to identify what items these precocial chicks took but it was very small, did not require processing and was swallowed immediately. HBW 2019 reports that the diet of adults is predominantly insects with some molluscs, worms and crustaceans. I suspect the chicks are picking small insects off the vegetation.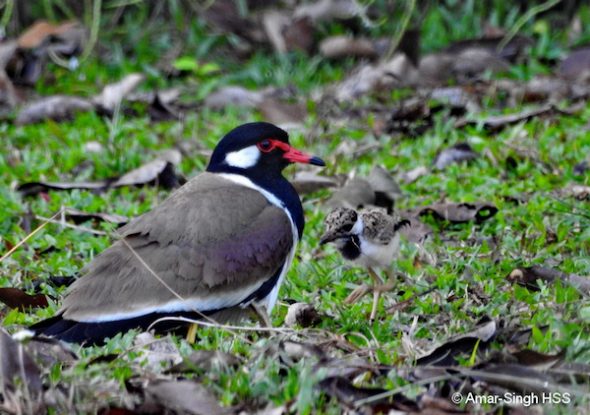 Parenting and Social Behaviour:
Generally both parents were in attendance of the 3 chicks. Often they would split up with one chick following one parent and two following the other parent. At times all 3 were with one parents as the other left briefly – I suspect to feed a little further afield, to perhaps not deplete food sources for the chicks. When a threat was perceived (other birds or mammals) often one parent would aggressively confront the 'intruder' while the other would huddle the young chicks underneath their wings. I saw parents chase away a White-breasted Waterhen (Amaurornis phoenicurus phoenicurus), a Jungle Myna (Acridotheres fuscus) and another confrontation with a horse. I also observed chicks huddling underneath the wings of both parents at the same time (1-2 division of chicks). Occasionally I saw chicks huddle underneath the wings of parents for no apparent reason – it could be for warmth. I did not perceive any signal that brought chicks to adults, except perhaps the adult sitting down on the ground. My observations differed from Kaur M and Khera KS (2017) who note that chicks "actively responded to the alarming calls of the parents and used to crouch in the low grass immediately or they sat down motionless".
I find this form of parenting, where parent birds do not need to feed young, interesting. Most of the parental energy is spent on 'vigilant behaviour' for threats and following/protecting young.
Despite the distance and small size of young, I attempted many number of video to document behaviour. A 6 minute video compilation to show key points is here:  https://youtu.be/ZMBNbihApN0
References:
Hayman, Marchant, Prater (1986). Shorebirds: an identification guide to the waders of the world. Christopher Helm, London. pp. 274–275.
Wells, D.R. (1999) The birds of the Thai-Malay Peninsula: Vol. 1 (Non-Passarines). Christopher Helm, London.
Kaur M, Khera KS (2017). On the fundamentals of breeding biology and present threats to red wattled lapwing (Vanellus indicus) in agricultural landscape of Punjab. Journal of Entomology and Zoology Studies 2017; 5(4): 1501-1506
Wiersma, P. & Kirwan, G.M. (2019). Red-wattled Lapwing (Vanellus indicus). In: del Hoyo, J., Elliott, A., Sargatal, J., Christie, D.A. & de Juana, E. (eds.). Handbook of the Birds of the World Alive. Lynx Edicions, Barcelona.
Amar-Singh HSS (Dato' Dr) – Ipoh, Perak, Malaysia
Habitat: Grassy fields
Date: 19th March 2019
Equipment: Nikon D500 SLR with Tamron SP 150-600mm f/5-6.3 Di VC USD, handheld with Rode VideoMic Pro Plus Shotgun Microphone &  Nikon P900