Those who have watched these birds in the region would be familiar with Black-and-yellow Broadbill (Eurylaimus ochromalus) calls.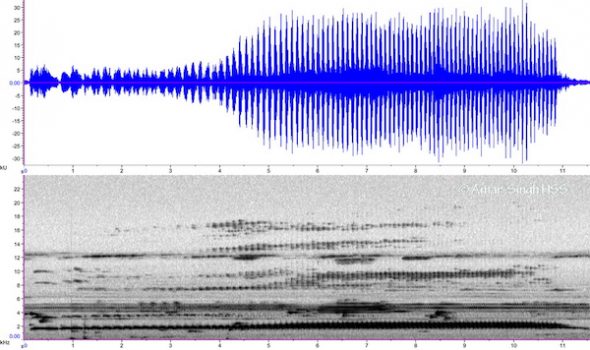 The classical calls are a loud advertising call by both sexes and that may be given in response to another bird. The call usually lasts 10-11 seconds. It starts with a gradual pace for 3-4 seconds, then picks up to a shrill trill with 10-12 notes per second and usually ends abruptly. This can be better appreciated from the waveform than the sonogram as shown above.
A call record here: https://www.xeno-canto.org/574097
There are a number of other calls that the birds make. The above shows a sonogram and waveform of a mewing-like call.
A call record here: https://www.xeno-canto.org/574107
Amar-Singh HSS (Dato' Dr)
Ipoh, Perak, Malaysia
Location: Ulu-Kinta, Ipoh, Perak, Malaysia
Habitat: Mixed Secondary and Primary Forest
Date: 6th July 2020
Equipment: Equipment: Nikon D500 SLR with Nikon AF-S Nikkor 500mm f/5.6E PF ED VR, handheld with Rode VideoMic Pro Plus Shotgun Microphone