I saw these two Greater Racket-tailed Drongo (Dicrurus paradiseus/platurus) hawking insects as a 'family' unit. I initially thought they were a pair (male-female) with one having a moult of the tail feather (racket). But in the composite (below) you can see that the bird on the left has an iris that is not as bright red (juveniles have brown iris), a less developed fore-crown tuft, some wing moult, some brown in the plumage and tail feathers that are developing. So a family unit of two, with an adult parent and an immature bird.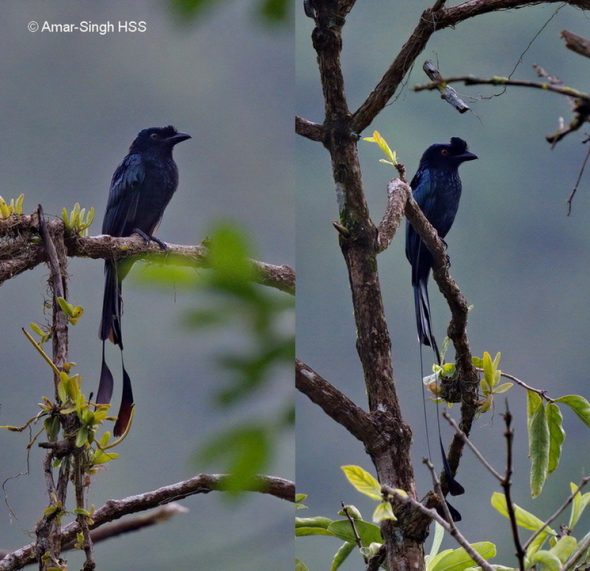 These two birds I saw were also very vocal, calling out individually oras a 'duet'. A call recording is available here (composite of 3 recordings): https://www.xeno-canto.org/514748
A sonogram and waveform of the 'basic' loud advertising calls 'kliyop' is shown above.
A sonogram and waveform of the 'duet' calls is shown above.
Amar-Singh HSS (Dato' Dr)
Ipoh, Perak, Malaysia
Location: Kledang-Sayong Forest Reserve, Ipoh, Perak, Malaysia
Habitat: Broken trail in primary jungle
Date: 25th November 2019
Equipment: Equipment: Nikon D500 SLR with Nikon AF-S Nikkor 500mm f/5.6E PF ED VR, handheld with Rode VideoMic Pro Plus Shotgun Microphone