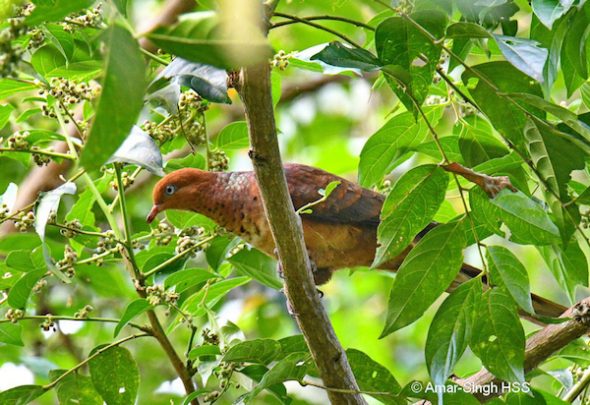 Post 1. Male.
I was at this hill station and saw a number of birds at a fruiting tree. The tree was located at the back of other trees in a ravine with limited access. It was quite tall, reaching the canopy top (the height was hard to estimate as located in a ravine). It was fruiting extensively with small green berries. The identity of tree is currently unknown (see Post 5 for the name of the tree).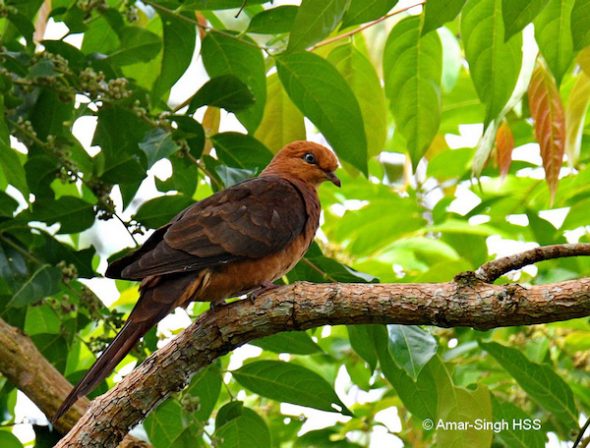 Post 2. Male.
The two most interesting bird to see there feeding on fruit were Little Cuckoo Doves (Macropygia ruficeps malayana) and Verditer Flycatchers (Eumyias thalassinus thalassoides). There were 3 Little Cuckoo Doves feeding actively, scrambling about on the tree like squirrels (at least 1 male and 1 female). I have previously observed them, at other hill stations, feeding on berries in other trees as well as taking rice from the drain outlets of hotels and drinking at hot springs. Wells (1999) notes them taking chilies but predominantly seeds and small fruit (including figs) from tree crowns and "not reported foraging on the ground". There are some differing opinions on this and Jeyarajasingam (2012) says "feeds largely on the ground". While Morten (2000) notes that they feed on "fruit and berries low in trees or on the ground". My observations have been predominantly tree fruit feeding but I have seen them come to the ground to get rice in drains.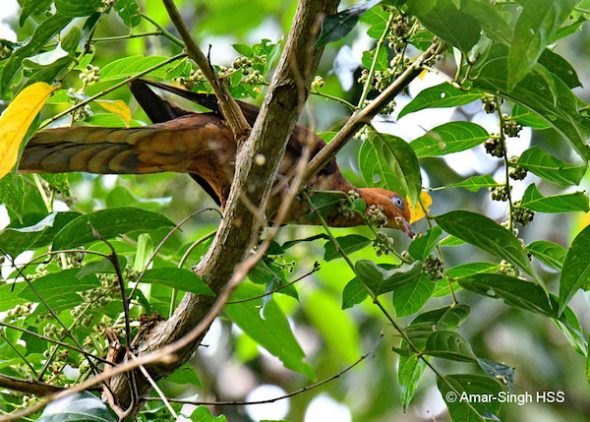 Post 3. Male.
Bird observed feeding on the fruit:
Little Cuckoo-dove (Macropygia ruficeps malayana)
Black-headed Bulbul (Pycnonotus atriceps)
Red-eyed Bulbul (Pycnonotus brunneus brunneus)
Spectacled Bulbul (Pycnonotus erythropthalmos)
Scaly-Breasted Bulbul (Pycnonotus squamatus webberi)
Cream-vented Bulbuls (Pycnonotus simplex)
Buff-vented Bulbul (Iole charlottae crypta)
Verditer Flycatcher (Eumyias thalassinus)
Blue-winged Leafbird (Chloropsis cochinchinensis moluccensis)
Lesser Green Leafbird (Chloropsis cyanopogon)
Everett's White-eye (Zosterops everetti tahanensis)
Fire-breasted Flowerpecker (Dicaeum ignipectus dolichorhynchum)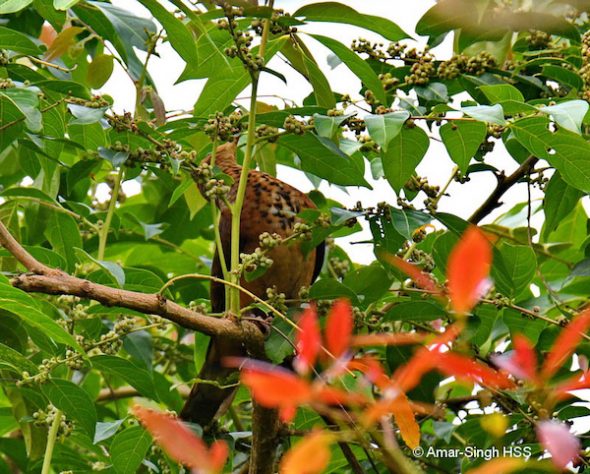 Post 4. Female.
Bird present but unsure if feeding on fruit:
Blue-eared Barbet (Megalaima australis) and other barbets
Bar-winged Flycatcher-shrike (Hemipus picatus intermedius)
Asian Brown Flycatcher (Muscicapa dauurica)
Temminck's Sunbird (Aethopyga temminckii)
Little Spiderhunter (Arachnothera longirostra cinereicollis)
Grey-breasted Spiderhunter (Arachnothera modesta modesta)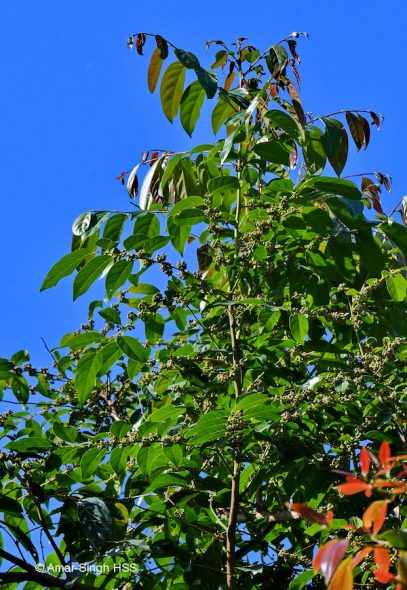 Post 5. The tree – Identified by Ali Ibrahim (formerly with the National Parks Board, Singapore) as Glochidion zeylanicum var. zeylanicum
Amar-Singh HSS (Dato' Dr) – Ipoh, Perak, Malaysia
Location: Taiping, Perak, Malaysia
Habitat: 500-600 meter ASL, primary jungle
Date: 18th February 2019
Equipment: Nikon D500 SLR with Tamron SP 150-600mm f/5-6.3 Di VC USD, handheld with Rode VideoMic Pro Plus Shotgun Microphone