The encounter with a Bat Hawk (Macheiramphus alcinus alcinus) this morning in our neighbourhood was totally unexpected. We had just returned from cycling when my wife spotted the Bat Hawk in our neighbourhood raptor-snagging-tree. It was unexpected as it was already 7.50am. I have seen these birds at the outskirts of the city, near limestone hills, but usually an early morning fly by. Unfortunately no flight images but still a great treat to see it in some light.
The bird was harassed by one of our local Dollarbird (Eurystomus orientalis) that uses this perch. It made 6 fast swops with harsh cries to try and dislodge the raptor. But was sadly ignored and the Dollarbird left.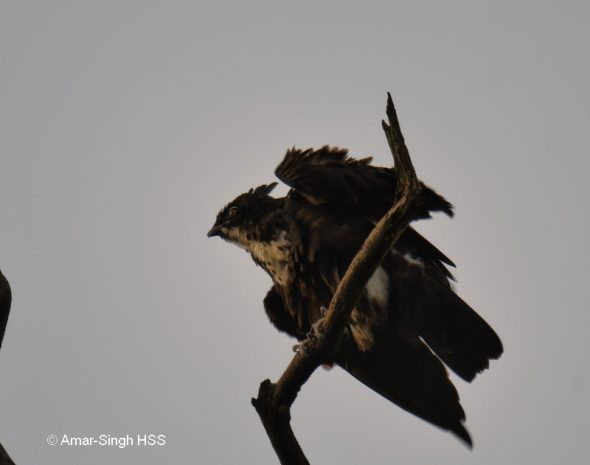 Of interest was that the Bat Hawk used its nictitating membranes much of the time (many images) to cover the eyes. I wondered whether the strong morning light was disturbing it? Or that was planning to roost there and this was a sleep behaviour? The nictitating membranes looked unusually thick and white, and looked almost opaque as in some owls.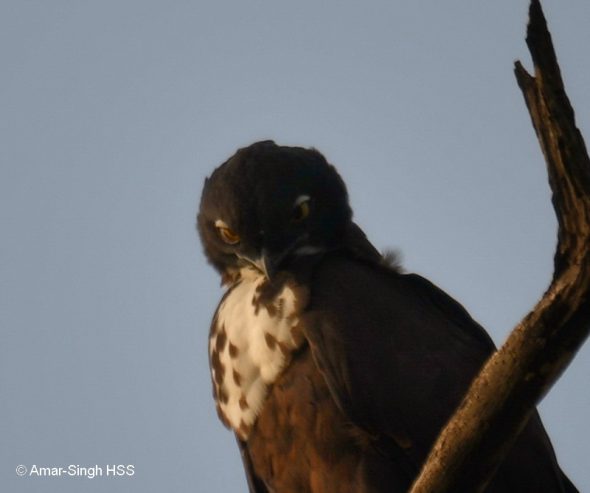 I had a busy day with errands and so had to limit observations, but noted that the bird had left by 8.25am.
Amar-Singh HSS (Dato' Dr)
Ipoh, Perak, Malaysia
Location: Ipoh, Perak, Malaysia
Habitat: Urban city environment
Date: 18th November 2018
Equipment: Nikon D500 SLR with Tamron SP 150-600mm f/5-6.3 Di VC USD, handheld