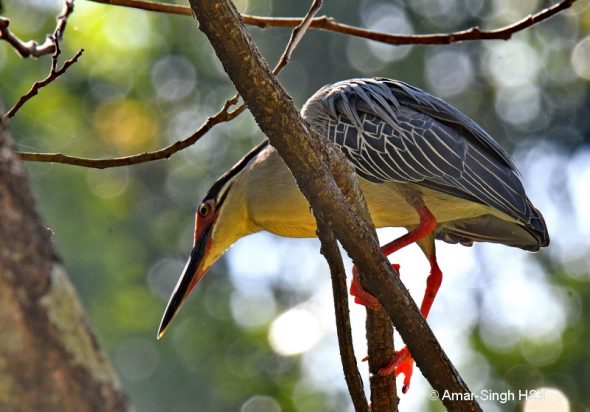 I watched the courtship behaviour of the Little Heron (Butorides striata javanica) over some time. I initially spotted two birds chasing each other over a pond and thought I was watching competition for feeding grounds (chase-flights). But when they landed together on a tree I spotted the mating plumage in one of the birds (presumed male) and also observed courtship interaction. The presumed male had bright red legs and facial skin (especially in front of the eye) was deep red. The red extended to the angel of the mouth and even under the beak. The rest of the plumage was also in 'peak' condition with a long crown crest and nice elongated feathers on the back. This is the mating plumage for the species (above, below).
The 'partner' (presumed female) also had similar mating plumage but the colour intensity was lighter, more pink; the crown crest was shorter (no good images, hidden in the foliage).
The presumed male did this curious courtship 'dance' four times. It would point the beak skyward with the neck in s-curve posture and then sway side to side (a stretch display with a side-to-side swaying component). Intermittently it would give out a deep guttural sound; heard this 6 times (below shows the waveform/sonogram and edited audio recording – a low frequency call). The presumed female watched the displays intently and at one point became all flustered up with raised heckles. They then flew off and did another 'chase' with classical calls around the pond before disappearing into another tree.
The IUCN-SCC Heron Specialist Group, regarding Butorides striata, states that "Pairing birds give simultaneous Snap and Stretch displays, which lack a side-to-side swaying component." (The IUCN-SCC Heron Specialist Group. Heron Conservation: Striated Heron; available here: https://www.heronconservation.org/herons-of-the-world/list-of-herons/striated-heron). My observations support that a side-to-side swaying component is part of courtship, at least for this subspecies. A short still images to video of the stretch display with side-to-side swaying involving 7 frames can be seen here: https://youtu.be/iz6mGuLc6Yw
ADDENDUM
I would like to point out another breeding/mating plumage feature that I missed. A bird watching colleague who saw the same bird a day later managed to image the bird in better light (mine were in bright light & affected by foliage) and pointed it out to me. I went back to look at all my images and recognised that what I had thought was light reflection from the water was actual a colour change. Note that, in both posts below, the bird has developed a yellow-orange change to the front of the breast involving the usual white patch. My colleague's image shows that the white become yellow and the stripes become orange. Note in the close-up image (at the bottom of the page) that the yellow colour change extends to the throat and the side of the face.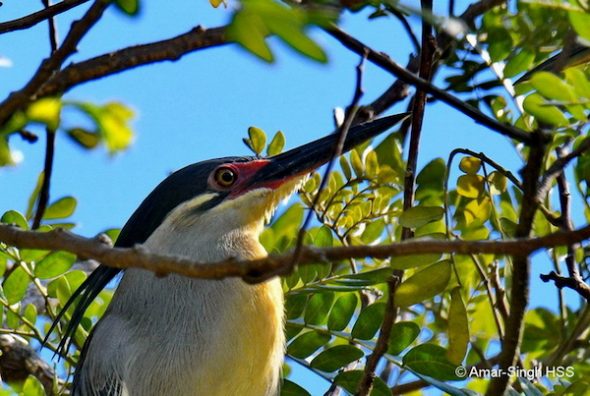 Amar-Singh HSS (Dato' Dr)
Ipoh, Perak, Malaysia
Habitat: Secondary growth at city fringe
Date: 10th January 2019
Equipment: Nikon D500 SLR with Tamron SP 150-600mm f/5-6.3 Di VC USD, handheld