I saw 5 Mugimaki Flycatchers (Ficedula mugimaki) at the same location today. Three were first winter males and the other two females (no adult males). They were feeding on insects and fruit. One bird (first winter male) joined a mixed foraging party (bird wave) comprising Everett's White-eyes, Ruby-cheeked Sunbirds, other Sunbirds and Flowerpeckers and Bulbuls.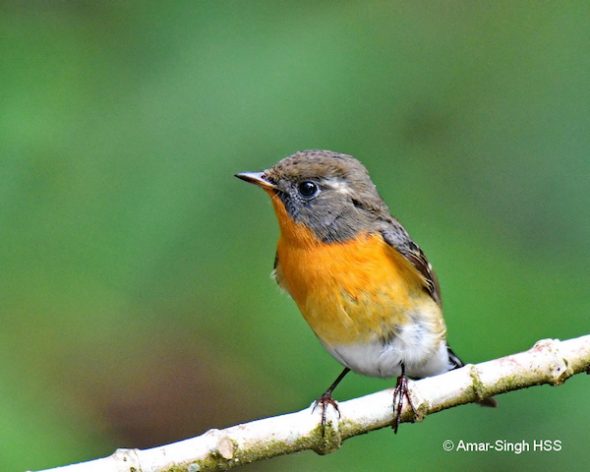 As it was a dark morning I waited at the fringe of the forest reserve, opposite a rushing stream facing primary jungle for better light. It took 1.5 hours for the Mugimaki Flycatchers to get accustomed to my presence and come nearer. All 4 images posted here are of first winter males.
Note some features:
The white at the outer base of the tail (base of outer rectrices); this is not present in females of any age.
Bills are more brown, compared to black in adult males (also brown in adult females).
Richer rufous chin and upper breast when compared to adult females.
The supercilium or short post-ocular patch is more prominent in 1st winter males compare to adult females (my personal observation is that this can be seen if we observe the bird in the right posture and light).
Amar-Singh HSS (Dato' Dr)
Ipoh, Perak, Malaysia
Location: Kledang-Sayong Forest Reserve, Ipoh, Perak, Malaysia
Habitat: Fringe of primary jungle
Date: 3rd December 2018
Equipment: Nikon D500 SLR with Tamron SP 150-600mm f/5-6.3 Di VC USD, handheld