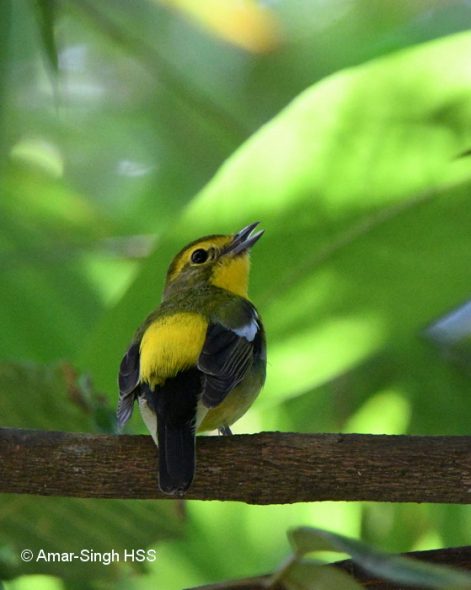 I had an extended opportunity to observe two male Green-backed Flycatcher (Ficedula elisae) today. I won't get into the taxonomy of the narcissus flycatcher complex but want to share the vocalisation of this bird. Hsiao (Mu-Chi Hsiao, Cheng-Lin Li. 2017. A Field Guide to the Birds of Taiwan. Wild Bird Society of Taipei) says that the bird is "silent outside breeding period".
I observed extensive vocalisation from one migrant bird today; intermittent, frequent singing with occasional calls. Brazil (Mark Brazil. 2009. Birds of East Asia: China, Taiwan, Korea, Japan, and Russia. Princeton Field Guides) say that "song awaits transcription" and goes on to describe 3 types of calls, one a sharp "tek tek". I head this sharp calls and an edited recording is found here: https://www.xeno-canto.org/456681. A sonogram and waveform of this call is seen below.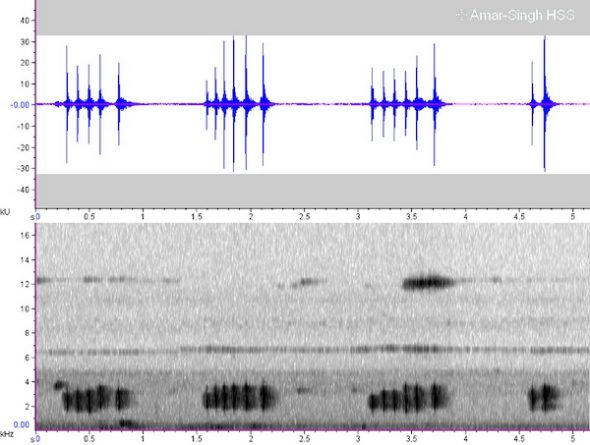 It is a sharp call that occurs 2-6 times (often 5-6 times), lasting 0.5-0.6 seconds. The bird did not look distressed but these calls were in sharp contrast to the majority of songs I heard.
The songs I heard today were long and rambling, going up and down in intensity – like a warble. In general they were not easy to hear against the background of loud insect hum of the jungle. The bird would lift the head and beak up, the throat would get full. Occasionally, during calls, the beak did not open. A sonogram and waveform of this call is in below…
…and an edited recording is found here: https://www.xeno-canto.org/456686 (some odd noise at the beginning). The sonogram for the song looks very similar to the ones posted by Daniel Hooper 2016 (Available here: https://www.researchgate.net/publication/303634082_The_Rusty-tailed_Flycatcher_Muscicapa_ruficauda_Aves_Muscicapidae_is_a_member_of_the_genus_Ficedula/figures?lo=1)and Lu Dong, Min Wei, Per Alstrom, et al (2015) in their article on the Taxonomy of the Narcissus Flycatcher Ficedula narcissina complex (Available here: http://bsee.bnu.edu.cn/zhangyy/Taxonomy%20of%20the%20Narcissus%20Flycatcher%20Ficedula%20narcissina%20complex%20an%20integrative%20approach%20using%20morphological-%20bioacoustic%20and%20multilocus%20DNA%20data.pdf). Lu Dong and colleagues describe the song of elisae as "soft and clear, though a slightly harsh warble with more variation in frequency, consisting of usually long phrases separated by short pauses". Pretty much what I heard for much of the morning today.
Amar-Singh HSS (Dato' Dr)
Ipoh, Perak, Malaysia
Location: Taiping, Perak, Malaysia
Habitat: Primary jungle at foothills
Date: 14th February 2019
Equipment: Nikon D500 SLR with Tamron SP 150-600mm f/5-6.3 Di VC USD, handheld with Rode VideoMic Pro Plus Shotgun Microphone