This post is to discuss the different calls and song made by the Large-tailed Nightjar (Caprimulgus macrurus bimaculatus). I am attempting to summarise observations over many years. Note that we have had a male Large-tailed Nightjar live with us in very close proximity for 2.5 years (day time roost in the garden) which only stopped earlier this year. This bird has become very accustomed to us and allows close observation of behaviour at other times, even 4-6am when with a mate.
These are a number of calls/song made: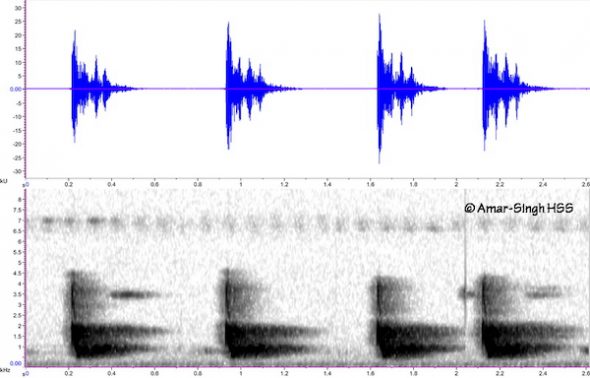 The commonest sounds heard are the frequent territorial calls given in short bursts of 1-4 notes or in long continuous bouts for several minutes. They are described by various individual as "tok, tok, tok" (HBW 2020) or "tchonk" (Wells 1999). We think of them as the "chock-chock" calls. These are heard more often during the breeding season, and for my home we hear them more commonly from October to February. HBW describes these as the bird's 'song'. Above offers the waveform and sonogram for these notes. They have, what I call, an inverted-flag type sonogram. There is a sharp rise to the note followed by a decrescendo drag to the call. The notes last 0.2 seconds and are often repeated in couplets. Although loud they are only of 5 kilohertz (kHz)frequency.
The second most often heard calls are softer 'growling' notes. These are most commonly used during courtship with a response from the partner. These calls can carry on for long periods. For example, this morning I was woken up by the calls just before 4am and continued to hear them, with short breaks, until 5.45am. The growling calls are initiated by the male and, after a short while, the female joins in. The female is initially further away but slowly comes closer, until the pair is less than 0.5 meter apart. There are some brief aerial displays while the calls are going on. There is a wave pattern to their mutual-growling-courtship calls – a crescendo-decrescendo nature – where the calls become louder and softer and louder again (see above), especially the waveform). The calls become a tight synchronised duet which may be an important element in the mating or bonding process. Recording from this morning showed 186 notes per minute. The notes last 0.1-0.2 seconds and are very low frequency of 1-2kHz. A extended recording of such calls can be heard here: https://www.xeno-canto.org/597326
The third type of calls is the least common and hardest to record. They occur at the start of a bout of calls, may not be repeated often, and hence can be easily missed. This sequence of calling, or call structure, is one I have heard many times over the years. I call these calls the introductory or initiating calls. Usually 3-5 of these are given before a few growling notes and then a launch into the classical "chock-chock" calls. The above shows the waveform and sonogram for these notes. They are low frequency 1.5 kHz calls made in a couplet of 3-4 notes.
The above image shows the entire call structure when calls are being initiated, as described above. Starting with the introductory notes, then low level growls followed by the explosive 'song'. A recording of this call structure can be heard here where all 3 types of calls are in sequence: https://www.xeno-canto.org/597327
Amar-Singh HSS (Dato' Dr)
Ipoh, Perak, Malaysia
Habitat: Wild urban garden
Date: 24th October 2020
Equipment: Equipment: Nikon D500 SLR with Nikon AF-S Nikkor 500mm f/5.6E PF ED VR, handheld with Rode VideoMic Pro Plus Shotgun Microphone