I observed a number of Blue-crowned Hanging Parrots (Loriculus galgulus) at this location; a mixture of adults and juveniles/immature. I saw a number of them feeding on the Macaranga tanarius (Parasol Leaf Tree).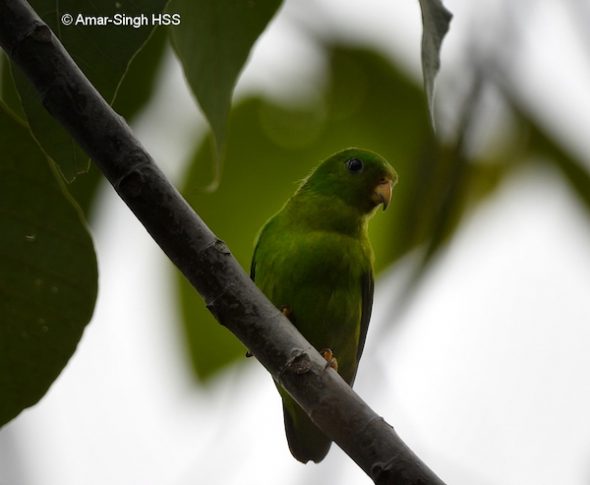 The above image shows a juvenile at the tree. Note the orange beak (black in adults) and that the tip has become black. Note also the orange feet. A juvenile is feeding on the Macaranga tanarius. Note orange wash on the mantle.
A juvenile is seen taking the fruit (above) – the fruit is 9-10 mm in size and has one black seed about 5 mm in diameter. Many birds eat this fruit (have documented 12 different species). The image below may seem a bit odd at first as the bird is 'biting' into or licking the stem of the plant.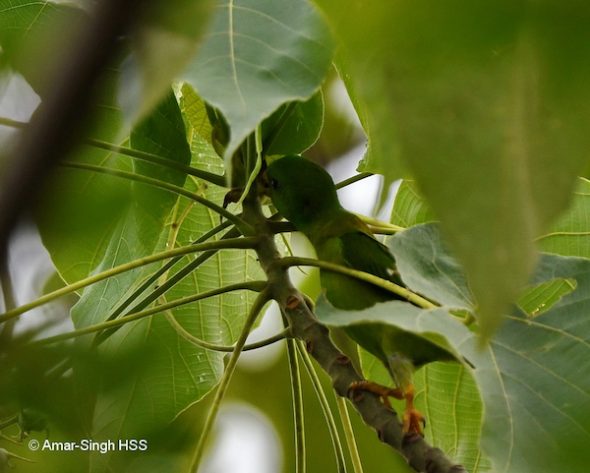 Macaranga species often form symbioses with ant (Formicidae) species (particularly Crematogaster ants of the subgenus Decacrema) because they provide 'nectar' or food bodies (also called starchy bodies). The trees benefit because the ants attack herbivorous insects.
There are two groups of Myrmecophilic Macaranga; one which are obligate myrmecophytes (house specific ant colonies in their hollow shoots), while M. tanarius has a facultative myrmecophilic strategy in that it offers food bodies on leaf blades to ant. These food bodies are cellular structures which are produced by the plant and which contain large amounts of lipids, proteins and carbohydrates (Linsenmair 2001). M. tanarius has food bodies hidden under re-curved stipules or on the leaf blades of the plant.
I had considered that these birds might be feeding on the ants but I could not see any of this happening. They are most likely feeding on the food bodies (in M. tanarius they are largely carbohydrate based).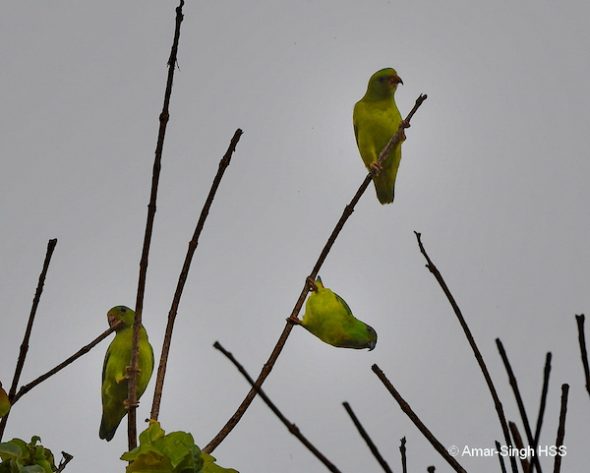 The above image shows 2 adult females with 1 juvenile. I say this with some caution. The top bird has an orange beak with orange feet. The bottom 2 birds have black beaks with orange feet.  Wells (1999) says adult feet are grey-green. Collar & Boesman (2020) say adult feet are legs buff-orange. Juniper and Mike Parr (1998) say legs are yellowish-brown. I have seen adults with both type of feet colours, hence my comment above about 2 female adults.
I suspect more work is required on feet colouration in adults with respect to breeding issues, geographical location and maturity. Juveniles and immature birds have orange feet. Collar & Boesman (2020) say that maturation takes 2-4 years and this may account for foot colour confusion in literature.
References:
K. Eduard Linsenmair, Martin Heil, Werner M. Kaiser, Brigitte Fiala, Thomas Koch, Wilhelm Boland (2001). Adaptations to biotic and abiotic stress: Macaranga‐ant plants optimize investment in biotic defence. Journal of Experimental Botany, Volume 52, Issue 363, Pages 2057–2065.
Brigitte Fiala, Vlrich Maschwitz, Tha Yaw Pang. The association between Macaranga trees and ants in South-east Asia. Available here: http://naturedocumentaries.org/wp-content/uploads/2014/09/Fiala_association_Macaranga.pdf
Wells, D.R. (1999) The birds of the Thai-Malay Peninsula: Vol. 1 (Non-Passerines). Christopher Helm, London
Collar, N. and P. F. D. Boesman (2020). Blue-crowned Hanging-Parrot (Loriculus galgulus), version 1.0. In Birds of the World (J. del Hoyo, A. Elliott, J. Sargatal, D. A. Christie, and E. de Juana, Editors). Cornell Lab of Ornithology
Tony Juniper and Mike Parr. (1998) Parrots: A Guide to Parrots of the World. Yale University Press.
Amar-Singh HSS (Dato' Dr)
Ipoh, Perak, Malaysia
Location: Ulu-Kinta, Ipoh, Perak, Malaysia
Habitat: Mixed Secondary and Primary Forest
Date: 1st June 2020
Equipment: Equipment: Nikon D500 SLR with Nikon AF-S 105mm f/2.8G VR IF-ED