I have previously posted on adult, immature and juvenile plumage of the White-headed Munia (Lonchura maja) HERE but would like to re-visit the issue. The more I watch these lovely birds, the more variation I see. I have used 5 references, 2 of them sites that breed finches. Whether birds that are bred or held in captivity have plumage that runs true to those in the wild is uncertain, but these two sites do offer some added information.
I watched more than 60 birds today, at 4 different sites, and imaged some until I reached a 'saturation' on the type of birds I was seeing (saturation is a technique used in qualitative research in humans). I am going to post 8 different birds to discuss changes and some plumage features (more images available on request). This post deals with the plumage in adults and a subsequent post will deal with the juveniles in transition to adulthood.
I recognise that lighting plays an important role and have tried to limit image processing.
Dealing first with adults in these 4 posts.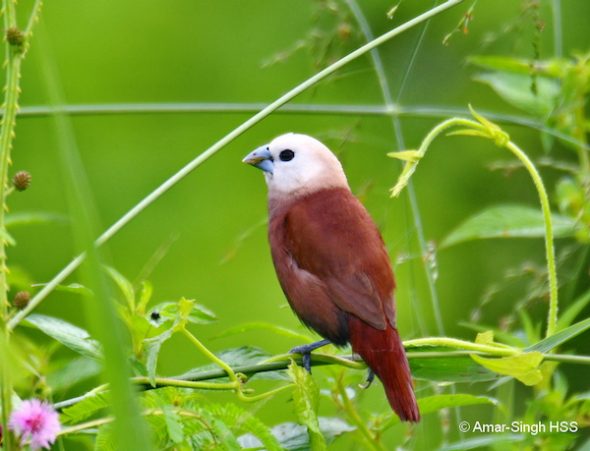 Post 1
Post 1. This is an adult bird. Clement 2001 describes adults as "Entire head to chin and throat white; nape, sides of neck and breast buffish-white, tinged light brown" "in fresh plumage hind-crown and nape have vinaceous tinge". "Tail bright chestnut or reddish-brown". "Upperparts, including wings, dark warm brown or chestnut" "becoming darker or blackish brown on vent and undertail-coverts".
Well 2007 has a similar description but describes the head colour as "white to suffused smoky pinkish grey". "Extent of smoky grey varies individually …. Last longer on the nape and upper neck". Wells also points out an important feature that Clement does not adequate emphasise, the black belly-patch. Wells says the "size of the black belly patch varies; in some it makes direct contact with upper breast".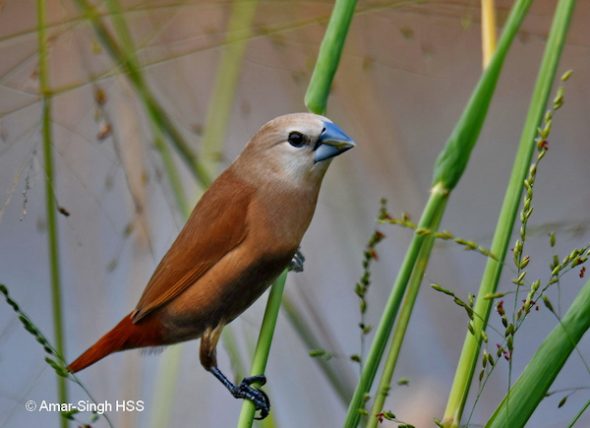 Post 2.
The bird in Post 2 shows many of the above features much better. Note the rich reddish-brown tail (Wells: orange-copper), the black belly-patch, and the nape, throat and neck that is not white but, to me, more of a light brown rather than smoky-grey. This bird may be an adult female (see discussion below) but, more likely to me, a first year adult bird just attaining full adult plumage. Some might consider this bird a sub-adult.
Post 3.
Post 3 is of an adult with a more 'purer' white head and a very large black belly-patch that extends to the upper breast and under-tail coverts. eFinch 2018 states on differences between males and females "…as the males age they will gain more white on their head. So second or third year males when compared to first year males will have enough of a difference to make the first year males appear to be female". "In males, the chocolate color of the breast has a more defined line where it meets the chestnut color of the flanks. The females have a more blended appearance." Finch Information Center 2018 has a similar opinion on sexes and says "…. the white of female's head may appear more smoky or dull when compared to the male. The white colour on the male's head becomes more bright and extensive as he ages …… In addition … the distinction between the buff colored plumage of the female's chest and the chestnut brown plumage of the flanks is more blended and not as clearly delineated as on the male."  Clement 2001 and Payne/HBW 2018 appear to support this opinion.
If what happens in White-headed Munia that are bred also happens in the wild then the bird in Post 3 is most likely a male in the 2nd or 3rd year of life. Having said that I also wonder if the black belly-patch is variable in size because it is a feature of a breeding male?
Post 4.
Post 4 is of an odd bird. The general plumage supports an adult with 'better adult colours' that the bird in Post 2 but the tail is pale (see composite above). I say 'odd' because one of the first features seen in juveniles transitioning to adults is the development of the red-brown tail (more tomorrow); hence this is not a sub-adult or immature. Is this some kind of moult or a small degree of leucism confined to the distal tail (however note that upper tail-coverts are red-brown)?
References:
David R. Wells. The birds of the Thai-Malay Peninsula: Vol. 2 (Passarines). Christopher Helm, London, 2007.
Peter Clement, Alan Harris and John Davies. Finches and Sparrows. Helm Identification Guide Series. Christopher Helm, 2011.
eFinch: White-headed Munia – Lonchura maja. http://www.efinch.com/species/whitehead.htm(accessed 22nd October 2018).
Finch Information Center: The White-Headed Mannikin/Munia/Nun. http://www.finchinfo.com/birds/finches/species/white_headed_munia.php(accessed 22nd October 2018).
Payne, R. White-headed Munia (Lonchura maja). In: del Hoyo, J., Elliott, A., Sargatal, J., Christie, D.A. & de Juana, E. (eds.). Handbook of the Birds of the World Alive. Lynx Edicions, Barcelona. (accessed 22nd October 2018).
Amar-Singh HSS (Dato' Dr)
Ipoh, Perak, Malaysia
Habitat: Secondary growth a fringe of the city
Date: 22nd October 2018
Equipment: Nikon D500 SLR with Tamron SP 150-600mm f/5-6.3 Di VC USD, handheld