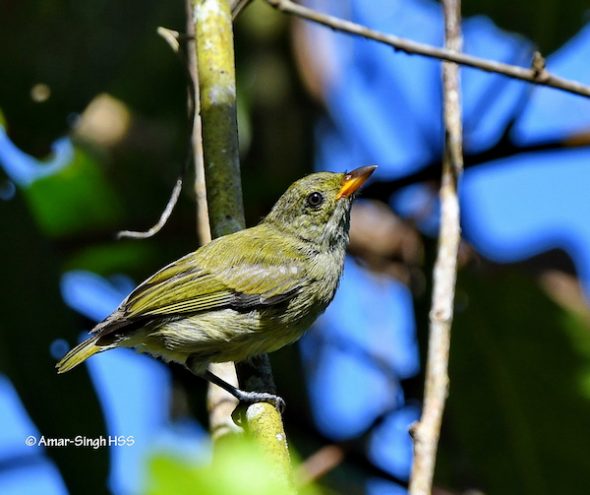 I have often seen self-feeding immature/juvenile Crimson-breasted Flowerpeckers (Prionochilus percussus ignicapilla); here seen feeding on the fruit of a Clidemia hirta (Hairy Clidemia) which is a favourite food. Note the orange beak with a dark tip, the grey-brown iris, faint mustacial stripe and early breast yellow patch (seen below, and may indicate female).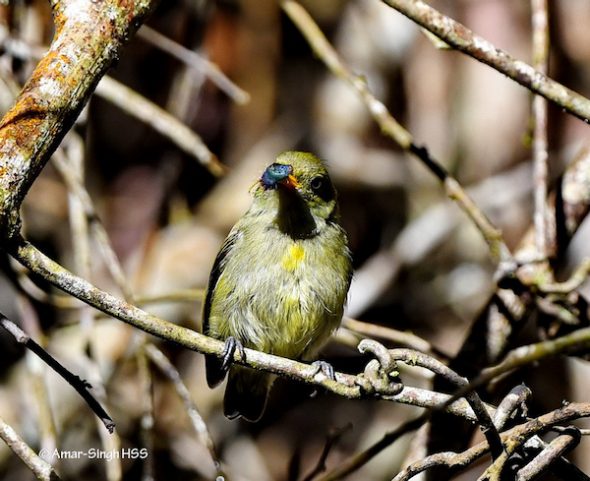 Other food items observed in the past include:
Fruits
Melastoma malabathricum (Straits Rhododendron)
Clidemia hirta (Hairy Clidemia) – they have a preference for the Clidemia hirta.
Ficus villosa, a creeping/climbing ficus
Ficus consociate
Ficus benjamina
Psidium guajava (Guava)
Syzygium samarangense (Eugenia aquea, Water Jambu)
Mistletoe species unknown
Muntingia calabura (Village Cherry)
Trema tomentosa (Rough Trema)
Buchanania arborescens (commonly known as little Gooseberry Tree or Sparrow's Mango)
Also 3 other small jungle berries (one a creeper) of unknown ID
Animal Prey
Seen it rob spider webs and take spiders
An occasional participant of lowland mixed foraging parties (bird waves).
Amar-Singh HSS (Dato' Dr)
Ipoh, Perak, Malaysia
Location: Ipoh, Perak, Malaysia
Habitat: Broken primary forest with secondary growth
Date: 23rd November 2020
Equipment: Equipment: Nikon D500 SLR with Nikon AF-S Nikkor 500mm f/5.6E PF ED VR, handheld with Rode VideoMic Pro Plus Shotgun Microphone