Watched a Chestnut-winged Cuckoo (Clamator coromandus) today and was first alerted to its presence by the classical metallic notes it makes; rendered by various sources differently but sounds like a beep, beep, beep to me. Chestnut-winged Cuckoos are said not to make calls while on migration (Wells 1999; Erritzøe, Mann, Brammer, Fuller, Cuckoos of the World 2012). Although this is general true, however there appear to be exceptions: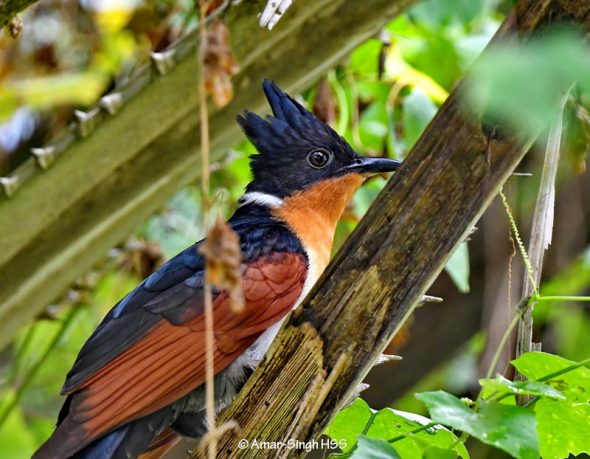 On a visit to Sandakan, Sabah (Borneo) on 1st May 2016, I heard this bird calling out in the night outside my chalet near the Rain-forest Discovery Center, Sepilok (bird not seen). Similar behaviour has been reported from the Philippines (Cuckoos of the World 2012).
T. Ramesh has a recording of these metallic notes on Xeno-Canto on February 2019 at Serangoon Island, Singapore (https://www.xeno-canto.org/454567). He notes that another bird was seen in the vicinity when this call was recorded.
Peter Boesman has a recording of the fast, grating "critititit" calls (Cuckoos of the World 2012) on February 2017 at Lower Kinabatangan River, Sabah (Borneo) (https://www.xeno-canto.org/359647). He notes that "Three birds responding vigorously to my whistled imitation of their song".
My experience today…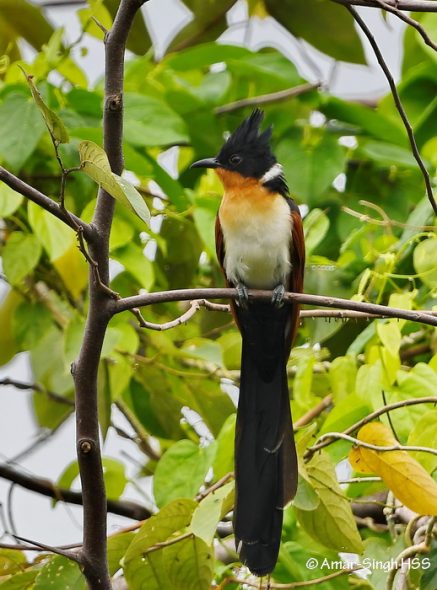 Today I heard these calls three times over 15-20 minutes. I believe I may have triggered an extension of the calls as I whistled an imitation of the calls. I also heard the guttural "critititit" calls twice but do not have a recording of them.
The classical metallic 'beep, beep, beep' calls made today were often as 3 notes (occasionally 2), given rapidly over 1 second. They were repeated 2-5 seconds apart and are of high frequency (16 kHz). A sonogram and waveform are shown above and a call recording is here: https://www.xeno-canto.org/617306
Amar-Singh HSS (Dato' Dr)
Ipoh, Perak, Malaysia
Location: Ipoh, Perak, Malaysia
Habitat: Ex-mining pools & fruit farming next to limestone outcroppings
Date: 25th January 2021
Equipment: Equipment: Nikon D500 SLR with Nikon AF-S Nikkor 500mm f/5.6E PF ED VR, handheld with Rode VideoMic Pro Plus Shotgun Microphone