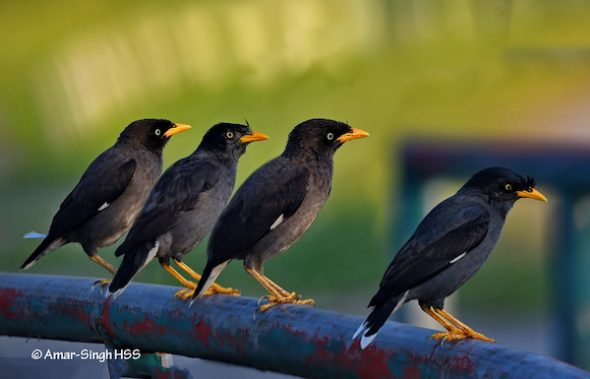 A composite of the four mynas.
A family of 4 Jungle/Javan Mynas landed on a pole just near to my car; 2 adults with 2 juveniles. The image above is a composite of 4 images – as the birds were quite close I had to take 4 images to get each of them in focus and then merge them.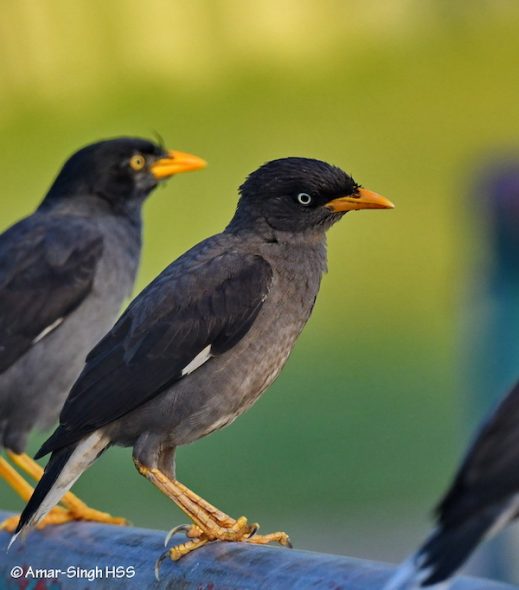 A juvenile myna.
The image above is of a juvenile. Note the juvenile have light blue or off-white iris compared to the adult yellow iris. In addition, the juveniles have browner plumage cf the adults. These juveniles were self-feeding.
An adult myna.
An adult myna.
I must say that differentiating Jungle Mynas (Acridotheres fuscus torquatus) from Javan Mynas (Acridotheres javanicus) is not easy and welcome opinions of the ID. I initially thought they were Jungle Mynas – far more common in my area and breeding locally. But the Javan Mynas have made inroads in recent years and I expect to see them breeding locally. I am inclined to think these are Javan Mynas as the blue-black colour of the base of the bill (seen in the Jungle Mynas) is not clear/prominent and the adult plumage more slaty-grey than the browner Jungle Mynas. Not good to have them breeding locally.
Amar-Singh HSS (Dato' Dr)
Ipoh, Perak, Malaysia
Location: Ipoh, Perak, Malaysia
Habitat: Open fields limestone hills
Date: 28th December 2020
Equipment: Nikon D500 SLR with Nikon AF-S Nikkor 500mm f/5.6E PF ED VR, handheld with Rode VideoMic Pro Plus Shotgun Microphone