The Oriental Dwarf Kingfisher (Ceyx erithaca) is a small kingfisher about 14 cm long. The underparts are bright yellow, a dark blue spot can be seen on its forehead and discernible behind each ear covert as well.  A bright lilac line runs down the centre of its rump and tail coverts. The wings and scapulars are black, the beak is a bright reddish colour. Its small size poses a challenge to  photographers: to notice its presence and then to photograph it.  This little bird is also known as the Black-backed Kingfisher or Three-toed Kingfisher. The little kingfisher is not resident in Singapore but is a vagrant that makes its presence felt between October and March.
Its miniature size and beautiful colours makes this bird very adorable and appealing to photographers. Isolated individuals have been spotted in Singapore at various times.  One was spotted in Gardens by the Bay in October 2018. Another one was photographed at Hindhede Nature Park in October 2021.  This little one sighted in Bishan-Ang Mo Kio Park has induced many photographers' heart to flutter. The bird is often seen diving in the water bodies in the park and allowing photographers to approach it up close.
Parks personnel were quick to sense the enthusiasm of photographers and quickly set up the much appreciated queueing system around the Rock area, the Lotus pond and the bridge. The queue was mostly 70 people long with a wait time of 1 hour for a 10 minute photography opportunity. Groups of 10 people were allowed into the designated photo hot-spot.   It is clear that all the photographers had the same motivation to turn up at the park and cooperation, thoughtfulness and consideration for everyone's wellbeing is of primary importance.  As usual, most photographers are civil in behaviour and thought.  A few entitled photographers were there and did cause some unhappiness.  However, the NParks staff are seasoned in crowd management and compassionate towards the birders' attempts to catch sight of their new love interest.  Many of the NParks staff started work at dawn and only called it a day after dusk.  Many photographers there have expressed their appreciation for the hardwork and tactfulness of the NParks staff and hope that they did get their meal and toilet breaks while going about their work. Perhaps, birders can queue up at all birding hot-spots in the future?
13 November 2021 started as a very promising and exhilarating day for bird photographers.  However, many were left in shock and disbelief after mid-day.  The little sweetheart dived but did not surface to enthrall the bird photographers. It was also not seen in the park again.  Many believe that the tiny bird was eaten by snakeheads (Channa sp.).  Tributes starting appearing on Facebook. Read this post by Daryl Tan who captured the highs and lows photographers experienced on 13 November 2021.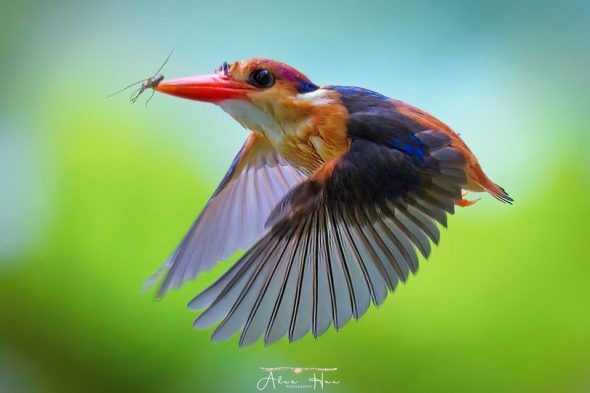 James Gan wrote a beautiful tribute to this much-loved kingfisher.
"The Legendary Kingfisher!"
Tribute to the brave little king!
R.I.P.
13th Nov 2021
You will always be an unforgettable legend,
arrived in style, vanished in shock.
The diligent dwarf, with the speed of lightning.
The kinky king, with exotic feathers, full arrays thru your back.
Some called you three-toed or black-backed,
Painted in black, blue, orange, purple, yellow with brush of pink on the head,
It was hard to miss you in action.
Surrounded by young and old, kind and friendly,
Everyone queued to chronicle you for posterity.
Of course ill mannered pests inclusive worshipped you,
Forever counting your rainbow coloured feathers,
Making you less wholesome and complete.
All left Bishan-Ang Mo Kio Park with a heavy heart,
Some just arrived hoping for a miracle,
But God's lovely creation is gone…
This post is a cooperative effort between Birds, Insects N Creatures Of Asia and BESG to bring the study of birds and their behaviour through photography and videography to a wider audience.
References:
A Field Guide to the Birds of South-East Asia by Ben King, Martin Woodcock and E.C. Dickinson © 1975
https://www.nparks.gov.sg/nparksbuzz/issue-40-vol-1-2019/conservation/meet-the-%E2%80%9Ckings%E2%80%9D-of-singapore%E2%80%99s-skie