BESGroup congratulates Commonwealth Secondary School (CWSS) for winning the much coveted Garden of the Year Award 2021 for Educational Institutions and Organisations. The Community in Bloom (CIB) Awards recognise gardening efforts and encourage community gardeners to enjoy gardening and to learn and improve. The school board has been supportive of Jacob Tan Guanrui's exemplary leadership in this endeavour. In time, Jacob will also be dealing with nature attracted to this lush, green environment in a school setting. This is an excellent example of how our schools can bring nature to the students under their care.
This post features the photographs showcasing the lush school environment and the students' enthusiasm in looking after the vegetable garden.  Jacob also explains in his own words how the school was judged for this award. CWSS is a model for other schools to emulate in introducing nature to students.
Check out our CWSS Climate Action microsite HERE.
In support of the nationwide One Million Trees movement, students working in our Plant Nursery are currently taking care of over 600 individual saplings of forest tree species with conservation status that includes those which are common, vulnerable, endangered, critically endangered, locally extinct, and recently rediscovered. Seeds were collected by NParks staff from nature reserves and given to our students to germinate and propagate in our nursery, which would eventually be planted around our campus and eventually contribute to tree planting along our Nature Ways, Nature Parks and Nature Reserve, as part of the NParks Forest Restoration Action Plan.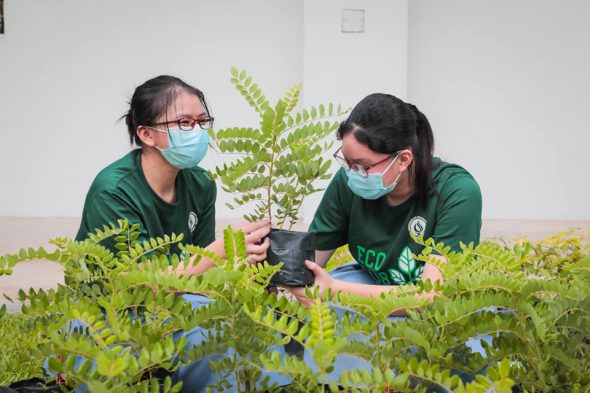 The CWSS Green Plan is a living plan that will evolve as we continue to find ways to make sustainability a key theme on our Campus, infusing into our Curriculum, building a school Culture, and connecting with the Community beyond our school. 
We aim to nurture stewards of the environment who are empowered to make a positive difference in our schools, homes, and community for a sustainable Singapore.
Let us look forward to seeing this vision come true in many other schools in Singapore as well!
Let us look forward to seeing this vision come true in many other schools in Singapore as well!