"The Oriental Darter (Anhinga melanogaster melanogaster) is currently listed as a vagrant to Peninsular Malaysia (A Checklist of the birds of Malaysia Dec 2016, v2). It is classified as Near Threatened (NT) on the IUCN Red List. In the past this bird was a resident (Wells Dr. The birds of the Thai-Malay Peninsula: Vol. 1 Non-Passarines. Christopher Helm, London 1999).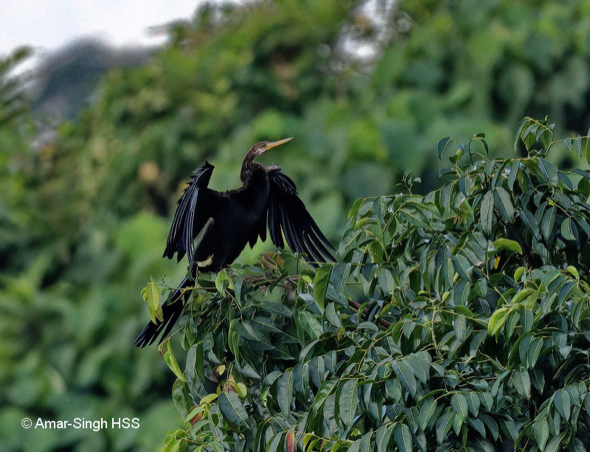 "When I posted images in 2017 David Wells commented 'Dramatic pictures of a bird that disappeared from the Peninsular record for the best part of a century. The only one I ever saw locally, in Selangor (1991), was the first for over 90 years, but Darters do now seem slowly to be coming back.'
"Today was the third sighting of this species for me in Peninsular Malaysia and I asked myself what is the definition of a vagrant, or when do we 'upgrade' a bird to migrant status?
"Melissa Mayntz on 'Vagrant Birds: Why Birds Go Out of Range' May 2019 LINK says 'A bird is considered vagrant if it strays far outside its expected breeding, wintering, or migrating range. The key factor in defining vagrant is the distance…'
"Howell Steve N G, Ian Lewington and Will Russell in 'Rare Birds of North America' (2011) state that 'There is no precise definition of a 'vagrant bird.' Many birders might say that a vagrant is a bird that occurs when and/or where it 'should not' occur, but how does one define where a bird 'should' and 'should not' occur? This definition also may confuse frequency of occurrence with a navigational or other error. …. Still, vagrancy as defined by birders is statistically based, and presumably could have a statistical definition. ….. However, with existing knowledge this sort of precision seems unobtainable for any species, and our definition of a vagrant is likely to remain based on the number of birds we see, not the number of birds actually present.
"A popular notion is that vagrant birds are simply wandering randomly and are 'lost' or have been blown off course, and the latter certainly does happen. But we agree with Vinicombe & Cottridge (1996) that many vagrant birds 'know' what they are doing, and that vagrancy reflects both intrinsic and extrinsic factors."
"I did an online search, image search and looked at eBird reports to get an idea of how commonly this species has been seen recently in Peninsular Malaysia & Singapore. I grouped reports that appeared to be of the same bird(s):
Mentions in online documents:
1. BirdLife International (2019) Important Bird Areas factsheet: Ulu Muda, Oriental Darter noted in the location LINK.
2. Alan Ow Yong on Birding Hotspots in Singapore, under Pulau Ubin, states Oriental Darter as sighted there. Suara Enggang Vol24 (2), Apr 2017
3. Mike Birder in his blog, 9th May 2016, notes on the Oriental Darter "there are sighting in Kinta Nature Park in Bidor" LINK
Individual sightings in Peninsular Malaysia (online image search and eBird records):
1. Amar-Singh HSS 10th Dec 2019, outskirts Ipoh, Perak
2. Wendy Chin 28th Nov 2019, Bohor Tempoyak, Langkawi, Kedah
3. Harn Sheng Khor, Neoh Hor Kee , Michael Grunwell 09th Nov 2019, Chuping, Kedah
4. Koay Zhong Ying posted an image of an Oriental Darter on 24 March 2019 at Paya Indah Wetlands, Dengkil, Selangor
5. Salleh Sheikh Ibrahim (19th March 2018), Weng Chun Cheong (9th Feb 2018), Putrajaya
6. Amar-Singh HSS 12th Dec 2017, outskirts Ipoh, Perak
7. Simon Ho 18th Nov 2016, Perak, Suara Enggang Vol 24 (1), Jan 2017
8. Amar-Singh HSS Nov 2016, outskirts Ipoh, Perak
9. Neoh Hor Kee 17th Jan 2016, Kuala Kubu Bharu, Selangor
10. Tou Jing Yi 28th September 2015, Malim Nawar Mining Pools, Perak
11. Choy Wai Mun, Mohd Abdul Muin Md Akil, Dave Bakewell, Kanda Kumar, Neoh Hor Kee, Yang Chong,Hakim Saharudin 21st Dec 2011 to 5th Jan 2012, Batu Kawan, Seberang Prai, Pulau Pinang (2 birds)
12. Chiu Sein Chiong 13th Dec 2009, Kinta Nature Park Visitor Centre, Perak
"Sightings in Singapore
I have not gone through all the sighting in Singapore but for Pulau Ubin alone a single bird has been seen every year starting 2014 to 2019. In addition the eBird reports from the Singapore mainland as well.
"Of course some of the sightings above may be the same bird moving around. Hence with 12 sightings in ~10 years (not to mention the ones in Singapore) perhaps a not uncommon vagrant."
Dato' Dr Amar-Singh HSS
Ipoh, Perak, Malaysia
10th December 2019
Habitat: Wetlands
Location: Outskirts of Ipoh, Perak, Malaysia