Prior to the Covid-19 break I had conducted small survey on migratory Brown Shrikes (Lanius cristatus) as to their density and they location within the neighbourhood. I had a smaller survey on October 2018 but on this occasion extend the scope, intensity and period of observation.
Brown Shrikes are very vocal at arrival, when establishing winter territorial space, and again when close to leaving. Wells (2007) says Winterers defend exclusively feeding territories, small (typically less than one hectare)… I am aware from personal observations that migratory Brown Shrikes defend their wintering territory loudly and I have often seen the presumed same bird return to the same patch in our neighbourhood. I had hoped to carry this study through until May 2020 to identify the age and sex of each bird but was not able to.
My urban neighbourhood is an old mature housing area where many homes have open gardens and trees which support the habitat of Brown Shrikes. I used repeated observations (saturation technique), by walking sections of the same location repeatedly over 20 days days, to identify all migratory Brown Shrikes (Lanius Cristatus) that had staked out a territorial location. Only birds that were perched were considered. I ensured that they were found in the same general location on subsequent visits. I avoid all open fields and graveyards (possibly harder to establish wintering territory) but concentrated on built up areas.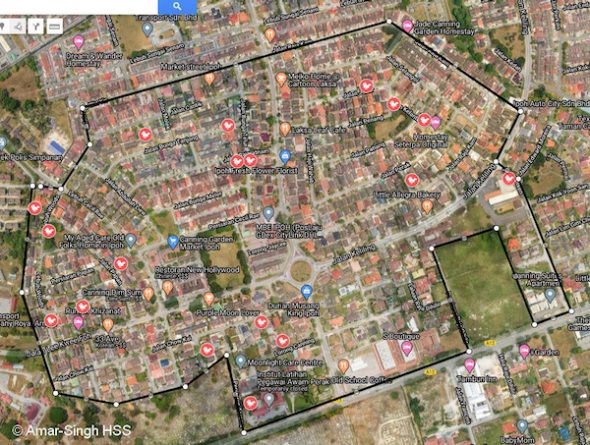 I used Google My Maps to plot GPS coordinates (data imported from Excel) and offer a visual output. The image above shows the distribution of wintering territory sites (birds marked with a red bird icon and survey area outlined with black lines). I observed 18 birds in 73.2 hectares (0.732 km2) in the urban area surveyed, giving a density estimate of 0.25 per hectare. It is possible that I could have missed a few birds if less vocal or visible.
In the October 2018 survey there were 17 birds in a 65.5 hectare area in my neighbourhood (density estimate of 0.26 per hectare).
Eshkab I.A. did a local survey on "Population of Brown Shrike (Lanius Cristatus) in Grassland of University Putra Malaysia" in 1999 (available here: http://psasir.upm.edu.my/id/eprint/8764/1/FEM_1999_8_A.pdf) and reported a density estimate of Brown Shrike in the range of 0.35-0.81 birds per hectare.
In this 2019 survey (as in 2018) some birds were relatively close to each other; the closest being 29 meters apart. There did appear to be a larger numbers adjacent to fields/open land with bigger feeding areas. More work is required to map year to year returns and match this with age and sex, as well as monitor trends.
Amar-Singh HSS (Dato' Dr)
Ipoh, Perak, Malaysia
Location: Ipoh, Perak, Malaysia
Habitat: Urban environment
Date: October 2019
Equipment: Equipment: Nikon D500 SLR with Nikon AF-S 105mm f/2.8G VR IF-ED