On 19 October 2021, outside my apartment, I observed a female Common Flame-back or Common Golden-back woodpecker (Dinopium javanense) perching on a short coconut palm tree trunk. In its beak was a house gecko. The bird seemed to be struggling to subdue the lizard and this took about 5 minutes before it flew away.
According to the book, `Singapore Biodiversity, An Encyclopedia of the Natural Environment and Sustainable Development', woodpeckers' diet comprise largely of termites, grubs, beetles, and other insects found in rotting wood. Therefore, this observation was rather unusual and questions whether this female woodpecker will be feeding on this lizard which is not its typical diet.
The 3 photos help to show the different views of the gecko which was partially hidden by the bird.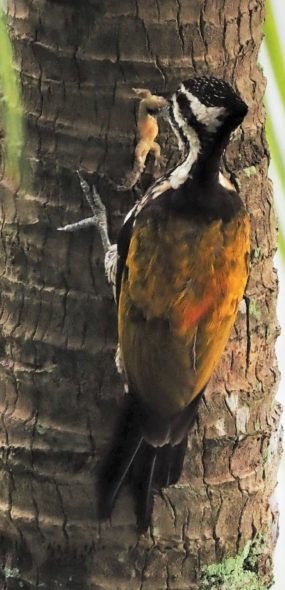 Thong Chow Ngian
19 October 2021.