Fairy pitta (Pitta nympha) is a rare migrant to Singapore.  It should be classified as a vagrant. Pittas are shy forest birds which often stay on the forest floor looking for ants, worms, slugs, snails, beetles and small snakes. The birds breed in East Asia and migrate to South East Asia during the winter months. It is listed as vulnerable on the IUCN list.  Destruction of its nesting and feeding habitats are responsible for its conservation status.
Pittas are attractively coloured birds and stir up bird photographers' desire to get at least one respectable shot of it.
Andy Chew shared his experience as a bird photographer on BICA Facebook. 1 November 2021.
Two years ago when the Fairy Pitta was spotted deep inside the Central Catchment area, I went even though it was not easily accessible. Then it was the first sighting recorded in Singapore.
I remembered helping those present to spot this beautiful bird together. When we did, we sounded off to those around us and just when I was about to take aim, this inconsiderate selfish bloke came in front me and fired away. By the time I found a small gap in an attempt to shoot the bird, it was gone! I stayed for a couple of hours, hoping it would come back but it was not to be!
Two days ago when I was told another Fairy Pitta was spotted, this time at Hindhede Nature Park, I exercised self-control and refrained myself from rushing over. The weekend crowd would have been horrendous. It reminded me of the throng of photographers who were there shooting the Oriental Dwarf Kingfisher. In the end, as it was tough to control the crowd and with some photographers arguing with the NParks staff, a part of the park was cordoned off.
Very early this morning, I decided to head over knowing that the crowd would be thinner being a weekday.
Today's experience is way better than the previous one. I was exceptionally encouraged when a friend, who had finished shooting, called me over to take her spot and use her tripod to capture a few shots. Gladly I did. Her husband even offered to hold on to my monopod while I was shooting. In just 5 minutes I was done and finally I got my lifer!
This very rare and colourful vagrant can be found from south eastern China, Taiwan, South Korea to southern Japan and wintering south to Borneo and Indochina.
Though Singapore is not their destination, I am very glad this and the previous Fairy Pitta decided to stop over to allow some of us to admire its beauty!
Today is the shortest and sweetest birding trip and that is more than enough to make my day. What a great start to a new week! Woohoo!
Following the new safe-distancing rules mandated by NParks, great photographs were captured, delighting the birding community.  The bird was documented in different postures, at different spots and under different lighting conditions. At time of posting this article, many other beautiful photographs can be viewed on BICA Facebook.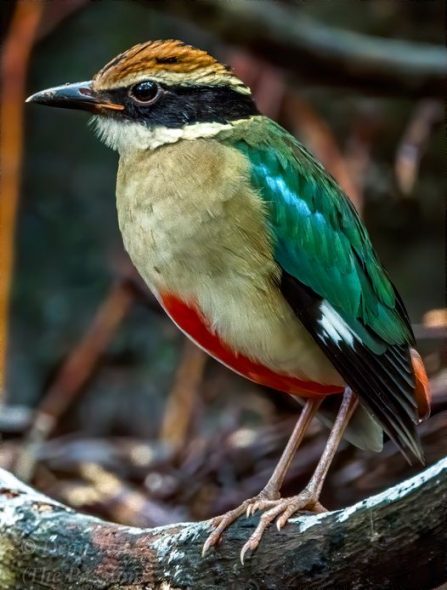 References:
Biodiversity of Singapore: An encyclopedia of the Natural Environment and Sustainable Development © 2011 Edited by: Peter KL Ng, Richard T. Corlett and Hugh T. W. Tan
Birds of South-East Asia : A photographic guide to the Birds of Thailand, Malaysia, Singapore, the Philippines and Indonesia by Morten Strange © 1998
A pocket guide to the Birds of Borneo compiled by Charles M. Francis © 2005
Birds of Singapore and South-East Asia by Sir John A.S. Bucknill and F.N. Chasen ©1990
This post makes special mention of Encik B Matnor stationed at the Visitor Centre, Hindhede Nature Reserve. He is ready to assist and ensure this new arrangement has a happy outcome for everyone even though it involves so much more work for him and his colleagues.
This post is a cooperative effort between Birds, Insects N Creatures Of Asia and BESG to bring the study of birds and their behaviour through photography and videography to a wider audience.