Hoesemys grandis is also known as the Giant Asian Pond Turtle or Giant Leaf Terrapin. The animal's carapace can grow to 50 cm  in length. It lives in ponds, lakes and freshwater swampy forests. Shallow water bodies are preferred.  The turtle can also be seen basking in the sun or hidden under fallen leaves while on dry land. Generally herbivorous but will feed on fishes and invertebrates too. It is identified by the yellow medial line on its carapace. The toes are webbed.
It is found naturally in Myanmar, Thailand, Cambodia, Vietnam, Laos and Northern Peninsula Malaysia. These turtles are often found in temple ponds and are sometimes released into natural waterways for religious reasons. In Singapore, it is considered an introduced species although there is an alternative view that the natural population had become extinct and the extant population is introduced.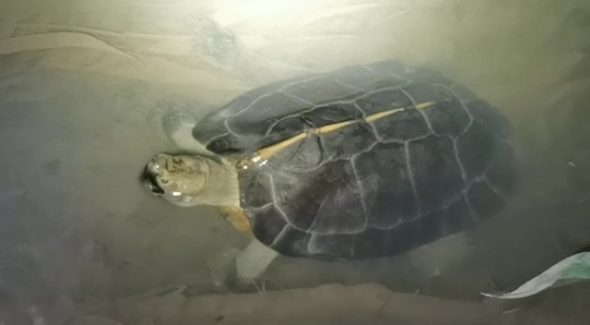 Videos by Francis Seow-Choen. Mandai. 15 September 2021.
References:
https://www.ecologyasia.com/verts/turtles/giant-leaf-terrapin.htm
Biodiversity of Singapore: An encyclopedia of the Natural Environment and Sustainable Development © 2011 Edited by: Peter KL Ng, Richard T. Corlett and Hugh T. W. Tan