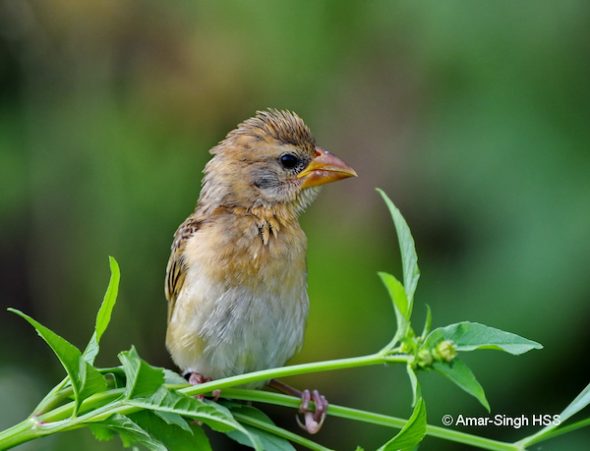 Posting some images of a juvenile Baya Weaver (Ploceus philippinus infortunatus) that I saw at close range. Wells (2007) says about juveniles: Generally female-like. Distinguishing characteristics are not well known.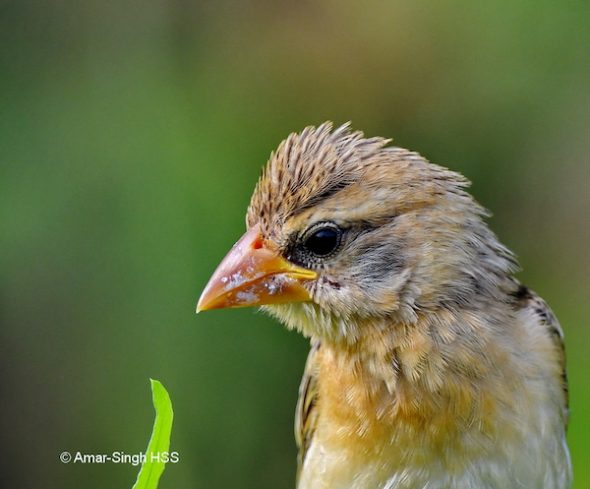 Upper portion of a juvenile Baya Weaver.
Craig (2020) states that: Juvenile resembles female, but with fainter dorsal streaking, upperparts rusty buff with broad rusty margins on wing-coverts, no obvious supercilium, cheeks buffy and general buffy wash on underparts.
A few images of the juvenile and a head comparison with an adult (below). The fledged juvenile was fluffed up making comparison harder. There is presence of some supercilium but the beak is lighter (especially the tip and lower rim of upper mandible) and the upper breast and face is not as dark brown/buff as adults. The head and wings are not as streaked.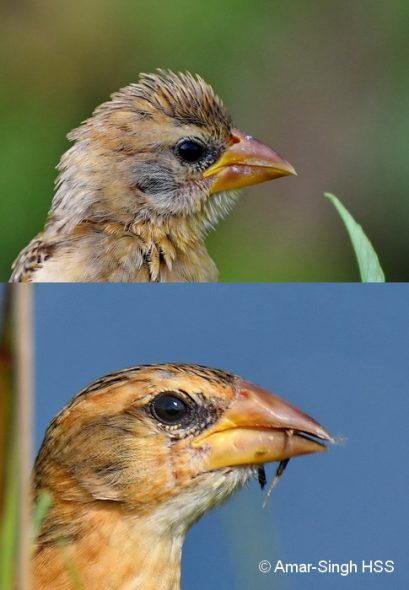 Head comparison of a juvenile (top) and an adult (bottom) Baya Weaver.
References
Wells, D.R. (2007) The birds of the Thai-Malay Peninsula: Vol. 2 (Passerines). Christopher Helm, London.
Craig, A. (2020). Baya Weaver (Ploceus philippinus), version 1.0. In Birds of the World (J. del Hoyo, A. Elliott, J. Sargatal, D. A. Christie, and E. de Juana, Editors). Cornell Lab of Ornithology, Ithaca, NY, USA.
Amar-Singh HSS (Dato' Dr)
Ipoh, Perak, Malaysia
Location: Ipoh, Perak, Malaysia
Habitat: Urban environment
Date: 28th May 2020
Equipment: Equipment: Nikon D500 SLR with Nikon AF-S 105mm f/2.8G VR IF-ED