Saw this young Crimson-breasted Flowerpecker (Prionochilus percussus ignicapilla) foraging and self-feeding. I think it is an immature female ( below). There was no crown-flash or red-breast but the underpart were yellow and wings olive-green and some white malar-stripe (Wells 2007 says of juveniles "underparts without yellow"). The bill is black tipped and iris grey-brown (Wells 2007 for juveniles).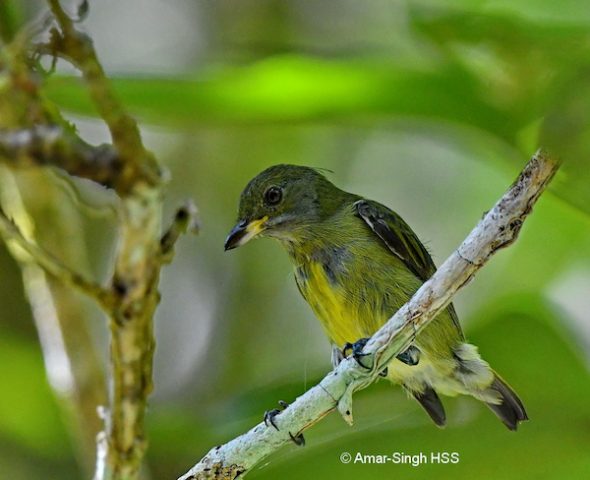 Of interest is the feeding behaviour. I saw it twice fluttering to rob different spider nests. Once it got a spider and took it to a branch to feed. This is the first time I have seen them take any animal prey; in the past always fruit. You can see it covered by spider web (below). I presume juveniles must be fed animal prey for protein growth.
Wells (2007) states that "as far known, an obligate fruivore…" and Cheke, Mann & Allen (2001) say about food "presumably includes fruits, and possibly also nectar and/or pollen, of mistletoes".
The food I have seen the Crimson-breasted Flowerpeckers take include:
Fruit of the Melastoma malabathricum(Straits Rhododendron)
Fruit of the Clidemia hirta(Hairy Clidemia)
These two are the common diet and, in my experience, they have a preference for the Clidemia hirta.
Ficus villosa, a creeping/climbing ficus
Ficus consociate
Ficus benjamina
Psidium guajava(Guava)
Syzygium samarangense(Eugenia aquea, Water Jambu)
Mistletoe fruit – species unknown
They take  many small berries including
Muntingia calabura(Village Cherry)
Trema tomentosa(Rough Trema)
Buchanania arborescens(commonly known as little Gooseberry Tree or Sparrow's Mango)
Also 3 other small jungle berries (one a creeper) of unknown ID
Spiders
Note that an online search showed them also feeding on other types of Ficus fruit (see also Wells 2007 on this), other types of berries, open ripe Mango and Averrhoa carambola (Star Fruit, 2 observations).
References:
Robert A Cheke, Clive F Mann, Richard Allen (2001). Sunbirds: A Guide to the Sunbirds, Flowerpeckers, Spiderhunters and Sugarbirds of the World. Helm Identification Guides
Wells, D.R. (2007). The birds of the Thai-Malay Peninsula: Vol. 2 (Passarines). Christopher Helm, London.
Amar-Singh HSS (Dato' Dr)
Ipoh, Perak, Malaysia
30th January 2020
Location: Kledang-Sayong Forest Reserve, Ipoh, Perak, Malaysia
Habitat: Trail along primary jungle