Making an ID of an Ashy Tailorbird (Orthotomus ruficeps cineraceus) is not difficult but it is not always easy to differentiate a female from an immature male. Some of the sexing on OBI may require a revision (including ones I have posted). The first two images below are composites of birds that were together as a family unit (two different sets of birds, one from an earlier time). In both instances/composites the bird on the lower half of the composite is an adult male – the full orange-rufous face mask (including chin) and dark breast make that certain.
In the first composite (above) the bird on the upper half of the composite appears to be an adult female – the less extensive and intense orange-rufous face mask and pale white chin. Note also that Wells (2007) states that the iris in adult males is amber and in adult females it is yellowish-brown. Despite the different lighting you can note there is a different in iris colours of the adult male and female.
In the second composite (above) the bird on the upper half is less clear. There an 'incomplete' orange-rufous face mask that is less intense in colour suggesting a female but the chin has some orange-rufous suggesting a male. The iris is paler and more yellowish-brown suggesting a female. My opinion is that it is possibly a sub-adult male. Having seen many juveniles, their iris is muddy brown, and hence the iris in this bird could be in transition. All this is assuming that females will never have any orange-rufous on the chin – I am not entirely convinced this is always true. Appreciate opinions from experience with these birds.
Above shows a full image of the bird described in second composite (possible immature male). Below shows an adult male in all his breeding glory with a lovely dark chest.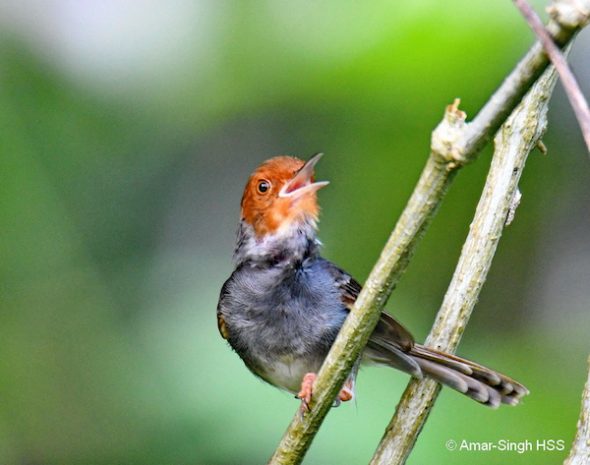 Amar-Singh HSS (Dato' Dr)
Ipoh, Perak, Malaysia
Location: Ipoh, Perak, Malaysia
Habitat: Secondary growth at city fringe
Date: 23rd April 2019
Equipment: Nikon D500 SLR with Tamron SP 150-600mm f/5-6.3 Di VC USD, handheld with Rode VideoMic Pro Plus Shotgun Microphone